Since Sainsbury's took over Argos it has been fully integrated into the Sainsburys Nectar card loyalty scheme allowing you to both earn and redeem Nectar points.
Here we show you how to earn and spend your Nectar points at Argos.  We also show you potentially value-enhancing alternative ways to get more value for your points.
Be sure to check out bonus money-saving tips to save even more on your Argos shopping!
We often shop at Argos and the examples below include images from real transactions we have made and highlight the use earning and potentially redeeming of Nectar points.
You earn 1 Nectar point for every £1.00 you spend at Argos, both online and in-stores.  You can redeem 500 Nectar points the equivalent of £2.50 worth at a time on checkout.
How to Get Nectar Card Points At Argos
You can both get and pay with your Nectar points at Argos.
To claim Nectar points in stores, simply show your card at the checkout and they will scan and add them.
You can also redeem your Nectar points online as we outline below.
First, log in to your Argos Account.
If you haven't yet created an account sign up and link your Nectar card to Argos following these illustrated steps.
Assuming you've linked your card and have selected your purchases it's time to make your purchase.
When you go to the checkout and review your order and are ready to select either "Pay now and collect" or "continue with delivery"
You will be taken through to the next page where you will clearly see the options for Nectar Card holders.
You'll see how many points you have available and their monetary values.
As well as seeing how many points you will collect on the order.
At the time of writing there was an offer for triple Nectar Points, so I was collected 1,137 instead of the usual 379.
These 1137 Nectar Points equate to £5.68 so well worth collecting.
You can use my Nectar Points Calculator to find out how much your points are worth as well as ways to double their value.
How To Spend Nectar Points at Argos
Carrying on from the above transaction we can also spend Nectar points we have earned previously to pay off in part some of this current bill.
Click the Nectar row and you will see the following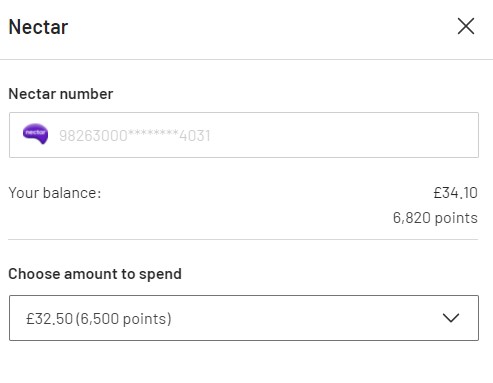 In the "Choose amount to spend" box you will see a drop-down menu for the amounts of Nectar points you can take.
In the above image, I set the amount to spend at 6500 points for a total of £32.50 off the bill which was the maximum I had available.
You can select points in increments of 500 points equating to  £2.50 off for every 500 points
In reality, I did not use the points as I prefer to double them up and get even more for my money.
If you want to use your points towards you paying off your Argos purchase you will need to click the confirm button.
You can redeem up to 100,000 Nectar Points worth £500 in any one transaction.
Should You Spend Nectar Points at Argos?
There are many places you can spend Nectar points, which basically come down to personal choice because they all redeem at the same value.
However, there is one main event you should consider because it could double the value of your points as you can see below.
Double Up Your Nectar Points
You don't have to spend your Nectar points at Argos, and in fact, there are many other ways and places to spend them.
However, it's worth being aware of the annual Sainsbury's Nectar Double Up promotional event which gives you the opportunity to double the value of your points.
Although these double up vouchers can't be used for Argos purchases you'd still be getting double the value for a wide range of Sainsbury's purchases.
Bonus Tips for Saving More at Argos
There are a few ways you can save even more on your Argos shopping.
Stack Promotions
In some instances and one, I spot often in the Argos Toy Sales (& dates) is you can take advantage of two promotions at the same time.  for example 2 toys for £30 and then use a Toys discount code on top.
Cashback & Rewards on Argos Purchases
It's not often you see cashback available at Argos via the 2 main cashback sites Topcashback and Quidco.  However, sometimes they do offer cashback on very select items or categories of products.
However you can typically get cashback via another option, Kidstart, in this instance I got 1% off as you can see below.
Airtime Rewards for Argos
An even more rewarding option is Airtime Rewards, which for at the time of writing was giving 2% cashback which I can use to pay towards my phone bill.
One of the best things is that once you have set up your card with the app cashback rewards track automatically wherever you use it so you don't need to keep remembering to see if cashback options is available.  If it is you will get it automatically every time you use your card.
You can get started with an Airtime Rewards promo code and review post.
At the time of writing the cashback reward for Argos was 2%
To top all that off I pay with a  cashback credit card which I always pay off the balance for on a monthly basis so I never lose out by paying excessive interest.
It all adds up.
Frequently Asked Questions
How Much Are Nectar Points Worth at Argos?
When redeeming Nectar points at Argos they are worth 0.5 pence each. Therefore 500 points would equate to a £2.50 Nectar voucher.
How long do Nectar Points take to Appear from Argos
When you make a purchase from Argos and use your Nectar card you can expect the points to be credited to your Nectar account within 30 days.
Can I Redeem Nectar Point in Argos Stores?
You can spend your Nectar card points on Argos in-store purchases.  Just take your card and mention at the checkout how many points you would like to redeem against the bill.  You can redeem 500 points at a time, equating to £2.50 off.
Can I Collect Nectar Points from Past Argos Purchases
If you link your Nectar card to your Argos account you can earn points for past purchases you have made within the last 14 days.
How to Add Nectar Points After an Argos Purchase
If you forget your Nectar card for Argos in-store purchases you can't take your receipt back to Argos and get points added.  Instead, you will have to contact Nectar via the live chat within the Nectar App or call them directly by phone.
Conclusion
If you're a loyal customer of Argo's, the Nectar points program is a great way to save on your purchases, both in terms of earning points and using them directly to pay for items.