Do you have a Battle of Britain 50p coin?
Interestingly there was more than one design of this coin at the time of release which created much excitement with some being sold for much higher values than others.
Read on to find the latest market prices.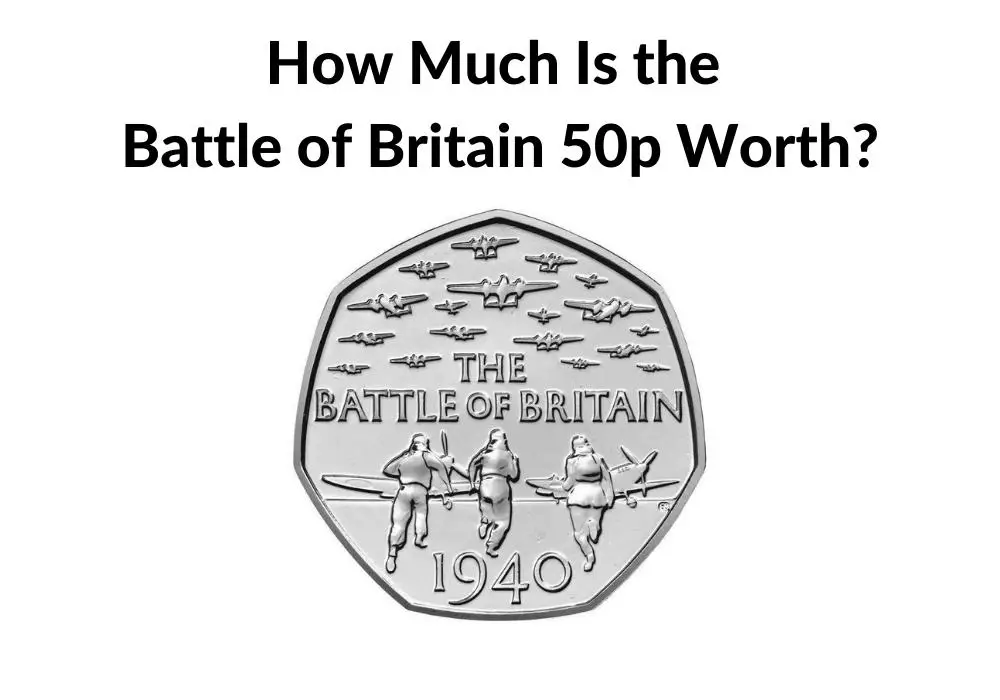 2015 Battle of Britain 50p Coin
The Battle of Britain 50p coin was released into circulation by the Royal Mint to mark the 75th anniversary of the Battle of Britain.
The design by Gary Breeze depicts RAF Airmen scrambling towards their Spitfires to defend their country from attack by the approaching German Luftwaffe planes which we see making up the top half of the coin design,
In the centre of the coin we see the inscribed words "THE BATTLE OF BRITAIN" and at the base the year of the batter "1940".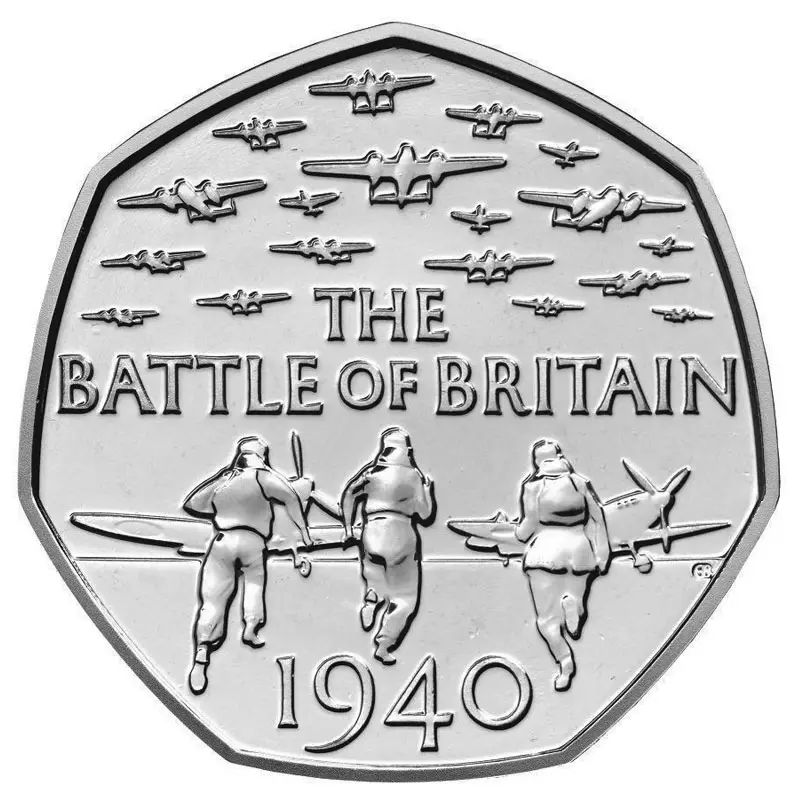 This is a much sought after coin in all its variations.
Directly below we refer purely to the prices of the design which went into circulation and the one you are most likely to find in your change.
How Much is the Battle of Britain 50p Worth 2023?
The value of the Battle of Britain 50p coin is between £2.00 to £7.00 for excellent to uncirculated conditions.  The Battle of Britain 50p is fairly common in relation to most commemorative 50p's but it's still often worth higher than face value.   
Estimated Prices are as follows:
Average circulated condition 50p
Very good to excellent circulated condition £2.00 to £3.50
Uncirculated condition £7.00
How Many of the Battle of Britain 50p Coins Were Made?
There was 5,900,000 Battle of Britain 50p coins minted for circulation in 2015.
Battle of Britain Error 50p Coin?
In the year of the coin's release, there was some excitement when it was discovered there were designs minted of the coin without any denomination.
In total were actually 3 designs of the coins minted, but only 1 of which was released into circulation.
The 3 different designs were:
Silver Proof with no denomination  featuring a portrait of Queen Elizabeth II design by Jody Clark
Brilliant Uncirculated with no denomination and portrait design by Ian Rank-Broadley
Battle of Britain 50p we have in circulation with denomination and Queen Elizabeth II portrait design by Jody Clark
The Brilliant Uncirculated versions of the coin were found in presentation packs and therefore not intended for circulation.
You can see each of the different design variations in more detail here.
Is the Battle of Britain 50p Coin Rare?
With over 5 million minted the Battle of Britain 50p coin is not considered one of the rarest 50ps in circulation.  However, if you find one in your change or the back of a draw or something and it's in very good to excellent condition it could still be worth more than its face value to collectors.
Is it Worth Selling a Battle of Britain 50p?
A Battle of Britain 50p coin in excellent circulated condition could still fetch  4 to 7 times its face value, so for some people, it could certainly be worth selling, whether individually or in lots with other coins also above face value.
2019 Battle of Britan 50p 
In 2019 the Royal Mint reissued the Battle of Hastings 50p as part of a Miltary set celebrating 50 years of the 50p coin.
These coins were not intended for circulation and were issued as collector pieces only.
Battle of Britain 50p Designers
The Battle of Britain 50p was designed by Gary Breeze with help and advice from his brother Lee Breeze.
Here's an interesting video interviewing the 2 men and discussing how they were inspired to create the design and why they chose to focus on the Airmen more so than the actual aircraft that took part in the Battle of Britain.
More About The Battle of Britain
The Battle of Britain took place in the early part of World War 2.  It was predominately a battle between the German Luftwaffe and the RAF (which also included 2 Polish squadrons) over England from July to October 1940.
This particular battle marked a turning point in World War II because it delayed Nazi Germany's invasion plans for Great Britain.
The Germans had planned to invade with seaborne forces but were unable to do so because they could not gain air superiority over England or destroy British industry, as both required control of the airspace above Britain which they did not have.
Britains state of the art radar network, Spitfire fighters, and squadrons of pilots supplemented by Eastern European airmen who had escaped the Nazi scourge all played a vital role in the battle.
The Luftwaffes inability to gain air superiority over Britain was its first loss. Not only did it mark the turning point in the war, but it also delayed Hitler's invasion of Britain, which he eventually abandoned.
Without control of the skies, Hitler was unable to launch his planned seaborne invasion – Operation Sea Lion.