The Diversity Built Britain 50p coin is a relatively new design in circulation.  Its mintage figure has been officially released and we have been tracking prices so you know how much yours might be worth based on the condition it's in.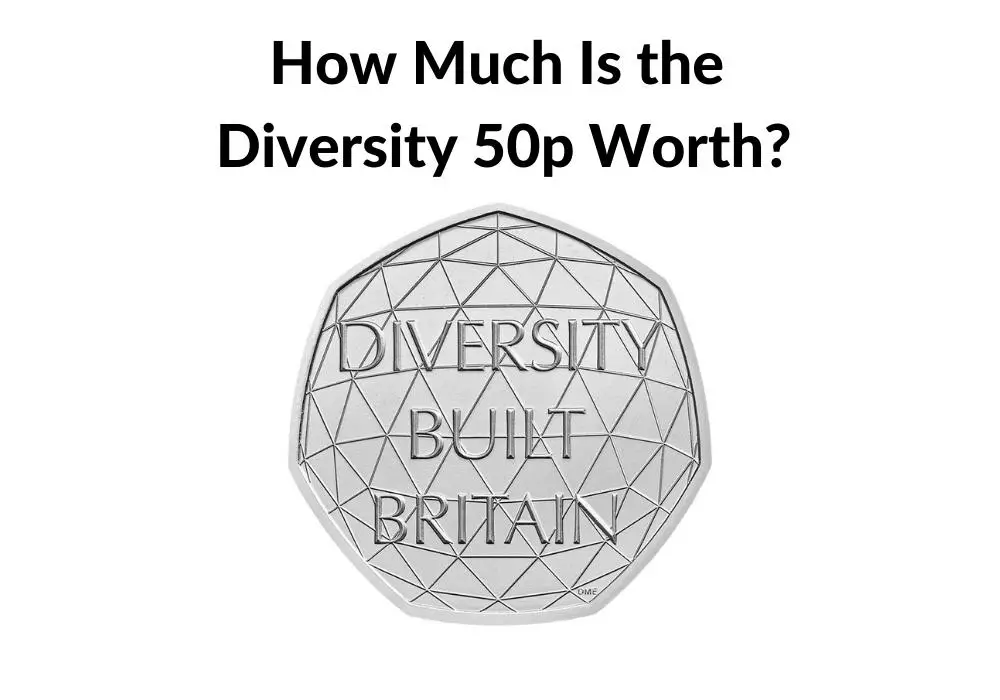 Diversity Built Britain 50p Coin
The Diversity Built Britain design was released to signify the appreciation of the contribution that ethnic minority communities have made to Britain.   Officially acknowledging the fact that they have played key roles in building and maintaining the nation as one of the largest and most civilised economies in the world.
The coin design prominently features the large centred single word a line inscription "DIVERSITY BUILT BRITAIN".
Beneath the inscription, we see a geodome, made up of triangular elements signifying the strong network of connections between British communities.
The coin was designed by Dominique Evans who's initials "DME" can be seen inscribed in small lettering close to the lower right edge of the coin.  She herself is a mixed-raced woman who has grown up in Britain from which she drew inspiration for the design.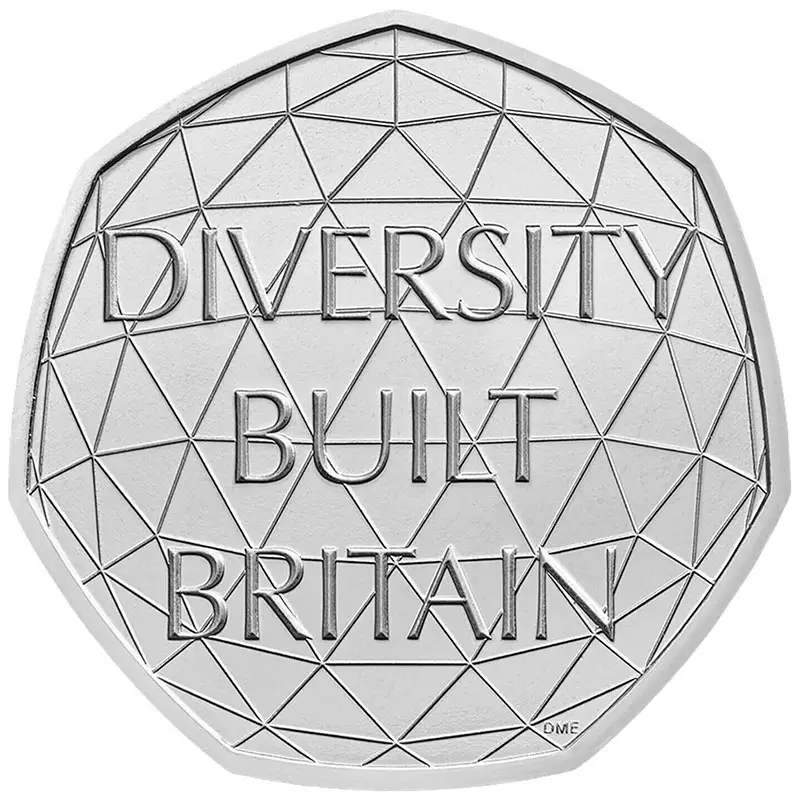 How Much is the Diversity Built Britain 50p Worth?
The Diversity Built Britain is worth between £1.00 to £2.00 in at least very good circulated condition.   Uncirculated examples are worth about twice as much.
Estimated Prices are as follows:
Average circulated condition 50p
Very good to excellent circulated condition £1.00 to £2.00
Uncirculated condition £3.00 to £4.00
Here you can find a full list of the rarest and most valuable 50p coins in circulation.
How Many Diversity Built Britain 50p Coins Were Made?
10,300,000 Diversity Built Britain coins were minted for circulation in 2020.
Is the Diversity Built Britain 50p Coin Rare?
With a mintage of over 10 million, the Diversity Built Britain is not one of the rarest 50p coins.  However, it is still fairly rare being a coin that was only minted in one year alone.  It is therefore worth more than 50p if you have any in excellent or uncirculated condition.
Is it Worth Selling a Diversity Built Britain 50p?
Although the Diversity Built Britain 50p is worth more than face value it is still not worth much overall, typically fetching £1 to £2 at most if it's been in circulation.  Even at such a relatively low value, some people do sell them individually on eBay.
Another option is to sell as a collection or a bigger lot to make the process of selling more worthwhile timewise.
Diversity Built Britain
The Diversity Built Britain 50p coin was an important first step by the Royal Mint and the Chancellor of the Exchequer to feature a more diverse range of people who have contributed significantly in some way to Britain history and for them to appear more often on future coins and banknotes.
The Chancellor at the time, Rishi Sunak, himself of Indian descent (grandparents) backed the campaign "We Too Built Britain" which work for fair representation of minority communities.
You can read more thoughts on the coin and the Diversity Built Britain recognition by Royal Mint CEO Anne Jessop, Boris Johnson, Rishi Sunak and the designer Dominique Evans here.
For even more info you can read about the design of the coin from the designer herself over at the Royal Mint on the page Behind the Design of the Diversity Coin with Dominique Evans.