The GreenJinn app is well worth checkign out if you'd like to take advantage of app coupon offers on a wide range of healthier food options.
There are often totally free options available, I'm often picking up free non-dairy milk to try out.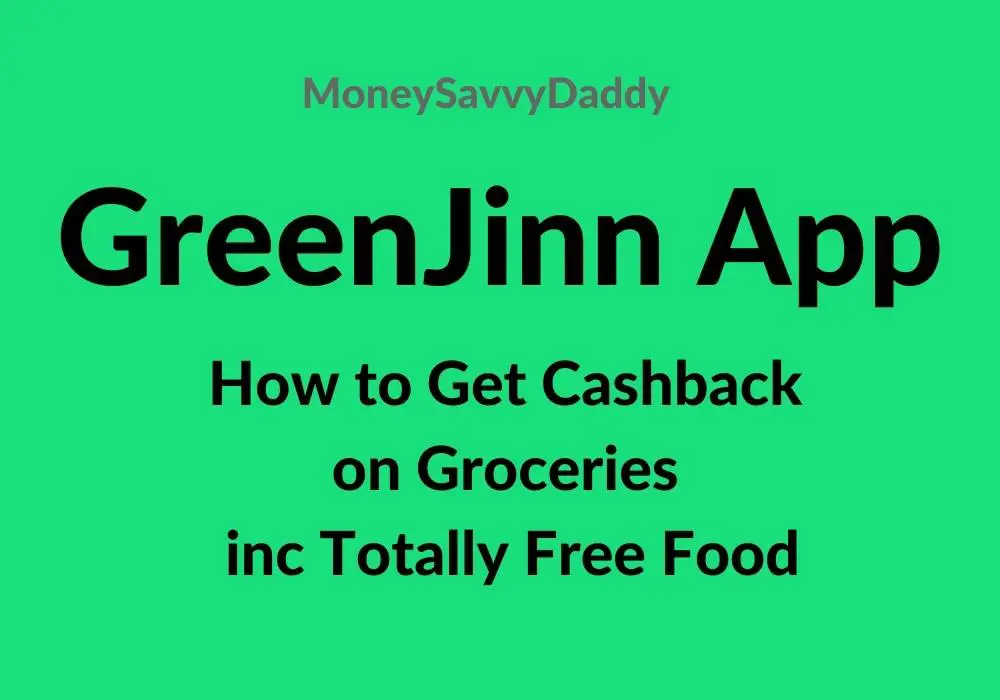 What is the Green Jinn App?
The Green Jinn app is a free coupons app that allows users to save money on various healthy and sustainable food products as part of their everyday shop in a wide range of supermarkets and discount stores by submitting photos of their receipts.
The user can then redeem their earnings through PayPal or direct to their bank account.
If you already use supermarket cashback apps like the more well-known Shopmium (my favou) and CheckoutSmart you will like Green Jinn just as much.
Gone are the days of taking handfuls of paper coupons to the supermarket, you can simply use apps like Greenjinn.
If you are totally new to collecting online coupons check out how you can save even more in our coupons for beginners post.
How Does the Gree Jinn App Work?
To start with, make sure you have downloaded the free Greenjinn app which is available for iPhones and android.
Once you have downloaded the app simply open it up and you'll see the coupons screen.
Here you will be presented with a list of discounted product offers some of which you can "Try for free" as you can see in the example below: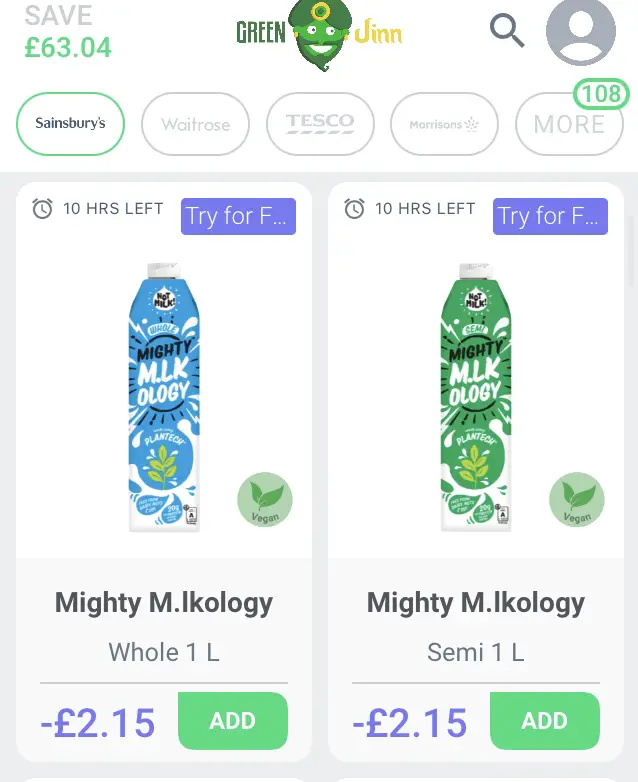 For each item, you purchase click the "Add" button to put it in your Green Jinn cart.
Finish your shopping including paying for the Green Jinn items you wish to claim cashback on.
When you get home, go to the app and click the "Cart" logo in the app menu.
This will show you all the items you have just purchased.
All you need to do next is simply scan your shopping receipt.
Click "Add Receipt Photos" and this will open up your camera phone ready to take and submit your photo.
It really is that easy. There's not even any need to scan the items.
As you can see below I took advantage of trying the 2 different types of non-dairy milk alternatives.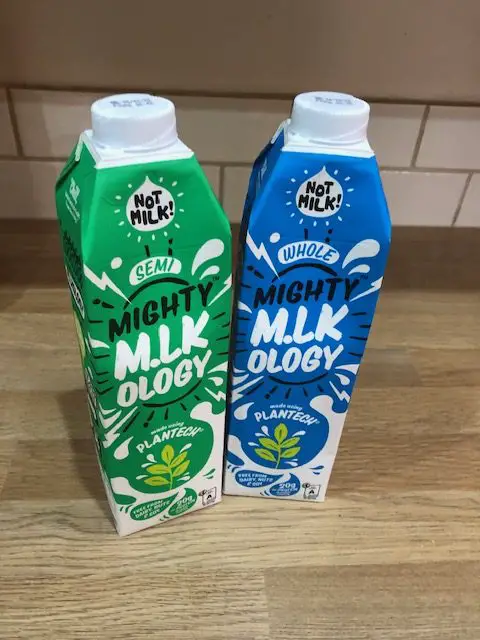 Taking Photos of Your Receipts
You will need to take photos via the app of your shopping full shopping receipt.
Take as many photos as is required to include all the following key data:
Store and its address
Date of purchase
Receipt ID.
Make sure your photos are clear (not blurred) and take them in good light.
How Long Does it Take to Validate Receipt?
Receipts are usually validated the same day you submit, but they can take longer on occasion. GreenJinn states they could take up to 5 days.
Personalise Features
To save you from seeing products you have no desire to buy, such as pet food if you don't have a pet or baby care etc you can personalise the app just to show you categories
Where Can You Use Green Jinn?
You can use Green Jinn at a wide range of supermarkets and food stalls.
Here's a list of the stores which offer the widest range of cashback items:
(In brackets I have put the number of offers available at each store for me at the time of writing to give you an idea of which stores it's most beneficial for).
Sainsbury's (62)
Tesco (41)
Waitrose (32)
Morrisons (20)
Ocado (23)
Booths (17)
Boots (17)
ASDA (11)
Co-Op (14)
Holland and Barrett (12)
WH Smiths (6)
M&S (6)
Whole Foods (3)
Planet Organic (2)
Majestic (2)
How Much Can You Save with Green Jinn
Green Jinn claim you can save up to £1500 per year on your everyday shop. This equates to £30 a week.
However, the best way to save is to only buy products you would, or would be interested in buying anyway.
Advantages of Green Jinn
One of the things I like best about Green Jinn is that on occasions you can repeatedly take advantage of the same coupon while it is active.
I wait until my latest receipt has been processed and if the coupon is showing again I make another purchase. Especially if it's free or a food item I particularly like.
This is in contrast to other similar apps like Shopmium which although a good app, only lets you take advantage of each offer once. Unless of course they repeat the offer a few weeks or months later.
How to Cash out from Green Jinn
Cashing out from Green Jinn is easy.
Just tap "Savings" in the app menu and you'll see how much you have available to claim.
Tap "Claim" and withdraw to your bank or Paypal account.
The minimum cash out is £1.50.
Is Green Jinn Legit?
Green Jinn has been around for a few years now and as you can see from the review scores below has a pretty good reputation.
In terms of accepting receipts and paying out, my first-hand experience has been very good and the app does payout.
Green Jinn Reviews
In the Apple App store, Green Jinn has a very respectable review rating of 4.7 out of 5 from over 2000 reviewers.
On GooglePlay the Green Jinn app has a rating of 4.2 out of 5.
On Trustpilot, Green Jinn have a score of 3.0. There are some negative reviews relating to when users have issues and have trouble getting a response from customer service.
Overall the reviews are pretty good.
Green Jinn Promo Code
Occasionally Green Jinn may offer a reward code.
You can find this by clicking your Profile where you'll see a link to Reward Code. Tap that and enter your code and tap "Send to Genie" to claim your reward.
In the past, they have offered a £1 bonus via a promo code.
At the time of writing, they don't appear to offer any incentives, but when they do offer a promo code I will be sure to add it here.
Green Jinn Tips
So you have the best possible money-saving experience here are a few reminder tips:
Get into the habit of checking the app before every shop.
Always claim your cashback as soon as you get home so that you don't forget about it.
Make sure the photo of the receipt is clear, not blurred.
After scanning your receipt keep it somewhere safe just in case there is an issue with it sending as you may need to scan it again. This is a rare occurrence but has happened to me once before.
Only buy what you will use, otherwise, it won't be a saving.
Possible Green Jinn Disadvantages
All in all Green Jinn is a useful app for saving money and potentially picking up free food items now and again.
However, for some users, the disadvantages appear to:
Lack of offers in their particular stores
Lack of offers in their location.
Lack of or slow responses from customer service
Frequently Asked Questions
Can I get free food on the Green Jinn App?
Yes, the Green Jinn app often offers "Try For Free" products which you can buy and reclaim a 100% cashback on.
Sometimes you'll be able to do this multiple times while the offer is still on.
What Kind of Discounts Does Green Jinn Have?
Green Jinn has a wide range of discounts on products. From 10% to 100% cashback.
The majority of the discounts are in the 30 to 50% off range.
How to Contact Green Jinn?
If you have any issues or questions not answered in the apps FAQ's you can contact Green Jinn through the app.
Go to your profile logo and scroll down the page until you see the link to "Contact GreenJinn. From here you can submit your message.
In some of the reviews I noticed some users were disappointed with a lack of response, so if that is an issue you can also contact Green Jinn customer support at the following email address: support@greenjinn.com