Find out how you can sign up for a free Monese account and claim £20 to £30 free with invite code: ADAMS770
Or you can just sign up via this Monese referral code invite link: https://www.mone.se/7vQs/wagoa5to
Read on if you want to see exactly how to claim your free referral reward by following our easy instructions with images to illustrate.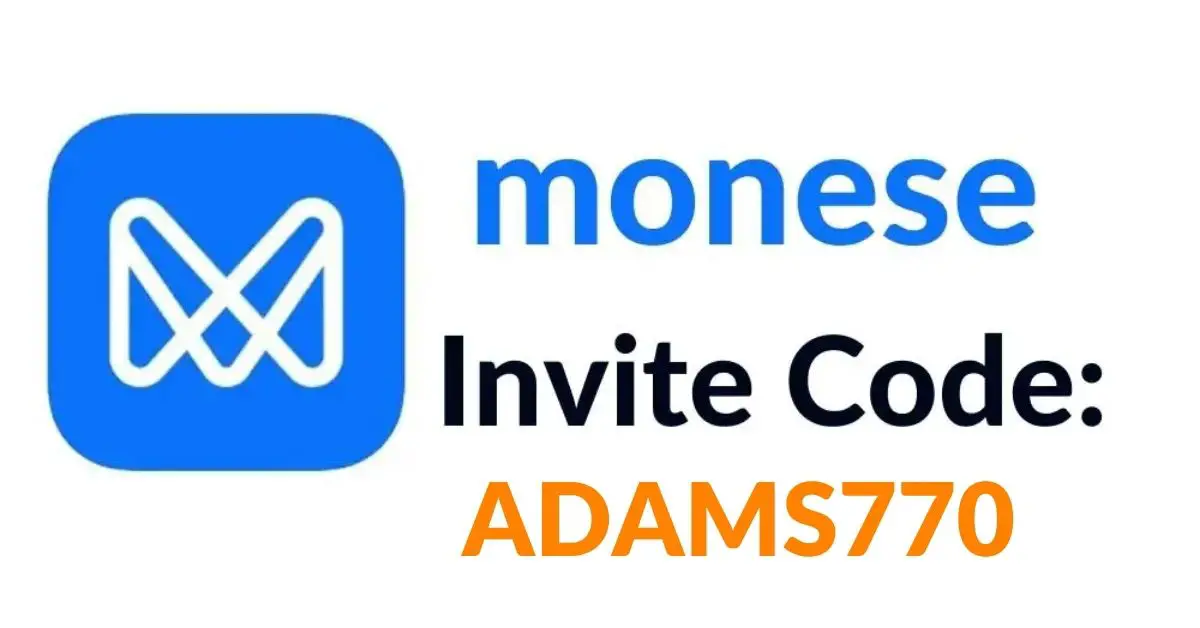 Disclaimer: If you use my refer a friend link I will also receive a reward at no extra cost to yourself.  Thank you if you use it as it helps me continue building the site.
Monese is a mobile money account that you can open without any credit checks.
It's quick and easy to set up and for doing so you can earn a reward for checking the app out.
Note: Monsese periodically change the referral amounts you can earn, it has been as high as £40 to £70, but is currently £20 to £30.
I have left all instructions in place, but obviously, the second part of the offer is less worthwhile while the reward is £40 less.  I will alert via email or MoneySavvyDaddy Instagram when the offer is boosted again, so please consider signing up or following.
Monese Invite Referral Code UK
The Monese referral is pretty straightforward. As part of the process, you will be required to order and pay for a physical card.  You will then have to wait for it to arrive before spending at least £1 on it.
Steps to claim the Monese referral.
Download the Monese app here
When asked, input invite code:

ADAMS770

Verify email address.
Enter mobile No. and verify
Add Address
Choose Account Type (GBP)
Scan ID (passport, driving license or residence permit card)
A quick photo of your face
Add £10 to your new account
Order a physical card for £4.95
Spend £1 on your card
See further below about how to make an extra £10.
Order Your Monese Card
To order your card click "Card" in the base app menu.
You'll see "Delivery £4.95", so you'll have to be prepared to pay for this.
Then tap "Order a free debit card"
There are various ways to add money to your account.]
I opted for a bank transfer which had a minimum top-up of £10.  You will have to use open banking to log into your bank account and transfer the payment for the bank transfer.
The instant top-up using a debit card needed a minimum of £30.
Card Arrives
When your Monese card arrives within a couple of days, you will need to go back into the app to activate your card.
Simply open the app and go to the "Card" section of the menu.
You will see the option to "Activate Card".  Simply tap that and key in the last 4 digits of your card number which are on the reverse of the card.
How to Use the Monese Card
To trigger your £30 invite reward you will need to spend at least £1.00 on the card.  If you uploaded £10 initially, you should have £5.05 pence left on the card available to spend.
You can do this using the physical card they have sent you and simply make a quick and easy contactless payment.
If you prefer to enter a pin number, you will find that in the "Card" section of the app.  Just tap "View PIN".
Other options include:
Add the Monese card to your Apple Pay or Google Pay Wallets.
Linking your Monese card to your Paypal account.
How to Use Your Reward
Monese charges a £1.50 fee for cash withdrawals, so the best way to benefit from your reward is to simply use the card to spend it until your balance is £0.
You only need to open the free account option to earn the referral so you can take your time choosing when to spend it as you won't be incurring any monthly charges.
Referral Summary
So to summarise, you will need to deposit £6, spend £5.95 to earn a £30 reward for a total of £14.05 profit.
You should get the £20 reward the next day, so it's pretty quick.
If you like this way of making a quick and easy profit check out all the other ways to make money from free money offers.
How to Earn an Extra £10
Once you have done this you can follow the next set of steps to earn another £10 reward as follows:
Option 1 – Transfer money to your card and overtime spend £500, which once you surpass you will receive a reward of £10.  You can do this in stages, £10, £50 a time, whichever you choose.
Option 2 – the fast way, is to do the following:
Top up your account with £500
Login to your Paypal* account and add your Monese card to your wallet.
Send the money on Paypal friends and family to someone you know will 100% send it right back to you.
You can do this with £500 all in one go or in increments of whatever you choose, £100 a time etc until you reach the total £500.
*If you don't have a Paypal account yet you can also take advantage of a free £10 Paypal money to open an account.
How Long Does it Take?
Initially downloading the app and signing up, including verifying your account takes at most 10 minutes of your time.  Although verifying your I.D may take a little longer you can come back to the app later.
The monese card will arrive within 3 to 5 days, although mine arrived 2 days later.
Once you have your card and spend any amount of money on it you should get your £30 the next day.
Once you have spent the required £500 for the next reward you should get your next £40 reward the following day.
Altogether it's about 20 to 30 minutes of active effort for a free £70.
Refer Friends and Family to Earn More
Monese currently has a generous friend referral scheme whereby they will pay you for referring your friends and family.
You can refer up to 15 people and earn £10 a time (at the time of writing, check the "Invite" section in the app menu to double-check the latest referral incentives).
If you use my referral above feel free to comment about the app and you invite code in the comments for others to use in the future.
What Is Monese?
Monese is a British app-based bank account you operate totally via your phone.  It was founded in 2015.
Being a totally digital bank account there are no Monese bank branches, or even support phone numbers, unless you lose your actual bank card.
The bank account and all transactions, including contacting support, are done through the app.  There will be no paper bank statements, you'd access statements via the app and if you need a copy for any reason you'd have to download a pdf and send to yourself to print off.
Video About Monese App
Advantages of Monese
You can open a free account with no credit checks.
When you spend money you get instant notifications on your phone.    Therefore if you lose your card, or perhaps have it cloned, you can take immediate action if you spot it being used.
Saving Pots
You can set up to 10 different savings pots from which the money can't be spent unless you move the bank into the main account.    This is really helpful if you like to budget your spending, putting money aside for bills.
Round-Ups
The free account option also offers Round ups which are a handy way to help some people save without barely realising.
You activate round-ups so each time you pay with your Monese card, they will round up the total bill to the nearest whole amount and automatically transfer the spare change to a saving pot of your choosing.
Is Monese Legit?
Firstly, Monese is regulated by the Financial Conduct Authority.
If Trustpilot reviews are anything to go by then Trustpilot is to be considered a legitimate company when it comes to its customers.
As you can see below from February 2022 it scores a respectable 3.9 out of 5.

67% of reviews rated in 5 star Excellent and 10% 4 star Great.
Is Monese Safe?
It's worth noting if you intend to keep using the card long term that unlike a bank account your funds are not protected up to £85,000 by the FSCS.
Is it Worth Keeping the Monese Card?
Over and above the free account (which is all you need to open to earn the referral rewards) there are many different paid account options which
If you are interested in keeping the account long term you might want to check out this in-depth Monese review by MoneytotheMasses.
Add Your Invite Code to the Comments
If you use my code feel from to add a comment about your experience and your own code in the comments below. 
When my invites run out I will ask people to check the comments for codes.