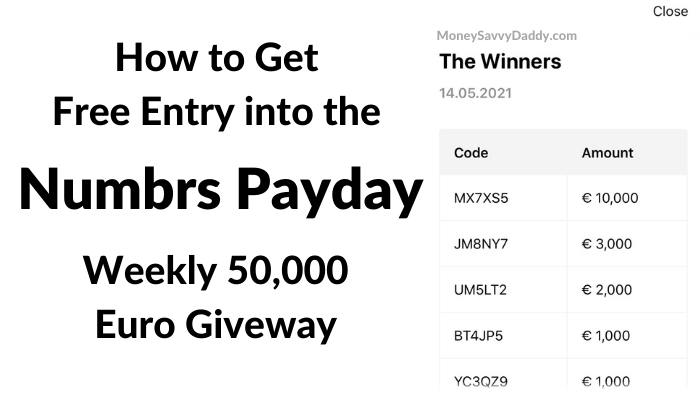 I'm always on the lookout for new ways to help people make some extra money and recently I've been seeing a lot of buzz, including lots of decent wins from the Numbrs Payday giveaway.  So I tested it myself and won EUR in each of the first 2 weeks I entered.
Everyone I referred in those first 2 weeks also won at least the minimum prize.
If you've already heard of the app and are just looking for a referral link, use mine and click here to download the app via a referral link.
Or if you prefer, copy and paste the referral link here: https://www.numbrs.com/p/KC9TT3
What is the Numbrs App?
Numbrs is a one-stop smart wallet app that aggregates your bank account details, cryptocurrency wallets and loyalty reward cards.
This allows you to simply log in to a single app and see a total overview of your all current finances for every type of account you have, including multiple currencies.
The app shows you your total balance across all accounts, as well as past and future, expected transactions.
It also has some interesting features such as Insights which I've covered further below.
What is the Numbrs Payday Draw?
The Numbrs Payday Draw is a weekly giveaway of EUR 50,000 for signing up to the Numbrs app.   To gain a ticket for entry you simply need to download the app via a referral link for us both to receive a ticket into the draw.
EUR 50,000 currently equates to around £43,035 in UK money.
It was solely, for this reason, I downloaded the app.
Numbrs Payday Prizes
The numbers EUR 50,000 weekly prize giveaway is split as follows:
€10,000 to 1 winner
€3000 to 1 winner
€2000 to 1 winner
€1000 to 3 winners
€500 to 4 winners
€200 to 8 winners
€100 to 10 winners
€60 to 10 winners
€40 to 20 winners
€20 to 200+ winners
€10 many more winners
Numbrs has varied the prize money and payouts in the past, so this may change, but it does act as a good guide of what to expect.
Odds of Winning
Although not everyone who enters wins, it does seem like many people do.   I emailed support to see if I could get any info and they confirmed, that although not everyone wins (obviously depends on how many referral tickets are entered each week, the odds of winning are high.
They did state, and I quote:
"However, I can confirm that the chances of winning at least a minimum prize is high."
Is Numbrs Payday Legit or a Scam?
The Numbrs Payday prize giveaway is totally legit.  Winnings are paid to your connected bank account with days, although depending on your bank may take over a week to arrive.
I have won EUR 20 myself and have seen many others win much more and show evidence of their prizes being paid to their bank accounts.
In my first week, I won 10 Euros.  I signed up late on Thursday night, just before the deadline of the next draw and checked to see I was a winner at midday on Friday (unless that day is a bank holiday).
The main reason I signed up in the first place was that I had seen a number of other people online winning and showing evidence of those winnings actually being paid.  In some cases, they were winning the big top 3 prizes and showing their payouts.
Is the Numbrs App Safe?
Numbrs is considered a safe app with it being FCA authorised and using Open source banking to access your bank account details.  This means they will only be able to access the data you give them permission to access for the services they offer.  They won't get access to your login data.
Numbrs received its FCA licence in June 2020, which gave it the legal go-ahead to launch in the UK.
You can find out more about Open Banking here on MSE.
My Winnings
It may only be 10 Euros, or approximately £8.60, but it proves first hand the giveaway is genuine and because it's a free draw I want to see if I can help others win.  It is just one of many ways I have found to win free money.
It only takes about 5 minutes to set up the app.
You can see my first win below.
Also notice, the app shows how many referrals and therefore entries you have for the next weekly draw.  The more entries you have the higher chance you have of winning a bigger prize.
How to Check If You Are a Winner
To check if you have won, from the homepage click the PayDay symbol in the top right-hand corner of the app to be taken to the PayDay page.
This will show the countdown to the next draw.
Underneath this, you should see a link to "See all the winners".
The draw results are released around midday on Fridays, so when you click this page after your entry it should tell you straight away whether you have won, as in my case below.
Although it didn't show me how much I had won.   It told me that in order to claim my prize I needed to go to the settings menu and add my full address.
I simply clicked the Settings Cog in the top left corner of the app and was shown a link to the payment details page and I could see the bank account I had connected was already confirmed to receive the winnings.
On this page, my bank account was already linked and it stated "Payments are automatically initiated and arrive within a few weeks."
To add your address, click the Profile link at the base of the app (the icon which looks like a person).
From this page, click the Settings Cog in the top left of the screen.
Next click User Account, then Personal Details
My name was already there, so I chose my title, Mr and then on the following screen was the option for me to input my address.
You are then required to input
Date of Birth
Place of Birth
Mobile Number
How Long Does it Take to Receive your Winnings?
Once you have added your address I wondered how long it would take get paid, so I asked customer support, who provided the answer very quickly as you can see in the below live chat:
So basically just need to wait a few days and you will be paid into the bank account you chose as a payout account.
How to Qualify For Free Prize Draw
It is really quick and easy to qualify for the 50, 000 Euros draw.
Simply:
Download the app via this Numbrs referral link
Create your account (really quick and easy)
Connect to a bank account
You have now qualified for a free ticket
Cancel Subscription (see below)
It really is quick and easy.
How to Cancel Numbrs Subscription
Numbrs offers 2 free trials, which in effect allow you to qualify for the prize giveaway for free so long as you cancel the subscriptions.
1 year £83.99
Monthly £10.99
You can cancel the subscription as soon as you sign up (I did).
To cancel the Numbrs subscription on an iPhone follow these simple steps:
Go to Settings
Click your profile name at the top of the settings page
Click "Subscriptions"
Under  Active click "Numbrs – Smart Wallet"
Click

Cancel Subscription

Click to Confirm
It's best to cancel the subscription as soon as possible so you don't risk forgetting and being charged because you will not get a refund.
Here's my own example and what you should see on an iPhone or similar device:
A pop up will ask you to confirm you want to cancel your subscription.  Press Confirm.
Done.  When you return to the Subscription screen you should see the date the subscription will expire.
Increase Chance of Winning
To gain more entries into the draw for any week that it's running simply refer friends and family or share on your social media channels.
The more people you refer the more entries you have into the draw, the more chances you have of winning the higher prizes.
Although you can only win one prize per week.
The prize giveaway entries count as a whole which are processed by an algorithm to assign a prize.
You can keep gaining entries for as many weeks as the prize giveaway is running and you are referring friends.
Even if you win one week you can still win the week after and any other week too.
Is it Worth Keeping the Numbrs App?
For me, this post was more about the free entry into the Numbrs Payday giveaway, rather than actually wanting to sign up to the app.
However, while having it on the free trial it's been worth checking out some of the key features.
The app certainly feels very slick and easy to use.  Customer Support was excellent when I made some queries for this post regarding the Payday draw.
All Cryptocurrencies
The apps key features are that it can manage all types of crypto wallets which may appeal to some. With crypto seemingly becoming ever more popular and the price moves can be huge, the Numbrs app is potentially a good option for tracking the overall value.
Timeline and Future Transactions
The Timeline feature helps you keep track of all transactions in one timeline across all your accounts.   It will even show upcoming transactions.   y
Insights, Reports and Much More
The Numbrs app offers a whole range of Insights and financial reports around your personal finances.   If you are interested read more info here and take advantage of the free trial while you have it to see if the app is for you.
Frequently Asked Questions
Here are the answers to a few of the most commonly asked questions in relation to the Numbrs Prize Giveaway.
How Can Numbrs Afford to Giveaway EUR 50,000 a week?
While 50,000 EUROs may seem a lot of money, it's worth being in mind many FinTech companies spend millions launching and marketing their digital products.  The Payday giveaway is very effective marketing as it actively encourages users to download and give the app a try, including overcoming any inhibitions about connecting to a bank.
It only takes a small portion of users to pay to subscribe and the app has a very successful business model.
What If You Don't Get a Ticket?
If for whatever reason you sign-up by and don't get a ticket, just contact customer support within the app and let them know the referral link from which you signed up and they will credit the ticket for you manually.
Simply contact the live support (who are excellent) or email support@numbrs.com
Good Luck
Good luck to all those who take part and feel free to let me know in the comments below or via my social media channels if you win as I love to hear!