Did you know you could pick up some really great bargains on a huge range of ex-display shoes and trainers?
Not only can you pick up some bargain-priced Schuh Imperfects, or Imperfections as they are often referred to.  I've also found some extra tips to get even more money off your cheap shoes.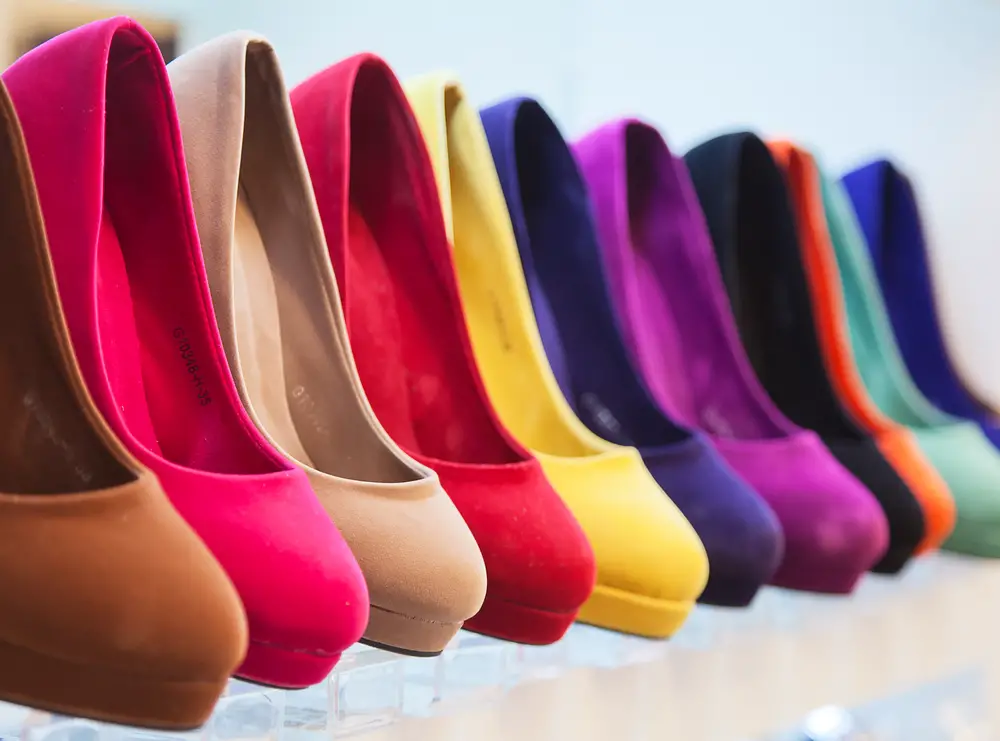 Schuh is a UK footwear retailer which was founded in Scotland in 1981.
It is hugely popular with savvy money savers and bargain hunters for its wide selection of Schuh Imperfects.
Our household has purchased from them several times and been very happy with what we have received.
What is Schuh Imperfects?
Schuh Imperfects offers a wide selection of reduced price footwear that is not quite in brand new condition.
It will include shoes that have suffered somewhat through the retail process or perhaps returns.
Typically Schuh Imperfects might have:
Some scuff marks or scratches
Suffered some discolouration or fading
Dirty marks that aren't easy to wipe off
Might not be in original packaging
Quite often I find it's one show that has suffered very slight discolouration from being on display, and the other shoe is fine.
Schuh Ex-Display Shoe Examples
Here is some examples of what you might see available.
Schuh Ex Display Trainers
Examples of Schuh ex-display trainers for sale: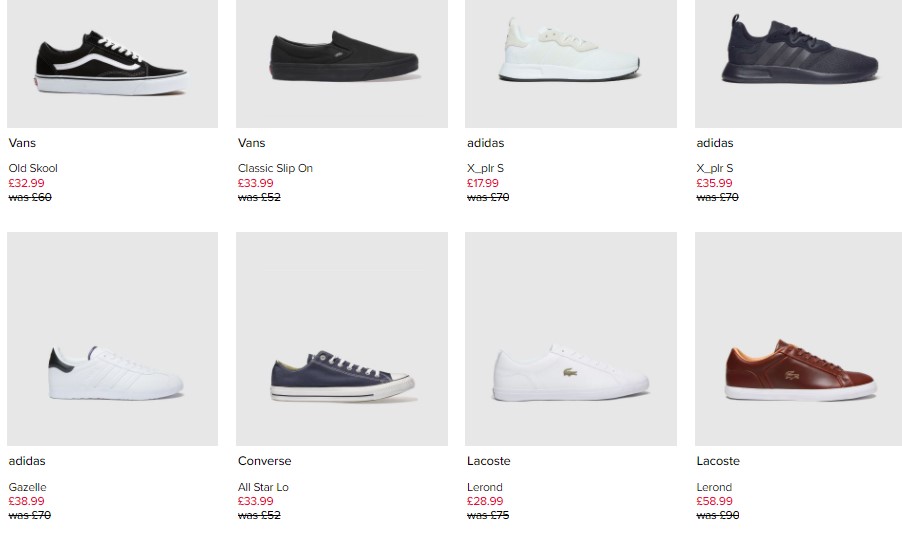 Examples of price discounts and reasons:
Vans Old Skool Both shoes have suffered damage to the uppers (couldn't see it) £60 to £32.99
adidas x_plr Trainers right shoes suffering discolouration (was very obviously darker) £70 to £17.00
adidas basket profi (right shoes suffering from discolouration (couldn't tell) £55.00 to £35.99
Generally the worse or more obvious the damage, the bigger the discount.
Brands available include:
Adidas
Converse
DC
Emporio Armani
Nike
Lacoste
Skechers
Tommy Hilfiger
Vans
Schuh Imperfects – Women's Shoes
Below is a sample screenshot of 8 shoes from the 470 available from the women's category.
Schuh Imperfects – Men's Shoes
A sample selection of 8 from the 363 men's shoes available.

Schuh Imperfects Kids from £2.99
There's always a large range of kids footwear available from as low as £2.99 from £25.    For example the Adidas Gazelle Cribs and Superstar Mesh lines below.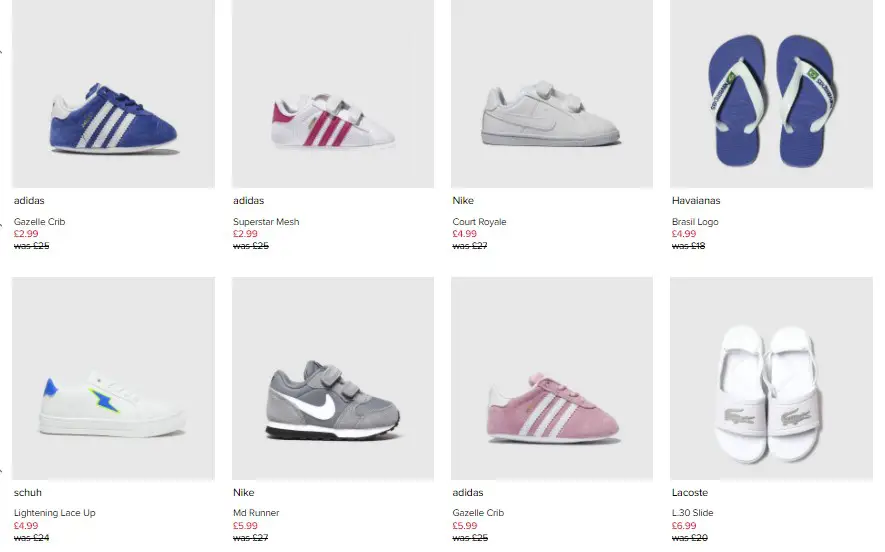 How Does Schuh Imperfects Work?
Visit the Schuh Imperfects page and you'll see something like the following.
There were 1262 Imperfects available, split as follows:
470 Womens
363 Mens
1 in Accessories
436 in kids
To save you wading through hundreds of shoes that might not be suitable, Schuh Imperfects have an easy filter system so you can home in on possible bargains just right for you.
You can filter by:
Size
Brand (from 27 brands)
Department
Category
Colour
Price
Material
Once you've selected your filters you'll see the selection of Imperfects that are available.
Click the styles you like.  Sometimes there might be more than one available and at different prices depending on the imperfection.
For each item, you will see 3 actual photos of the specific item available for purchase.
There's also a 4th stock photo for comparison purposes.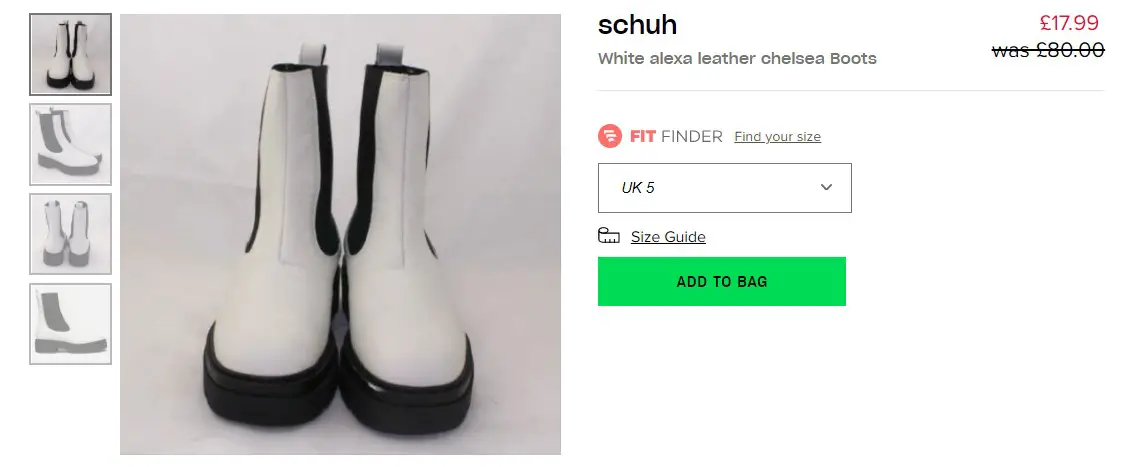 Have a look under the "Imperfects" header to see the reason for the discount:
Imperfect reason example:
Next, have a good look at the 3 photos.
Tip: Use the zoom function on your browser to increase the photo to the max size possible on your screen for a real good look.
Schuh Imperfects Delivery
Schuh offers a whole range of delivery options for your Schuh Imperfects.
Signed delivery is available 7 days a week.  You can get next day or choose your day delivery for £4.99.
Although Schuh offers free standard delivery (2 -5 working days) on full-priced and sale product orders over £25, it charges £3 for Imperfect products regardless.
Check out other Schuh delivery options and prices here.
Can You Return Schuh Imperfects?
The Schuh returns policy gives you 365 days to return your order if for any reason you are unhappy with your purchase.
You can claim a full refund, however, for Schuh Imperfects you cannot exchange due to your item effectively being a one-off.
Schuh Imperfects cannot be returned to stores but you can return them online,
You can return Schuh Imperfects via:
InPost
ASDA toyou
CollectPlus
For more infomation see Schuh Returns.
Tips to Get Your Schuh Imperfections Even Cheaper
I love a discount on top of discounts and here are a couple of ways to save even more on your Schuh Imperfections.
Schuh Imperfects Student Discount
Schuh offers students 10% off all prices including the already discounted Imperfects.
Schuh has a specific category for Student Style footwear, which includes brands like Dr Martens, Vans and Converse.
To get your student discount you need to fill out a quick student discount form which you can find on the Student Discount page.
Schuh Imperfects Cashback
One of my favs for every online purchase I make is to utilise cashback apps, the main one being Topcashback.
The cashback rates often change, but as you can see below, they offer some pretty good rates at 4% on Schuh Sales and 6% on all other online purchases.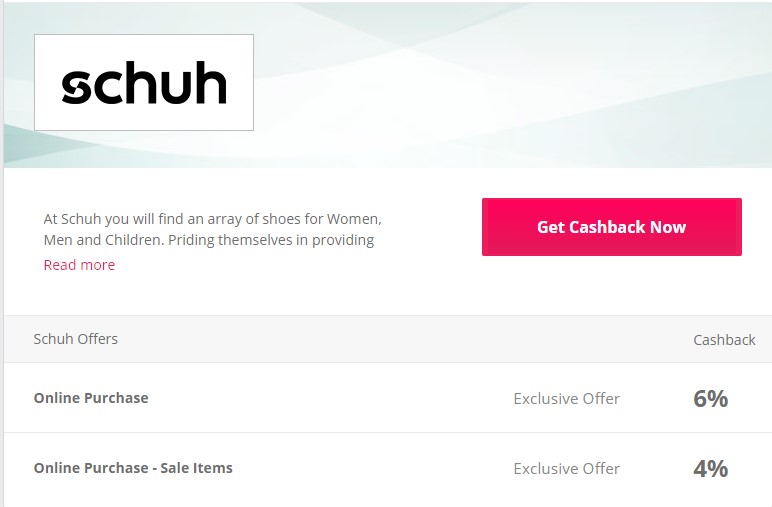 To claim your cashback simply sign up for a free Topcashbak account.  Once a member navigates to the Schuh page and clicks the "Get Cashback" red button.  This link will take you to the Schuh online store, tracking your visit in the process and later rewarding your account with the cashback.
Always have a quick look at the terms.  At the time of writing, they stated you couldn't combine cashback with a student discount.
You can find out more about how Topcashback works in this review.  I've had £100's of pounds back over the years.
Does Schuh do Klarna?
Schuh accepts payments via Klarna for which you must be over 18 years old to use.
Schuh Imperfects Test Purchases
This customer brought 5 pairs of Schuh Imperfects ranging from £5.99 to £27.99.
It's only a 6-minute video and will give you a good idea about what to expect to receive if you are not sure about giving the Imperfects ago.
Sites like Schuh Imperfects
While Schuh Imperfects have the biggest selection and the most well-known place to pick up cheap shoes there are also some other sites like Schuh that might be worth checking out.
Office Offcuts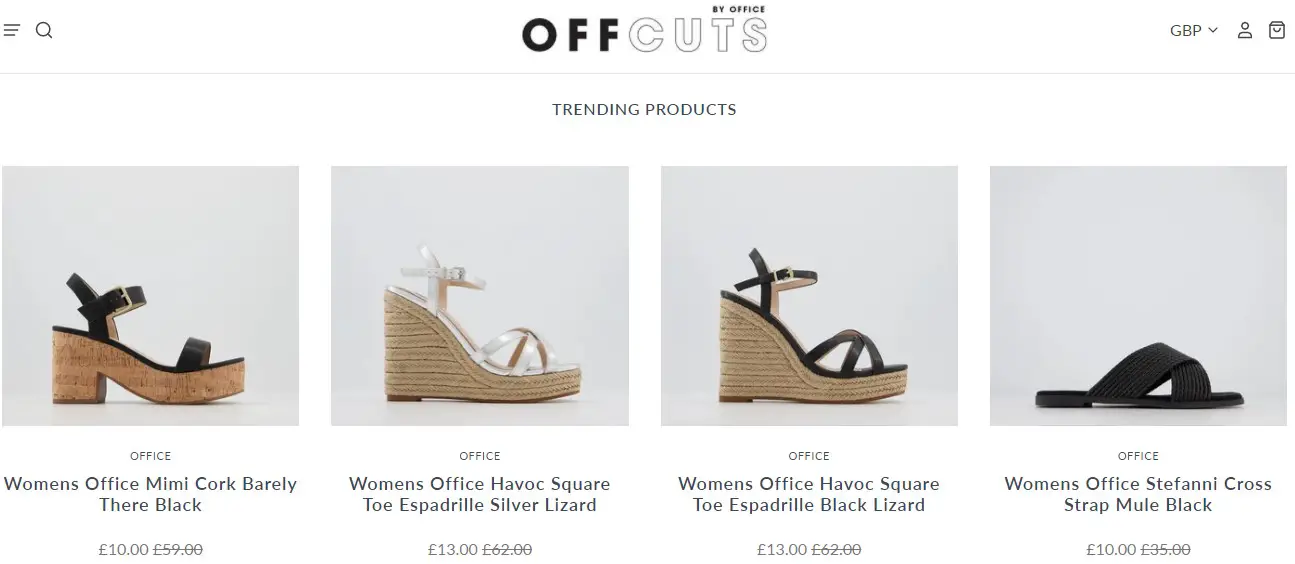 The high street retailer OFFICE has a website  for its ex-display and last pair shoes, referred to as OFFICE Offcuts as offcutshoes.co.uk
Very similar to Schuh Imperfects, every pair is sold individually and you'll see photos of the exact pair for sale.
They have their own scale to illustrate the condition of the shoes:
P = Totally perfect
G1 = Near perfect
G2 = Great condition
G3 = Good condition
G4 = Okay condition