The Wounded Soldier 50p as it is most commonly known is rare enough to be worth more than its face value.
Read on to find out the current prices it costs to buy or sell.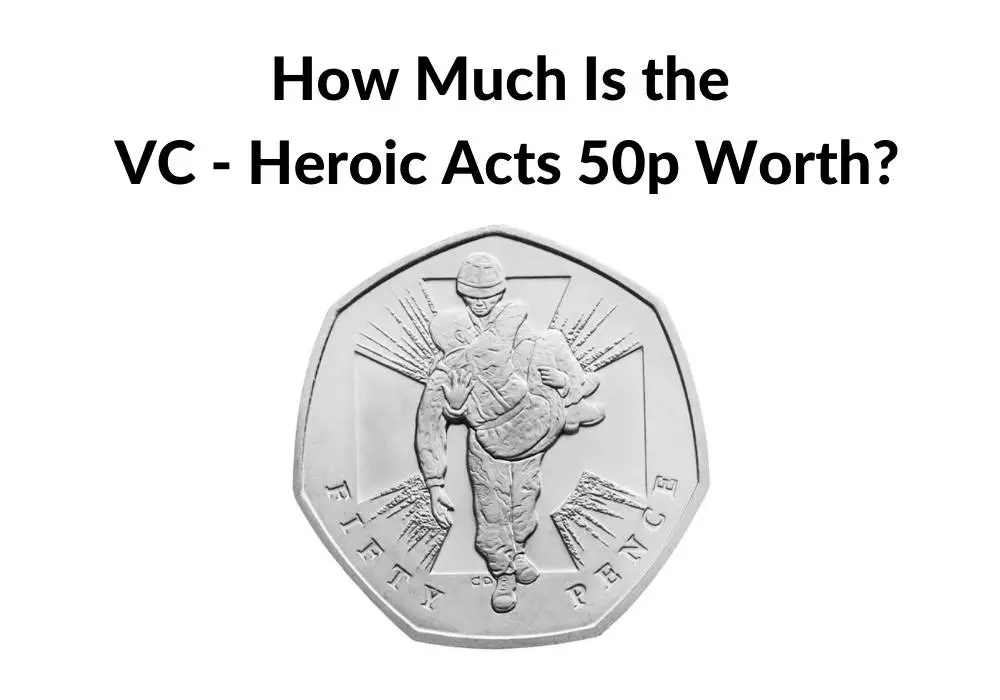 Victoria Cross Heroic Acts 50p  Coin
The Victoria Cross Heroics Acts 50p was one of two Victoria Cross related 50p coins released into circulation in 2006.  The other was the Victoria Cross Medal 50p coin.
This particular coin design encapsulates an example of why the Victoria Cross might be awarded, for an act of valour "in the presence of the enemy".
In the centre of the coin, we see a World War 2 soldier carrying another wounded soldier.  In the backdrop, we see a silhouette shape of the Victoria Cross, behind which there are signs of an warfare in the form of explosions reaching into each corner of the design between the spaces of the cross.
The coin was designed by Clive Duncan, whose initials "CD" can be seen in a small letter near the boots of the walking soldier.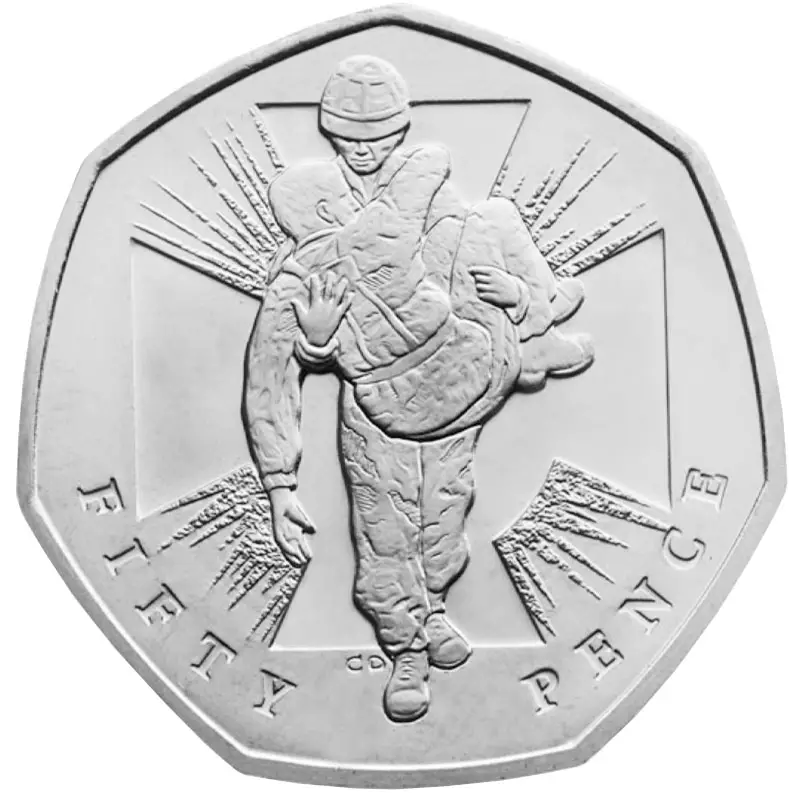 How Much is the Solider 50p Worth?
The Soldier 50p or VC Heroic Acts as it is named by The Royal Mint is typically worth a mid-price of £1.50 in at least very circulated condition and up to £6.50 if uncirculated.
Estimated Prices are as follows:
Average circulated condition 50p 
Very good to excellent circulated condition £1.00 to £2.00
Uncirculated condition £4.00 to £6.50
How Many Wounded Soldier 50p Coins Were Made?
There were 10,000,500 / ten million and 500 wounded soldier 50p (Victoria Cross Heroic Acts 50p ) coins minted in 2006.
2019 Wounded Soldier 50p
In 2019 the Royal Mint reissued the Victoria Cross Heroic Acts Wounded Soldier 50p as part of a Miltary set celebrating 50 years of the 50p coin.
These coins dated coins 2019 were not intended for circulation and were issued as collector pieces only.
Is the Wounded Solider 50p Coin Rare?
At a mintage of just over 10 million the Wounded Soldier, 50p is not that rare compared to the rarest 50p coins in circulation.  However, it is still rare enough to be worth more than face value.
As regards how likely you are to find in your change, with the coin being minted some 15 years or more ago it is less likely to be one you'll find.
Is it Worth Selling a Soldier 50p?
The wounded soldier 50 only fetches 2 to 4 times the face value of 50p if it's in excellent condition.  Although people do sell them as single lots you'll have to decide whether it is worth the time for such a low-value item.
Another option is to find a few 50p or other coins above face value and sell them as a bulk lot.
What is Victoria Cross Heroic Acts
The Victoria Cross was issued for
…most conspicuous bravery, or some daring or pre-eminent act of valour or self-sacrifice, or extreme devotion to duty in the presence of the enemy.
We see such an act depicted on this Heroic Acts 50p coin.
Although the imagery is of a modern World War 2 scenario, the vast majority of Victoria Cross Awards were given out in the years before WW2.
It was reported that the original design featured the soldier in the sights of an enemy sniper and that Gordon Brown thought this might upset some members of the public.
You can find more info on our Victoria Cross Medal 50p page.