The Victoria Cross 50p from 2006 is rarely seen in our change these days even though it is still in circulation.
If you do find one in good enough condition it is likely worth more than face value, we keep a constant eye on the latest prices which you can check out below.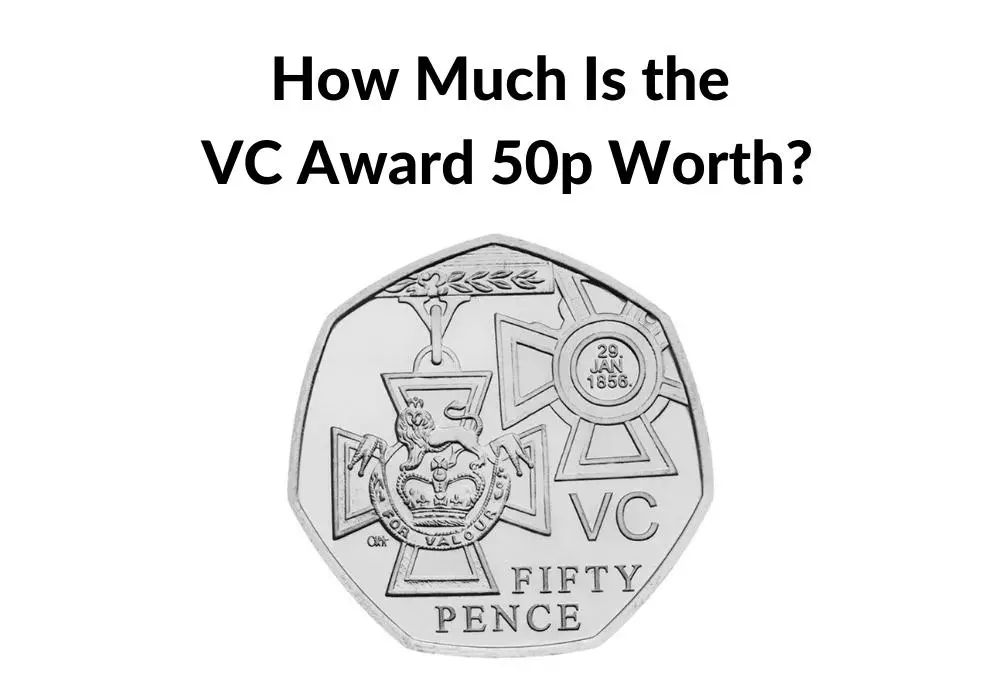 2006 Victoria Cross Award 50p Coin
The Victoria Cross Medal 50p or VC 50p was just one of 2 commemorative 50p coins released into circulation in 2006, both were related to celebrating the 150th Anniversary of the Victoria Cross Award.
The other Victoria Cross coin is known as the Victoria Cross Heroic Acts but is often referred to as the Wounded soldier 50p.
There are 2 images of the Victoria Cross.  On the left, we see the full image of the Obverse of a Victoria Cross medal attached to a ribbon.
An actual real Victoria Cross was originally a Bronze Cross pattée with Crown and Lion Superimposed underneath which is the motto "FOR VALOR".
On the right side of the coin is an image of the reverse of a Victoria Cross Medal.  On this particular example, we see the date "29. JAN 1856".  This date signifies the date the Victoria Cross Award was first introduced by Queen Victoria during the time of the Crimean War (1853 to 1856).
The Victoria Cross Award coin was designed by Claire Aldridge.
How Much is the Victoria Cross 50p Worth?
The Victoria Cross Medal 50p coin is typically worth between £1.00 to £2.00 in circulated condition.  Uncirculated coins are worth more.
Average circulated condition 50p 
Very good to excellent circulated condition £1.00 to £2.00
Uncirculated condition £4.00 to £6.50
Here you can find a full list of the rarest and most  valuable 50p coins in circulation.
How Many Victoria Cross 50p Coins Were Made?
There were 12,087,000 VC Award 50p coins minted in 2006.   This made it a more common 50p than the Victoria Cross Heroic Acts 50p released the same year.
Is the Victoria Cross Award 50p Coin Rare?
With over 12 million Victoria Cross Award 50ps entered into circulation, it makes it one of the more common of the rare 50p coins.    It is also more common than the Victoria Heroics – Wounded Soldier 50p which was released in the same year.
Is it Worth Selling a Victoria Cross Award 50p?
A VC Award 50p coin is worth 2 to 4 times face value so for some people that makes it worthwhile selling rather than spending it for less at its face value of 50p.
If you have one in an uncirculated condition that is likely more worthwhile selling with it typically being worth 8 to 12 times its face value.
2019 VC Awards 50p 
In 2019 the Royal Mint reissued the Victoria Cross Award 50p as part of a Miltary set celebrating 50 years of the 50p coin.
These coins were not intended for circulation and were issued as collector pieces only, so you won't find them in your change.
About the Victoria Cross Award
The Victoria Cross is the most prestigious award to ever possibly receive within the British Honors System.
It was awarded for immense acts of valour, bravery "in the presence of the enemy".
It is an award that could and was at times was awarded posthumously.
The Victoria Cross  medal has been awarded 1358 times in total, but only 15 times since  orld War 2.  It is therefore an extremely rare and collectable item in its own right.   If any go up for auction the prices can reach £100,000's.