If you already know about the Everup app and are just looking for a referral code to claim a signup bonus I'll drop the code here for you to copy and paste straight away.
Everup Up Promotional Code: RADA271616ZEQJXT
If you would like to know more about the signup process and the rewards on offer plus a little more about the app and whether it is worth using after claiming the free money sign up bonus, please read on.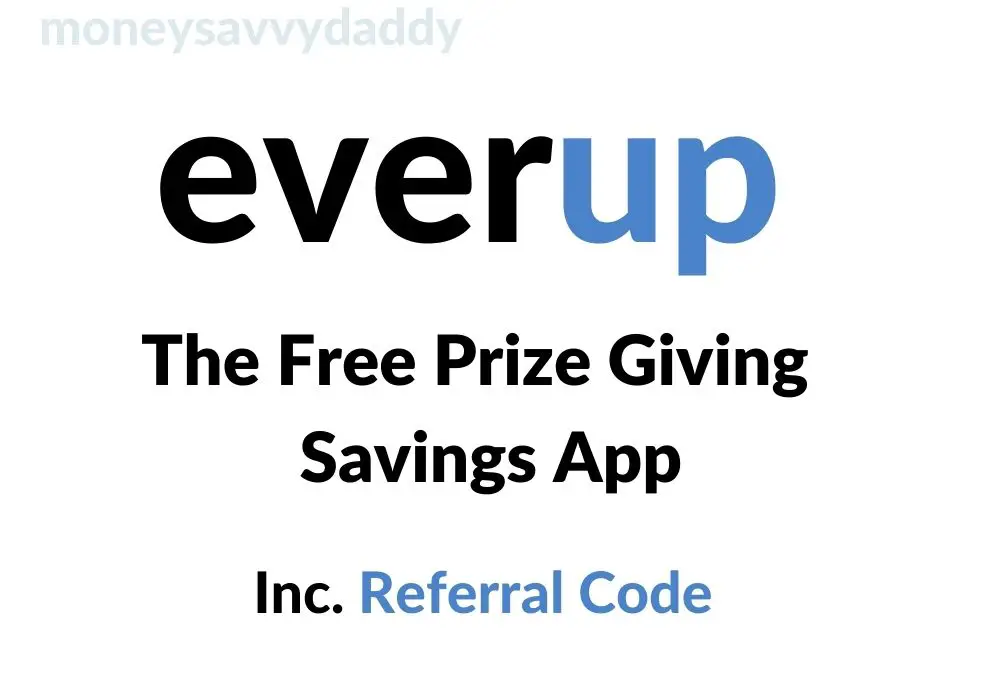 Everup Referral Code:
Here's my referral code you can use to claim your cash reward and entries into prize draws.
Referral code: RADA271616ZEQJXT
Everup has various offers for signing up, so this may change.
At the time of writing they were offering new customers who use the referral code and who open a cash account, no deposit required, the following:
Win between £4 to £100 in cash (allocated on 16th June)*
Win 1 month's rent or mortgage payment up to £700
500,000 points
Download Everup here
Complete the signup Process
Enter promotional code: RADA271616ZEQJXT
No deposit is required to claim your free cash prizes and entry into the prize draws.
*Cash reward can be withdrawn to your bank account.
Note: The Everup referral offers constantly change, so always double-check for the latest deals.
If you would like to earn more quick and easy money in a similar fashion be sure to check out our free money sign up offers totalling £100's.
What is Everup?
Everup is a prize promotion app which rewards savers with virtual coins which they can use to play games and enter lotto's which offer real cash rewards and other prizes such as mobile phones.
How Does Everup Work?
The more you save the more virtual coins you are awarded.
Users are rewarded with virtual coins when they sign up as well as when depositing which varies depending on various deposit reward thresholds.
These Everup virtual coins can then be used to play a range of games, including well known gambling games such as the Everup lottery, wheel spins and raffles which offer the opportunity of winning real cash and tax-free prizes, some on a daily basis.
Is Everup Legit?
In terms of financial regulation,s an e-money account Everup is authorised by the Financial Conducts Authority (FCA).   This means your money is held lawfully secure as per guidelines in the UK.
In terms of being legit in the eyes of users having a good and trustworthy experience of the app, we have a look at reviews by real users.
Everup Reviews
In terms of reviews on Trustpilot, Everup appears to be a legit company as regards users offering their feedback to the review site.
At the time of writing scoring 4.5 out of 5, and with a total of 88% rating the company from Great to Excellent. This is with only 91 reviews, which is a relatively small sample size, so worth keeping an eye on here.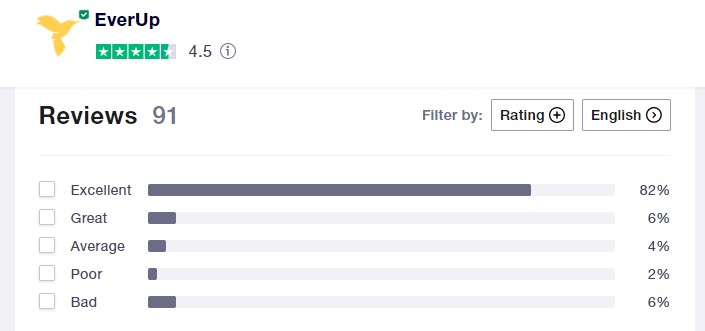 The very few negative reviews seemed to touch on two main issues.  A couple mentioned they found the app boring,  Fair enough not every app pleases everyone.   Some reviews also touched on the app being gambling-related, to which Everup replies themselves highlight that at no point is any user's money at risk of being lost or even stakes.   All gambling-related games are staked only with virtual coins which are awarded for free based on savings benchmarks.
In addition, we look at the app store review we see a respectable score of 4.0 out of 5.
Is Everup Gambling?
A couple of reviews stated they felt the app was a gambling simulator which might encourage gambling behaviour.
This is is a valid point and one worth looking at, is Everup gambling?
Everup themselves replied with words to the effect that they were:
"anti-gambling with the ambition to turn gamblers, unbanked and financially vulnerable individuals into savers".
With Everup at no point is your own money at any risk of being lost.  You are only playing games with virtual coins, therefore it cannot be classed as gambling.
Is Everup Safe?
Is your money safe is a question all users should consider when depositing money with any app.    Your money isn't held in an actual bank savings account.  Instead, it is held in an e-money account and therefore your savings are not protected by the Financial Compensation Scheme, which for many banks protects savings up to £85,000 per banking institution.
Bearing in mind that Everup rewards users with more virtual coins the more they save, it's worth being aware that the more you do save, the more money you are potentially putting at risk should the Everup ever go out of business.
The app is more suited to short term savings, rather than building up to larger amounts of savings over the long term.  Those would be better held elsewhere where they are fully protected.
Who is Everup App For?
It is more geared towards people who struggle to save at all, and who will benefit from being rewarded instantly for saving.  In this case, the fun reward of saving is in the form of virtual coins you are awarded which offer you daily chances to win real money.
Some people find saving relatively small amounts in interest-bearing bank accounts that pay really low levels of interest and only once a month or once a year.  They may deem it boring or not even worthwhile and therefore not end up saving at all.
Ultimately though, slow and steady savings wins the race, so if Everup can help some people start the saving process for people who might not otherwise be interested in saving it could be a benefit.
Frequently Asked Questions
Is Everup an Alternative to Premium Bonds?
In terms of how Everup works, it is in a way an alternative to premium bonds.
With premium bonds, savings do not earn monthly interest.  Instead, the equivalent of an interest rate is paid out in tax-free prizes to lucky winners.
The key difference between Everup and Premium Bonds is that with Premium Bonds your deposits are totally safe and you can save many large amounts.
With Everup your savings are not as protected, and therefore it is not suitable for saving large sums.