Smyths Toys offer a huge range of toys and games for all the family at competitive prices.
It is no surprise that the next Smyths Toys sale dates are hotly anticipated by many to grab even more of a bargain.
We also provide added tips to save even more on your sales purchases.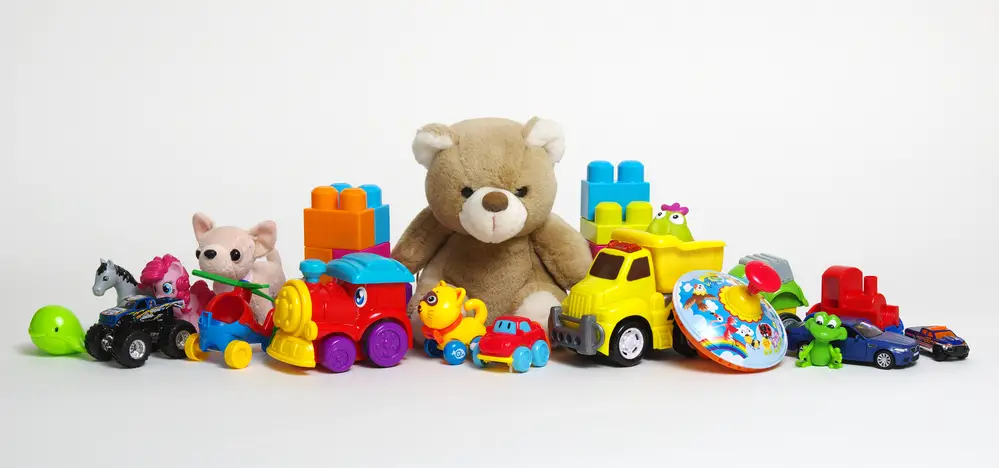 Smyths Toys is one of the largest toy store retailers in the UK.  As well as a popular online store they also have 90 superstores in the United Kingdom and 21 stores in Ireland the country from which it originates.
They offer a huge range of toys and games products for children of all ages.  From baby toys to drones and robots there's something for all the family.
Smyths Toys are competitively priced, so it's handy t know the upcoming sale dates so you can plan your shopping at the best time for bargains.
When's Is the Next Smyths Toys Sale 2023
If you are wondering if Smthys Toys are having a sale soon, wonder no more as we have the latest sale dates and predicted future sale dates based on sale dates from previous years which you can also refer to as a guide to predicting future sale dates.
Smyths Toys typically have 3 main different toy sale events a year.
The next Smyths toys sale is expected to be in September 2022 or October 2022, depending on whether bring back past sales events.
Read on to find out ingenious ways to save even more on your Smyths toys shopping.
Smyths Half Price Sale (50% off) When Next?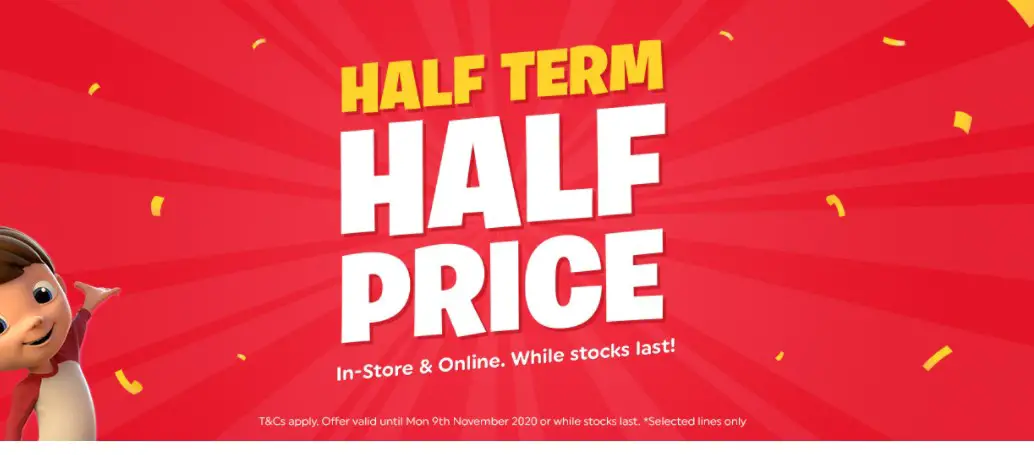 The most popular Smyths sale event is the Half Price Toy Sale.
Unfortunately, there was no Smyths 50% off sale in 2021 or 2022.  In 2021 it was partly due to supply chain issues including shortages of shipping containers and storage of HGV drivers.     However there was also no sale in 2022
If there is a sale in 2023 we can typically expect this sale to start in the 2nd half of October, so for 2022, we predict the sale to start around Tuesday 17th October 2023.
We will update this page as soon as the official date is released.
Past Half Price Sale Dates:
No half price sale in 2022
No half price  sale in 2021
Thursday 22nd October to Monday 9th November 2020  (19-day sale)
Tuesday 15th October to Tuesday 22nd October 2019 (8-day sale)
Black Friday Sales
Smyths Toys takes part in the annual Black Friday event in a big way and offers a great opportunity to pick up some bargains in time for Christmas.
In 2021 Black Friday was on the 26th of November, although Smyth's sales prices went live 3 days earlier on Tuesday 23rd November.
£10 off £50 Spend

This is another popular Smyths Toys sale event from the past, which may or may not return, but is often looked for from past customers.
Although the discount is not as large as 50% off, instead of working out at a saving of 20%, it has the advantage of being applied to a lot more items in the store.
Unfortunately, videos games and consoles were excluded, and obviously, gift cards don't qualify either.
However, that still leaves a whole lot of items on sale.
The £10 off counts towards every £50 you spend.  If you spend £100, expect £20 off, spend £150 get £30 off and so on.
£6 or £50 Spend
There was also sometimes a similar sales event which didn't offer quite as much value with £6 off a £50 spend.
Next Predicted Sales Dates:
Neither of these sale events has taken place for a couple of years now, but possibly due to COVID in 2020 and supply chain issues in 2021, or perhaps they just prefer to focus on the Black Friday deals.
However, the events used to take place in September so one to watch for September 2022 when hopefully supply chains have settled down a bit.
Smyths Toys at Easter
In past years Smyths Toys have had in-store Easter Eggs Hunts giving away free Easter Eggs as well as prizes.  In 2019 they were giving away a free trampoline from each store.
Smyths Toys Clearance Sales
Smyths Toys may have clearance sales at any time when they clear out old lines of stock.  You can view the latest Smyths Toys clearance sale items here.
Types of Toys On Offer
Smyths Toys stock literally everything.
Here are some examples of what to look out for in the sales:
Baby Toys
Dinosaurs
Preschool
Bikes
l Toys
Scooters
Robots
Drones
Trampoline
Examples of well-known brand name toys you can find at Smyths Toys:
Barbie
Batman
Legos
Lol dolls
Playmobil
Peppa Pig
Paw Patrol
Pokemon Cards
What are Smyths Toys Opening Hours?
Smyths Toys superstores  open 7 days a week, with most stores open at the following times:
Monday to Friday 9am to 9pm / 10pm
Saturdays 9am to 7.30pm / 8.30pm
Sunday's 10.30 am to 4.30 pm
Exact opening times may vary store to store, but most follow the above or are very similar.
In the lead up to Christmas opening times may be extended to 11 pm Monday to Friday.
Delivery
When comparing prices between retailers it's always worth considering the delivery charges.
Smyths Toys offers free delivery on all orders over £20.00.
Overall their delivery charges are as follows:
Order value under £10 are £4.99 delivery
Orders between £10.00 to £20.00 are £2.99 delivery
Orders over £20 – free delivery
You can find more delivery information here.
Another option is to arrange free click and collect from a store of your choice.
Returns
Unwanted items can be returned within 28 days in the original condition in which they were purchased.
You'll need to take your receipts, whether from stores or online with a  dispatch confirmation email.
Items can be returned in one of 3 ways:
To any Smyths Toy store (free)
Via CollectPlus for items below 10kg (free)
By post.
Returns policies are extended over Christmas.
For more information on Smyths returns see here.
How to Get Extra Discount at Smyths Toys Sale
In addition to the sales prices there are usually extra ways you can get even more money off the final bill.
Smyths Toys Cashback
At the time of writing Smyths toys is one of the few retailers that don't appear on any of the best cashback sites:
However, they may be worth checking in case this ever changes.  I know in the past they have featured on the above sites so may well do again in the future.
2% to 5% Discount Tip
Zilch is a form of payment that offers two options.   Firstly there's the buy now pay later option, which is not something I would recommend as it encourages overspending and getting into debt.
However, it also has an option that can earn you 5% in rewards and it's the option to "Pay it All Now".  This allows you to pay for your purchases in full using the Zilch digital MasterCard and the funds are immediately used from your bank account.   No debt.
Currently, the cashback reward rate is 5% which is quite a saving, especially if you can also combine it with other cashback deals.  Even if they lower back to 2% its an extra saving.
You can learn more about how Zilch works here, and I also have separate step by step instructions on how to claim an instant free £10 Zilch referral when you sign up without even spending any money.
Frequently Asked Questions
Is Smyths Toy Sale Online?
Smyths Toy sale events are typically always available online.  In fact, some of the sales events are online only.  Therefore if you have a nearby store that you visit when the sales are on it's worth checking the sales applies to the retail store.
Do Smyths Toys Sell Books?
Smyths toys sell a wide range of books, including audio Tonie books too.  The range of books they sell will most likely appeal to younger children rather than teenagers.
They stock books for babies and toddlers as well as older children's favourites like Harry Potter and the many Roald Dahl storybooks.  Plus Annuals for all kinds of things.
You can see the Smyths Toys online book range here.
Do Smyths Toys Do NHS Discount?
Smyths Toys do not specifically offer discounts for NHS employees.  Smyths Toys is not part of the Blue Light card discount scheme which is also a way to get a discount for NHS members.
Do Smyths Toys Sell Gift Vouchers?
Smyths Toys offers both e-gift cards and physical gift cards.  The best time to use them is when there's a Smyths Toys sale event.    If you buy your Smyths gift card online consider using a cashback option or the Zilch pay it all now and earn some rewards.  Some people tend to forget when its gift cards.
Other Toy Sale Dates
If the timing of the Smyths Toys sale is not ideal for you, or they don't stock what you are currently looking for it could be worth checking out some of these popular toy sale events:
Sainsbury's Toy Sales
Tesco Toy Sales