With energy bills no longer subsidised by the government, Energy switching is back.
Save money by switching to a cheaper variable or fixed tariff and get £50 free via Eon Next refer a friend link.
Eon Next, a part of the Eon Group, is making big changes in the UK energy scene with its focus on renewable energy.
They use a cutting-edge system called the Kraken platform to help make these changes. Eon Next isn't just supplying energy, they're helping to create a greener future by offering electricity that's 100% from renewable sources.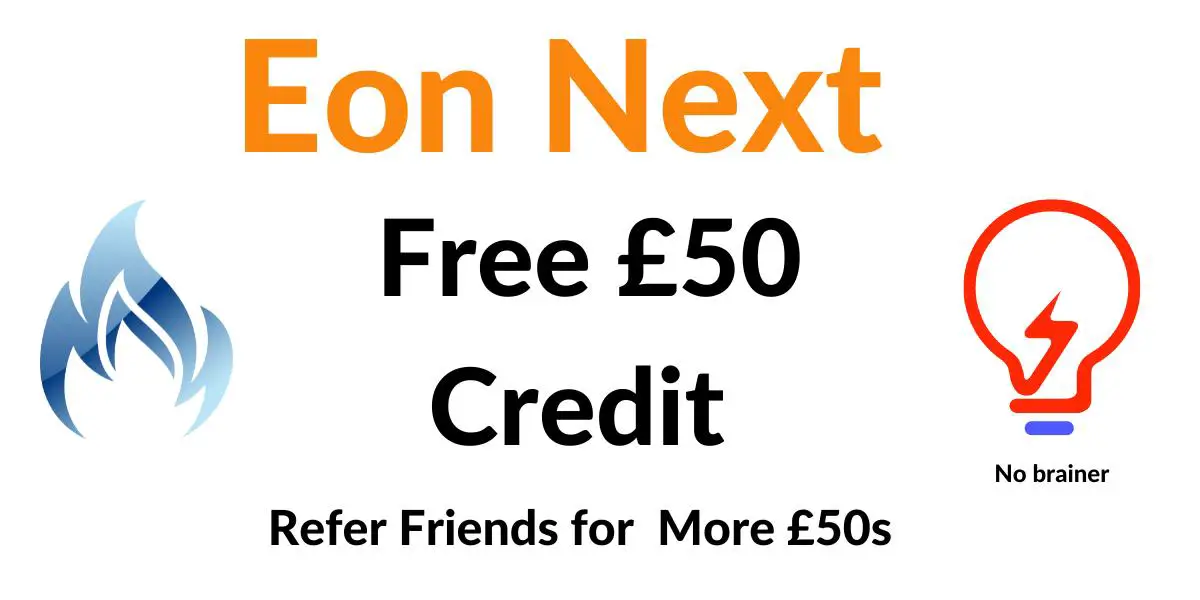 Disclaimer: This post may contain affiliate or referral links that earn me some commission if you sign up through them.  However, this is at no extra cost to you.  Read more here. Thank you if you do use them as they help to support my blog.
Eon Next Refer a Friend – Get £50
If you haven't switched before, the Eon refer a friend process is relatively simple and quick.   
Simply follow this £50 Eon Next referral link and enter your postcode for a quote.
Once you have completed your switch, you can also refer your friends and family.  This will be much easier to do when you can let them know how quick and easy the process was.
I was switched to Eon Next when my previous energy went bust.  Even though they took on thousands of customers the transition was faultless.

How to Switch to Eon Next for Free £50 (it's easy)
Switching to Eon Next is a straightforward process.
Simply follow the £50 referral link and input your post code to get a quote.
Check your current energy bill

. Your current bill provides crucial information about your energy usage and how much you're paying.

Get an energy quote from Eon Next

. Eon Next can provide a range of tariff options based on your energy usage. Choose the one that suits your needs the best.

Set up your Direct Debit

. Once you've chosen your tariff, the next step is to set up your Direct Debit. Eon Next takes care of the rest.

I

nform Eon Next about your meter readings

. After the switch is complete, provide Eon Next with your gas and electricity meter readings.
That's it! In these few easy steps, you've made the switch to Eon Next.
How Long Does It Take To Switch To Eon Next?
Switching to Eon Next is quick, typically taking up to 5 working days.
However, you also get a 14-day cooling-off period. This gives you the option to change your mind and stick with your current supplier.
After switching, you can express interest in getting a smart meter. You can also enhance your experience with the Eon Next app.
When Do you Get the £50?
The £50 credit will be added to your account when the friend you referred first Direct Debit payment has been processed.
Referring Friends to Eon Next
Once you are a customer of Eon Next, you can use the Eon Recommend a friend program and refer your own friends and family and get paid for each successful referral.
Once the price energy caps are removed, we will likely see a wider difference in prices between energy companies and fixed-rate deals.
Eon Next are usually very competitive so not only should your friend or family member get a free £50 recommend a friend gift, they should aim to get a cheaper tariff and save money that way too.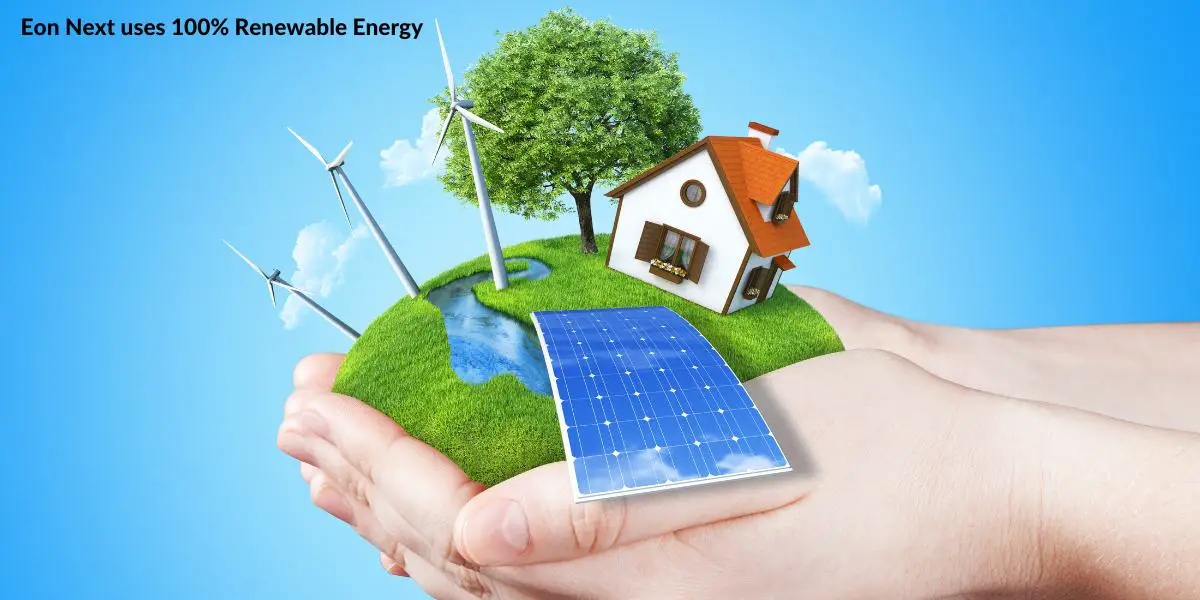 Is Eon Next Any Good?
Yes, Eon Next is reputed to be an excellent choice for customers seeking an energy supplier.
They differentiate themselves through their commitment to 100% renewable electricity, contributing to a sustainable future. 
Coupled with this, Eon Next offers an easy-to-use website and a dedicated support team known for their swift and efficient responses, even during unprecedented times. 
Their utilization of the advanced Kraken platform further enhances their service delivery. 
Customers choosing Eon Next are not only receiving reliable energy services, but they are also actively participating in a clean, green, and sustainable energy movement.
Customer Support
Eon Next distinguishes itself through a dedicated customer support team that ensures queries and concerns are addressed promptly and efficiently. 
Whether you reach out via email or prefer a direct phone call, their team is always ready to assist.
My personal experience leans towards email communication, and I've been consistently impressed by the speed at which they respond, even during periods of substantial customer influx from other energy companies that went bust and whom Eon Next took on their thousands of customers, including ourselves.
The value of human interaction can't be overstated, especially when dealing with pressing issues. 
Rest assured, with Eon Next, you're not left to automated responses or chatbots. They offer genuine human engagement, providing real people for real customer service responses.
Like any company, Eon Next isn't perfect. 
There have been instances where I've needed to discuss my statement. However, their fast, informative responses have highlighted their commitment to customer satisfaction, enhancing my overall experience with their service.
Eon Next also have a dedicated option for people who are deaf or hard of hearing called SignLive which allows customers to connect online with us using British Sign Language interpretation.
Eon Cashback
Sometimes it can be worth checking if there are any Eon cashback deals.  At the time of writing there were no deals on the Uk best cashback web sites:
However, they can be worth checking to see if they beat the Eon Recommend a friend £50 offer.
Eon Next Reviews
Don;t just take my word for it.
Eon Next has a 4 star rating on Trustpilot and scores a respectable 4.2.
73% of reviews score the company Great, from over 50,000 reviews.   Eon Next also took the time to respond to any negative reviews in a bid to solve the customers issues.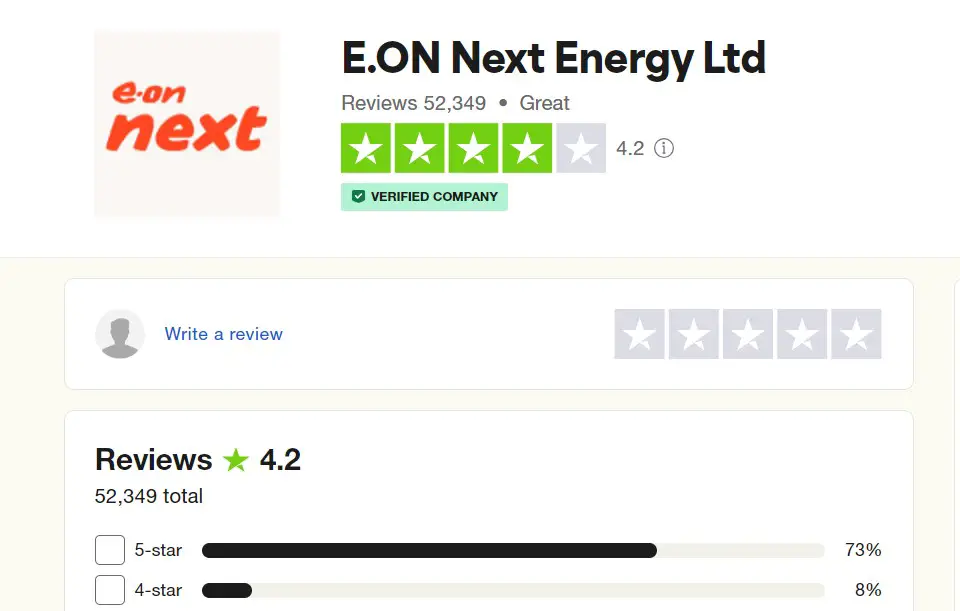 Cheap Tariffs
During the energy price crisis Eon next were one of the best energy companies for offering low priced fixed rates.
I managed to get one myself that really helped to ease the burden of potential future energy price rises.  As it happens the government fixed the price anyway, but I was still marginally better off at their fixed rate and was very grateful for the the peace of mind in advance.
Best of all, as with taking any Eon Next fix, there were no exit fees (always double check).
As with many energy companies, there will be multiple tariffs available, so always make sure you choose the best one for you.
Meter Readings
For various reasons, I've held off from having a smart meter fitted. 
If you are the same, for smooth billing and no future shocks its important to send monthly meter readings.  This way you don't unwittingly underpay and then get hot with a bigger bill than you were expecting.
Energy bills can be confusing at times.  We have a helpful post what does in debit mean on an energy bill, which also covers in credit..
Refund Of Extra Credit
I was purposely overpaying my energy to take advantage of a bank direct debit cashback offer, and also conscious of not wanting to fall behind during the energy crisis.
When it came to requesting my balance refund, all I had to do is send an email with the request.  
EON Next replied simply requesting a photo of my energy meters as proof of current readings and the refund was quickly is processed within a few days.
Frequently Asked Questions
What's The Difference Between E.On And E.On Next?
E.ON and E.ON Next are both part of the E.ON Group, but they operate with different focuses. 
E.ON provides a broad range of energy services, while E.ON Next is specifically dedicated to supplying renewable electricity to UK customers.
 Additionally, E.ON Next utilizes the cutting-edge Kraken platform to enhance its operations and customer service.
Conclusion
Eon Next's mission extends beyond energy provision; it is deeply committed to making a difference in the energy sector and, ultimately, the world in these climate challenging times.
 With Eon Next, customers are not just powering their homes or businesses; they are becoming part of a clean, green, and sustainable energy revolution.
Best of all you can share this vision by recommending to friends and family and get them and yourself £50 each time.