Would you like to earn cash back on nearly every online expenditure you make?
Quidco is one of the most well-known cashback sites in the UK, but is it as good as it seems?  Does it payout?
In this Quidco review, I look at how legit Quidco is and if it is how it can help you get cashback on the vast majority of your all online spending and even household bills.
I've fully tried and tested Quidco out over a number of years, find out if it's been worth it.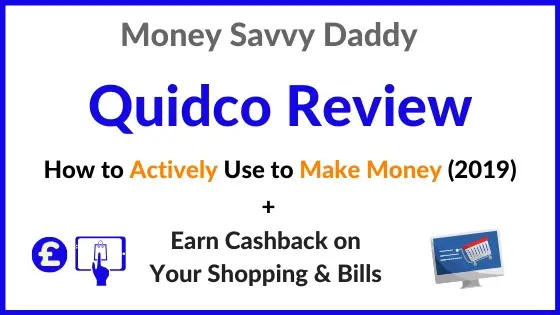 Disclaimer: This post may contain affiliate or referral links that earn me some commission if you sign up through them.  However, this is at no extra cost to you.  Read more here. Thank you if you do use them as they help to support my blog.
Quidco Review 
One of the most well-known cashback sites in the UK, in this Quidco review, find out how it can help you get cashback on the vast majority of your all online spending and even household bills.
I've been using Quidco for at least 6 years and have claimed hundreds of pounds of cashback.
You could get started with a £5 sign up bonus, once you've earned as little as £5 in cashback.
I've even actively used Quidco as one of my ways to make extra money from home and you can do the same as I show you how to in this post.
Amongst other things in this Quidco review I'll cover:
What Is Quidco? 
Quidco is a cashback website which earns commissions from referring customers to other merchants web sites.  They then pass a large portion of these earnings back to us the customer in the form of cashback.
Quidco has partnered with over 4500+ merchants of all kinds.  From online retailers to travel companies, banks to every kind of utility bill service.
For every transaction, they refer via a visitor from there web site or App they will receive a payment.
Is Quidco Legit?
Quidco is a legitimate cashback website that has been rewarding members since it was founded in 2005.  I've personally cashed out hundreds over the years.
UK Trust Pilot reviews rate the site as Excellent with 4.6 ratings out of 5 from over 85,000+ reviews.
On my last check, 74% of Quidco reviews rated it Excellent and  17% rated it as great.  That's at least 91% of all customers extremely happy with it.

Quidco is therefore rated as one of the best cashback sites in the UK.
How Does Quidco Work?
To start off with you sign up for a free Quidco account.
Now, whenever you want to make an online purchase you simply sign in to your Quidco account first and search for the retailer or service provider you are spending more within the search bar.
For example, you might search "Argos", and as you can see it shows up in the search listings.
You simply click the Argos link to go through to the Argos page and from there

Once at the Argos page, you would simply click the "Get Cashback" link on the page and go through Argos web site and shop as normal.

To be sure cookies track the transaction it's best to do this from the start rather than visit the web site via other means.
If in doubt as to whether it will track you could clear your cookies from your browser or simply open another browser.
How Much Cashback Do You Get?
The amount of cashback you earn totally varies from retailer to retailer.  Some pay 1% others pay over 10% or more.
Some will vary based on the department of their web site so it might offer 10% on laptops and 5% on lawnmowers.
Sometimes the cashback is a fixed amount, for example, £50 on car insurance or £35 on a new broadband deal.
How Long Does It Take to Get the Cashback from Quidco?
The cashback itself usually tracks on the same day or sometimes
However how long it takes to receive the cashback totally varies.  Sometimes it can be days but often it can be weeks.
I personally view the cashback as an extra bonus on a purchase I'm making anyway.
If you have a sizeable transaction and therefore owed cashback, if you have any doubts about receiving make a note or set a reminder to periodically check how it progresses until paid.
On each Merchants page, there should be a "Retailer Stats" table which gives you a guideline as to tracking reliability, speed and payment speed.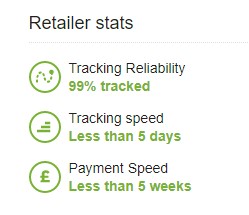 What Can You Get Cashback On?
You can pretty much get cashback on everything.
Here are some  of the main categories:
Retailers – Fashion, Electrical, Supermarkets
Travel – Holidays, Flights
Telecoms: Mobile Deals, Broadband
Insurance – Every of every type
Household utility Bills
Entertainment – cinemas etc
Food – Just Eat, Dominos etc
Literally everything.
For example, cashback is one main option I use every year to get the cheapest breakdown cover possible.
How To Join Quidco
Joining Quidco is simply a matter of entering your email address and choosing a password.
I personally opt-out of the emailing option, so I untick that box.  You don't need marketing emails.
You do need to remember to get in the habit of using Quidco for every online purchase, so if a few emails remind you of that, maybe opt-out later.
Claim £10 Refer a Friend Sign Up Bonus
Currently, if you join via any of my links on this page you should get a £5 refer a friend bonus which you will get once you've earned £5 of your own cashback.
This is really easy to earn, just from basic savings alone.
However, there are plenty of options to actively earn decent cashback from day one so you get the £10 bonus as soon as possible.
Of course, you can also recommend your own friends once you realize how good it is.
What is Quidco Premium Membership?
The Quidco premium offers you the optional opportunity to take advantage of extra benefits including:
Up to 10% top-up on cashback rates
Double the Difference Highest Cashback Guarantee
Up to 20% payout bonuses
Ad-free experience
Quidco Premium is optional.  If you do think you will benefit it currently costs £1 a month in any active month, from the balance of your currently earned cashback.
You can check the current features and payout boosts for premium members here.
Examples of current payout boosts when it comes to withdrawing your cashback via third parties include:
Amazon 1% to 2%
Currys Pc World 4% to 8%
Just Eat 4% to 7%
Sainsbury's 2% to 4%
Waitrose 1% to 3%
How Does Quidco Work In stores on the High Street?
Primarily Quidco works best for online transactions. Quidco instore options are much more limited with only lesser-known brands part of the scheme.
Although it's easy to qualify, as all you need to do is register your debit card and activate the offers online you'd like to qualify for.
Click on the account icon or cashback earned amount shown on the site menu.
Next, go to "Settings" and look for "High Street".
Click "High Street" and register up to 5 debit cards.
Activate the offer via Quidco when you wish to claim cashback and pay for the purchases with one of the registered cards.
In-store cashback was at a time (pre covid) particularly good for eating out at a range of restaurants, and you'll often get 5% cashback.  Hopefully, those times will return soon.
Additional and Better Form of Instore Cashback
A much better form of cashback app for the high street and many other expenditures is Airtime Rewards.  Simply register your credit or debit cards and cashback is passively earned whenever you shop at a qualifying retailer without you having to do anything else other than shop as normal.
The rewards can only be redeemed towards your mobile phone bills.
Airtime Rewards can also be used in conjunction with Quidco as a form of cashback stacking both online and in the high street.
How To Actively Use Quidco to Make Extra Money
Primarily cashback sites are used to save money on transactions you are making anyway.
However, it's perfectly feasible and certainly savvy to use them directly to make extra cash.
Just choosing one or two of these options straight away after signing up will also qualify you for your £5 sign up bonus.
Examples Banking & Finance Cashback Offers
If I typed in "Bank" to the search bar I can see the following options.
Some offers incur fees but they are less than the cashback.   So whatever is on offer when you have a search always check the terms and conditions of the offer.
A second and most lucrative option is related to my number one source extra is Matched Betting. It's not gambling as the name suggests but is a way of exploiting bookmakers and casinos sign up and daily offers for tax-free profit.
Well, we can boost these profits further by combing methods for profiting from the free bet offers also with added cashback.
Examples Quidco Bingo Cashback Offers
Type Bingo into the search box and see what comes up, these were just some of my options: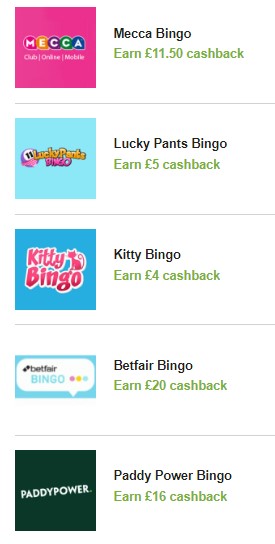 In total there was £75 worth of cashback on offer.
You'll have to wager, but most are offers like for Betfair, wager £10 and get £20 cashback, so even if you don't win with the £10 you'll still be better off.
Many of these Bingo offers and more  will also be found at Outplayed.com and they give instructions on how to complete the signup bonuses for profit.
Examples Casino Cashback Offers
Type "casino" into the search box and you'll get offers like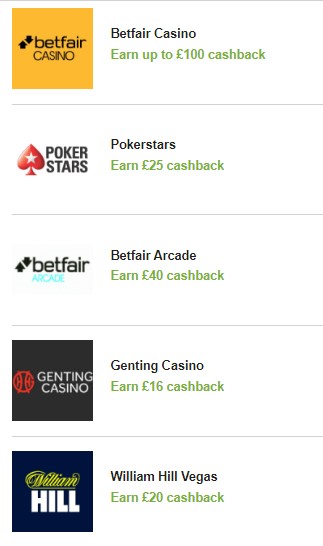 Plus plenty more totaling £298.56.
The Betfair Casino £100 offer was VIP, wager £50 get £100 cashback.  If you couldn't do that or it's too risky there was a Wager £10 get £30 cashback.
Typically you can take advantage of different sign-up offers for different parts of a web site, you can take advantage of offers for the Casino, Arcade, Vegas and even Live casino options.  Also, double-check terms though just in case.
Examples Bookmakers Cashback Offers
Again, same again for sports, plenty of options.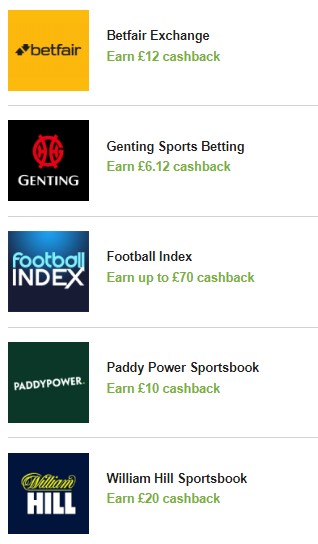 Many of these cashback offers can be combined with using Matched betting (not gambling) and sites like the best one in our Outplayed review, offers a totally free trial which will teach you everything you need to know even make you a profit of £40.
If decide to continue you'll be able to further guarantee a profit from free bet offers.
Ways to Earn More Money From Quidco
ClickSnap is an option a bit like a supermarket cashback app like Shopmium or CheckoutSmart 
You check what's available on offer at local grocery stores.
These will generally be specific items offering 50p to £2 cashback.
Buy the item in-store and take a photo of the receipt to confirm your purchase and you'll get the cashback.
You can earn more money from your shopping till receipts via these best receipt apps.
Boost your Quidco Payouts
If you take your payouts as an egift card you can boost your total earned cashback amount even further.
Here are some examples of how you can boost your cashback:
(subject to change at any time)
Costa 10%
Footasylum 10%
Clarks 10%
H&M 10%
Virgin Experience 25%
Halfords 10%
Uber 4%
iTunes 7%
and many more options of all types.
So for example, if you had earned a total of £100 cashback and chose to withdraw this via a Costa egift card you would have £110.
Quidco or Topcashback 
Which is better, Quidco or Topcashback?
Quidco and Topcashback are by far the best cashback sites in the UK.
The question is, therefore, do you need only 1 or both and which is the best?
They are both extremely similar and work in the same ways.  At one point Topcashback and Quidco were going to merge but this was later abandoned.
However, Topcashback just nudges ahead because more often than not it pays slightly more cashback on average.
Topcashback is also currently partnered with slightly more merchants. as you can see if you have a quick read of  my Topcashback Review.
However, at times one will offer cashback when the other one doesn't.
So, for this reason, I'd recommend signing up to both.
In fact, my best Quidco cashback was from a Holiday I was booking anyway and Topcashback wasn't offering anything.   A nice £160.44 cashback for a holiday I was booking anyway.

Frequently Asked Quidco Questions
How do I know if Quidco has worked?
When you log in to Quidco you can check whether specific transactions have tracked by clicking the "Activity" link near your account profile and earnings link in the site menu.
If a specific cashback transaction is missing from your"Activity Transactions page you will see a clear link to "Missing Cashback" and a "Raise a Claim" link.  Click that and follow the instructions.
Does Quidco work with Amazon?
Yes, Quidco offers cashback at Amazon, although typically the cashback will only be available for particular categories of Amazon or specific ranges of products.
You can also withdraw your Quidco cashback out via Amazon rewards for a boost of 1-2% on top of your cashback value so you get even more for your money.
Check out my post on how to get free Amazon gift cards if you are looking for further ways to save on Amazon purchases.
Do you have to Pay for Quidco
It is totally free to join Quidco and start earning cashback on your purchases and bill expenditures.
There is the option of paid Premium membership as outlined in the above post.  Whether's it worth it or not will depend on how much you find yourself using it.
How Does Quidco make money?
Quidco earns affiliate like commissions from the partners it refers us, visitors, too.  Most of this income is passed on to us the visitors.
They also earn extra money from advertising on the site and the fees from Premium membership.
Conclusion
Hopefully from this Quidco review, you now understand how cashback sites work and how you can benefit.
If you are not using them, you are simply leaving money on the table and overpaying for literally everything compared to what you could be buying it for.
As I've shown, Quidco is certainly a worthy money saver and that's without actively using to make extra money.
Have you signed up and claimed your free £5 (which you'll get when you earn your first £5 which should only be a matter of time, especially if you actively try and earn some cashback straight away.
If you are still now sure of anything, please ask in the comments.
Or feel free to share your own Quidco experience.  I'd love to hear.