If ever you might find yourself looking for the nearest free cash machine, or ATM with specific criteria for your needs, e.g with wheelchair access or a cashpoint which dispenses £5 notes, I have details and links to the best App for you.
As we are slowly moving towards a cashless society and high street banks and building societies are closing, it can be harder to find a nearby cashpoint, which when we do find, we ideally want it to let us withdraw cash for free.
Find out why so many ATMs, over a quarter already, are starting to charge and why many more may charge us to withdraw cash in the future.
It, therefore, makes this app even more useful in finding free ATM's in the future.
How To Find Free Cash Point Near Me
Cash is used less and less for payment transactions these days, but there are still millions of people who need access to cash on a regular basis.
However, if you're anything like myself, you won't like paying for the privilege of withdrawing cash from an ATM.
This is where the Link ATM Locator comes in handy to find the nearest free cash point to your current location.
What Is the Link ATM Locator?
The Link ATM Locator is an Apple and Andriod App that shows you the location of all 62,500 ATM's in the UK.
You can download the ATM Locator APP for free:
You also have the option of using the LINK ATM Locator via your browser, but I find the service is much better and sleeker via the app.
Originally launched in 2017, this ATM  finder App review scores might initially look a little low, but upon reading I could see a few of the issues people complained about had since been improved.
For example, you couldn't previously, but now you can, set the app to only allow location access while using it which is what most people prefer as it reduces draining your phone battery.
What Does ATM stand for?
ATM stands for "Automated Teller Machine".
Other names for ATM include cash machine, cashpoint and you might have often heard it referred to as the "hole in the wall".
What Is LINK?
LINK is a network that connects over 60,000+ cash machines in the UK.
The network has 38 members, including all the common high street banks and building societies as well as smaller operators.
Are all Link Cash Machines Free?
The vast majority of Link network cash machines are free for withdrawals, but some do charge.
Link state some 96% of ATM withdrawals are free.
How to Find Nearest Free Cash Machines Near Me
Simply type your town or postcode in the search bar at the top of the map.
The map will adjust to the area, indicate your location with a red pin and highlight all the closest ATMs.
On the map, all the nearest cash machines are highlighted in either green or purple.  Green represents the free cash machines and purple represents those that have charges.
Click the ATM you want to go to and you will even be provided with directions to get there.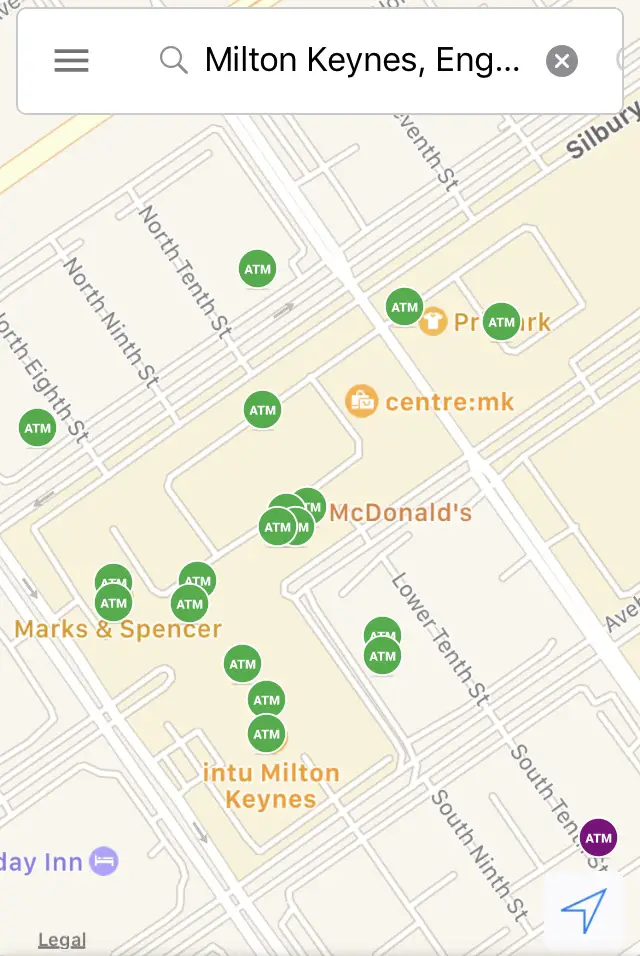 How to Find Cash Machine Charges
If you are in the unfortunate position of not having free cashpoint near, and only have cash machines with charges showing on the map, you can still use it to see which is the cheapest ATM.
Simply press the purple marker and it will show you the cash machine charges.
As you can see in the box the charge is highlighted in purple at £1.99.  One of the other nearby cashpoints only charged 99p.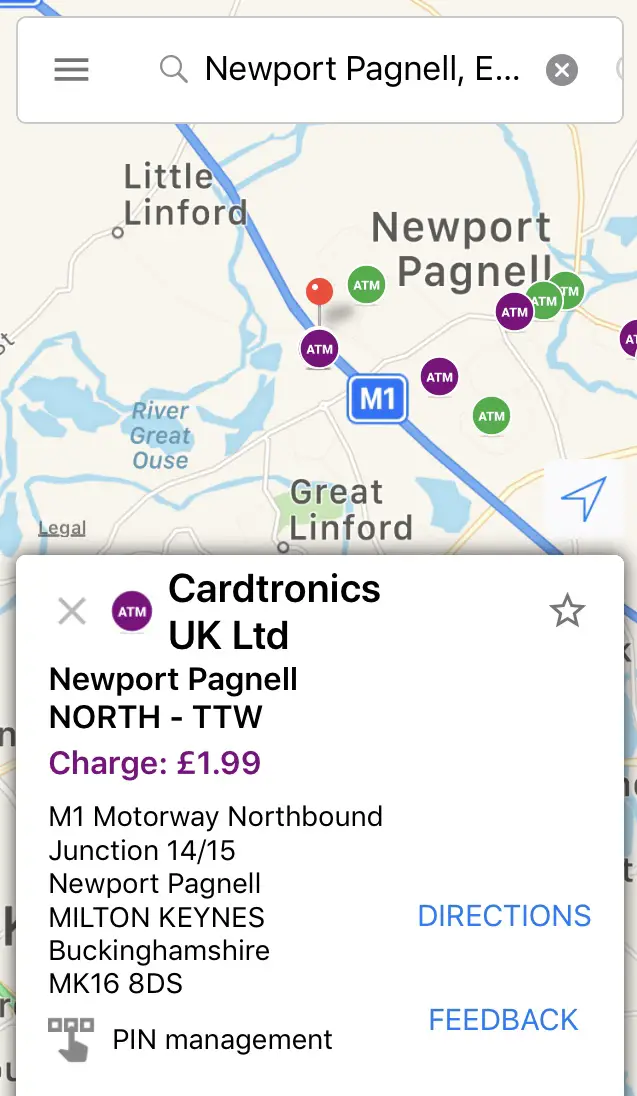 Why Do Banks Charge ATM Fees?
Link charges banks an Interchange fee or rate as it is otherwise known.  Many of Links members are the large banks who can save themselves millions by putting pressure on Link to pay lower fees.
When these fees are cut, as they have been recently it reduces the profitability of the ATMs for the operators, who are already earning less as cash is used less often and therefore withdrawn less.
These Interchange fees are passed on the ATM operators, of which Cardtronics and NoteMachine are two of the largest.  Because of the recent fee reductions and more planned, between these 2 operators, they have identified 5000 free ATM's for a possible switch to charging fees on top of the 1700 already converted in the first 3 months of 2019.
Hence, it's going to be even more important to have an app that helps you find free cash withdrawals.
Filter Cash Point Criteria
If you click the App Menu you will be presented with a list of cashpoint filter options as you can see below.
Press the option you want, for example below, I've toggled the filter to show cash machines that give out £5 notes near me.
Every filter option is covered:
ATM's with audio assistance for the partially sighted
ATM's with wheelchair access
Cashpoints with Pin Management options
Highlight just the free cashpoints.
Find Specific Bank ATM Near Me
Within the App filter, there's an option called "ATM Operators" where you select from 32 different operators.
Once you have selected the required operators go back to the map and those Banks ATM will be highlighted on the Map.
This is a quick and easy option for finding a specific bank cashpoint such as for these leading banks:
Barclays
Natwest
Santander
RBS
Hsbc
Halifax
Lloyds
Nationwide
and many more.
Find Post Office Near You
The Link ATM Locator app is continually being updated and in June 2019 was updated to include all 10,000+ Post Offices so you can quickly and easily find the closest Post Office your location, whereas previously it only showed those with ATM's.
Obviously, this is super handy because Post Offices provide everyday bank services and allow most bank customers to withdraw free cash from their accounts.
Click on the red PO and if the Post Office is closed the app will highlight the Post Office opening hours in red.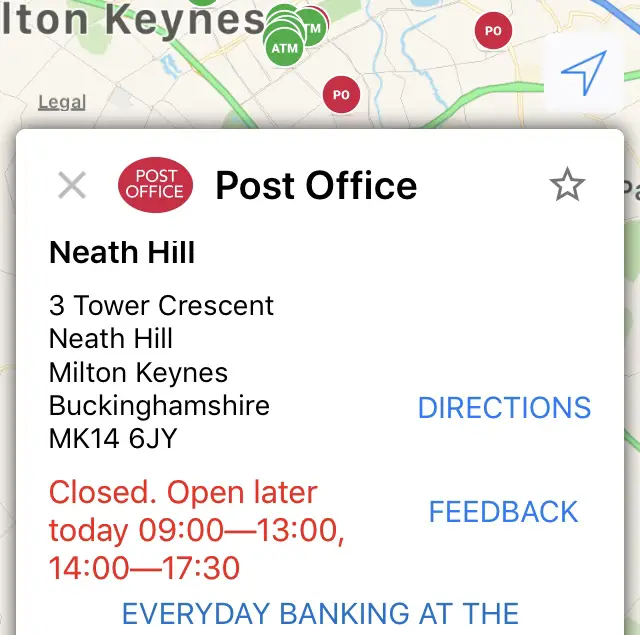 Although like ATM's, Post Offices always seem to be closing, it's still estimated that 93% of the population live within 1 mile of a Post Office.
At the Post Office with your bank card you can:
Make a withdrawal from your bank account
Pay in a cheque or cash deposit to your bank
Check your balance
Feedback
As well as helping you find the closest cashpoints, the app also gives you the opportunity to provide feedback, which if acted on should assist in keeping them fuller with money and in good working order.
You can report issues via the following options:
ATM not working / out of cash
ATM not in the location given
ATM not safe / been vandalised
Other
Cash Machines That Accept Deposits
The app does not indicate which cash machine accepts cash deposits.
In my experience, it's internal bank ATM's that allow cash and cheque deposits and even then not every branch.
Some more specific searches may help you find this out, for example, Google shows my local Santander as accepting cash deposits.
One possible option though would be to use the App to find a nearby Post Office, from which you could then make free deposits to your high street bank.
Frequently Asked Questions
How to Find Which Cash Machines Dispense £5 Notes
Download the Link ATM Locator App.  Go to the App menu and you will see a list of ATM filters.  Toggle the £5 notes row to show green and all the ATMs from which you can withdraw £5 notes will be highlighted on the map.
For more information check out how to find cash machines which dispense £5 notes, including other tips to get them.
Are Tesco ATMS Free?
Yes, ATM's in Tesco offer free withdrawals.  Tesco is committed to provided customers free access to cash via withdrawals from instore ATMs.
What's the Maximum You Can Withdraw From a Cashpoint?
The maximum you can withdraw from a cash point is will depend upon whom you bank with and the specific current and savings account you have.  Typically you are looking at from £200 to £300.  Some accounts will let you withdraw up to £500-£750.
I personally have a few bank accounts for switching for bonuses, but also enable me to withdraw cash should ever I need to.
Conclusion
As you can see this is a great app for finding the nearest ATM and Post Office to meet a range of particular requirements you may have in gaining access to your cash.
Have you found the app useful?
Are you using cash less and less?  What payment methods are you using more?
Do you mind paying for cash withdrawals?
Please comment, I love to hear what you think.