Did you know there's a range of easy to use supermarket cashback apps which you can use to get extra discounts on your groceries and in some cases, 100% cashback on items, so effectively getting free food.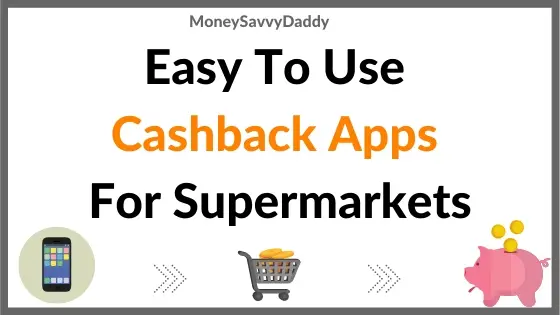 Unless you're a first time customer, supermarkets rarely if ever offer cashback on purchases like many other stores do.
Below I cover the best grocery store cashback apps and how to use them, plus any of their pro's and cons.
Best Way To Use Cashback Apps 
One of the best money-saving tips for the supermarket shop is to make a list and buy just what you need.
Therefore, include viewing the apps at the same time you compile your list.  This way you can plan what to buy and what to look for that's on the App.
Some of the Apps state which aisle name you should find the item under, so you could make a note of that as well.
Sometimes I take photos on my phone in advance, just in case I can't get a mobile signal in the store.
Shopmium App
Collect a totally free welcome gift if you use my referral code: n3uz2 
The Shopmium App offers cashback on a range of branded items.  From Youngs Cod Fillets to Black Tower bottles of wine and luxury chocolate.
Some items offer 100% cashback, so they are effectively free, others are discounted.
You can see what products are available on the app and in which local supermarket stores it should typically be stock at.
You should find cashback offers for products at Tesco, Sainsbury's, ASDA, Morrisons, and Waitrose.
How the Shopmium App works
When you go shopping simply purchase the item like normal with the rest of your shopping.
When you get home, via the app scan the products barcode and your store receipt and you will be credited with the cashback amount.  That might be 50p or a £1 off or you might be able to claim the whole price of the item if its a freebie.
Another good thing about Shopmium is the Refer a Friend scheme which pays a £3 credit for every friend you refer who then goes on to use the App.  Let your friends and family know when there is an enticing freebie welcome gift they can collect.  Free chocolate is particularly popular.
You can then use this credit towards paying for discounted items on the Shopmium app.  So if you choose to buy a bottle of wine because it's £2 off its normal £5 price, and you have a £4 credit, you'll also get cashback for the £3 you'd normally have to pay towards the wine.
This is ideal if you have a lot of contacts or social media following who might be interested in a freebie and future savings on their shopping.  Refer just 10 people and you'll earn £30 worth of free food.
Pros 
Earn £3 credit per friend referral.
Clearly see the location of local stores via the geolocation feature.
Easy to use
Fast paying cashback toPaypa.
Withdraw from as little as 1p cashback.
Android or Smartphone
Cons
You have to look at each individual item to see the offer discount.  So you can't tell at a glance which ones might be free.
You can read my full Shopmium review here with examples and screenshots of some of the cashback items and key App features.    Or get started now using my promo code: n3uz2 to claim a signup freebie (often a jar of Nutella or nice chocolate).
CheckoutSmart App
Checkoutsmart is a mobile app and desktop website that offers discounts on a range of food products.  You buy the item as part of your normal shop and claim the discount as cashback by scanning the receipt later.
It tends to have quite a few offers which change regularly enough to make it worthwhile checking more often.
Offers are available at a huge range of retailers, including the opportunity to get Lidl and Aldi cashback, which I personally haven't seen as options on the other apps.
It's available via Apple and Google Play store.  You can also use it via the web site and upload scanned receipts or delivery notes to claim the cashback.
Pros 
Can use via mobile apps and desktop devices.
You can see the offer discount available at a glance.
Wide range of retailers including aldi and lidl cashback opportunities.
Lots of offers.
Offers change regularly.
Cons
£5 minimum payout
5% withdrawal fee under £20
Full full details and screenshots see my full CheckoutSmart review.
GreenJinn
GreenJinn is a supermarket cashback app with more of an emphasis on healthier food.  Their aim is to provide you with offers you actually want and suited to your healthy lifestyle choices.
They claim to tailor offers to particular diets, so will hopefully offer you deals if you're for example a Vegan or need gluten-free products.
You can claim offers at Sainsbury's, Tesco and Waitrose, Boots, Superdrug and Ocado.
Download: At the Apple App Store and Google Play.
Minimum Payout: £1.50 via Paypal or bank account.
Check out the full GreenJinn review.
Quidco ClickSnap
As you may already know Quidco is one of the best cashback sites.  If you aren't already a member they are well worth joining as they offer cashback on literally every type of expense you can think of and the cashback can be way more than a couple of pounds these supermarket apps offer.  I once had £300+ cashback on a holiday I was booking anyway.
As an added extra Quidco offer ClickSnap.  Most of the offers are the same as CheckoutSmart, but only the instore offers, not any of online offers.
As per the other apps, you view the list of offers first, make a purchase and share your receipt through the app and redeem your purchase.
Advantages over CheckoutSmart
Although it has fewer offers it does have a couple of other advantages.  Firstly there is no minimum payout or fee.
Secondly, as per all Quidco cashback, you can boost your earnings by accepting payment in-store vouchers.
Topcashback – Snap & Save
Although TopCashback has had individual deals on grocery items, at the time of this review I couldn't find any in the app and there was only 5 individual offers for Snap and Save via the website offering relatively small savings of 5-20p per purchase.
However, TopCashback is my favourite all-around cashback app and could still be used by new first time customers at online grocery stores.
At the time of writing these were examples of new customer cashback deals that you could take advantage of.  Plus the cashback can be boosted depending on how you withdraw it.
Examples of past New Customer grocery deals that you may find at TopCashback:
Topcashback Snap & Save is worth bearing in mind.   Plus Topcashback offers hundreds of cashback deals for literally every kind of expenditure you can think of.  In some cases, this can add up to £00's of pounds a year.   It's so easy it feels like free money.  See my full TopCashback review for details.
Other Supermarket Saving Apps 
You may have heard or seen reference to other supermarket related apps.
Shopitize App
Shopitze was a quite popular grocery shopping cashback app for a while.  It worked very much like CheckoutSmart and Shopmium in that you viewed the offers, purchased the item and claimed the cashback.  Shopitize incorporated an added challenge into the mix, usually a poll question.
However, it doesn't seem to be working currently, after some users were accused of misusing the app and others were locked out, losing in some cases relatively large sums of cashback they had built up, which acts as a reminder not to let your cashback owed amount build up to an amount you'd be upset to lose.
Receipt Scanning Apps
For an extra way to make some extra money  back you can also scan your shopping receipt via a range of receipt apps.
The process is real quick and you can earn small amounts of cash or points and coins to put towards gift cards and vouchers.
Stack The Savings
As with any cashback, I always look to stack.  So I look to get multiple levels of savings on top of each other.
Example of stacking the savings:
Claim loyalty points
Use cashback credit card

*

Claim my app cashback
Scan receipt via Receipt apps
*I use a cashback credit card and always pay off in full every month.
How Much Will These Cashback Apps Save You?
Typically these apps will save you a few pence to a couple of pounds a time.
Even then its possible you could get similar unbranded items on par or for a bit less.
However, occasionally the apps do giveaway completely free items, and while you might not need it, it may well be a nice treat for yourself or the family.
For example a bar of luxury chocolate or a box of cornettos.
Who Are These Cashback Apps Suitable For?
These apps are suitable for anyone who's on a very tight budget and literally every penny counts.
Plus anyone who likes to try new products at a highly discounted price or likes to claim freebies.
Which app is most suitable for you will depend on your local stores and the offers currently available.  Also, whether the items available are to your taste.
Things To Watch out For
Keep your receipts in good condition, not all crumbled and worn in your purse or pocket.  To scan the receipts to claim cashback or rewards they need to be in good readable condition to claim money back on your food shopping.
If its a totally free item that you're really not interested in but maybe come across, consider purchasing and donating to a food bank.  Some stores have a designated area where you can make donations.
Don't just leave the cashback to build up and up.  When you have a worthwhile amount cash out just to be on the safe side.
Although it's quite rare, some apps do go out of business.   As stated above Shopitze seems to be no longer working and Shopprize has had a few issues it in the past.
Conclusion
As you can see across the range of these best Uk cashback apps there's is quite a saving to be had both in terms of money back on food shop and actual free food items.
Now I'd love to hear from you, which supermarket app do you use most?
If you were rating them, what order would you put them in?