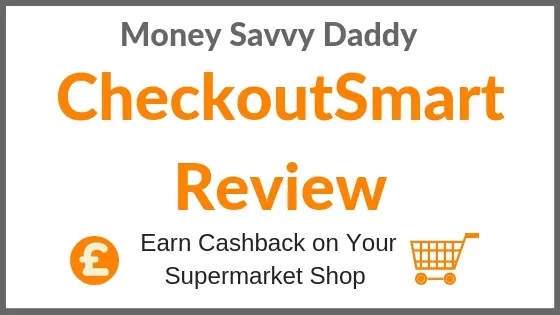 CheckoutSmart App Review
The best cashback sites, namely Topcashback and Quidco are great for a wide range of expenses, however other than new online customer deals they don't offer much of a saving on one of our biggest monthly expenses, the food bill.
This is where CheckoutSmart can help and save you at least are a few pounds.
CheckoutSmart is currently one of the best money-saving supermarket apps.  It is the one that tends to have the most offers.
The other supermarket app I highly recommend is Shopmium (review) for which I have a  referral code: n3uz2  You can use to claim your welcome gift sign up first freebie and there are usually other free products too.  Plus it has no minimum payout.
Let's take a look at what this Checkoutsmart app offers:
What Is the CheckoutSmart App and Website?
The CheckoutSmart App and website is a cashback opportunity for food items from a wide range of retailers both in store and online.
It is very easy to use.  You simply view the current offers within the App.  Purchase the products you'd like and later scan the shopping receipt to claim the cashback.
CheckoutSmart offers a range of discounts and sometimes totally free items whereby you can claim 100% of the value back.  You can do this via your phone or the desktop website.
Where to download the CheckoutSmart App
You can download the App in the Apple App and Google Play stores.  Just search "CheckoutSmart".  It's free to download.
You can also use via desktop by visiting the CheckoutSmart website.
CheckoutSmart Key Points
One of the best supermarket cashback Apps with a wide range of offers.
Can use via both mobile devices and desktop.
Some offers are personal to you.
Cashback can be used on top of store promotions (unless reduced to clear or near sell by date).
£1 first time minimum withdrawal, £5 thereafter
5% withdrawal fee under £20
How CheckoutSmart Works
This 38-second official CheckoutSmart video summarises briefly how it works.
Basically, as the video shows you check the App or website before going shopping to see if there are any offers you would like to take advantage of.
Purchase these items on your shopping trip or as part of your online spend.
Upload the receipt or delivery note for an online order to claim your cashback.
You can redeem multiple offers at a time on one receipt, although you can only claim each offer once at a time.
Sign Up and Login
At the time of writing there is no CheckoutSmart Sign Up referral code or refer a friend scheme you can benefit from.
You can log in via Facebook or sign up via your email with a password.
After signing up make sure you log in each time you check the app for the latest offers so you are shown all offers . some of which will be personal to you.
If you don't want to receive promo emails related to products, maybe don't use your main email address.
When you login in, you will be presented with a list of offers.  Straight away you can see the discount available.
Below you can see the top 2 offers of the 37 available.  Top right is the option to filter offers by stores.
Click the offer you are interested in and you'll be shown more information.  Such as how many hours left the offer will be live.  How many times you can claim.  Availability and product variations such as various flavors, plus  offer T&C's etc.
How To Claim
You must claim cashback within 7 days.  Personally, I'd suggest claiming on the same day.  Firstly so you don't forget and secondly just in case the offer changes.
Click the round "Claim" button on your phone.   You will be asked to confirm:
Where you shopped
What day you shopped
To select the offer you are claiming for
How many times you are claiming (if you are able to claim more than once)
You'll then be asked to take a photo of the receipt.
If you use a P.C or a laptop you'll see the same claim button which will then lead you to the option to upload a scan of your receipt or delivery note from your p.c or laptop
Where You Can Use CheckoutSmart
You can use CheckoutSmart in a wide range of stores and a smaller selection of online stores.
Literally, any place you can buy food items is possibly on the App or website.
Here are a few examples to give you an idea of the full range:
Note, any linked stores below link through to their relevant supermarket loyalty schemes.
Big Supermarkets ASDA to Waitrose
Aldi & Lidl
BP and Shell
B & M & The Range
WH Smith
Amazon Grocery
Budgens & Nisa
Bargain Booze
Superdrug
and lots more.
You can filter offers via individual retailers.  So if for example, you are going to Tesco, set the filter to "Tesco" and you'll be shown the offers available there.
What's The Minimum Payout for CheckoutSmart
The minimum payout to your Paypal or Bank account from CheckoutSmart is £1 the first time and then £5 minimum thereafter.
If you transfer up to £19.99 you will incur a 5% processing fee.
If you save up cashback over £20 you can withdraw with no fee.
In general, it's good practice not to let cashback in Apps build up too much.
Examples of CheckoutSmart Offers and Savings
Below are examples of products on offer across all retailers.
You can see the discount in the right-hand column and time left it will be on offer.
Click the item and it will tell you which stores and online sites the offer is valid at.  You'll also be able to see the terms and conditions.
Some items you can buy only once, others you can buy multiple times.  When you click the item on either your phone or within the desktop website you'll see it say how many times you can claim, e.g "Claim 1 time" or "Claim 3 times"
How Much Can You Expect To Save With CheckoutSmart
You will typically save 50p to a couple of pounds per item.  Sometimes whole items are given away for free.  You pay for the item and claim 100% of the cashback.
How much you save will totally depend on how often you check the app before shopping and whether the products are of interest to you.  Sometimes they will be, at other times they might not.  Either way, it's worth getting in the habit of having a quick browse just to see.
Things To Remember When Using A Cashback Supermarket App
If you are using an App or website like CheckoutSmart because money is tight, remember if you don't need it, don't buy it just because it's on offer.
Also, many of the items on offer are brand items, sometimes it's cheaper to look for an own-brand item instead which are often just as good.
Make sure you buy the correct item and also keep the receipt nicely.  Don't let it get too screwed up or worn before scanning it.  Otherwise, it might prevent you claiming the cashback.
While snapping photos of your receipt you could also scan it for other receipt apps as another way of making money.  If you use them on a regular basis, they could earn you an extra £100+ a year or more.
Although note, Quidco's Clicksnap is owned by the same company, so you can't claim the same offer with them.
Combine these apps with my other 81 frugal money-saving tips and you could save hundreds of pounds a year.
Conclusion 
If every penny and pound counts in your budget, apps like CheckoutSmart can make a difference and are well worth a couple of minutes it takes to check what offers are available.
It may also be of interest to those of you who like the occasional freebie.  If it's a long life item and not something you particularly want you could always consider donating to a food bank if the store has a collection for one.
Over to you.
What do you make of this app?
Please comment, I'd love to hear.