Find out how much you can save with the new Lidl rewards loyalty card scheme known as  "Lidl Plus".
Launched in September 2020 it's offering a £5 first spend offer plus personalised coupons and much more.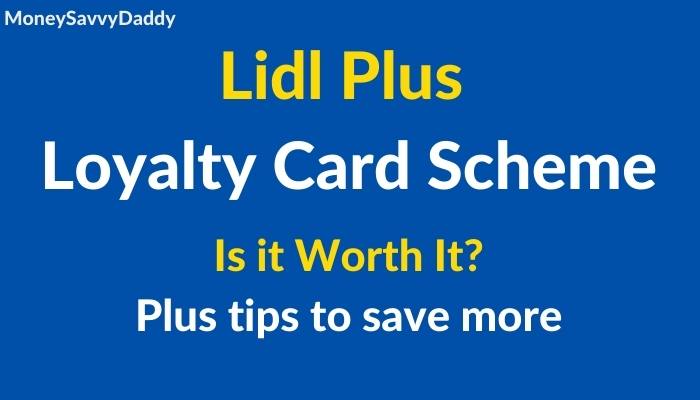 In this post, I show you how to get the most out of the scheme from the start, as well as extra ways to save even more on your Lidl shop.how to
Can You get a Physical Lidl Plus Card?
Lidl doesn't have a physical loyalty card like Tesco Clubcard or Sainburys Nectar.
The Lidl Plus card can only be accessed digitally through the Lidl Plus app, which you can access via a smartphone.
Customers can scan the digital loyalty card at the checkout simply by showing the digital card on the screen of their smartphone.
The app effectively acts as a digital card with a QR code that you scan when you shop.
What is Lidl Plus?
Launched in September 2020, Lidl Plus is the first Lidl  reward card  scheme for customers to its discount supermarket stores.
The purpose of the app is to reward customers with personalised coupons based on what they've previously purchased.
These coupons are then made available within the app and will change weekly.
Once you activate a coupon you will have 2 weeks to use it before it expires.
This 18-second video gives a very brief overview of what's on offer from the scheme.
How to Get Lidl Loyalty Card – The Lidl Plus App
To get started with the digital lidl loyalty card simply download the free Lidl Plus app from the required app store directly to your phone.
Here are links to the app along with review scores:
As you can see, the app is proving popular with reviewers, with scores of 4.4 and 4.7 which have been improved since I first reviewed from 4.3.
Simply download and then open the app to register your details, including your phone number and email address.
How Does Lidl Plus Work?
The Lidl Plus app is really easy to use.
Simply open the app before you go shopping and "Activate" the coupons you wish to use.  Ideally, these will be personalised offers that Lidl believes you'll be interested in based on your past shopping habits that should be available in your local area.
When you get to the checkout, open your app and then tap to open the Lidl Plus card with the QR code and scan.
Signing Up to Lidl Plus
The signup process is relatively straightforward.
Here's a brief outline of the basic steps you'll need to follow:
Select your country location (GB)
Select your local store
To continue further within the app you will be asked to create an account with Lidl.com
This simply involves registering your:
Full Name
Date of Birth
Gender (optional)
Address (optional)
Mobile phone number to which they send a verification text to)
Verify your account with the code they text you
Lidl Coupons
View the coupons personally available to you within the app.
The offers you are presented with will depend on what's available in your local store and also in part your previous purchases.
Activate the coupons you intend to use and they will be redeemed when you scan your digital Lidl Plus card at the till.
Free Scratchcard
Every time you scan your Lidl card at the checkout you will be given a free scratchcard within the app.
They say 1 in 5 scratchcards offer a win from 25p to £20.
Leaflet and Magazines
You'll be able to access digital versions of the weekly magazine and leaflets Lidl produce.
Often these also include details of offers and discounts.
As well as general awareness of what bargains to look out for in stores.
As you may know, the "Pick of the Week" offers are generally worth a look.
Keep an eye on any Lidl junk mail through your letterbox too.  We were recently sent a cut out £5 coupon in a booklet to use when we spend £40 or more instore.
You can see more in my couponing guide for beginners.
Partner Offers
As well as discounts on your shopping, Lidl has partnered with some well-known names to offer customers "Partner Offers".
These will no doubt change often, but as a guide here's a few examples of what's available:
Save up to 40% on Sky Tv and Broadband
Readly – Free 3-month subscription
Save up to 25% on home streaming with The Cinema Society
moveGB – Free 3-month subscription
Future Learn – Free short course upgrade
Save up to 25% on AA breakdown cover.
Digital Receipts
All your receipts will be stored digitally within the app.
Lidl App £5 Off Welcome Voucher
As part of the launch promotion, when you download the app you should see a £5 off your first £25 spend voucher available for you to use within the app.
It's worth giving the app ago for this offer alone.
Coupon Plus
This is an extra way to earn coupons on top of the personalised coupon offers you are already presented with.
Coupon Plus is a monthly running total of your spending at Lidl's which can earn you extra saving coupons.
Every time you reach certain spend targets you will unlock money off coupons.
When you reach the target the coupon will appear in the "Coupon" section of your Lidl Plus app.
Typically the coupon will be valid for 7 days.
The Coupon Plus total itself lasts for one calendar month and will restart from zero at the start of a new month.
So be sure to keep an eye on this at the month-end in case you're not far off triggering a coupon.
Examples of My Current Coupon Plus Rewards:
Spend £100 for a £2 Coupon Plus Reward
Spend £200 for a £10 Coupon Plus Reward
If you do the bulk of your shopping in Lidls and are likely to reach the £200 a month spend, a £10 coupon is equivalent to a 5% saving, which is a pretty good discount for a discount loyalty scheme.
T&C's say this will be running until 31/10/20 so we will have to see if it continues thereafter.
How to Use the Lidl Plus Card
When you are at the app home screen or in the Coupons section you will constantly see a blue and white link to the "LIDL PLUS CARD".
If you click this link, you'll see a digital version of your card.
Here's an example of mine: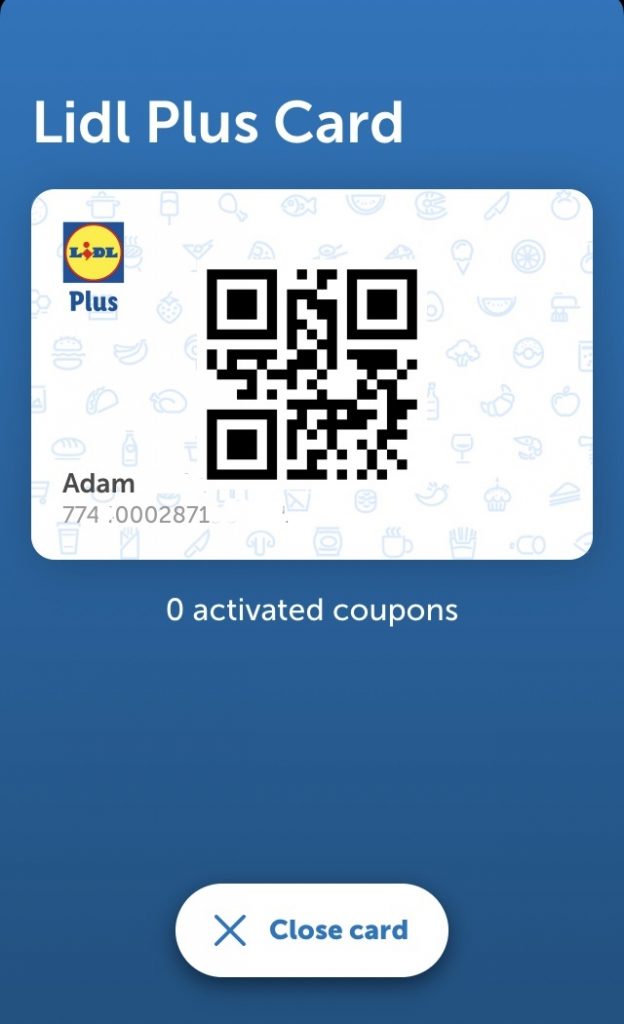 As you can see in the centre of the card is your unique QR code that you scan at the checkout every time you pay for your Lidl shopping.
It also shows you full name, membership number and details of any activated coupons.
Does Lidl Have a Loyalty Card?
The Lidl Plus discount card is only available in digital form within the app, so although effectively a loyalty card scheme it doesn't actually require you to carry around a "pesky card" as they market it.
You simply use the digital version within your app.
This has the advantage for a smartphone carrying nation that you'll always have the loyalty scheme with you via the app.
Unfortunately, it doesn't give some older people in our society who maybe don't have a smartphone the opportunity to take advantage of sometimes much-needed discounts.
Lidl Plus – Is it Worth It?
If you shop at Lidl on a regular basis, then I personally think its worth having the app.
Not only does it reward you for your spending in the form of the coupons, but there's also the added, albeit small extras from the free scratchcards and for bigger spenders the Coupon Plus money off.
However, add to this that you can quickly view the weekly magazine within the app and check partner deals for offers, make it even more worthwhile for regular Lidl customers.
Remember, though, as with any loyalty scheme, if you end up spending for the sake of it to meet targets or being tempted by offers and buying more than you need, it's not a saving.
More Ways to Save On Your Lidl Shop
Lidl is known for offering great value.
Often the products are own brand copycats that taste virtually the same as the x3or more expensive brand equivalents.
Also, they offer a range of other unknown brands, that are really cheap and taste the same as well known brands.
So most Lidl shoppers are already making a good saving, especially if substituting spending at the other main UK supermarkets.
However, a couple of little tips and reminders to eke out some extra Lidl savings:
"Too Good to Waste" boxes of Wonky Veg are excellent value (sometimes stored near to checkouts)
Look out for "Pick of the Week" and mid-week "Middle Lidl" deals
Check for early morning reductions which is when they reduce perishables
Always remember to take your own bags
Pay with a rewards credit card
Watch for new local store openings – as they come with added offers
The newsletter sometimes includes offers
Sometimes £5 vouchers are in main papers like you can see in my Daily Mail Rewards post
Lidl Sales Events
Periodically through the year Lidl has specific sales events.
One of the most popular which you can read about and see the next for here is the Lidl Baby Event.  A great sale for parents and mums to be.
Other Lidle events to keep an eye our for include:
Lidl Cycling Event
Lidl Toy event
Lidl Sewing event
Lidl 99p evetn
Lidl pet event
If you also food shop elsewhere, be sure to check out all the best supermarket loyalty card programmes and related money-saving tips.
A relevant post to save even more on your supermarket shopping:
Related Posts
Frequently Asked Questions
Does Lidl Have a Points Card?
Lidl Plus does not act as a Lidl points card.  Instead, based on your past Lidl purchases, you are offered a range of coupons on products within the store.
Conclusion and your Comments
Have you downloaded the Lidl Plus App?
What do you think of the loyalty scheme?
Let me know in the comments below.