Are you looking to make some extra money or perhaps considering a new job altogether and considering becoming an Uber Driver and wondering how much they earn?
Read on to find out the earnings potentials and costs, using real examples for Uber Drivers in the UK.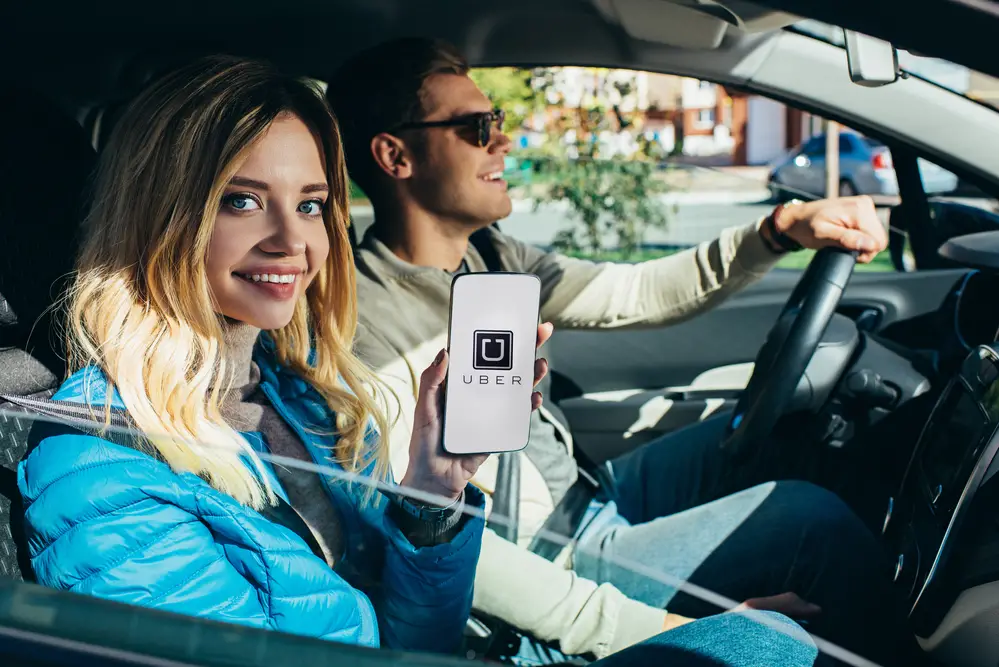 If you are looking to earn extra money driving for an income is an excellent option.
The key advantage of working for a company like Uber is the flexibility it offers.   You can work pretty much as many hours as your like and whenever you choose.
This enables drivers to work around other jobs and side hustles or to simply put in lots of hours whenever they like to boost earnings whenever needed.
How Much Can You Earn as an Uber Driver?
You can typically expect to earn £15 an hour as an Uber driver before costs.   Working a 40 hour driving time week you would expect to earn £600.   There are a number of factors that affect your earn rate including your location and the hours of the week you work, all of which we cover below.
Earning £600 a week would equate to an annual salary of £31,200.
Many drivers work part-time.
Here's what you can expect to earn depending on the number of hours you work:
10 hours a week = £150 a week, £7800 a year (£650 a month)
15 hours a week = £225 a week, £11,700 a year (£975 a month)
20 hours a week = £300 a week, £15,600 a year (£1300 a month)
30 hours a week = £450 a week, £23,400 a year (£1950 a month)
The job is extremely flexible and you pretty much work as many hours as you like within the driving safety rules.
Driving for Uber is also very easy to fit in around other jobs and possibly one of the best side hustles for car owners when it comes to flexible working.
Uber Drivers Now Have Workers Rights in the UK
Uber drivers are now considered partners.  This offers the driver's worker protections but with the same flexibility of deciding how often and when you choose to drive.
As a worker of Uber, you are not an employee of Uber, you are still self-employed when it comes to paying tax.
However, being classed as a worker entitles you to certain workers rights.
These include:
A wage that is at least the level of the National Minimum wage
Holiday pay
Pension
How to Become an Uber Driver
It is relatively straightforward to become an Uber Driver in the UK.
You can start by signing up here.
To qualify you'll need:
To be 21 years or over
Hold a valid UK driving license
Bank Account to receive payments from Uber.
Before starting you'll also need a Private hire license and insurance.  Plus complete an Edume course that will familiarise you with the app.
Uber Driver Earning Factors
There's a wide range of factors that affect how much you can earn as an Uber driver.
How Many Hours Can An Uber Driver Work?
The most obvious factor that affects how much you can make as an Uber driver is how many hours you work.  Obviously the more you work the more you can earn.
There is no minimum number of hours you can work for Uber. You can work as little as you like, perhaps not working at all some weeks.
When it comes to how many hours you can work for Uber you need to follow the guidelines.  These state you can spend up to 10 hours "on trip" after which you will have to take a minimum break of at least 6 hours.
Once the 6 hours is up your trip counter resets and you can work again.
If need be you can go over the 10-hour limit if you are currently on a trip.  Once it's complete you'll then have to take a break.
You can find out more about Uber driver hour limits here.
Location
Uber drivers who can work in cities will find there are more opportunities for work across a 24 hour day as well higher fare rates, especially during busy periods.
Friday and Saturday nights will be a busy time for travelling pub and clubbing riders.
Large cities with airports will offer a wider ranger of opportunities, particular the early morning runs, 1 am to 5 am kind of times for airport runs that won't be as readily available time to work for drivers who live in rural areas.
Bigger cities obviously offer more opportunities all around,  Although this is slightly offset with there being more Uber drivers and also more competing firms such as Bolt and Lift.
Each city has its own minimum fee which it charges riders, which makes even short trips worthwhile for drivers.
Tips
On top of your hourly rate, it's also likely you will pick up some tips.
These are generally collected via the app following a prompt after each job where the customer will first be asked to rate you as a driver. Tips count towards your taxable earnings, although Uber doesn't take any fees from tips.
The tips can be made up to 30 days after the job is completed.
It is also permitted for customers to give Uber drivers cash tips.
Holiday Pay
As an Uber driver and worker, you are entitled to 5.6 weeks of holiday pay a year.
Due to the nature and flexibility of the work, holiday time off isn't something you need to worry about booking off.  You already work whenever you choose.
Therefore Uber will pay you holiday pay on a weekly basis based on your previous week's earnings in the form of a service fee rebate which equates to 12.07% of your earnings.
So if you earn £600 one week, you can expect approximately £72 holiday pay the following week.
Pension
As a worker of Uber, you are now entitled to workplace pension contributions of 3% from Uber.
Uber will contribute 3% of a driver's earnings into a pension pot, while drivers can choose to contribute a minimum of 5% of qualifying earnings. Eligible drivers will be able to opt-out of the pension scheme if they choose.
Uber Driver Promotions
Uber offers in-app promotions for areas where it expects high demand.  As a driver, you can benefit if you can plan ahead to work in those areas at those times.
You can boost your earnings if you complete a set number of trips within a specified time frame and get paid extra for working during busy times.
Uber Eats
As an Uber driver you also have the option of logging into the Uber Eats apps and doing some food deliveries around mealtimes.
Best Hours to Work as an Uber Driver to Earn More
One of the biggest factors determining how much you can earn as an uber driver, other than how many hours you work, is when you work.
The best hours to choose to work as an Uber driver are the times of highest demand or time of the day when fewer drivers are working.
This is so you can maximise your drive time and take advantage of higher fare prices.
Surge Pricing
Surge pricing comes into effect in locations where there's high demand for Uber services and increases the price of the fares, therefore offering the driver potential to earn a higher rate.
Typically the best hours of the week to take advantage of surge prices are your Friday and Saturday evenings drop-offs for a night out and picks ups at the end of the night, typically the 7 pm to 3 am time range.
The disadvantage of working during these hours is that many of the customers will have been drinking, and there's a higher possibility of someone throwing up in your car.
You can read more about surge pricing here.
Uber offers data on the best times to drive for each city.
For example in the city of Bath, you can see the best days and specific busy areas in the city.  In this instance, Saturdays are by far the busiest Saturday, followed equally by Friday and Sunday's.
Monday to Thursday 6 am till 10 am were the busiest hours.
Choosing to work the business times means you're much more likely to have a constant flow of riders and can pick the most profitable opportunities at the time.
Uber Driver Expenses
Start-Up Costs
You will obviously need a suitable Uber vehicle, either one you own yourself, or you can hire or lease one.  Uber provide options for deals on these too.
Obviously, if you hire or lease a vehicle you will have the monthly cost to cover as well.
You'll also need a Private Hire Vehicle licence and insurance.
The private hire vehicle license you can apply for through your local council.
Running Costs
The biggest cost for an Uber driver is going to the cost of fuel and this will largely depend on the car you drive and how much fuel it consumes.
To keep fuel costs as low as possible plan when and where to fill the tank at the fuel stations which offer the lowest prices.  Use sites like petrolprices.com.  Also, be aware of how you drive as this can also be a factor in your fuel consumption.
Over the course of a year, you will also need to factor in expenses for running the car.
M.O.T
Service
Car tax
Breakdown cover
General Maintenance
Cleaning Costs
Fees
Cost of Joining Uber
It is totally free to sign up as an Uber driver.  There is no fee for joining.
Fees on Earnings
Uber charges a 25% fee on all earnings excluding any in-app tips you might receive.
The fee covers
The use of Uber
Collection of customer fares
Payment commissions
Invoicing clients
Toll Fees
Road tolls are charged directly to the riders and added to their fares.  The drivers are not charged for the toll and no fees are taken from tolls either.
Tax
As an Uber partner, although a worker you are still self-employed and will have to declare your earnings annually to HMRC.
How much tax you will pay will depend on your individual circumstances, but most of all how much you earn and what tax bracket you fall into.
When it comes to taxation all your earnings will have to be taken into consideration, so if you have or have had other jobs in the current financial tax year they will also have to be taken into consideration.
The current income tax bands can be found here, but for the current year they were:
0% Personal Allowance  Up to £12,570
20% Basic rate £12,571 to £50,270
40% Higher rate £50,271 to £150,000
45% Additional rate over £150,000
V.A.T
If you earn over £85,000 turnover a year you will have to apply to become V.A.T registered.
The vast majority of drivers will not need to be concerned about this.
Advantages of Working as an Uber Driver
As you can see above there are many advantages of working as an Uber driver.  The main one is how flexible it is.
You can literally work the hours to suit and fit in around your lifestyle.
You are your own boss

Flexible working hours

No minimum work hours
Work available daily
If for whatever reason you need more money for an emergency or to build an emergency fund, you can just put in more hours.
Disadvantages
The best paying hours are the more unsociable hours, Friday and Saturday evenings and nights.
Real-Life Example Of Uber Driver Daily Earnings
The video below is an example of an Uber driver detailing his working day and earnings.
He worked approximately 9- 10 hours of driving time and made £155, on par with what's expected on average for a typical day of the week.
Obviously, all the costs I've outlined above will also have to be accounted for too.
Frequently Asked Questions
Are Uber Drivers Self Employed?
In terms of taxation, Uber drivers are considered self-employed by HMRC.   As workers, they are considered partners of ubers and therefore entitled to workers rights protection which includes holiday pay and a pension which the self-employed don't receive.