Do you enjoy playing games?  Well, why not play games for money?
Sound interesting?  If so, we have loads of options just for you.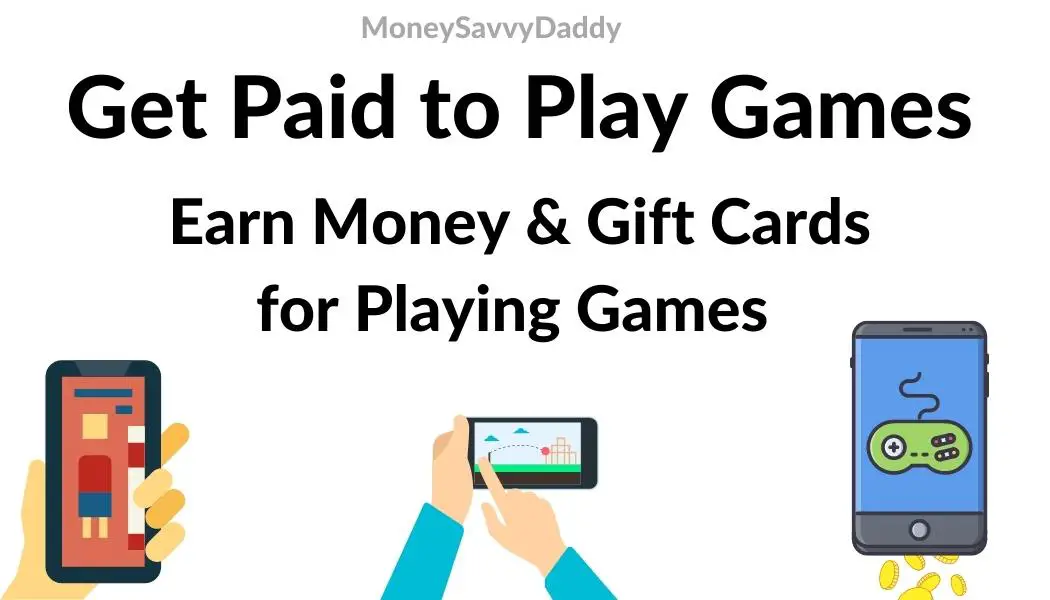 Do you enjoy playing games on your android and iOS mobile phone or tablet?  Did you know you could actually get paid to play games?  Well, you can and there are various options for earning money playing games.
They are not necessarily the highest-earning ways to make money, but if you enjoy playing them any way you may as well get rewarded for your time.
While you can make money from playing games, you can make decent amounts in minutes just by signing up to free money offers of which we have collated £100's worth for you to work through.
Best Get Paid to Play Game Apps
Yes, there really are apps that will allow you to earn money playing games in the Uk.
Below I have highlighted the best 3 options I've come across.
There were others out there, but they didn't rate so highly.  Reviews were either recently poor or they there were reports that they weren't paying out. For some, I got the impression they were falsely encouraging fake 5-star reviews, so if you look for more options, just be aware.
However, if you have an Andriod device, these 3 options are well worth a look and do actually payout.
MistPlay (Android Only)
MistPlay is a highly rated Android app that rewards you for playing totally free games.  They claim to have given away over 10 million dollars, which equates to around £7.5 million pounds.
How Does MistPlay Work?
You will be presented with a Mixlist of games specifically put together for you.
Simply choose a game and start playing and earn units while you do.
You can also enter weekly and monthly prize-giving competitions.
The app allows you to connect with friends and have a little friendly competition to see who can get the highest on the leaderboards if you are playing the same games.  All while earning rewards to cash out later.
Tip: As you climbing levels in some games it starts taking longer to level up.  Switch over to new games that level up quicker.
Payout via: Amazon, Google Play and VISA gift cards.  Other gift cards are available.  Expect it to take gift cards 48 hours to be received after cashing out.
Download MistPlay Google Play review rating is 4.0.  This is a highly rated games app with excellent customer support if you should need them.
Coin Pop (Android Only)
Coin Pop is an Andriod app that is 100% free to play.  You won't need to deposit any money at all for in-app purchases or anything else.
How Does Coin Pop Work:
Simply download the Coin Pop app and start playing the games, it's as simple as that.
You will be rewarded with coins for every second you play.
Keep playing until you have built up enough coins to redeem them for real money.
New games are added to the app on a regular basis
Download: Coin Pop Google Play review rating is 3.9.  The reviews seem genuine and some negative issues seem to relate to bugs which are subsequently fixed.
Payout Via: Paypal, Amazon, Google Play and Playstation gift cards.
Play Spot UK (Android Only)
How Does Coin Pop Work:
There are 2 types of games that you can earn from.  Firstly, there are the owners of the app own games and secondly 3rd party games.
The third-party games are more rewarding for earning coins.  However these are updated much, if at all, so once you have completed those earning from the other games is a slower process.
Earning £20 is fairly achievable, however, there are mixed reviews on withdrawing much more, although certainly some saying there are.  Others reports are that after the first £20 the earnings rate slowed down or they didn't get further rewards.
Cons: There's a lot of ads in the games which can be very annoying for some users.
Download: Play Spot Uk Google Play review rating is 4.3 which is a good rating, but there are some really mixed reviews which is why I've put as the last option for the Android apps.
Payout Via: Paypal or Amazon gift card.
GPT's Sites – Get Paid To Play Games
Get Paid to sites are a breed of sites that offer a low-level entry into making money online.
They present you with a wide range of possible tasks for you to complete, for which they will reward you for doing so.
Often the rewards are in the format of points or coins which you later convert into cash via Paypal or one of a range of popular gift cards.
GPT sites offer to pay you for tasks such as:
Completing surveys
Watching videos
Taking out free trials
Reading emails
and more.
Some GPT sites are known to offer paid tasks relating to playing games.
For example, from Swagbucks,  are offering some really high paying rewards for playing games apps as you see below:

How these GPT sites reward you may vary.  Some will pay you for simply downloading an app and playing for a couple of minutes, after which you can carry on, or just delete it.
Others, such as Swagbucks, offer you a reward for downloading a game and playing to reach a certain level within a specified time frame, e.g level 15 within 14 days.  The rewards for these can be really good, but make sure you reach the required levels in time.
GPT Sites that pay for you for playing games:
Swagbucks
InstaGC
Earnably
Feature Points
InboxPounds
To get a better idea of how GPT sites generally work have a look at my Swagbucks review. to how it works, how much Swagbucks are worth and more.
You can get also get a 300 Swagbucks bonus when you earn 300 SB within 30 days.  This is really easy to achieve in just the first time of using.
Make Money Playing Casino and Slot Games
This might not be for everyone, so I left until this option until last but have included it because it can be very lucrative.
While I don't in any way encourage gambling, it is possible to legitimately profit from online casino games, either with no risk at all, or very calculated low risk with the odds in your favour.  Therefore over the long term, you should profit.
If ever you have used a GPT site, you may have come across some offering you the opportunity of cashback for signing up to casinos.
Matched Betting Casino Offers (not gambling)
However, there's another whole method for making serious money which comes under the umbrella of Matched Betting.
This is a way of making money from free bets and a whole range of other bookmakers promotions and it's quite possible to make £300-£500 a month, at least for a few months.  I personally made well over £35,000+ tax-free as a side hustle over 3-4 years, so you can see it offers a lot of potential
Within all of this Matched Betting is include making money from casino game offers.
There are various ways to make money from casino games, with varying degrees of risk.  However, it's totally feasible to stick to the risk-free methods.
Here are some examples:
Risk-free Casino sign-ups – 50 free spins no deposit required
Risk-Free – Deposit £10 get 25 free spins (can then withdraw the £10)
Daily logins play a quick game 9take a penalty, pick a box or square etc)
Low risk – Wager £10 get £20 bonus
I find all these types of offers with full instructions on how to complete them at Outplayed.com, where I've been a member for 4 years.  They have a free trial which will help you earn £40+ from completing 2 free bets offers.   You would move onto casinos further down the line.
Often bookies and casinos will have daily games you can quickly play they will sometimes win you a prize.
For example, Gamespy casinos let you choose squares on a grid every day and at the end of the month see how many free spins you qualify for.
Some daily games are related to current sporting events, so for example, if there's a big football tournament going on you might get a game that lets you take 3 penalties a day and rewards you if you score.
Two particularly good months I had when I was doing Income reports was June 780+ risk-free spins and July 670+ risk-free spins. Both those posts show tips for how I found the offers and the forum threads I followed etc.
Can you Earn Money Playing iOS Games?
I have not found any iOS apps that specifically pay you to play a game.  There are apps that appear to do so in the app store, however, upon reading the reviews I was dubious as to whether they paid out.
There were also potential scam red flags, for example, there was mention of such things as being encouraged to post 5-star reviews to get a reward and then not getting the reward.
If you know of any iOS apps that pay you to play, please do let me know.
The other option to make money playing iOS games is to check out the game earning options in each of the GPT sites.  Those that generally reward you for reaching a certain level within a certain time frame, usually something like 2 weeks.
What Apps Pay Real Money to Play Games?
The Android apps Coin Pop and Play Spot Uk both offer Paypal as an option to withdraw earnings as real money.
Of the GPT sites options that offer the opportunity to earn rewards playing games the following allow you to withdraw via Paypal:
Swagbucks
InstaGC
Earnably (from as little as £1)
Feature Points
Some of these GPT sites also let you withdraw earnings to VISA prepaid card, or even Bitcoin if you wanted.
How Much Can You Earn Playing Games For Money
You are not going to be earning much per hour.  There are many more and better ways to make more money from home or online.
However, if you enjoy playing games anyway, and a lot of people do, why not get paid something for it.
More Ways to Earn Money From Apps
Be sure to check out these posts for many more ways to earn money.
Over to You
Have you tried making money playing games online?
How much have you earned?  Which were your favourite?
Please feel free to let us know.