Swagbucks is one of the most well known and legit "Get Paid To" web sites in the world with a multitude of ways to earn some extra money.
In this Swagbucks UK review, I specifically show you how Swagbucks works in the UK and where to focus your attention along with Swagbucks tips and tricks to maximise your earnings even if you can spare just a few minutes a day.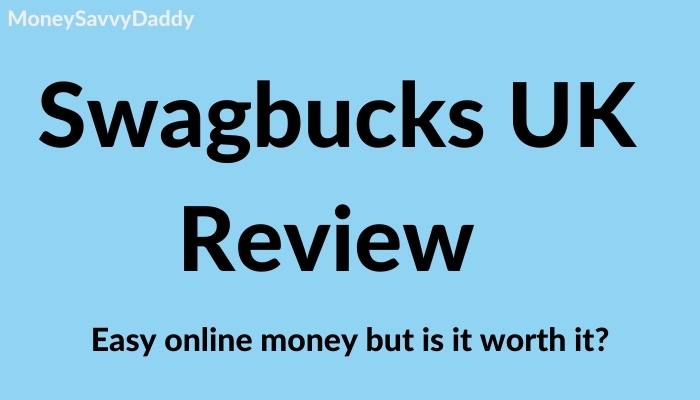 Disclaimer: This post may contain affiliate or referral links that earn me some commission if you sign up through them.  However, this is at no extra cost to you.  Read more here. Thank you if you do use them as they help to support my blog.
Swagbucks Review  2023
Let me make clear from the start, Swagbucks won't earn you a fortune, but for many people, it earns enough to cover some monthly bills or for such things as buying birthday and Christmas presents.
What is Swagbucks and Who is it For?
Swagbucks is one of the most well known get paid to do and online survey sites on the internet.
It's a relatively easy way to earn money starting with no money and possibly even a way to get you started with a more lucrative way to earn money from home.
You can cash out your earnings via gift vouchers or cash via Paypal.
There are multiple ways to earn  money including:
Answering online surveys and polls
Using Swagbucks search engine
Watching videos
Playing games
I go into much more detail and provide tips on all the options further below.
Is Swagbucks Available in the UK and Does it Work?
Although Swagbucks is an American rewards platform it is very much available to residents of the UK.
You don't need to use a UK version of the site, you still sign up to Swagbucks.com and the site will automatically know your geographic location is in the UK and present you with a wide range of UK money-making options for which I've provided info and tips on below.
Is Swagbucks Legit?
Yes, Swagbucks is a legit and safe website to use.  It was founded in 2008.
According to the Swagbucks Wiki page, it states its Alexa ranking is in the Top 2000, which means it's one of the most visited sites in the world.
It's free to sign up, so you have nothing to lose.  They are also well known for paying rewards.
In October 2020, on the page that you can redeem your earnings from, they claimed to have given away over £272 million pounds.
Swagbucks Review Ratings
UK Trustpilot site shows Swagbucks has a very healthy 4.3 rating from a large number of reviewers.

Looking further into the reviews you can see a huge 83% rate them Great to Excellent.  Which for this type of site really says a lot.  If you are going to undertake these type of tasks, this is one of the best sites to be doing them with.
What Age Can You Use Swagbucks?
The age limit to start Swagbucks is 13 years old but you may need parental or guardian consent.
Under 18's will be slightly more limited in completing some offers, such as signing up to a casino from SB, but there's still plenty of other options available.
If you are under 18, I also have more ways you can earn money as a teenager.
How Much Are Swagbucks Worth in UK Pounds?
Each Swagbuck or SB for short is worth 1 cent in US money.
Therefore 100 Swagbucks would be worth $1.00.
However, if you are a Uk Swagbucks user, you have to allow for currency conversion from $ to £'s.
The currency rate changes over time, however at the time of writing 100 Swagbucks which equal $1.00 in US currency were worth 77 pence in Uk money.
Here's a list of Swagbuck values in UK money for 2023:
10 SB = 8p
20 SB = 0.16p
50 SB = 41p
100 SB = 83p
200 SB = £1.66
500 SB = £4.15
1000 SB = £8.30
5000 SB = £41.50
10,000 SB = £83.30
As you can see in the list above, I've included a lot of lower amounts, so you can clearly see how much individual tasks are really worth.
Because 1 Swagbuck is worth less than 1 p, a better way to work other amounts is to do so based on the value 10 SB which is 7.7p (£0.077 in decimal).
So 240 SB divided by 10 gives you 24.
Next, times that value by the 10 SB value to give you the current worth, as follows:
24 x 0.077 = £1.84,
Use this US$ to UK£ currency convertor for the very latest currency exchange rates.
The true value you actually receive might be slightly different depending on how you cash out, which I've highlighted in more detail further below.
Never lose sight of the real worth of the Swagbucks to make sure what you are doing is really worth your time.
How Much Money Can You Make Using Swagbucks
I regularly look out for side hustlers monthly earning reports.
In September 2020 I saw monthly amounts ranging from £anywhere up to £39 to £110.
Including individual mentioned amounts:
£39.24
£110
$80 (maybe they meant 8000 SB, so at least £61)
£60
Often these are figures stated as just one of many other smaller amounts earned from other survey and get paid to do sites.
As you can see though, £60-£80 is achievable and perhaps £100+ if you really went for it.
Earning potential will vary slightly depending on your age, especially if you are under 18.  Also for surveys, certain demographics sometimes get better-paying survey opportunities than others.
Ways to Earn Money on Swagbucks
One of the best things about Swagbucks is the multiple options for earning money.
With such variety, it will help to stop you from getting bored.
You can pick and choose which to do based on how you feel.
Some you can even do while watching TV.
Others you can set up passively, so you earn them without actually doing any active work.
Sign up and Earn 300 SB
Get off to a great start simply by signing up to Swagbucks via my link and when you earn 300 SB within first 30 days you'll receive a 300 SB bonus, taking you to 600 SB before you know it.
300 SB a day is a good target to aim for on a consistent basis.
Playing Free Games Via Desktop and Apps
Yes, you really can earn money playing free games.
This is one you can do while watching TV or commuting to work etc.  Or if you like playing games anyway, why not get paid to play.
Typically it's just a matter of downloading the app and playing until you reach a certain level,

Even though some of the games are casino themed, they are not actual gambling games so therefore less restrictions on who can play and no risk of gambling away money.
Online Surveys
There's always a number of online surveys available to complete.
The hourly earn rate in these examples of around 390SB an hour works out at around £3.00.
Here are some examples of what's on offer:

However, the downside of surveys is that for many you will get disqualified, which is known to typically come with the territory.
If you are new to online surveys this means you'll start the survey, answer a couple of questions and then won't be allowed to continue.  The answers you'll have given so far mean you won't be within the criteria the survey is looking for further information on.
There is nothing you can do about this.  Just answer truthfully and complete as many as they allow.
You could simply choose to attempt one survey day as part of your "daily to do" which will guarantee you SB and ignore the rest.  There are plenty of other options to earn from.
Discover
The discover section is an area where you can earn money with free trial like offers, e.g 30 days free Amazon Prime.
With these, you'll need to note the date the offer ends and cancel before you incur any charges.
Here are some examples:
Swagbucks Search Engine
Simply complete searches via the Swagbucks search engine and you'll randomly be offered SB bonuses.
The search engine is powered by Bing, so you'll still get good quality search results.
Swago Boards
A Swago Board is like a Bingo version of Swagbucks offers.
It's a 5×5 board, so 25 activities in total.  Once you complete an activity that board square is highlighted
Depending on the tasks you complete and the order pattern that it makes on the board, you'll earn a bonus upon submitting.
Here's one I completed one Valentine:
On the right-hand side, you can see all the rewards on offer.
Do all the offers you can in the order to make the highest bonus before submitting to receive the bonus.
SwagButton Browser Extension
Swagbutton is a Chrome extension you can add to your browser which you can find here.
Thereafter, as you are surfing the net it will notify you when you are on a site with a sale, coupon or possible cashback opportunity.
It saves you searching for coupon codes and also acts as a good reminder for cashback if you're not already in the habit of getting it.  (Always check Topcashback as well, as you might get more there).
Daily Goal
This could be something like earn 40 SB get 3 SB.
You also get extra rewards for completing winning streaks:
7 Day star 25 SB
14 Day Fantastic 100 SB
21 Day Triumph 200 SB
31 Day Monthly Master 300 SB
This simple extra reward is important as it gets you in the habit of taking action on a daily basis and rewards you simply for consistently earning rewards.
If you get stuck for what to do or where to start in the menus there's a Daily to-do list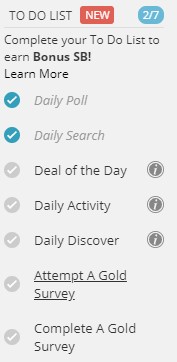 Swag Codes
Swag codes are released daily.  You'll find some of the useful resources I list below.
Just simply click "Swag Code" in the site menu and enter the code into the pop-up, like this: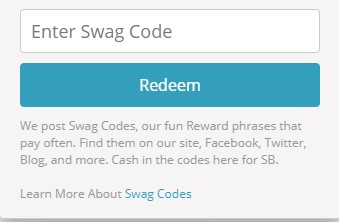 Cashback for Online Purchases
If you are shopping online Swagbucks offers you the opportunity to earn cashback on your purchases.
Simply click through to the site you want to purchase from before going on to make your purchase.
Here are a few examples of some well-known online brands many of us use.
Be aware, although Swagbucks is an option for this, in my experience, it's always worth checking what's on at offer at the best cashback sites.
In particular, all of these are free to sign up to and sometimes they have sign up bonuses.
I've made £100's at these sites and I've covered some of the active ways I've used them in my reviews:
If you actively look you might also find other options for making money on these sites, in fact, that is exactly what Oh My Dosh is set up to help you do.
Swag Ups
Once activated, Swag Ups will increase your earnings on specific tasks within a limited timeframe, e.g extra SB bonus on all Gold Surveys until the end of the day.
Scan Receipts
Swagbucks rewards you for uploading or scanning your shopping receipts and online purchases.
Go to the "Answers" page and you'll see: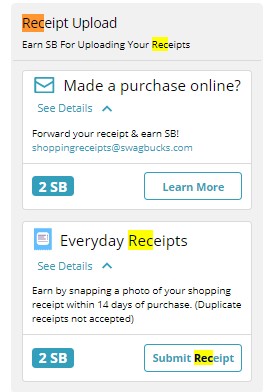 Make sure you are also scanning your receipts on these best receipt apps some of which pay considerably more.
Plus if you are scanning with one app, you may as well quickly scan with them all.
Mobile Apps – Earn SB Watching Videos
Look for the link "Mobile Apps" in the menu and you'll see Swagbucks has a range of apps you can earn SB from.
There are mixed reports on how well you can do from these but they are worth checking out to see how the current real earning potential and if they are an option for you.
All the apps are available on Google Play, but not all of them are in the Apple App Store.
Apps include:
Swagbucks Mobile – earn when you shop, answer surveys and watch videos on the go.
SB Live – Chance to win their version of a gameshow app
Swagbucks Watch – Earn watching videos
Swagbucks Answers – Earn from surveys
Movie Cli.ps – Watch movie trailers
Sportly – Watch videos of favourite sports
IndyMusic.tv – watch videos of favourite artists
Lifestylz.tv
EntertaiNow
Refer Friends
If like many you enjoy Swagbucks, then why not refer it to your friends and family.
At the time of writing, they were offering 300 SB per referral + 10% of their lifetime earnings.
You can send invites directly from the "invite" page.
Sometimes they have an additional option such as earn an additional 100SB if the person you refers adds the Swagbutton to their laptop or desktop P.C.
Be sure to mention this in your referral.
Only recommend directly to friends you know might be genuinely interested.
You can of course share your referral links on your social media channels.
Tip: Every member of the household over 13 years old can have their own account, so consider asking them to sign up and get yourself off to a great start.
How to Earn More Swagbucks
The best way to boost your Swagbuck earnings is to get in the habit of earning some every day.
Simply set yourself down to log in a complete at least one task a day.
Once you start doing this, you'll nearly always find yourself completing more tasks and before you know it you'll be cashing out a decent amount.
Swagbucks even rewards you for daily activities.
As you get used to the platform, create a checklist and aim to complete or at least check all the main options.
The more often you do this, the quicker you will get.
Another key tip is to set yourself a goal.
Let's say a £50 Amazon gift card for 6500 SB.  You just need to spend a few minutes a day earning just 216 SB and by the end of the month, you'll have enough for that gift card.
How Best to Cashout your Swagbucks
You can cash out your Swagbucks either via gift cards or cash via Paypal.
Cashing out via Gift Cards
Generally, you'll get more for your money if you cash out via a gift card.
At the time of writing they were offering the following "On Sale Rewards":
£50 Amazon gift card for 6500 SB (130 per £1)
£25 Amazon gift card for 3250 SB (130 per £1)
£10 Amazon gift card for 1300 SB (130 per £1)
£5 Amazon gift card for 700 SB (140 per £1)
£3 Amazon gift card for 480 SB (160 per £1)
There's a whole range of other gift card options including:
Tesco's
M&S
Starbucks
iTunes
I personally would always choose Amazon, as I redeem it straight away and there's no risk of me losing or forgetting to use it.  Also, Amazon is highly unlikely to go out of business, which is a potential factor for some of the other options.
I have a whole post with many more ways to get free amazon gift card codes.
To get the most of your hard-earned Swagbucks be aware of how much value you are getting.
In the examples of Amazon cards, the lowest £3 card is costing you 160 Sb per pound whereas save up to cash out between £10-£50 and its 130 SB per £1.
Cashing out Cash via Paypal
You have the option to cash out real money at Swagbucks via Paypal.
Cashing out in cash is similar to gift cards, but you'll get slightly less for your money.
It gives the option of cashing out in U.S$, which is only useful if you are going to spend US$ via Paypal.
There's also the option to cash out in £'s.
I could get:
£25 for 3625 SB (140 Sb per £1)
The prices do change and they have "sales", so it's worth keeping an eye on how they change and cash out at the best value you can.
Is Swagbucks Worth It?
Whether Swagbucks is worth the time ultimately depends on you the individual.
For many people, there are certainly higher earning options available.
Matched Betting, is one of my particular favourites and potentially far more lucrative.
So if you find yourself interested in the Swagbucks offers that pay you to sign up to bookies and casinos you may well be interested in my Matched Betting guide and how to make money from casinos.
There's also a whole range of other survey sites you could utilise.
Individually they may not earn you much, but if you sign up to a few and get organised in completing them and focusing on which are best for you, you can certainly earn at least a couple of hundred extra pounds a month.
For some, just the realisation you can actually earn money online is a great starting point.
It might be the only option you have to earn money starting with no money.
Once you have made what you need you could maybe use it on another money-making venture.
Swagbuck Tips
I've mentioned some of these in more detail in the post above but highlighted them again as well as adding a few more.
Some of these tips may seem simple common sense, but are actually often overlooked and a reason why people don't get the most out of the platform.
Start with a Swagbucks sign up bonus link.
Refer household family members
Earn Swagbucks daily, even if just 5-10 minutes
Set yourself a monthly goal and break it down into how many SB you need to earn a day, e.g 300.
Utilise all the passive forms of earning Swagbucks so you earn even without trying e.g search bar, cashback
Join groups I've listed below for current tips and motivation, which makes it more fun.
Consider setting up a new email just for Swagbucks 9and other similar sites).  Swagbucks will notify you of the best offers every day and this will stop them from being mixed in amongst your other emails.
If you sign up to any third-party apps or websites (e.g free trials in the "Discover" section) consider using yet another new dedicated email address to stop any junk mail mixing with your other money-making and personal email accounts.
Consider taking screenshots of some of the higher value offers just in case they don't track, e.g playing a game offer and reaching a certain level.  With proof, Swagbucks are good at sorting out any issues.
Useful Resources
The GPT Genies Facebook is a useful group to keep up to date with the latest Swagbucks offers as well as similar sites.
It's a useful place to maybe share some tips and motivate each other to earn more.
You'll also find Swag Codes released daily in the Swagbucks Uk Facebook group.
Conclusion
Swagbucks is definitely a legit way to make some fairly easy but relatively small amounts of money from home.
It's one of the most popular of its kind.
However, you'll only earn so much, so if you are at all interested in earning more, there are more lucrative ways to earn real extra money from home in the Uk