If you enjoy shopping and eating out you might be interested in how to become a Mystery Shopper to make some enjoyable extra money or claim worthwhile freebies.
It's surprisingly easy to get started, with no previous experience required.  Find out here how to do so and an idea of how much money you can actually make as well as mystery shopping tips and tricks to boost income even further.
I've found the biggest and best Mystery Shopper companies in the UK to start out with and also the ones that are known to offer the most and best-paid opportunities.  
Let's get started…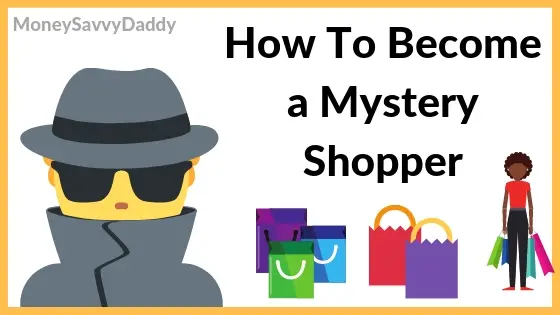 What Is a Mystery Shopper?
A Mystery Shopper or Secret Shopper as they are sometimes termed is someone who typically works on behalf of a market research company to measure such things as quality of service.
Although a business can send their own staff to evaluate specifics stores, their visits are often known about in advance, or obvious when they arrive.
To get a true indication of the running of the business and quality of customer service, businesses employ Mystery Shoppers via Marketing Agencies.
Every day people like me and you can get paid to carry out simple tasks and report back.
Although businesses are aware Mystery Shoppers are used, they aren't meant to know who the particular Mystery Shopper is.  Therefore the secret shopper gets no special treatment.
How to Become a Mystery Shopper
With retailers needing to provide a quality shopping experience in order to compete with online counterparts and stiff competition between multiple food outlets, using a Secret Shopper is an ideal solution to find out how a store is performing when it comes to measuring customer-facing performance.
This is where you can come in.
Multiple marketing agencies and Mystery Shopping companies employ on a task by task basis Mystery Shoppers.
Most of these companies are really easy to sign up to.
You then simply choose from the available tasks which of those you'd like to do.
Working as a Mystery Shopper is ideal for people who are often out and about.  Maybe you can complete a task before work or on your lunch break.
Many tasks suit people who enjoy shopping or dining out and would like to support businesses in improving the standards of service.
Applying To Be a Mystery Shopper
When applying, ideally you should sign up to a number of Mystery Shopping companies.
They will all vary in how often they have jobs available, pay and locations of tasks.  So the more you sign up with, the more you can check and see which are offering the best Mystery shopping jobs for you.
A Mystery Shopping company that doesn't offer much to one person, might offer lots to someone else if they live near the common opportunities.
Also, pay wise, what some people think is poor others may well appreciate.
Finally, on applying, fully answer any questions and make sure you use good grammar.  They may well be using the application to assess your suitable ability for reporting back on jobs.
Best Mystery Shopper Companies In the UK
Being Mystery and secret jobs, there are very few reviews on these companies so you have to gauge what's best for you after you've signed up.
Below I have narrowed the list down to the best Mystery shopping companies to start out with.
If you sign up to a good number or even all of them it should give you a feel for the opportunity to Mystery shop in your location.
1.

Market Force
One of the largest and most well-known Mystery Shopping companies.
Generally a wide range of Mystery Shopping jobs to choose from, but not considered one of the best payers.
Easy to use system and consistent reporting style make this a good choice to get started with for beginners.
£5-£10 per job range.
Visit: Market Force
2.

Grass Roots
Good for beginners.  Instructions are clear and easy to follow.
If you get an email with jobs in your area act quickly otherwise they might be taken.
Expect £10-£15 a job.
Visit: Grass Roots
3.

Serve Legal

(Ideal for Students)
Serve legal is an ideal Mystery Shopping opportunity for students, especially if you live in a large town or city.
Plenty of age-related tasks are available.   Such as purchasing alcohol, tobacco, lottery tickets, placing bets at bookmakers, cinema tickets, etc.  You'd then record whether asked for ID etc.
There are more opportunities for those who travel and you may also get money towards mileage.
Requires 16-19 years olds for the age-related tasks and 20+ for wider audits.
Visit: Serve Legal (site includes a video illustrating the steps involved on a job).
4. 

ESA Retail
Wide range of task types.
Pay ranges between £10-£40.
Visit: ESA
5. 

GBW (Formerly Gapbuster)
Consider themselves a world leader in having organized over 14 million mystery shops.
Good Mystery Shoppers could be given the opportunity to become an auditor.
Visit: GBW
6.

Red WigWam
Often jobs with one particular supermarket, so it may depend on how close a local store is to as to whether it's viable for you.
Pays out earnings relatively quickly.
Visit: Red Wigwam
7.

Mystery Dining
This is more suited to people who enjoy eating out and taking advantage of a paid-for meal.  However, don't expect to get paid a fee on top, although it's not totally unknown.
A free meal is enough reward for many people.
Visit Mystery Dining
8.

iShopfor IPSOS
Easy to get started with.  Wide range of tasks available.  Can pay well for more involved tasks.
Visit: IPSOS
9. 

React CX
Range of tasks including video and audio, telephone and sporting events.
Visit: React CX
10.

Tern 
Simple to use. Range of jobs £5- to £10, plus offering more complex tasks for higher pay in the £30-£35 range.
Visit: Tern
11.

Bare International
Get paid on a set date monthly.
Visit Bare International
Plenty More Mystery Shopping Companies
There are many more Mystery Shopping companies.
Unfortunately, some are scams, so it's always best to check any you sign up with are legitimate.  You can check via the Mystery Shopping Professionals Association website https://www.mspa-ea.org/
Mystery Shopping Apps with Tasks
As well as dedicated sites and companies to Mystery shopping there is a range of "Get Paid To" money-making apps that feature Mystery Shopping jobs or very similar type tasks.
These aren't quite the same as full-on Mystery Shopping tasks, but they are very similar, just usually much quicker to complete and specific in the actual task.
Quite often these tasks apps offer a relatively good rate of pay for the time involved.
Many of these apps pay out a lot quicker, some as soon as the task is complete.
The best money-making task Apps are:
Be My Eye – pays you to take photos of shop displays and counters.
Roamler – known to offer a wide choice of tasks.
Field Agent – often has a good number of opportunities available
Streetbees – not primarily a task app, but does have the occasional opportunity available
How Much do Mystery Shoppers Get Paid?
A paid mystery shopper will typically be paid a small fee for each task or receive a freebie.  Some of the best offers are when you get paid a sum of money and reimbursed for your free item.  This is obviously more worthwhile if its an item you want or benefit from, for example a free meal.
The amount paid for secret shopper jobs will totally vary depending on the company and the specific task but generally range between £5-£40.
Not All About The Money
Sometimes Mystery Shopping is more about the saving of money or getting items, food or experiences for free that you would like anyway.
For example, if you like eating out, and eat out anyway, then only partial reimbursement of a meal might be more worthwhile than if you were only doing it for pure profit, on which basis it might not be worthwhile for you.
Freebies will often be full paid-up meals which although you may have to pay for upfront initially you will be able to claim back.  So make sure you don't over order and end up worse off.
Examples of freebies
A meal in a restaurant
Takeaways
Homeware Products
Over the course of a year Mystery Shopping it feasible to earn in the region of £1500+.
For many people looking for extra money, Mystery Shopping works best as one of a range of options.
If you are working from home, there might be better money-making jobs to do.
Whereas if you are out and about anyway then it's much easier to factor in some possible Mystery Shopper jobs.
You can also boost your earnings by combining with a range of money-making apps.  Many of which offer very basic like Mystery shopping mini-tasks like taking a photo of a food menu or a particular display but not quite the full-on Mystery shop experience.
You never know what opportunities might arise, this secret shopper ook advantage of complimentary flights to Japan to fulfil a lifetime ambition to then go and travel to Nagano.
Full-Time Mystery Shopping
As with anything, if you really enjoy it and want to pursue it to the max there are always ways to earn more.
You would need to approach it like a job.  Get organized and focused.
With years of experience, this full-time Mystery Shopper makes £1000-£2500 a month.
This is an extreme example of earnings and is not the norm, but it just shows what can be achieved if you really wanted to put your mind to it.
Personally, I think Mystery Shopping works best as part of a range of money-making side hustles.
Record Keeping and Tax
For more current discussion on Mystery Shopping opportunities as well tax, record keeping, allowable expenses see the MSE Mystery Shopping discussion thread.
Examples of Mystery Shopper Jobs
There are numerous types of tasks that a Mystery Shopper can choose to do.
Mystery Shoppers can't give exact details of their tasks or even the names of some clients due to privacy.
Here are some examples of what you might be asked to do:
Buy specific items in a shop
Meal for 2 in a restaurant
Overnight stay in a hotel
Open a bank account at a bank
Enquire about booking a holiday
After completing the task you will typically have to fill in a report about your visit or task.  This will usually have to be sent on the same day, or the day after.
A Week Of Mystery Shopping
To illustrate what can realistically be achieved in a week of Mystery Shopping I found this video account by Demi Donnelly.
She gives a good indication of what's involved from the perspective of a beginner.
From signing up to some of the companies through to sharing her experiences and earnings from the week.
Demi just signed up to 3 Mystery Shopping companies and took jobs that were available that particular first week.
She did Mystery Shopping Mon-Friday, a total of just under 8 hours worth of effort. 
She found quicker and easier tasks don't always pay less.
Earnings: Around the 14th-minute mark, she summarises her earnings.  She also could have earned more if she had completed tasks on Saturday but chose not to.  This is a key advantage of Mystery Shopping, working when you want to.
Bear in mind, there are many more Mystery Shopping sites to sign up to and with experience, you'd cherry-pick the best paying jobs for you and increase that hourly rate.  So the real potential for anyone who wants to earn more is certainly there.
Tips and Tricks
Sign up to a range of Mystery Shopping sites and Task apps.
Check daily for what is available and take what's most suitable for you.
Take notes immediately after completing the Mystery Shop.  Allow enough time to record everything that might be relevant in completing the report later.
Keep a record of which sites are offering you the most jobs and best rewards so whenever you are limited on time you can prioritize checking those first.
Never pay a company to be a Mystery Shopper.
Always double-check you have completed all the requirements of the assignment, otherwise, you might not qualify for payment.
Always do the best job you can.  It may lead to higher-paying opportunities in the future.  When given the option to add extra comments, do so as often as makes sense.   Just don't tick boxes.
Never let on that you are a Mystery Shopper while on a job.
Combine Mystery shopping opportunities around your daily life and whereabouts.
Combine with other money-making opportunities like Get Paid To Walk apps and job spotter notices.
Also, see if you can complete more than one Mystery Shopping assignment at a time per outing.
Don't miss the reporting deadline.
Conclusion
Now I'd love to hear from you
Have you tried Mystery Shopping?  What site was the best for you?
How much have you made or received for free?  Please share 🙂