Are you looking to make your money work harder without having to do most of the work yourself?
I've put together a wide range of what I consider to be the best passive income ideas and links to further info that will help to make you money while you sleep, spend your days pursuing new and fulfilling ventures or lying on a beach, or even to free up your time to start building new streams of income.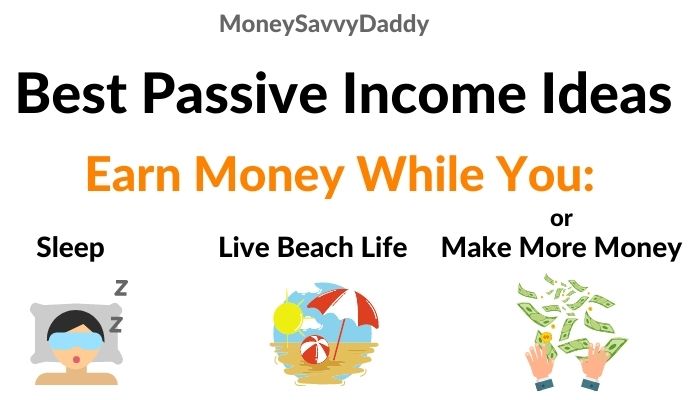 All you need to do is choose the passive income methods to start to build your wealth on auto.
There's something for everyone.  Whether you already have huge savings or no money whatsoever.
I've used many of the methods myself.  No.'s 4 and 5 are my favourites for a passive secondary income.
What Is Passive Income?
Passive income is income that you continue to receive with little to no effort on your behalf.
Passive income comes in many forms, which amongst them vary widely in how much initial effort is involved before the income stream can truly be classed as passive.
The returns from these passive income streams can also vary considerably.   Often these returns are related to the initial effort.
For example, depositing your money into a savings account is pretty quick and straight forward, but the returns are generally low.
Whereas setting up a business or writing a best selling book and living off the royalties takes a lot more initial effort, but the long term returns could far outweigh the returns of interest in a bank account.  Plus you don't need to have capital tied up to earn it.
As you'll see, whether a form of income is truly passive is not always black and white.
What are the 7 Streams of Income?
Looking at these will help give up some ideas about which are passive, which may then help you come up with your own ideas for creating a stream of passive income.
Below we look at the most well-known streams of income and how passive they typically are.
Earned Income:  This is income you typically earn for trading your time for money.  It's money you actively work for.  Your typical day job, which if you quit, you'd no longer be earning an income from.  Not passive.
Interest Income: Is income you earn from effectively lending your money.   This could be in the form of savings in a bank account, bonds or via peer to peer lending. Completely passive.
Dividend Income: A dividend is the distribution of a portion company's profits to the shareholders.  If you own shares in individual Plc's or through funds and indexes on the stock market it's likely you'll earn some form of income in the form of dividends.   Assuming a long term buy and hold strategy, this is a very passive form of income.
Rental Income: Is when you receive an income for renting out something you own.   How passive it is will vary.  If its buy to let or HMO property and you are dealing directly with tenants problems, evictions, its not very passive.  If however the property is fully managed via letting agent or another third party, it'll be much more passive.
Business Profit:  This is the income and profit that you make within a business you own outright, or a share of, which might, for example, be producing a product or providing a service.  This business profit could be reinvested within the company for further growth or withdrawn in the form of a salary and or as dividends.   How passive it is will totally depend on how involved or not you are within the business.
Capital Gains: Is derived from when you sell an asset you own (e.g property or shares) for a higher price than you paid for it.   The gains are passive, but it's not a regular form of passive income.
Royalties and Licensing:  This form of income can be from something you create such as music, book or a patented creation.   You earn a fee every time it's played or a copy is purchased.  You could also earn money from Trademarked copyrighted material that you allow another company to use.  Very passive.
Passive Income From Savings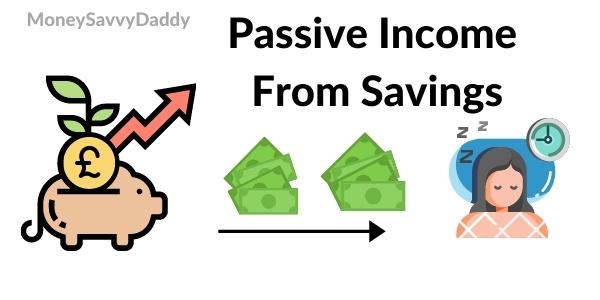 One of the most obvious and easiest forms of passive income is earning interest from your savings.
However, there are more options than just a low paying interest bank account.
The pro's of earning an income from savings is that they are all relatively easy to set up and leave.
The cons are that you need to have accumulated the funds in the first place.
1. Bank Account Interest
There are various ways to passively earn interest on your savings.
Types of Saving Accounts:
In approximate order of expected interest rate, from low to high:
Interest paying current account
Instant access savings accounts
Fixed-term savings
Regular savers
Current Accounts sometimes will pay a higher rate than some of the other account types, but usually only on a relatively small sum of money compared to the other options.
Regular Savers tend to pay the highest interest rate, but you are limited how much you can save per month and they mature after 12 months, so you'd have to start over.
Effort: Minimal.
Risks: Under the Financial Services Compensation Scheme (FSCS) your savings are safe up tor £85,000 per financial institution.
Related post: Have you ever wondered how much interest you'd earn on a million pounds? Includes calculator.
2. Premium Bonds
NS&I Premium Bonds are the Uk's most popular way of holding their savings.
The interest received on the bonds is determined by a monthly draw of cash prizes.
Each bond costs £1 and they all have an equal chance of winning.  Therefore the more you own the more chance of winning you have.
Prizes range from £25 up to £1,000,000 (one million pounds).
The annual prize rate equates to a mean average return equivalent to an interest rate of 1.4% (at the time of writing), However, the vast majority of people will less (see MSE for more info).
Effort: Minimal.
Risks: The NS&I is Treasury backed, so 100% safe up to the maximum holding of £50,000.
3. Peer to Peer Lending
Peer to peer lending platforms offers us a way to lend to individual people or businesses.  The peer to peer businesses acts as the middle man matching up borrowers to savers based on a range of risk profiles.
Diversification is key and generally, as a lender, your money is split into many different loans to multiple borrowers.
Peer to peer companies vary in there own right, some concentrating more on loans to individuals, others to businesses or some purely for property-related loans.
As a general rule, expect the higher the returns on offer to come with higher risks.
At the time of writing, Zopa was saying expect generate projected returns between 2.3 – 5.6% and that the best results were over the mid to long-term, so 3+ years.  
I personally have stuck to two of the most well-known peer to peer companies:
Zopa (£50 bonus if you invest £2000+ via this link)
Ratesetter
Effort: Minimal. Open an account and allocate funds.
Risks: Not covered by the Financial Compensation scheme so your money is not totally safe.
Secondary Income Ideas for Your Own Passive Online Business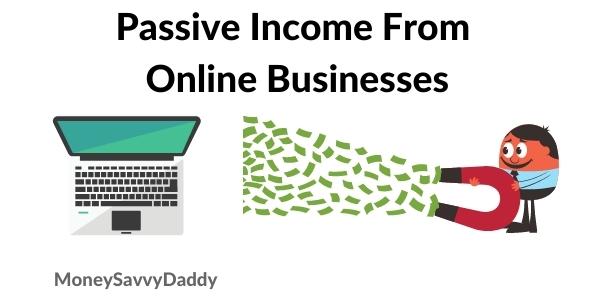 There are multiple ways you can earn a passive income from a vast array of online business types.
Yes, many of these you'll have to work hard to set up and build.
However, it's possible some can be left alone and still earn money, while others you'd have to put processes in place, such as using virtual assistants and writers or whatever job roles you need to cover.
4. Blogging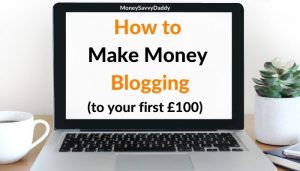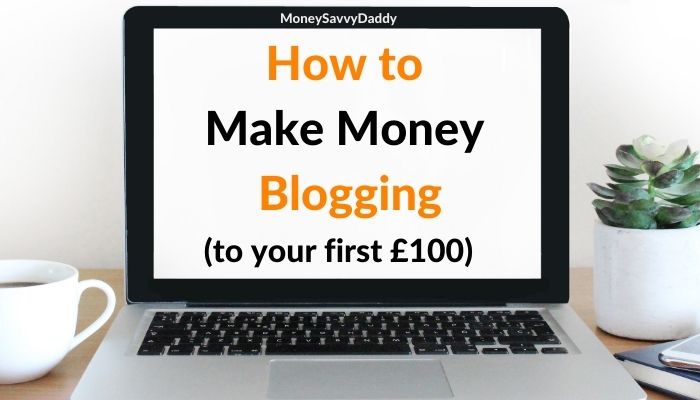 One of my personal favourite ways to make a passive income is via blogging.
There can be a lot of work involved in setting up a blog and building its traffic, but once you have, there's a whole range of passive income streams you can add to it.
One of the best things about blogging is how cheap it is to get started.
Hosting from:
My preferred quality hosting option would be Siteground hosting, but Bluehost is an option for people on a really tight budget who might not otherwise get started.
Think of blogging as a long term passive income stream, one you can start today.
There are many examples all over the net of people who have started and quit their day job, earning £1000's a month is not uncommon.
Some bloggers go on to manage multiple profitable blogs, this is possible because some of them can keep generating an income passively.
There are many ways to generate passive income from blogs which I've covered separately in their own right because they can be used on more than just a blog.
You can find out more in my how to make money blogging for beginners -which will help you get started and on towards earning your first £100+.
Passive income forms from blogs include:
Affiliate marketing
Display ads
One particularly rewarding form of passive income specifically for a blog is displaying ads.  Once the code is added to your blog and assuming you have a stream of visitors, it's extremely passive.
Adsense is one of the most well known, but once you have higher traffic levels, the likes of Mediavine generally pay a lot more.
Affiliate links are largely passive but may have to be updated occasionally.
Effort: Potentially a fair amount of effort over a period of time to get started.
Risk: Very low risk.  It's possible to keep expenses extremely low and even those can be covered relatively quickly via various means.
5. Affiliate Marketing
An affiliate marketing is a way of earning a commission on products and services you link to online.
For example, some links on this blog are affiliate links.
You can also promote affiliate links via email marketing and your social media channels and even Youtube video descriptions.
Once you have a higher-performing blog post or Youtube video, your affiliate links will keep getting exposure and keep earning you commission even when you move on to create something else.
Some affiliate program's offer recurring payments, so you even get a commission when the buyer renews or upgrades a product or service.
Effort: Varies.  Takes effort to build an audience via blog, social media, Youtube etc, but once you have that, it's not much ongoing effort.
Risk: Doesn't cost anything to join an affiliate program.
6. Create an ebook
Have you ever thought of self-publishing an ebook?  If you enjoy writing or possibly have a blog, it's an ideal accompaniment for an extra source of passive income.
Some sites specialise in setting you up with everything you need for a great-looking ebook format and all you have to do is write the words and format like any other text document.
ebooks can be self-published.  The most well-known option is Amazon's Kindle Direct Publishing and there's Apples iBook Authors, plus many more.
Effort: Varies.  In some cases, it can be really minimal effort if you can repurpose and expand on existing content from elsewhere into an ebook format.
Risk: Doesn't cost much at all, therefore low financial risk.
7. Print On Demand Books
If you go to the effort of creating an ebook, you may as well offer the option of a paperback version.
As someone who works on the net, I quite like the option of occasionally taking my reading away from the screen.
You don't need to worry about finding a publisher, or stockings hundreds of copies.   You can simply use the Amazon KDP Print service and your book orders will be printed as they are ordered.
Effort: Whatever it takes to write the book.
Risk: Minimal
8. Audiobooks
Another option for generating income from a book, is the audiobook format.
Again, Amazon make this really easy to produce via their ACX website which is a marketplace for authors, literary agents and publishers to connect with narrators, engineers, recording studios etc to create quality sounding audiobooks.
Your audiobooks can then be sold via:
9. Create Courses
Courses offer great potential for a passive income.
Again, an ideal accompaniment for an active blog, social media or Youtube channel.  If you can create a course looking to solve the problems of your followers.
Some courses are really passive and provide everything the buyer needs to know.
Other courses are less passive, offering active support via Facebook groups and email etc.  Although much of this could be outsourced.
Popular course platforms I've often seen used are udemy.com and Teachable.
Have a look through the sites for ideas.   There's literally courses on everything.
Effort:  Once set up, can run on auto with very little input.  Initially, you'll need to work to put the course together, and depending on the content it may need periodic updates.  Many course types won't need updating, such as "how to play an instrument or specific song, is never going to change.
Risk: Fairly low financial risk, as its mostly time you put into learning how and then actually creating the course before promoting it.
10. Create a Membership Site
One of my most recommended ways to make money from home is via Matched Betting (not gambling), which I won't go into here because it's an active way of making money (I made over £35,000+ tax-free over 3-4 years)
However, within this field is a great example of a membership site, Outplayed.com .  They illustrate how matched betting works via 2 free trial offers, and once the profit has been made, visitors decide whether to sign up as a member on a monthly or annual basis.
With a monthly fee of £17.99 a month or £150 per year, and 10,000's of members you can see there's profit to be made in this kind of membership site.
Effort: Initial setup and marketing.  Assuming everything can be automated and updated by staff and assistants it could be very passive.
Risk: Depends on how much you invest in setting up.
11. Create an App
If you can create an app worth paying for as a one-off purchase or ideally a subscription basis, it could be a nice passive earner.
You don't even need to be a tech expert to create the app.
The key is in spotting an opportunity.  App creators can be found online.
Some sites are actually based around asking people to submit the ideas and if the app is put into production, sharing the income.
Effort: Conveying your idea and souring the best app producers.
Risk: Whatever the initial investment of producing the app.
12. Vlogging – Start a Youtube Channel
An ever more popular source of passive income is via Vlogging.
You can set up a Youtube channel with the intent to make money.
It's free to set up a channel, but if you want to take seriously you may have to invest in some quality video equipment and possibly video editing software and lighting etc.
Of course, there are many different types of channels and it's totally possible to set up a channel without showing your face and uploading videos that require very little equipment.
At the time of writing, you need the following before you can monetise your videos.
1000 subscribers
4000 hours of watch time on your channel
However, before that, you can still make money from passive income generating affiliate links within the video description.
Effort: Takes time to create the videos but once the videos are live it's a very passive form of income.
Risk: Fairly low risk.  You may need some video equipment or software to produce the videos.
13. Podcasting
A podcast is a series of audio episodes usually focused on a specific area of interest or theme.
If the podcast topics are evergreen, as in the content does not go out of date and is useful over a long period of time, then these podcasts can continue to generate earnings well after the release date.
Often, people discover a great podcast and go back to listen to the many other episodes.
Effort: Takes effort to build an audience for your podcasts.
Risk: Fairly low risk.
14. Videos and Photos
If you enjoy photography, then perhaps earning from your photos is an option for you.
You can upload them to stock photo sites such as
500px
Adobe Stock
Dreamstime.com
Depositphotos
Shutterstock
iStock
As well as many more.
Effort: You'll need to build a large portfolio so you're more likely to have what people are looking for.
Risk: Low risk.
15. Sell Print On Demand T-shirts
Print on Demand is a great option because you don't need any money to get started.
Basically, you sign up to a POD platform, upload your designs and start earning a commission on any sales.
The T-shirt is only produced once ordered, so you don't need any form of stock.
The most well-known platforms is Merch by Amazon although sometimes they limit when you can open an account.
You don't really need any design skills, although it would help.  Here's a useful bloggers guide to getting started selling t shirts online. (she made $1008 in December).
You can also source designers for pretty low prices from Fiverr.
Effort: Once the designs are live it's totally passive.
Risk: You can start this for free.
16. Sell Digital Files on Etsy
If you can create digital files you can upload them to Etsy to sell them passively.
As a money blogger, I often see all kinds of Budget planners or cash envelopes etc for sale.
Once you've designed and uploaded them it's potentially a regular source of passive income.
Effort: Low effort once you've uploaded your designs.
Risk: Minimal.
Passive Income Business Ideas UK
Any business you can create but then hire staff to fulfil every task could ultimately be made a form of passive income.
From everyday businesses such as cleaning to dog walking.  Owning a cafe or Pizza Parlour, can all be forms of passive income for the actual business owner if they can find a way to outsource every task and the business still make a profit without their input.
Bearing that in mind, I've focused on particularly passive types of businesses.
17. Vending Machines
When people think of real-world bricks and mortar types of passive income, vending machines are usually high up on the list.
Depending on the location, the machines can be earning money 24/7.  Once set up and profitable someone could be employed to do the refilling and collection of funds.
Often the takings from the vending machine are shared with the location owner, rather than paying rent in advance.
You can sell all kinds of products, bearing in mind, the longer the shelf life the more passive the income is likely to be.  Fresh foods such as sandwiches, for example, would need to be refilled almost daily.
Whereas sweets, chocolate, canned drinks, coffee, toiletries etc have a much longer shelf life.
In the UK there are also a number of vending machine franchise opportunities.
Effort: Will take time to set up and find locations for your machines.  Will also depend whether it's you doing the refilling and cash collecting, or whether you hire staff.
Risk: The initial capital to purchase the vending machines and not knowing in advance your return for each location.
18. Launderettes
Launderettes, are another obvious form of a bricks and mortar passive income business.
Seemingly a fairly old fashioned business, they're still in use and savvy new owners are making them a more interesting place to sit instead of just watching the tumbling washing going round.
Launderettes can offer self-service:
Washing
Drying
Ironing machines
Pressing machines
You might even want to offer a vending machine if space allows.
Effort: Once set up they are still not totally passive unless you hire staff to check on the place, keep it clean and check machines are regularly in good working order.
Risk: Expensive to set up. High ongoing costs as the associated utility bills, water and electric will be high.
Property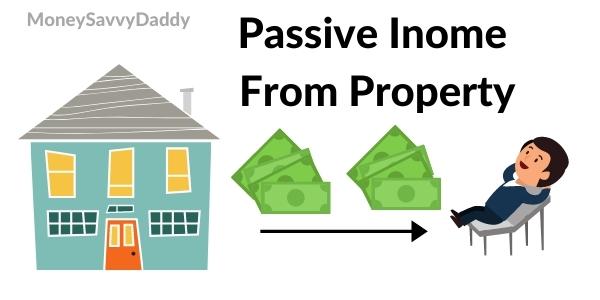 19. Rental Property
Investing in property is probably one of the most well-known forms of passive income.
There are various models including:
Residential Buy to let
HMO's
Student Accomodation
Surfers Lodges
Commercial Letting
However, just how passive is it?
Well, there's certainly a lot of work involved at times if you are starting out on your own.
First, you need to finance the purchase of the property.  You'll then need to find suitable tenants to start collecting the rent.
But it doesn't end there (would be nice if it did!)
There are all kinds of ongoing issues to deal with, such as:
Tenancy voids
Evicting bad tenants (can be stressful)
Repairs, but the dealing with and cost of
Regulation changes
Periodic refurbs
However, if you get your sums right and generate enough profit, it's possible to outsource all these tasks for a truly passive income.  Potentially with capital gains on top.
If you have significant capital already and will make do with lower returns for a totally hands-off approach from the starts there's also the option of finding people/businesses who will take care of the whole process for you.
From buying the property through to managing it.    They will want their cut.  There's also the issue of trust.
Effort: Potentially lots if you do it for yourself.
Risks: Can vary depending on how financially leveraged you are on the property.  Plus other factors such as rental demand in the chosen area etc.
There's certainly many potentially medium to high levels of risk, especially for a beginner.
20. Rent a room 
Renting a spare room is a potentially much easier form of passive income from a property.
Pretty easy to do.
Here's more information no the UK Governments Rent a Room Scheme which at the time of writing let you earn £7500 a year tax-free from letting out a furnished room in your property.
You can rent the room on an ongoing basis, or possibly for short stay visits by listing on sites like Airbnb.
Effort: If you have a furnished room, its a fairly low effort to let it out.
Risks: Low financial risk.
21. Sub Letting
What's it called when you rent a room on behalf of someone else?  So you find a property owner, run the letting of the rooms or whole property.  Pay the property owner and collect rent which you price in excess of the amount you pay the actual landlord.
The key advantages are that you can profit from property, without actually owning the property.
Be sure to get the landlords permission otherwise you could face legal action.
Effort: Finding landlords who want to hand over the management of letting their property.  You'll then have the effort of dealing with tenants unless you can outsource this.
Risk: Fairly low risk assuming you follow all rules and regulations.
Investing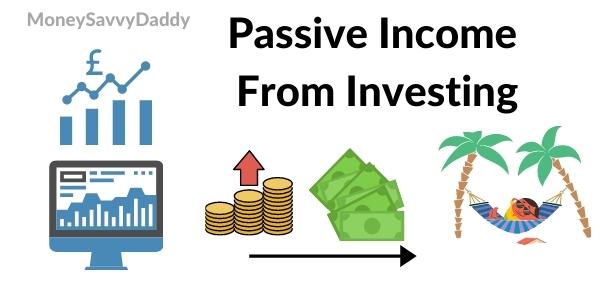 22. Dividend Yield Investing
One particular strategy for investing for income is to select high dividend-paying shares or income funds that focus on achieving a higher dividend yield.
These could typically be classed as shares that pay at or above the market average, for which the long term average for FTSE 100 is a yield of around 3.5%.
If the company paying the dividend can continue to grow the dividend each year, ideally above the rate of inflation, over the long term this can prove to be a very fruitful way of investing.
I found Dividenddata.co.uk to be an excellent source of free info on individual companies dividend histories.
Things to look out for:
Current Yield
Years of Consecutive Growth
5 to 10-year dividend growth rate
Also consider diversification of business sectors within your portfolio.
With a yield above the FTSE 100 average, you'd expect to build a portfolio yield 3.5-4.5%.
Effort: It's more effort than simply purchasing a worldwide diversified index fund.
Risk: All investing carries risk.  High yield shares tend generally to be higher-yielding for a perceived reason, typically because they are facing struggles to grow or possible risks of decline.
23. Invest in Index Funds or ETF's
Investing in index funds is a very simple way to invest.
With an index fund or ETF, you'll always have holdings in the most successful companies within the index.  As successful companies grow and become a bigger part of the index, while weaker and declining companies fall away.
Within the funds, some companies will be paying dividends. You can choose to accumulate these within the fund or take them as dividends and a form of passive income.
Effort: Minimal effort.  Once you've chosen your index fund, just leave it to do its work over the long term.
Risk: Markets go and up and down.  Generally, they go up over the long term, as you'll see if you look at a graph for the S&P500 and any worldwide index which holds a large portion of the S&P500.
24. Robo Investing
Answer a few questions to determine your risk profile and then leave the rest to an AI Robo advisor which will invest your funds across a selection of possible funds.
Whichever Robo Advisor you choose to invest with, keep an eye on the fees, as these will eat into your returns over time.
Effort: Pretty simple to set up and start earning.
Risk: Your capital is at risk with all types of investing.
25. Venture Capital Trusts (VCT's)
Venture Capital Trusts are companies listed on the Uk stock market run by a fund manager who invests in small unlisted companies that you wouldn't otherwise be able to buy shares in.
VCT's typically invest in a number of these small companies providing them with capital to grow their businesses. Investing in a number of these companies helps to spread the risk.
The advantage of VCT's is the tax relief opportunities they offer.  These tax reliefs vary depending on whether you purchased new shares the at trust launch or whether you are a second-hand shareowner having purchased them on the stock market.
One of the key advantages from an income perspective is that dividends are tax-free on investments under £200,000 (at the time of writing).
You can find out more about Venture Capital Trusts tax reliefs here.
Effort: Minimal effort.
Risk: High risk.
26. Bond Investing
Bonds are a form of fixed income which periodically pays the lender interest.
There are two broad types of bonds, corporate and governmental, the difference being whether they are issued by companies or governments.
Here are some examples of fixed rate bonds and the current best returns available.
Effort: Minimal
Risk: Low risk and generally low return.
27. Real Estate Investment Trusts (REIT)
A REIT is a Real Estate Investment Trust.  These are companies that invest in land and property to generate an income.  You then receive a portion of that income in the form of a dividend.
Different REITs may concentrate on different sectors of the property market.  For example healthcare centres, retail parks and shopping malls, warehousing, offices, or self-storage etc.
Here you'll find the many REITS listed on the UK stockmarket.
Effort: Minimal effort.
Risk: Your capital is at risk and dividends can be cut.
Starting With No Money
These aren't going to be big moneymakers, but they are forms of passive income you can start building even if you are starting with no money.
Which, if you do have no money, every little helps to get the ball rolling.
Also, be sure to check out my best ways to make money from home post if you do want other ways to boost your current finances.
28. Cashback Sites and Apps
Did you know you could be getting cash back on nearly every form of online expenditure and many of your monthly bills?
Once you make it a habit, it's such an easy form of effectively passive income.
Before every online purchase simply visit a cashback site first and from there click through to the retailer or service provider you are making a purchase with.
Over a few years I've had hundreds of pounds back from the best cashback sites, most notably:
Effort: Minimal
Risk: Risk-free if you consider the cashback an added extra.
29. Cashback Credit Card
Assuming you don't spend more than you otherwise would, or go into debt, especially interest-bearing, then using a cashback credit card is an option for earning a passive income back from your spending.
Currently, most cashback options are pretty low percentage-wise, but it all adds up over the course of a year.
For example, I have an Amazon credit card that rewards points towards free Amazon gift cards.
For periods you know you might be spending a lot, for example, the build-up to Christmas or booking a summer holiday, it's worth looking at current deals as sometimes the best offers are for 3-6 months of spending rather than ongoing.  But they can pay x5-10 as much in cashback.
Effort: Minimal
Risk: Be aware of not spending more than you otherwise would or going into debt.
30. Airtime Rewards
Is an app that lets enables you to earn credit towards your mobile phone bill.
It's really easy to set up.  Simply add your credit or debit card details to the app and earn cashback credit from a vast array of retailers.
You don't even need to remember to revisit the app prior to purchase.   Just keep it up to date with your spending cards. Some of the cashback rates are surprisingly worthwhile.
For more info read my Airtime review.
If you'd like to get started with a 50p credit use my referral code HFRVKYUJ
Effort: Minimal, set it up once with the credit or debit cards and earn on auto every time you use at a valid retailer.
Risk: Risk-free
31. Reward Cards
If you shop regularly for yourself or your family, reward cards, in particular, supermarket loyalty cards can be a source of extra passive income over the course of a year.
All you have to do is get in the habit of always scanning your loyalty card every time you shop instore or online.
Some of the rewards can be boosted depending on how and when you take them.
32. Sweatcoin
Sweatcoin is a simple app that pays you in rewards for walking.
Rewards rates are fairly low, but it's free to add the app to your phone and it works on auto.
Rewards available totally vary.  I let them build up and check occasionally to see if there's anything on offer that I would want anyway.
Cashwise I've seen $1000 cash available for 20,000 Sweatcoins, over 17,000 for a PS5 and similar kind of auction deals.
I often have more examples of passive income on my best money making apps page.
Use my Sweatcoin referral link to join now.
Effort: Just download the app to your phone.
Risk: Financially risk-free.
33. Claim Free Shares & Earn Dividends
One way to get started with investing is to claim free shares from a new breed of fee-free share dealing apps.
All you need to do is deposit a minimum of £1 to get started.  You don't even need to invest it.
Within a couple of days, you will receive a free share, ranging from £3 to £100, or even £200 if lucky with Freetrade.
If it's a dividend-paying share you'll have created a new stream of income.
You can then claim more free shares by referring to friends, perhaps via your social media channels.
Claim your free shares via my review pages or direct links below:
Effort: Minimal, open an account via referral links and deposit £1.  Simply refer to friends.
Risk: Very low risk, you are starting with a £1 and funds are protected (check).  Maximise free shares via referrals.  Any of your own capital you invest is at risk.
Also, be sure to check out No.15 – Print on Demand T-Shirts which can also be started with no money.
Frequently Asked Questions
Here are answers to some of the most commonly asked questions relating to passive income.
How Can I Make £1000 a month passive income?
Obviously, the answer to this question depends on which method or methods you use to make your passive income.
If it's one of the simpler methods, such as savings or peer to peer investing, dividends etc, we can work out how much capital we need based on the rate of return.
So for example, £1000 a month is £12,000 a year.
Divide the amount you want to earn annually by the rate of return.
Here are some examples
£12000 / 2% = £600,000 (e.g Easy Access Savings Account)
£12,000 / 4% = £300,000 (e.g Peer to Peer)
£12,000 / 6% = £200,000 (e.g high yield dividends).
Note, in all the above cases, the higher the rate of return, the higher the risk, which means ultimately that rate of return may not actually be achieved.
As regards how else to make a £1000 a month passively, look through the above list of ideas and focus in on the ones that really appeal and you think can work best for you.
If you want to know how to make
£50 a month
£100 a month
£500 a month
Or however much you want to make, just use the same calculations.
Sum a month x 12 (months) / by the expected % rate of return.
Is passive income taxable?
Yes, all forms of income are taxable.  However, the amount you can earn tax-free within specific allowances and the amount of tax you are entitled to pay totally depends in the specific type of income and your set up around it (for example whether you set up as a sole trader or a limited company.  Or for example, whether your dividends are within an ISA or not.
For the most current tax-rates for all types of income check https://www.gov.uk/browse/tax/income-tax
How Can a Beginner Make Passive Income?
We all have to start somewhere so don't be daunted if you are a beginner who's a little unsure.
In the list above I've included methods anyone can use even with no money.
Many of the others can be started with very little money indeed.   For example, any savings you have to make sure you are earning the highest interest rate accounts suited to your access requirements.
Nowadays you can buy shares one at a time via a new breed of free share dealing apps like Freetrade and Trading212.  Check out my reviews to see how you can even start by claiming a free share to get you started that randomly might be worth up to £100! (Best free share I've had is a Nike share at £70+).
One of my favourites is blogging, which can be started from as little as £3.25 a month with Bluehost, one of the best hosting companies for beginners.
A youtube channel is free.
Yes, they take the time to build up, but you have to start somewhere, and it's the people willing to put the work in at the start and keep going who reap the rewards.
Repurpose Content for more Passive Income
Many of the online methods for generating passive income, allow you to repurpose existing content into another format, thereby opening up another stream of passive income.
The most obvious example is an ebook.   Which you can offer as an audiobook and print on demand paperback.
Blogging content can also be discussed on your podcasts and Youtube channels, again each generating a form of ongoing passive income.
Conclusion
What are your thoughts on passive income?
Have you built any yourself?
Do you have a favourite idea?
Have I missed a great idea?
I'd love to hear in the comments.