Looking for the best bank switch deals?
"Bank Refer a Friend Offers" are some of the top paying free money options out there. 
Not only can you benefit from switching your account, but the referral schemes also allow you to spread the benefits to your family and friends.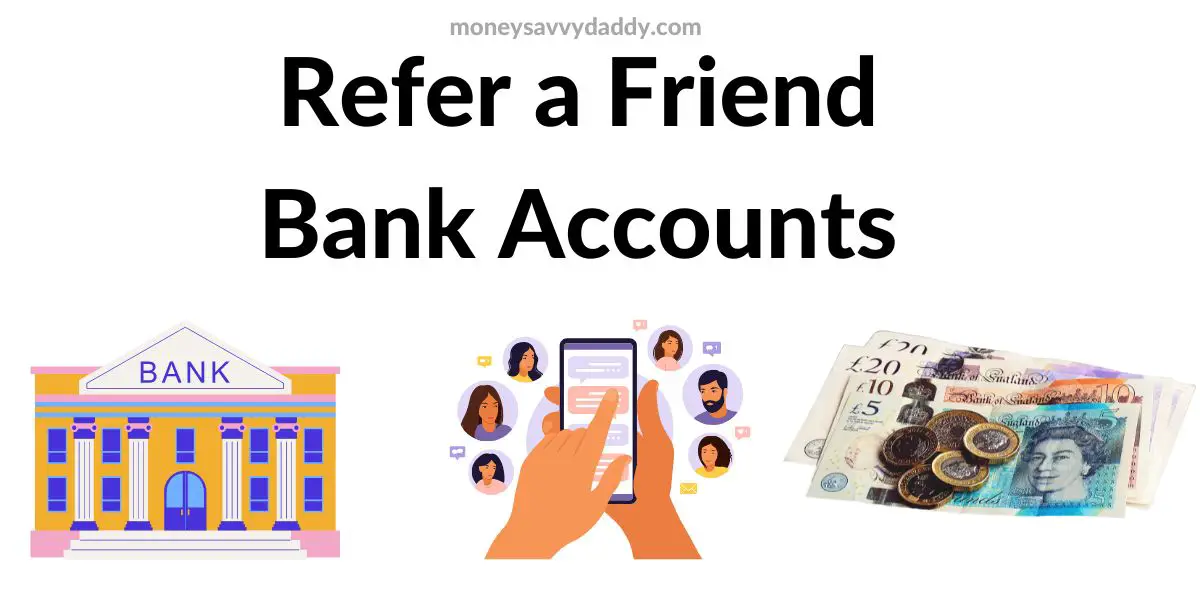 Banks With Referral Bonuses UK
Here are the current bank refer-a-friend deals you can take advantage of.  
They are usually not live for long so its best to switch to a bank with a referral bonus as soon as you can.
Co-Op Bank
£125

Refer a Friend Offer

Co-Op Bank presents an attractive referral program to its existing account holders, enabling them to earn £125 for each successful referral. This scheme is a lucrative opportunity for those who have friends or family members considering a switch to Co-Op Bank.

Eligibility and Requirements

To qualify for this offer, the referred friend must:
Open a Current Account or an Everyday Extra account with Co-Op Bank

Complete the switch using the Current Account Switch Service

Deposit £1250 within 60 days of account opening

Set up two direct debits

Make at least five debit card payments

Register for online banking
Referrer's Role
The individual making the referral should hold one of Co-Op Bank's eligible accounts, which include:
Cashminder

Current Account

Current Account Plus

Everyday Extra Account

Privilege Account

Privilege Premier Account

Student Account
Reward Distribution
Once the referral is successful and the requirements are met, Co-Op Bank credits the £125 reward to both the referrer and the referred party. The reward payment takes place within 90 days of account opening.
Unlimited Referrals
What makes this offer even more appealing is that Co-Op Bank imposes no limit on the number of people an account holder can refer. 
Limited Time Offer
The Co-Op Bank £125 refer-a-friend offer is not a permanent offer, so it's worth acting quickly to benefit from it. 
Whether you're contemplating a bank switch yourself or know someone who is, Co-Op Bank's refer a friend scheme is certainly a rewarding proposition.
Full in-depth instructions here for how to claim Co-Op Refer a Friend £125 switch offer.
Monzo
£5

Free

Monzo is a UK-based digital-only bank established in 2015, offers a range of personal services exclusively through its mobile app.

Monzo is popular for its easy to use interface, real-time transaction notifications, and innovative budgeting tools such as interest earing savings pots.
Open account via Monzo referral link
Add at least £5 to the account
Spend at least £5  within first 30 days
Earn £5 cash reward
If you don't need another current account, you can always use Monzo as a dummy account to make money switching banks.
Once you have opened the account you can also refer family and friends for £5 each.
Vanquis Refer a Friend
£25

Credit Card Offer

As a UK-based financial institution, Vanquis Bank is known for offering credit-building Visa cards.

Currently, they have a £25 signup bonus as part of their referral scheme.

Eligibility and Requirements

To take advantage of this offer, the following steps need to be completed:
Register for a Vanquis credit card here.

Wait for the delivery of your card and Personal Identification Number (PIN).

Activate your new Vanquis card and make a minimum purchase of £1.
Reward Distribution
Following the successful completion of these steps, a £25 credit will be deposited into your Vanquis account within a few days, which you can then spend using your Vanquis card.
Important Notice
It's important to note that taking advantage of this offer involves a credit check. If you're planning to apply for a mortgage or another significant financial product in the near future, it may be advisable to pass on this offer to avoid potential complications with your credit score.
Offer Status
This referral offer from Vanquis Bank is presently active, presenting a good opportunity for those looking to build their credit while benefitting from a handy signup bonus.
Here you can see full instructions of the Vanquis Refer a Friend £25 offer
Another good credit card sign up offer you might be interested in is the AMEX refer a friend, which at the time of writing offered a £125 to £170 sign-up incentive and the card is free to use for the first year.  
Digital Bank Refer a Friend Schemes
In addition to the high street banks, there are usually offers for online banks with referral bonuses.  
At the moment there's only one offer.
Monese
Monese's referral program offers a £5 bonus for both parties once the referred individual orders their physical card and completes their first transaction.
An additional £5 bonus is available once the friend spends £500 through their Monese card or sends the same amount internationally.
Bear in mind it costs £4.95 to order a physical card, so for most people only worth doing if you specifically want a Monese account, rather than doing to make money from the sign up.
Here's a Monese invite code and further details for how to claim the latest offer.
Never miss a bank refer a friend offer again, sign up to my Free Money Offers:
Expired Bank Refer a Friend Deals 
Bank 'refer-a-friend' offers often cycle through a select group of banks. These offers typically go live for a few weeks, then lay dormant for several months.
In the past, the following banks have offered 'refer-a-friend' rewards:
Nationwide Refer a Friend £100 Offer (Expired)
Nationwide once offered a beneficial referral program to their customers, which awarded £100 to both the referrer and the referred friend. 
Eligibility and Requirements
To take advantage of this offer, the referred friend was required to:
Use the unique referral link provided by Nationwide

Open a FlexDirect, FlexAccount, or FlexPlus account

Complete the switch from their old bank to Nationwide

Transfer two Direct Debits to the new Nationwide account
Referrer's Role
To initiate the referral, the Nationwide customer needed to visit the bank's Recommend a Friend page and provide the necessary information. Nationwide would then email a unique link to share with the friend, valid for 90 days.
Reward Distribution
Rewards were typically credited within 30 days of the friend successfully completing the switch. However, if the friend closed the account within three months of its opening, Nationwide reserved the right to reclaim the bonus.
Annual Referral Limit
Customers could refer up to five individuals each fiscal year, which runs traditionally from April 6th one year to April 5th the next.
Eligibility of Non-Banking Customers
Interestingly, even if you didn't have a Nationwide bank account, you could refer people if you held a savings account or mortgage with them.
Offer Status
This rewarding offer from Nationwide is currently not active, but its past presence serves as a testament to the kind of lucrative switching deals that the bank has offered in the past.
Periodically Nationwide introduce a standard bank switch offer.  You can check what Nationwide switching bonuses are available on there switch page here.
TSB Refer a Friend £100 Offer (Expired)
TSB had previously implemented a refer-a-friend program offering £100 as an incentive.
To be eligible for this benefit, the referred individual was obligated to complete a full switch that included setting up two active direct debits and depositing at least £500 into their new TSB account.
In more recent years they have just offered standard switch incentives.  Quite lucrative ones at times too.
Refer a Friend First Direct £50 – £100 Refer a Friend Scheme (Expired) 
First Direct, often recognised for its customer service, had implemented a unique referral program. The scheme required existing customers to distribute personalised cards that contained their name and postcode to potential new customers.
Eligibility and Requirements
New customers, upon receiving a referral card, needed to:
Call the number on the card and quote the name and postcode of the existing customer.

Apply for a new First Direct account over the phone.

Complete a bank switch to First Direct from their existing bank.

Deposit at least £1,000 into their new account within three months.
Reward Distribution
Once these steps were successfully completed, the new customer would receive a bonus between £50 and £100. The referring customer would also receive a £50 bonus within 28 days.
Limitations
It's important to note that each existing customer was limited to making three successful referrals under this scheme. 
Offer Status
This referral scheme from First Direct is no longer active, but it serves as a testament to the bank's innovative approach to customer acquisition.
Chase Refer a Friend £20 (Expired)
The US-based digital banking giant, Chase Bank, made a lucrative entry into the UK market by introducing an enticing refer-a-friend offer. 
The scheme was ideal for referring friends and family because most people didn't already have an account with this newcomer bank, making it a straightforward recommendation with easy signup. 
Chase Bank awarded existing customers with a £20 bonus when they successfully referred a family member or friend to open a Chase current account and deposited a minimum of £20 into their account within 30 days, also received a £20 bonus. 
Chase's refer a friend offer, coupled with the bank's competitive interest rates and cashback rewards, positioned the Chase account as one of the most competitive current accounts in the market at the time. Although the offer isn't currently available, it's worth keeping an eye out for its possible return.
Frequently Asked Questions
Is There a Barclays Refer a Friend Offer?
Barclays Bank does not offer a "Refer a Friend" program in the UK.  Barclays Bank tends to have switch incentives like "£167.50" Avios switch bonus, which was live at the time of writing, but offers change often.
Is There a Bank Referral Bonus With No Deposit Required?
The Vanquis Bank credit card offer doesn't need a deposit.   You just need to apply for the credit card and spend £1, and the £25 referral credit will be applied within days.
Most other bank deals will require a deposit.  Some new digital bank promotions do not require a deposit, and we will add them to the page when they are available.
Stay notified by joining my free money offers list.
Summary
In conclusion, Bank Refer a Friend Offers provides a win-win opportunity for both you and your friends or family.
Whether you're exploring new banking options or aiming to maximize your financial benefits, these referral schemes offer a rewarding avenue. 
Generally the offers don't last long so take advantage while they are live.
Happy switching and referring!