Co-op Bank, one of the leading financial institutions in the UK, has has brought back its popular  £125 'Refer a Friend' offer.
Whether you are an avid bank switcher or new to switching, we provide all the info you need as simply as possible.
Being a refer a friend offer, it's a great opportunity to bag £125, but if you can refer a partner, it could be a total of 3 x £125 to a household.  You can also refer friends and family.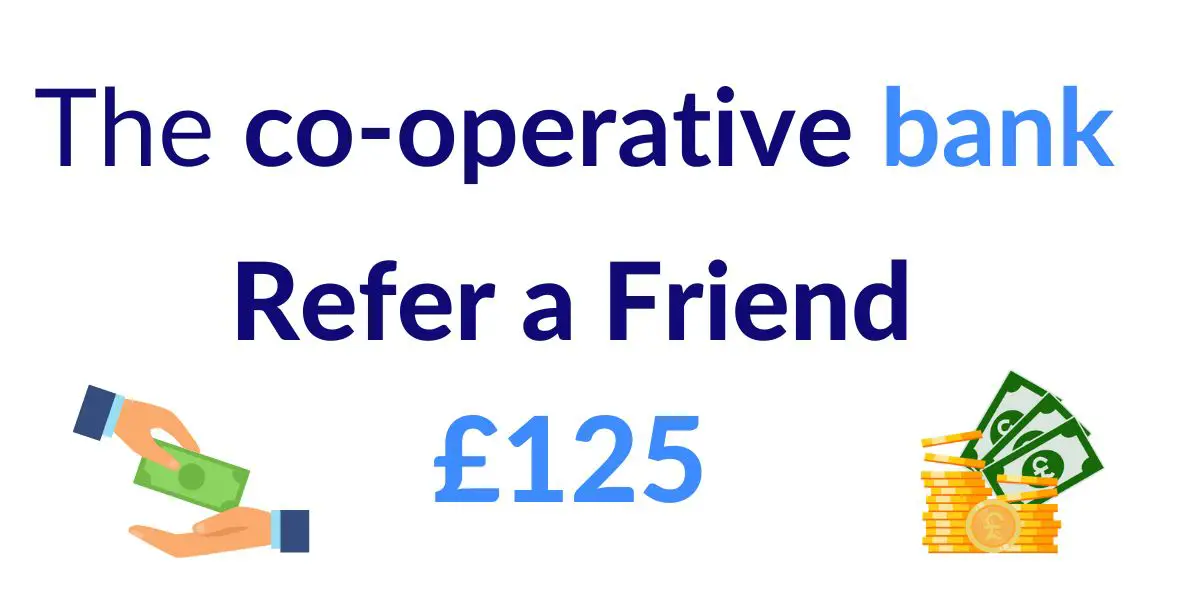 Eligibility for the Co-Op Refer a Friend Scheme
First let's just look at who qualifies for the Co-Op bank switch offer.
First, you need a referral from an existing friend who is an account holder with Co-op Bank. 
You can use my details.   
However, you must not have an existing account with Co-op Bank or have opened an account post November 1, 2022. 
As long as you havent been an account holder since this date, you're free to open either of these two accounts to activate the offer.
Co-operative Bank Current Account 

Co-operative Bank Everyday Extra Account 
How to Switch to Co-op Bank: A Step-by-Step Guide
If you haven't done it before, the process of switching banks is extremely simple these days.
This is all thanks to the Current Account Switch Guarantee, which quickly and easily switches accounts within 7 days.  
All Standing orders and direct debits are automatically moved over and your old account is closed.
For a set period of time if payments are made to your old account, they will automatically be sent to your new account.
Ideally when switching bank accounts for free money offers, its best to use an account you opened with the intention of switching or one you barely use, rather than your main account.
You can see more information on my switching banks for money post.
Co-op Bank is part of the Current Account Switch Guarantee so the process is smooth and customer-friendly.
Steps to switch to Co-op Bank:
Start by opening an eligible account, either a Co-operative Bank Current Account or an Everyday Extra account.

Utilise the Current Account Switching Service to transfer your existing account from another bank to Co-op Bank. This service takes care of closing your old account.

Within the next 60 days, complete the following actions:
3a) Deposit a total of £800
3b) Set up two Direct Debits
3c) Make a minimum of five debit card payments
3d) Sign up for Co-Op online banking.
Finally, fill out the referral claim form available either on the

Co-op Bank website

or at a local branch.
The form is very simple and you simply need to fill in:
Friends full name

Friends sort code and account number of your current account

Friends email address
Which Account to Choose?
For me, it was an easy decision.  The standard Current Account is free to open and the switching process starts during the online application process.
However, the Everyday Extra Account may suit some people.  Here are the key differences.
| | Current Account | Everyday Extra Account |
| --- | --- | --- |
| Account Switch | Can switch during application or after account opening | Must switch after account opening by calling or visiting a branch |
| Fee | No | £15 Monthly fee |
| Extra Benefits | Basic banking services | Travel insurance, Mobile insurance, Breakdown cover |
The standard Current Account does offer the option of opting into "Everyday Rewards".  This is optional and free and basically rewards you to £2.20 a month for debit card transactions if you meet certain criteria.
Individual or Joint?
You will only get one reward of £12 if you open a joint account, so its best to open an individual account each if you both want to qualify.
The best way is one person to open an account and refer the other.
Qualifying Issues
Deposit
To clarify, the £800 requirement refers to the total amount of deposits made, not a single deposit transaction.
You're free to deposit smaller amounts into the account, and then transfer these back to your original account as desired. 
Continue this cycle of deposits and withdrawals until you reach the total deposit target of £800 at Co-Op Bank.
For example, if you have £200 spare, just transfer £200 back and forth 4 times.
2 Direct Debits
If possible try to switch 2 existing direct debits you have to this account, and obviously make sure you have enough funds going into cover them which you could do via monthly standing orders from your other accounts.
If you are stuck for direct debits, there are small ones you use just to qualify which I covered in my bank switching post.
5 Debit Card Transactions
As long as you have enough funds in the account, you could use your card naturally to do your everyday shopping at least 5 times to qualify.
Another option is to buy cheap Amazon gift cards for yourself in separate transactions.
Co-op Bank Switch Offer Requirements: A Detailed Breakdown
To become eligible for the £125 switching bonus, the bank requires you to complete a set of tasks within the first 60 days of opening your account:
Complete the switch from your previous bank using the Current Account Switching Service. 

Deposit a minimum of £800 into your new Co-op Bank account. The bank allows you the flexibility to withdraw this money immediately after depositing it or to deposit it in smaller instalments.

Set up at least two Direct Debits. The Direct Debits can be new ones set up in your Co-op account or ones that are moved from your old bank.

Execute a minimum of five debit card transactions. 

Register for Co-op Bank's online banking service, allowing you to manage your finances digitally.
I always try to complete all requirements as soon as I can so it's done and I don't forget about it.  I then set reminders for any outstanding tasks.
Co-operative Bank Refer a Friend for £125 Referrals
The 'Refer a Friend' offer extends its referral offer to both the referred new customer and the referrer. 
Once you become an existing customer, you can refer others for a £125 bonus for each successful referral you make. 
As you will know once you have completed the process it is fairly straightforward.   All you need to do is share your account details with the person you're referring.
Even just referring someone in the same household will net you both another £125.
Qualifying Accounts for the Co-op Bank Refer a Friend Scheme
Co-op Bank offers a comprehensive range of accounts that qualify for the referral scheme, so if you hold one of these accounts, you can qualify for a referral. 
The qualifying accounts include:
Current Account
Everyday Extra Account

Cashminder

Student Account

Current Account Plus

Privilege Account

Privilege Premier Account
However, to make it clear, when switching to a new account only a Co-Op Current Account and Everyday Extra account will qualify for a £125.  
When will the Co-op Bank Switch Offer Pay Out?
Once you've satisfied the requirements for the switch offer, Co-op Bank will validate your eligibility over a period of 60 days. 
Make sure you have completed all the steps once the switch is complete and your account is open.
If you meet all the criteria, the bank will deposit the £125 bonus into your new account within an additional 30 days.
Thus, you can anticipate receiving your reward approximately 90 days after opening your new account.
Exclusions to the Co-op Bank Refer a Friend Offer
As is the case with all promotional offers, there are certain exclusions to the Co-op Bank's 'Refer a Friend' scheme.  Each individual is eligible for only one bonus, irrespective of the number of new accounts they open. 
Furthermore, anyone who currently has or has opened a Co-operative Bank current account since November 1, 2022, is not eligible for this offer.  That's even if they have since closed.
Is the Co-op Bank Switch Offer Worth It?
The £125 switching bonus undoubtedly provides a compelling incentive to consider switching to Co-op Bank.
 Even though other banks may offer higher switching bonuses, the potential to earn additional bonuses through the Co-op Bank's referral program adds a unique appeal to their offer.
Conclusion
A Co-op bank account is ideal for use as a switch account.  Switch and claim the free switch money and once you have qualified use it for another switching offer. 
 The sooner you do this, the sooner you are likely to qualify for any future offers the Co-op Bank does again.
The accounts aren't the best value in terms of interest, cashback and rewards for long-term accounts, there are better options available if you look into them.