This is an informative list of mostly easy ways to make extra money from your home here in the UK.
In fact, I've used many of the methods directly to help me make an average of £500-£1000+ of extra money a month.  I've also added extra methods that I know others use to regularly make money from their homes in the Uk.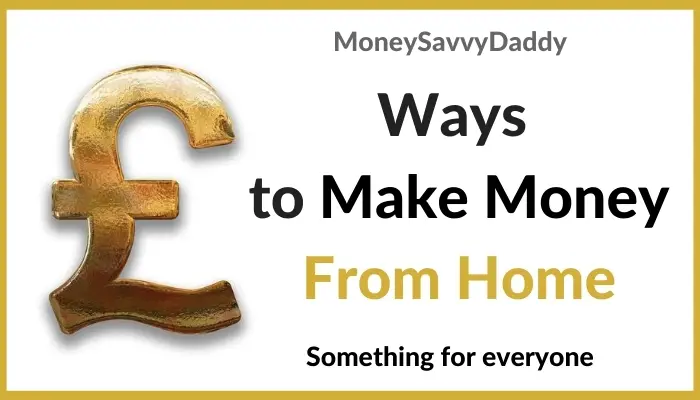 Disclaimer: This post may contain affiliate or referral links that earn me some commission if you sign up through them.  However, this is at no extra cost to you.  Read more here. Thank you if you use them as they help support my blog.
Best Ways to Earn Extra Money From Home In the UK
Whether you are just starting out with no money or you are looking to boost your income further, you are sure to find a way to make money from home on this list.
There's no definitive order to the list, what's the most suitable method for one person, might not be of interest to the next.  However, those nearer the top are where I would personally start.
Be sure though, if you are looking to make extra money here in the UK, this page can help, all you need to do is take action.
No's 1 and 15 (done properly) are my favourites!
1. Matched Betting (Uk only)
Without a doubt my favourite and quick way to make extra money!
Matched Betting is not gambling. It's a method of exploiting profit from bookmakers sign up offers and daily reload offers.
You can read more in my Ultimate Matched Betting Guide which includes links to past monthly income reports.  Also, see how you can get started with totally free trials and expect to make your first £40+ at sites like Outplayed.com (review).
In recent years Matched Betting sites have made this side hustle so easy to learn with beginner-friendly step by step instructions and walkthrough videos.  They find all the offers, provide instructions for doing them as well as the software tools and calculators to help you profit as easily and quickly as possible.
No prior knowledge of gambling or sports is required, you learn everything you need to know as you go.  You also don't need to watch any sports (if you're not a fan).
Matched Betting Summary:
Startup: You need £60-£100 to get started.  You don't spend this, just use it to complete offers and make profits.
Pro's: You can start making money immediately.  Profits are tax-free!
Potential Earnings: £300 to £500+ a month (certainly potential for more, I made over £30,000+ in 3 years)
Tip: Don't be too quick to spend your profits, it really helps to keep making money long term if you build your bankroll, to say £1000+.   You can then try more advanced methods such as casinos or arbing, both covered below.
2. Claim Free Money Offers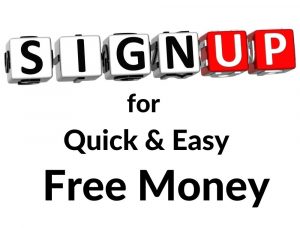 Did you know there is always money to be made signing up for free money offers?
These offers change often but there are always new ones available.
Work through them all consistently and you could make £100's a year in relatively very little time.
Often earn £5 to £20+ in 5 to 10 minutes.
If you can refer just a couple of friends for just a few offers you could potentially earn £1000+ a year!
Online companies vying for your custom offer generous signup incentives just to test out their product, often an app or online service.
All you have to do is follow the instructions and sign up and collect the cash.
Whether you continue to use the service is totally up to you.  Just cash out and move on if you like.
Check out the latest free money offers now and join my free money mailing lists you never miss out on the best offers,
3.

Make £100's Referring Friends
Often with referring friends schemes you can make both yourself and your friend some money or a really good saving on a household bill, service or product.
You can refer to all kinds of services and products, many of which most people use or need, such as gas and electricity to mobile phones and TV Entertainment packages.
I've put together a list of ways to make up to £400+ from refer a friend schemes.
You might even be able to get paid for switching a new service first and start earning more referring your friends and hopefully saving them money too.  Some schemes pay in the region of £50-£100 a time.
Even if you just mention it occasionally on any social media channels you have.
Here's my Top 16 Refer a Friend Schemes to make £100's.
4. Use Money Making Apps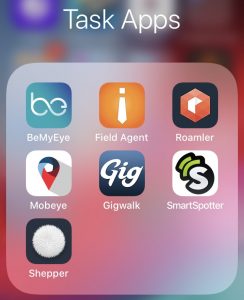 Wherever you happen to be with your mobile phone you can make money.
There's a whole range of apps you can use for literally any situation.
Here are some examples of how you can make money from your phone:
Taking photos of shop displays
Surveys
Submitting shopping receipts
Paid for walking
Selling unwanted items
You can even get paid not to use your phone.
I have categorised the best apps into categories in my 21 Best Money Making Apps post – which depending on your location and demographics have an earning potential of £150-£250+ a month.
I also have some extra options detailed in a post dedicated to how to earn money from playing games.
5. Make Money From Casino Offers
Another element of Matched Betting but worth a mention in its own right, otherwise it's often overlooked is exploiting profit from casino offers.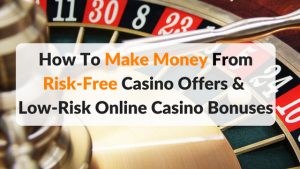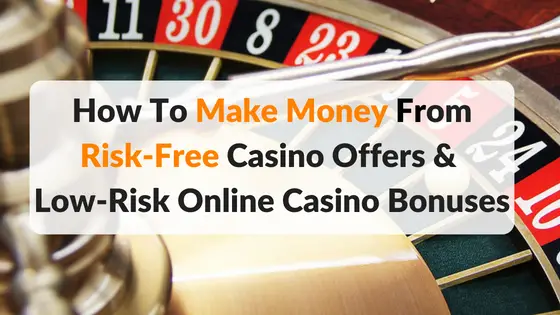 First, you start with sign-ups, many of which can be combined with cashback offers.
Once signed up to online casinos you can start doing regular risk-free offers such as 10 free spins, or risk-free deposits and get 50 free spins types offers for existing customers.
With risk-free offers, you don't risk losing a penny of your own money.
If you build your bank you may want to try and give low-risk casino offers ago.  We only do these offers when the odds are in ours, the player's favour.
However, with low-risk offers, you will sometimes lose money on individual offers.  The goal though is to do enough offers with Expected value in your favour that you'll end up in profit because the maths is in your favour.  It, therefore, becomes a numbers game.  Focus on completing as many offers as you can.  Typically, in the long run, you can expect your results to track somewhere in the region of your Expected Value from all offers attempted.
I find my casino offers predominately from Outplayed via their "Casino Offers" category for signs ups and checking the daily Reloads and picking off the best offers each day.
Read my post how to win and profit from online casino offers and see my Outplayed review.
Pros:
Daily opportunities to profit either from risk-free or low risk upwards.
Extremely flexible, can do offers pretty much anytime day or night before the offer expires.
Opportunity for some nice profits if you have luck on your side.   I made £100's and even £1000's some months.

Con's:

 
You'd be advised to have a £1000+ bankroll before you start doing low-risk casino offers as part of your basic bankroll management.
6. Online Paid Market Research
A number of companies offer ways you can get paid for market research jobs online.
From the comfort of your home you can take part in:
Surveys
Focus Groups
User Testing and Observation tasks.
Some individual tasks pay relatively high for the time you put in, so it has plenty of potential if it's something you like doing.
Find out more on how you can get paid for market research, the best companies to get started with and lots more tips on this method to earn cash from home.
7. Arbitrage Betting (Arbing)
Arbitrage Betting is a way to make money from bookmakers that don't require any free bets or other promotions like Matched Betting does.
Arbing is kind of related to Matched Betting, however, when profiting from bookmakers offers you are advised not to arb bookies or your account will be restricted from receiving future offers if you are gubbed.  So, therefore, it is often overlooked as a source of profit.
The intention when arbing is to place 2 bets (or more) so that whatever the outcome of the event you guarantee a profit.
In simple terms, if the back bet odds at the bookmaker are higher than the lay betting odds at the betting exchange you can make a profit.
People are posting arbs through the day in the Outplayed.comforum as well as sharing tips and general discussion around the subject.
Check out my in-depth arbitrage betting guide for everything you need to know to get started and take to the next level.
Potential Earnings:  Totally varies depending on your bankroll, time input, your set up for alerts, your bookie stakes and the current arbing opportunities.   Some months I easily made £100's extra, many from arbs posted in in the Outplayed forums.
Pros:
Profits tax-free
It's a very simple strategy (back high odds, lay lower odds).
Easy to set up alerts for
0% exchange commissions currently mean higher profits
Cons:
Helps to have a large bankroll to place large stakes for bigger profits.  Or simply to arb as many opportunities as possible to make it even more worthwhile.
Not good to arb accounts that are still giving you Matched Betting offers you can profit from.
8. Bank Switching £100+ a Time
Time-wise bank switching is a very lucrative income earner.
In total it might take an hour of your time spread out over a matter of days and you can earn £100-£175 a time.  Sometimes even more.
Plus if you and maybe a partner switch it can be a nicer earner for the household.  Plus sometimes you can recommend friends and earn even more.
You just need to be prepared to switch your main current account or have a spare account available set up to switch.
Switching is a really simple and straightforward process and typically completes in just 7 days.
See my guide to making money bank switching and for TSB & Nationwide referral codes if you need them.
Bank Switching Summary:
To Start: A bank account, money to meet monthly transfers, and possible a couple of DD's.
Earnings Estimate: £200-£300+ a year.  Possibly more in the first year.
9. Swagbucks
Swagbucks is similar to a surveys site but offers lots more ways to earn money, so worthy of mention in its own right.
With an age limit of just 13, it's one of the better ways for teenagers to make money.
You can earn rewards for surfing the web and completing tasks for rewards.
You can download apps and get rewarded for watching videos or just setting them to play and leaving them.
Sign up here to Swagbucks to see what's involved.
By itself, it is not a big earner so it will work best if you combine it with other similar methods as well.
However, it's one of the best of its type so will give you a good feel of what can be achieved at the lowest levels.
Pros:
Really easy and some find it fun
For some people gets them started making them realise they can earn money online
Con's:
Relatively low earn rate.
For tips and tricks to boost earnings read the full Swagbucks Uk review.
10. Sell Your Stuff
Make money selling your clutter.
Most of us accumulate so much these days.
However, it's good to know most of this "stuff" has value to someone else.
The key is finding the best places to sell these items, either for the highest prices or just quickly and easily.
So far I've covered:
11. Paid Online Surveys
Online surveys are one of the easiest and most basic ways to make money online at home.
They are an ideal starting point if you have no money and are unsure about starting any other methods of making money.  Once you realise you can make money, you'll perhaps be better off putting your time into more rewarding methods.
However, some people really like completing surveys as a nice easy way to make £200-£300 a month.
If you want to give surveys ago, perhaps the best starting point would be Prolific.  You will be completing actual studies, and the earn rate per hour is the highest you will find, plus once you start a survey you don't get screened out.
12.

Cashback
The best cashback sites are primarily used to save money on all kinds of purchases.
However, you can also use them to actively make money.  One site, in particular, is actually designed to help you do just that, read my Oh My Dosh review.
They are ideal for combining with Matched Betting sign up offers and profiting from both the offer via the Matched Betting instructions and also get cashback on top.
You can typically get cashback on Bookmakers, casinos and online bingo site sign up offers.  See my Quidco Review which highlighted well over £370 in cashback available.
You can also do tasks for cashback like using a financial service such as opening a bank account or sometimes daily smaller amounts for doing a search of a comparison site or a for a single click.
Sometimes they have seasonal promotions which give away instant prizes.  See my Topcashback review for examples:
So if you are not already a member of both, they are both worth joining just for the passive income and money-saving effect.
Join The Free Cashback Sites:
Topcashback (usually offers slightly more cashback)
Quidco (Claim £10 referral bonus once you've earnt £5 cashback)
13.

Mystery Shopping
Not one you strictly do from your house, but if you are out and about often, enjoy shopping or eating out, then becoming a Mystery Shopper might be for you.
If you join a wide range of sites you'll find you are offered tasks on a daily basis.
It's then just a matter of choosing which Mystery shopping jobs are worthwhile money wise and within reach of your location.
Some jobs pay in freebies. Only you will know if this is worth your while.
Mystery Shopping works well around other jobs. It works well when combined with "Get Paid Too" tasks that might also be available in close proximity.
Pros:

If you are out and about you can fit around other tasks. Combines well with other task apps.

Cons:

Might need transport to reach some of the job locations.
14. Start a Blog or Website
If you are serious about finding out how to make a living from home then blogging offers loads of potential.
The best way to learn is to get started and the sooner you start the better because blogging is a slow burn.
Check out my How to Make Money Blogging for Beginners – to your first £100 post.  That first £100 is key, once you make that you are on the way.
The reality is, it can and most likely will take 6 to 12 months to start earning good money, but once you do it can really start to snowball and grow.
Here are 3 real examples of how to earn extra money blogging.  Given time, it's possible to make a £1000+ a month from each of these example methods you could choose from:
Sponsored Posts
Affiliate Marketing
Display ads
These days many people have or can fairly quickly gain social media followings, quite often dedicated to a specific interest.  Instagram is a great example.   You can then share your blog posts with your following.  This can help with motivation in the short term while you are getting little traffic from elsewhere.
There are successful blogs dedicated to all kinds of hugely popular interests:
Various diets for slimming or types of cuisines
Health and fitness, Yoga, etc
All kinds of creative and artistic type accounts
All kinds of hobbies
What would you choose?
Without the pressure of launching a blog, you could simply learn in the background how to piece a website together and all the other components that are probably overlooked prior to starting, e.g various different plugins, how to do images.  Which can all be learnt and tested behind the scenes without going public.
Pro's 
Make money from your interests
High potential earnings
Cons:
Needs a little money to get started
Earnings take time to build (6 to 12 months or more)
15. Play Free Lotteries and Free to Enter Competitions
There are all kinds of free lotteries and similar competitions you can enter each day or every week with a chance of winning a cash prize.
One example free postcode lottery which gives aways £100's a day split between 6 different daily draws.
Find out about all 6 free lotteries as well as multiple other chances to win every day in my Win Free Money Daily post.
Combine Methods To Make Extra Money From Home
Many of the ways to make money listed above can be combined with other methods.
For example, Cashback can be combined with Matched Betting bookmaker, casino and bingo sign up offers.   Or you could use cashback with retail arbitrage and any buying you do in bulk especially if it's online.
Plus while you are outsourcing maybe slot in some Get Paid To do tasks or a Mystery Shop all while you have a Get Paid to Walk app on your phone.
I personally combined this make money from a home blog with my Matched Betting journey and other side hustle ideas to help others also earn extra.
Extra Money Making Tips
You are only going to make money if you act on the methods you find.
Make making extra money a habit.  Whether, it's checking daily Matched Betting offers or surveys, or always checking for Mystery shopping opportunities before you go out.
If for example, you choose to do Matched Betting/Surveys, do an offer or survey every day.  Even if just one.   Check for email offers or free spins daily.
If selling on a platform, list one item every day. Often you'll end up doing multiple offers or listings.
You only need to make:
£10 a day to have £300 a month
£16.67 a day to have £500 a month
Cashback is an ingrained habit for me, I never forget to shop online without first going through a cashback site.
If you get frustrated with your progress or lack of, consider such things as Daily Affirmations to reaffirm your goals day and night.  Really focus your attention and you'll be impulsed to achieve.
Summary
If you are looking to make extra money from home, hopefully, one of the above is suitable for you.
Now I'd like to hear from you.
Have I missed any great money earners that you would recommend?
If you're just starting out, which option are you going to try first?  Have you tried some already?