Did you know there's a whole range of daily cash giveaways available online? 
If you have some spare time and are looking for some ways to win money from free competitions they are well worth checking out.
I discovered many of them in my time earning a tax-free income from Matched Betting.
In some months when I have personally tested the many risk-free money options full on, I had many months in which ran profits into the £100's.
Some of the free ways to win money offer huge prizes, for example, £100-£250,000!
However, while the big prizes can be fun to go for, they are obviously very hit and miss and its the little and often prizes which make entering the competitions worthwhile.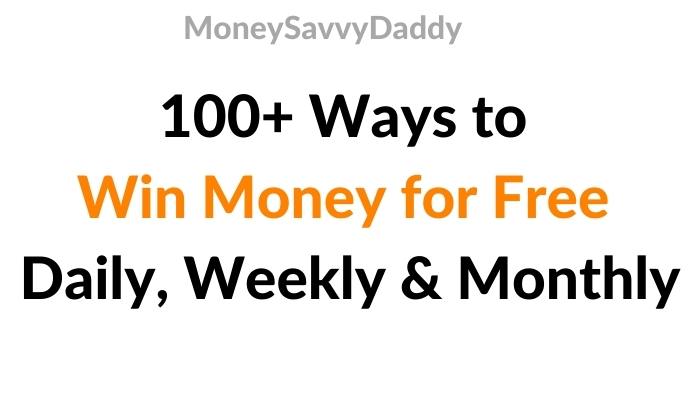 100+ Ways to Win Money in Free Online Competitions
What makes trying to win money for free potentially more worthwhile is taking advantage of these multiple free money giveaways are the opportunities to win smaller amounts of free money every day or at least every week.
Disclaimer: This post may contain affiliate or referral links that earn me some commission if you sign up through them.  However, this is at no extra cost to you.  Read more here. Thank you if you do use them as they help to support my blog.
Pick My Postcode
Pick My Postcode is a completely free postcode lottery that you can visit daily in order to check at least 6 free draws to see if you've won a prize.  They have given away over £1.25 million entirely for free!

The draws include:
Main Draw
Video Draw
Survey Draw
Stackpot
Bonus Draw
Mini Draw (base of page)
Flash Draw (appears randomly)
Some draws are activated at different times a day, so if you want to catch them all you may have to check the site twice.
All the draws are quick to check and if you click through from an email or are still logged in on a daily visit via your browser it should only take 2 minutes or less to check them all.
The main draw offers the biggest prize while the Stackpot Draw offers multiple small prizes.
Although you have to watch a video and fill in a survey for the Video and Survey Draws respectively, they are super quick.  You only need to watch a few seconds of the video to see the postcode and there's only one question to select an answer to on the Survey draw.
>>You can find out more in my Pick My Postcode review post.
More Free Lotteries
As well as Pick My Postcode there's a whole range of other daily free lottery draws available.  Although the prizes are typically smaller they are all fairly quick to check.
Free National Lotto (£5-£10 + Jackpot)
The Free National Lotto offers two main draws.   The Daily Draw numbers are drawn at 12.00 pm every day and the 5 Ball Draw numbers are drawn on Thursday and Sundays's at 8 pm.  Prizes typically range between £5-£10 with the 5-Ball Draw offering the Jackpot prize which you'll see upon visiting the site.
Daily Draw £5-10
5-Ball Draw – Jackpot*
Survey Draw £5
*The Jackpot prize was £2010 at the time of writing
Simply select 5 numbers between 1-40 along with your email and password and you are set to go.
Free Birthday Lottery (£10)
Simply sign up once with the Free Birthday Lottery and you are automatically entered into every draw.  Simply check the site daily to see if you are a winner and click the claim button if you are.   Claim your winnings via Paypal or directly to your bank.
They also offer a survey draw and an Instant wins page.   Prizes for both for £10.
Win a Dinner (£20-£25)
Win a Dinner offers 9 free daily draws at 4 pm, so the idea being you check after 4 pm, around dinner time.
If you win you can choose to take your prize as a £25 gift card or £20 via Paypal and are paid put within 10 business days.
You can win the £25 gift card with partners including:
Just Eat
Pizza Express
Sainsbury's
Tesco
Wagamama's
My Lucky Patch (£100)
The idea behind My Lucky Patch is that you sign up and start collecting or as they say "grabbing patches" of land on a map.   Each patch of land qualifies you for an entry into the daily draw.
Each night after midnight, the fictional figure "Bob" selects a random patch and if it's one of yours you win a cash prize.
For every day you visit the site to check if you've won you are rewarded with more patches.  The more patches you have the higher chance you have of winning.
The prize is a minimum of £100, sometimes more.  You can boost this by building your own  Personal Bonus which boosts your winnings.   For every day that you login to check the site, Bob adds 50p to your bonus fund up to an extra £200, giving a maximum prize pool of £300.
When you win the bonus is reset to zero.   It's also worth noting that 50p is removed from your Personal Bonus fund for each day you don't remember to log on to the site.  This has no effect on the minimum prize fund of £100.
My Lucky Patch also offers extra ways to win including " Spot Bob  Instant Win".
People do win and its noted that some people win more than once in close succession, in part because they are constantly building their patches from daily visits as well as from friend referrals.
Freemoji Lottery ($5)
The Freemoji Lottery is totally free to enter because advertisers cover the costs of the prizes.
To enter pick a combination of 5 emoji to enter into the daily draw and check later to see if you are a winner.
Entries are open worldwide and winnings are paid to your Paypal account.
There are 2 daily draws:
Main Draws (for which prizes vary)
Fivers Draw (5 draws with $5 prize for each)
Huge Cash Prize Free Competitions
ITV 7 (up to £100,000)
ITV7 is totally free to play competition to enter with the potential to win some pretty big prizes.   It's often available on Saturdays or the big mid-week horse racing festivals such as the popular Cheltenham Festival,(a  very popular week for Matched Betting profits).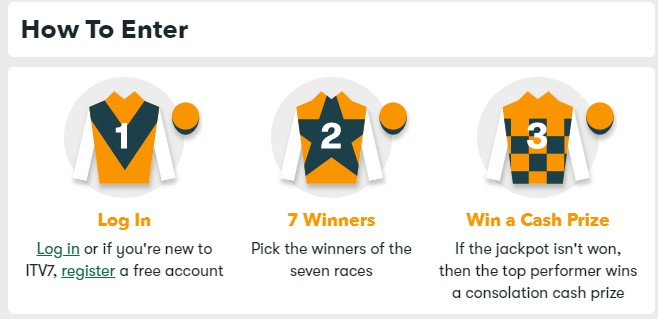 In association with SkyBet, on each ITV7 race day, there will be 7 nominated races for which you can pick a winner for each race.
Anyone fortunate enough to pick all 7 winners could share a total prize fund of up to £100,000!
If no one predicts all 7 winners there is still a consolation prize of £1000 for broadcast competition events and £100 for non-broadcast competitions.  The best performer of all entrants will win according to how many winners and place or unplaced positions they hit.  Full details are available in the offer terms and conditions.
You don't need to know anything about horse racing or individual horses to have a go.  Just quickly pick 7 horses names and have fun with it.
You can find more information on the ITV7 website.
Sky Sports Super 6 (up to £250,000)
Sky Sports Super 6 is a long-running and well-known competition that is popular with football fans.
With a prize of £250,000, it's well worth entering as it's totally free to play.
It's really simple to play.  Every week Sky offers up 6 football matches and all you have to do is pick the correct scores.
Avid football fans enjoy predicting the scores using any knowledge of the game they think they may have.
If you really have no idea of what football scores to go with, simply Google one of the teams with the word "results" and you'll see some of their recent scores.  At the very least this will give you some idea of what scores to go for.
Below is an example of a past winner, who used to put a lot of thought into predicting the scores, but this particular week he "went off the bat" and didn't give them much thought and won!  He also confirmed, he normally does really poorly when he does put the thought it into predicting the scores.
Just add Super 6 as an option for having a go at and do as quickly as you can and move on to the next opportunity.
At times the Super 6 competition is billed as "Win Jeff's Millions"  when the competition prize money is £1,000,000.  This has been won too.
To win the Super 6 Jackpot Prize a player has to correctly predict the scores of all 6 matches.  If there is more than one winner it goes down to Golden Goals and the player who predicted the time of the first goal.
There is a weekly consolation prize of typically £5,000.  This is awarded to the player with the highest number of points.    Players receive 2 points for every correct score they predict.  If it's a tie the closest prediction of the Golden Goal time wins.
Super 6 Extra (£5,000)
More recently a new additional competition has been introduced known as Super 6 Extra.
This competition revolves around 1 football match and answering 6  questions.     The winner gets a £5000 prize.
Typically it's for a Sunday football match for which you'll have to successfully predict match-related questions like:
Full-time score
Half time score
First goalscorer
First player to receive a card
No. of corners
Man of the Match
Enter Daily Casino & Bookmaker Free Competitions
There are all kinds of opportunities, similar in a way to the ITV 7 and Super6  offers above.  However, rather than ongoing competitions that run for many years, they typically run for short periods of time before usually being dropped until another similar competition takes it's place.
If you are a member of Outplayed.com, (try the free trial and make £40) be sure to check the Free Competitions & Games page with the Reloads section of the site for a long list of risk-free competitions which they keep up to date on a daily basis.
The last time I checked there were 31 different competition opportunities (not including the same offer at the different casino as in the case of Gamespy's and other casino skins).
While the competitions change often they include such things as:
Trivia games and quizzes
Free Bingo
Guess correct scores
Fantasy Football League
Free Lotto
Plus a whole range of similar variations.
Gamesys Group Daily Games
The Gamesys Groups consists of a range of casinos which basically all offer the same games just under what's known as different branding skins as listed below.
Heart Bingo
Jackpotjoy
Megaways Casino (formerly Starspins)
Monopoly Casino
Rainbow Riches Casino
Virgin Games
They are worth mentioning in their own right because their free money giveaway competitions have been running in the same format for over a year at least.
You can join each casino individually and in many cases taking advantage of any profitable signup offers, check the Casino sign up section in Outplayed.com for instructions if you are a member.
Log in to each casino every day and choose a grid to choose squares from to win prizes by the end of the week.
Also at the end of the month, you can win prizes with an increased likelihood of winning if you are entered often during the month.
Instant Cash Prizes
Matched Betting opened my eyes to how many opportunities there are to attempt win instant money for free on a daily basis.
Some months the offers are outstanding, for example around seasonal promotions such as Easter and Halloween.
Christmas is an outstanding opportunity with the December Advent Calendars run by a large number of bookmakers and casinos every year.
Daily Bookmaker and Casino Risk-Free Offers
In addition to the above competitions, there's also a whole range of other bookmaker and casino instant win opportunities that often include risk-free opportunities as some of their prizes.
Examples of Instant Win Type Offers:
Pick a Card to reveal an offer
Heads or tails coin toss
William Hill Bonus Drop
Reward Grabber
Prize Machine
Free Bingo game
Spin the Wheel
and lots more variations.
The instant win type games are generally very quick and easy.   How they work is, for example using a Coin Toss instant win offer as an example, would be you simply select heads of tails, the coin would spin and finally rest and tell you if you are a winner of a loser.
If you are a winner you will be presented with a cash reward (e.g 50p or £5 to your balance) or as is often the case an offer.
If the offer is risk-free, e.g a 10 free spins on a specific slot game, or free entry in a Bingo game you can choose whether to do it or not.  If the offer is something like wager £20 to get xyz, simply ignore it and try again the next day.
Outplayed.com groups together a list of Daily Bonuses within the Reloads section of the site.
The last time I checked there were no less than 29 daily bonuses on offers and that didn't include all the casinos of the same group that individually offer the same bonus as each other.  Including those took the total to 43.
Check those kinds of numbers every day for a month and that's 870-1290 opportunities to win money for free!
It's important to note that although all these daily bonus options have the potential to reveal a worthwhile bonus, the bonus itself may not always be risk-free.
Therefore, just stick to the risk-free offers and ignore any of the rest.
Some offers may request you to make a deposit, which if you are not required to wager and can withdraw in full effectively means it is a risk-free offer.  At times I have made good money from these.
Some of the daily instant win opportunities may not be worthwhile, but in trying them you can soon work out which are the quickest and easiest as well as which ones are offering at least some prizes no matter how small, so at least getting something for your time.   The relevant Outplayed.com forum thread is a good place to share your experiences and see where other members are finding success as well as helping each other out if there is any confusion as regards redeeming a bonus. .
Some offers might only be worth checking if you already have an account with the bookmaker or casino.  Just make a note to check if ever you log in as part of your normal matched betting offers.
The bonus offers constantly change over time, so what is good this month might not be around next month, but something new may have come along.
The key to making money from these type of offers is to get into a routine to check them daily.  If limited on time, check-in order of offers that seem to be most rewarding or quickest to check and complete.
Examples of Daily Instant Win Opportunites:
Another example  Sky Vegas Bonus Rounds Prize Machine offering the chance to win prizes of £10,000, £1,000, plus a range of smaller prizes from £1-£100 as well as free spins amounts from 1-20 free spins daily.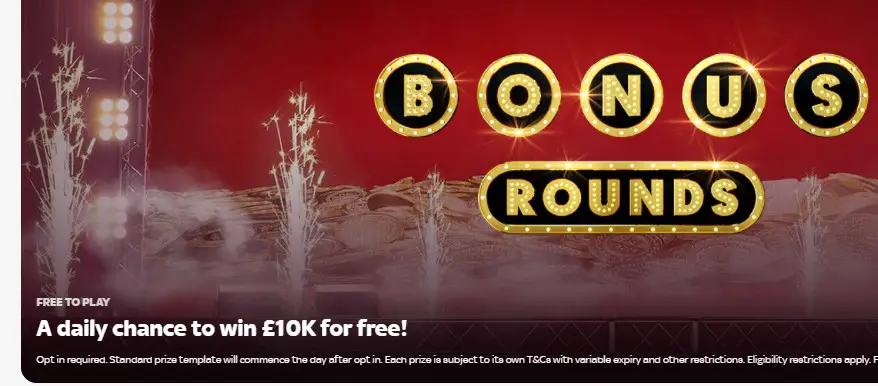 Another example would be the Coral Reward Grabber, where you control the grabber to pick up a symbol to reveal whether you have won a prize or not.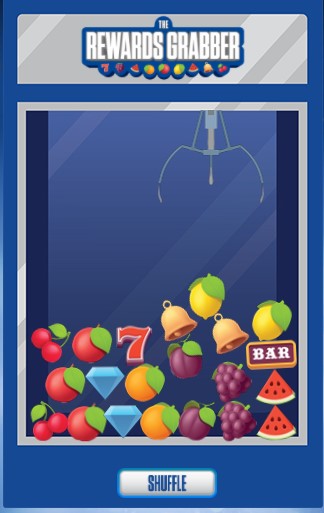 How long would it take you to work through these 30-40 free money opportunities every day?
Casino Risk-Free Spins
As an avid Matched bettor one of my biggest moneymakers was consistently taking advantage of every risk-free spins offer I could find.
One way online casinos and bookies try to tempt new customers is by giving away free spins on online slot machines.  As Matched Bettors, we can take advantage of these offers for pure profit.
Some months I managed to get several hundred free spins, for example from past income reports:
June £198.52 including finding 780 free spins
July  £145.22 from risk-free casino offers including finding 670+ Risk-free spins
Admittedly these months were a little extreme in terms of the number of free spins because I was purposely trying to do as many free spins as I could possibly find.
However, with consistent daily checks, it's not unusual to still be able to pick up at least a couple of hundred risk-free spins a month and it only takes one spin for a decent win.
My sources for finding free spins were to check daily:
Outplayed.com Casino Reloads
Outplayed.com free spins forum thread (for offers posted by users)
Sign up to new casinos that offer free spins
Check email offers daily
Often the number of free spins offers increases when there are major sporting events on, such as around Cheltenham Festival, expect extra horse racing free spins.
Also around key seasons events such as Halloween and Christmas, you get a lot of the same theme free spins offers.
The key is to check every day because many of these offers are limited to a 24 hour time period.
Note, the above relates to risk-free spins.  There are many other offers that give away free spins but require you to wager your own money first, hence not risk-free and not relevant to this post.
If you are interested in profiting from all kinds of free spins check out the Outplayed.com free-trial and see my post on how to make money from risk-free casino offers and online casino bonuses.
Of course, you don't need to join a site to find all the offers, it's just a lot easier and the monthly membership fee can be recouped just actively profiting from other offers on the site.
You could of course check all the sites manually yourself.
Examples of My Own Risk-Free Spin Wins
This is from a simple 5 free spins offer, it only takes 1 spin to hit a bonus round which I was fortunate enough to do on this occasion.
Another example was this offer for which I had to deposit £20 to be given 20 free spins, but did not need to wager any of it and could simply withdraw in full.  Although always check this is the case if you look for your own offers.
In this instance, I won £9.04 from the 20 free spins.
My final example is this one from Paddy Power who offered 30 seconds of free spins, which resulted in a nice win of £19.06.
Conclusion
As you can see there are multiple opportunities to win money for free online daily.   With so many options and including the smaller offers of free spins, you can literally be picking up the smaller wins weekly if not daily.
Someone has to win the big prizes, why not throw your hat in the ring, it's free after all.
If you have any ongoing suggestions of your own you think are worth participating in please feel free to mention in the comments.
Good luck to all.