Have you ever heard of the Free Postcode Lottery draw?   Well, it was around between 2011 to 2018, from which point it was forced to changed its name to Pick My Postcode.
However, Pick My Postcode is still the UK's biggest free daily jackpot site.  Totally free, they don't charge for anything and often give away over £800 or more every day.  Find out more from this indepth Pick My Postcode review.
Disclaimer: This post may contain affiliate or referral links that earn me some commission if you sign up through them.  However, this is at no extra cost to you.  Read more here. Thank you if you do use them as they help to support my blog.
Is Pick My Postcode Legitimate?
Yes, Pick My Postcode is a legitimate paying free daily lottery web site.  Originally the site was set up in 2011 as the freepostcodelottery.com, but after some legal wranglings over the name, it was forced to make a change to pickmypostcode.com
So, although the name itself no longer indicates it is free to enter postcode lottery, that is exactly what it is, a genuinely free lottery.
As you can see from the Trustpilot screenshot below, people are clearly claiming they are winning and enjoying the site.
Pick My Postcode Reviews
A good way to assess whether a site is legit is to check it's Trustpilot review ratings.
In the case of Pick My Postcode, the reviews are nothing short of excellent.
As you can see from the screenshot taken in February 2021 the review rating is outstanding.
94% of reviews rate the site as Excellent, and 4% Great, making a total of 98% great or above.
Just reading some of the views it's clear that users really enjoy visiting the site whether they win or not.  Feel free to take a look.
Examples of Pick My Postcode Winners
Here's a screenshot from Trustpilot of just a very recent selection of people claiming to have won.
Once you sign up you'll also see the active Pick My Postcode community confirming they have won too.
How Does Pick My Postcode Work?
It's really is very quick and easy to get started with Pick My Postcode.  It's simply a matter of signing up and then checking each of the draws on a daily basis.  The easiest way is to click through from the daily reminder emails, it literally takes 1-2 minutes to go through them all.
Start By Signing Up
It is super quick to sign up and get started via PickMyPostcode.com, all you need is your:
Once you've inputted the above, you'll be told how many people in your postcode are already members and then you'll be asked to choose a password.
For future sign-ins, you need only your email address and postcode.  You only require the password once you are signed in and for checking or changing elements of your accounts, such as your details etc.  Typically your browser may remember your login details so you won't even need to key them in.
Check the Multiple Daily Draws to Win Money for Free
When you go to visit Pick My Postcode, you'll see what they are giving away that day at the top of the screen  as per the example image below.  Although note, there are added extras to look out for too.

Main Draw
The main draw is the one with the highest jackpot.  The amount varies daily.
Simply visit the Pick My Postcode site via your web browser or via the link in the daily email and click through and you'll be presented with the winning postcode straight away.
There's no clicking around to find it.
Check-in seconds whether you have won and then it's on to the next draw.
Video Draw
The video draw is made at midday every day.  You simply have to start watching a featured video clip for a winning postcode to be revealed.
Typically the videos are around 30 seconds in running time and the daily video draw postcode is revealed within a few seconds of starting, so if you want you can quickly skip to the next draw.
As with all draws, the button to the next draw is clearly visible and you just click to move on to check the next one.  For example at the base of the video draw image below you can see the button to the survey draw.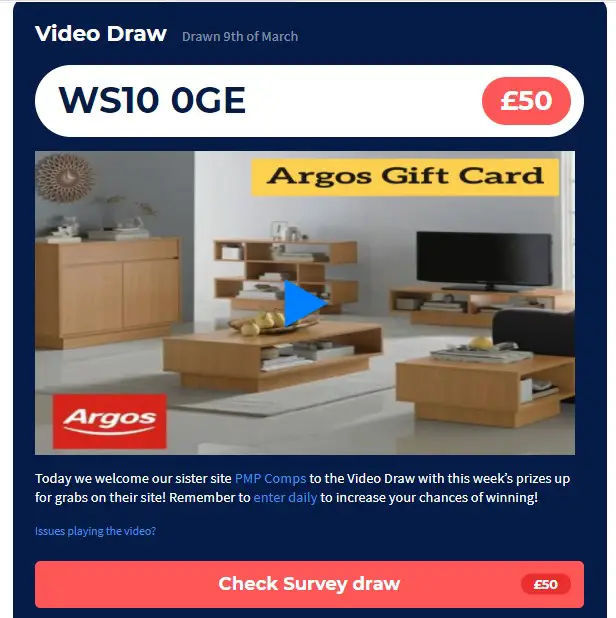 Survey Draw
Visit after 12pm every day and simply answer a quick survey to be entered into the survey draw.
If you really don't want to answer the survey you can click "No thanks" and still get to see the winning postcode.
However, as you can see in the image above, it really is a super quick survey.
Sometimes there is no survey and you simply get shown the winning postcode straight away.
Unclaimed prizes are rolled over.
Stackpot
To enter the Stackpot draw you simply need to visit the page up to twice a day, at 9 a.m and 9pm.
You'll know instantly whether you are a winner or not, so can either claim or move on straight away.
Bonus Draw
The bonus money you earn from these offers and trials and daily login rewards is added to your bonus fund, which you only win if you are a winner.  This applies to all draws with the exception of the flash draw.
However, in the meantime, building a higher bonus amount qualifies you for up to 3 daily bonus draws.
Your bonus pool increases daily as you are rewarded for checking other draws.
You can increase your bonus pools faster by completing offers and tasks, similar to those you might find at cashback sites and the likes of Oh My Dosh and Swagbucks.  
For example, free and £1 trial-type offers of various services and products, discount offers.
Mini Draw
The Mini draw is shown at the base of every page so be sure not to miss it.
Each day from 6pm at 2a.m a postcode is shown and only the first person from the postcode to claim will win the prize of £100.
If you have any bonus, that is added to the prize too.
Flash Draw
A £5 flash draw prize can randomly appear within any existing ad spot at any time to only specific individuals, so not everyone will see it.  If you do see one, click on it to win £5 which will be paid out to your Paypal account within 7 days.
The flash draw is totally random and there is nothing you can do, (such as visiting more pages), in order to increase your chance of winning.
The flash draw is the only draw that doesn't qualify to win your bonus funds.
How to Increase the Amount and Chances of Winning
The key to increasing your chance of winning is to check the site every day.
If you are opted-in to the email list you'll receive a daily reminder.  If however, you don't choose to opt-in, you could set your own form of reminder via your smartphone or similar device.
Perhaps combining with other daily free money or quick money-making opportunities.
The key is to turn the checking of the draws into a daily habit.  For example, put a post-it near the kettle or anything else you use daily.  So for example, every time you end up waiting for the kettle to boil have a quick check on PickMyPostcode along with any other ways to win free money options or quick money-making opportunities.
Before you know it it will become part of your daily routine and one day you could be the winner of hundreds of pounds.
More Members in your Postcode
The more members of Pick My Postcode from your postcode the higher chance you have of winning. This is because the more people from the same postcode is like more entries in the draw.  If your postcode comes up the prize is split between the number of claimants, so if no one else claims and you do, you win it all.
Different members of the same household can also enter, although it is strictly one account per person and no more.
Bonus Winnings Boost
Every day that you check the site you will personally accrue 3p towards a bonus pot which you will take home whenever you are a winner.
If you are a winner bonus prize is added to all the  main draws :
Main Draw
Survey Draw
Stackpot
Bonus Draw
Video Draw
Mini Draw
Frequently Asked Questions
Here are answers to some of the most commonly asked questions regarding Pick My Postcode.
Can You Win More Than Once?
It's perfectly feasible to win more than once, both across different draw types and or even winning again on the same draw.
Actually, see some evidence of someone claiming just that in their review on Trustpilot in the screenshot images above.
How Can Pick My Postcode Afford to Give Away Free Money?
Pick My Postcode started by just giving away £10 a day and has grown from those small beginnings to often giving away over £800+ a day.   On some occasions, individual winners have won as much as £2500.
With well over 2 million members and giving away hundreds of pounds a day, as you can imagine, the website gets thousands of daily visitors.
Advertisers then pay to be on the site, to be seen by these millions of visitors a year and the site can as it continues to grow afford to give away more and more free money to signed-up members.
There are all kinds of cashback, trial-type offers as well as surveys that Pick my Postcode can earn from and contribute earnings towards the prize money.
It's also worth noting that Pick My Postcode does not allow gambling companies to advertise on their site.   This is because they understand that gambling can be a big problem for some people and Pick My Postcode do not want to be a source of recruitment for such predatory companies.  Therefore members can check daily without concern for seeing what might for some be tempting gambling ads.
It's nice to see a company with such ethics.
Who Owns Pick My Postcode?
Pick My Postcode was set up by a guy called Chris Holbrook in 2011 as the Free Postcode Lottery but was forced to change its name due to legal pressure from another business.
Chris Holbrook still owns and runs the site and can be seen in this video, highlighting at the time that the site has given away over £1 million pounds to everyday people.
Not to be confused with Postcode Lottery
Pickmypostcode is a free postcode lottery.
However, it's worth pointing out to save any confusion, that there is also a completely separate site called known as the People's Postcode Lottery, under the domain name postcodelottery.co.uk that you may have even seen T.V adverts for.  This particular lottery site is not free, costing £10 a month subscription.
So to clarify, Pick My Postcode is free, and the People's Postcode is not.
This review is about Pick My Postcode.
Is Pick My Postcode a Con?
No, Pick My Postcode is not a con.  It has been around for over 10 years and as highlighted above the reviews have been nothing short of excellent.  I have even seen people in social media groups I'm a part of claiming they have won and been paid.
It's a quick and easy site to check with no hoops to jump through to find the draws.   Anything you do have to do such as watch a video or complete a survey take literally a few seconds, as well as being totally optional.
The site is very fast loading and quick and easy to use.
How Do You Claim If You Win?
If you check a Draw and see your postcode you should see a "collect button" show up on the screen.
You should then be paid your winnings via Paypal.
Is There a Pick My Postcode App?
Currently, there isn't a Pick My Postcode App.  They are however looking into the possibility of creating a companion app outside of the typical Apple and Google app stores.  One to watch out for.  In the meantime, it's really quick and easy to check daily draws via daily email links or a bookmarked link in your Safari or Chrome web browser.
What % of the UK's postcodes are within the Pick My Postcode free lottery draws?
As of March 19th 2021, 48.54% of UK postcodes were within the Pick My Postcode lottery system.
What are the Luckiest Postcodes?
A common question people like to know the answer to when playing postcode lotteries is, "what's the luckiest postcode?"
Well, I asked Pick My Postcode they informed me of the following.
The Luckiest Postcode in terms of the number of wins was:
LE65 1AR with 6 wins
TQ4 7AW with 3 wins
Luckiest postcode in terms of total winnings:
TQ4 7Aw £2510 + £21.95 in bonus funds
DN3 3PT £2500 + £41.33 in bonus funds
The Luckiest Outcode in terms of the number of wins was a tie between FY2 & FY4 with 60 wins each.  3rd was HX3 with 52
TA6 outcode was the luckiest in terms of the most amount of winnings with a total of £4270 + £278.95 in bonus funds.
Luckiest by Area was B with a total of 751 wins.
Data as of 19/3/21
Conclusion and Comments
Pick My Postcode appears to be a long-standing totally legit free postcode lottery.
If you have any experience of using the site or perhaps are even a past winner please feel free to let me know your experience in the comments.
Hopefully, there will be some future winners from people signing up after reading this post.