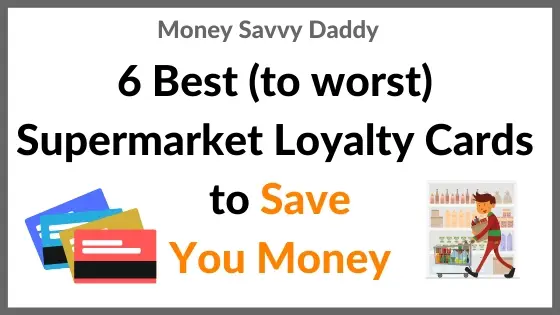 Do you have a loyalty card for every supermarket you regularly shop at?  If so, are you making the most of the points and rewards?
A fairly large percentage of most peoples income is spent in supermarkets.  Therefore even a small % saving can amount to something more worthwhile over the course of a year or more.
Plus in some cases, used more wisely, the points can be boosted to double or treble their value. Which is ideal if it's on expenditure you would make anyway.
Often these rewards can be used to save on future shopping, or possibly put towards some nice treats for the family.
In this post, I highlight how much those points are worth as well as finding additional ways to reward your loyalty that you might be overlooking.
Let's take a look.
7 Best Supermarket Loyalty Cards
Below are summaries of the main supermarket loyalty cards which can be found in the Uk.
There's also links to more in-depth information on each loyalty program and how to get the most of them.
Tesco Clubcard
One of the first and currently best loyalty card schemes, Tesco Clubcard has been running for over 24 years.
With over 19 million members there's a good chance you may already have the card.
Receive 1 point per £1 you spend you instore or online.  You can double this if you use the right payment method.
Receive vouchers every 3 months for points worth over £1.50.
Double or triple the value of the vouchers when you use them with a wide range of Reward Partners.
Tesco Clubcard Plus
An additional choice is to opt into paid membership of Tesco Clubcard Plus to possibly save a lot more if you are a regular shopper who easily spends over £80-£400 a month in stores.
As well as maximising the boost value with the right Reward Partners there's also another easy option to double the number of points you receive on every Tesco instore and fuel station purchase.
See Tesco Clubcard Points: Easily Earn More & Boost Value for more information.
Clubcard Points Worth: Each point is worth 1p, which can be double or tripled via Reward Partner vouchers.
Boots Advantage Card
In terms of the value of points, the Boots Advantage Card is one of the most generous loyalty schemes available.
For every £1 you spend you get 4 points.
You can also join clubs that offer qualifying members 10 points per £1 spent on certain product ranges.
Boots often have Points events where they offer up to x4-5 times as many points per £1 spend.
Find the latest double and triple Boots Points events dates here.
Points Worth: Each point is worth 1p.
Sainsbury's Nectar Card  Scheme
Nectar is the Sainsburys Loyalty Card which can also be used to collect Nectar points at approximately 400 other brands, including the likes of eBay, Currys, Next, ASOS and JD Sports.
In Sainsbury's stores, you earn 1 point per £1 spent.    Elsewhere the points you earn varies.
It's rarely possible to boost the value of the points unless there's a  Nectar Double Up offer running,  which is usually limited to only a few days a year.
The new Nectar app does offer personalised offers which should be on products you actually purchase.
There are also a few extra ways to boost points which I have covered in the Nectar Points post.
Points Worth: 0.5p per point (1/2p per point).
Lidl Plus Rewards App
Lidl Plus was launched in September 2020, so it's still relatively new and early to judge how good the loyalty rewards actually are.
However, on the face of it, it looks promising.
Members via the app will be offered:
Personalised coupons
Free scratchcards (1-5 chance of winning 25p to £20)
Coupon Plus – up to £10 on £200 calendar month spend
Digital versions of leaflets and weekly magazine to spot more deals.
For bigger spenders who spend £200 a calendar month, then a £10 Coupon Plus works out at a nice 5% saving, which works out far better reward than many other supermarket loyalty schemes.
For more tips for finding money-saving coupons see my beginners guide to couponing.
Morrison More Card Loyalty Program
The Morrisons More Card rewards customers with More Points.
Receive 5 points per £1 spent in-store and online, in the cafe and on fuel.
Once you have accumulated 5000 points you can claim a £5 More Voucher to use only at Morrisons stores or online website.
The loyalty program also offers a little extra in the form of:
More for Students
Baby More
Christmas Saver
Find out more about the Morrisons More Card as well as further breakdowns of points and what you need to spend to earn them.
Points Worth: 10 Morrison More Points equates to 1p, which is pretty low, to say the least.
Asda Loyalty Scheme – George Rewards
Asda scrapped the popular Asda Price Guarantee (APG) back in 2018, which promised customers they were 10% cheaper than the likes of other big supermarkets including Morrisons, Sainsbury's and Tesco's.  This previous Asda loyalty scheme had run for 8 years.
Currently, there is no Asda loyalty card to use for your in-store or online Asda shopping.
The only loyalty program Asda now offers is George Rewards, an exclusively online loyalty program specifically for the George category of Asda.
However, if you are a regular customer, there's an additional opportunity to get 1% cashback on all your ASDA shopping and fuel.  Have a quick look at the Asda loyalty post for more details.
Marks & Spencer – Sparks Card
If you shop at M&S Simply Food or Foodhalls you can make use of the M&S Sparks card.
With this loyalty program, you earn Sparks Points for signing up, as well as 10 points per £1 you spend and receive points for leaving product reviews.
Marks and Spencer also run a scheme known as Shwop, which offers 50 points every time you use it.
Shwopping is an initiative with Oxfam to encourage the reuse of old clothes rather than them going to landfill.
You can donate old or unwanted clothes in Shwop bins found in stores.
With the points having no real value and not used directly to buy products, the M&S Sparks card is more of a members club than a loyalty reward scheme.
Question is, do you want to be a member of this exclusive club?  Read my  Sparks card is it worth it review for more information.
Also, there is another option to reward your loyalty that pays between 1 – 2 points per £1 you spend in M&S, with each point being worth 1p.
How do Loyalty Cards Work?
Most supermarkets run loyalty card schemes that allow customers to claim points on their shopping.
Typically once you have met certain points thresholds you can then redeem the points to get money off future purchases or in some cases exchange for various other rewards.
Initially, you have to sign up for the loyalty scheme.  Typically you will be given a loyalty points card, which you then present either in its physical form or via an app every time you make a purchase, both in-store and online.
Are Supermarket Loyalty Cards Worth It?
If you are genuinely a loyal customer who regularly shops at any particular supermarket, then being a member of the loyalty schemes is always worthwhile considering for the sake of a quick scan of a card as the points will soon add up over time.
The supermarkets will sometimes even have promotions that are only available to loyalty cardholders.
However, it's unlikely a loyalty program will result in being the difference between one supermarket ultimately being cheaper than another.
So if you're looking to save more on your supermarket shopping it's worth being aware of other competitors who might offer cheaper value all round, even if they don't have a loyalty scheme at all as is the case with ALDI.  Which we have a 11 reasons for,  if you have ever wondered how ALDI is so cheap, and not having a loyalty scheme is one of them.  In fact they have even publicly mocked the Morrisons More loyalty scheme.
Another thing to be aware of is whether the loyalty promotions affect your shopping habits, which ultimately may cost you money if you are tempted by seemingly generous points promotions points, which when translated into rewards really don't amount to much.
It, therefore, helps to have an understanding of how much the points are worth and whether their value can be boosted further.
Below, I've highlighted the basic points and reward features of each loyalty program as well as providing links to each scheme for more information on how they work and how to get the most rewards and savings out of each of them.
To Summarise: Supermarket Loyalty cards are worth using if you:
Shop at the supermarket regardless of the loyalty scheme.
Don't get tied to a supermarket purely for the loyalty points, as other supermarkets might be cheaper overall.
Understand the points value and therefore any promotions which might not be as good as they initially seem.
How to Add Loyalty Cards to Apple Wallet
To store your loyalty cards in Apple Wallet you will first need to download a third-party app called Stocard.
To do this, open Apple Wallet on your phone and press "Find Apps for Wallet" and look for the Stocard App.
Alternatively, just search for Stocard in the App store.  It's available in the Android store too.
You can store all the above supermarket loyalty cards within the Stocard app (except for ASDA which isn't a loyalty card program).
You can find a store cards list within the app itself.  Most of the loyalty cards above are amongst the most popular which are on view straight away so you can add quickly.
For other cards, you'll have to scroll the list of stores with loyalty cards, or just start typing the store name in the search bar.
There's what looks likes hundreds of stores listed, as it, not just a UK app, so, for example, it does include some American stores.
Frequently Asked Questions
Which supermarket has the best loyalty card?
Tesco has the best and most rewarding supermarket loyalty card scheme.  You are rewarded with 1 point per £1 you spend and each point is worth 1p.  It's then possible to double or triple the value of the reward points depending on how you redeem them.
Why do supermarkets have loyalty cards?
Supermarkets have customer loyalty cards to collect customers shopping behaviour data.   The supermarkets can then target increasing sales based on this data.  In some instances it even allows the supermarkets to directly offer the customers personalised offers.  Ultimately loyalty cards serve the purpose of increasing the supermarket's sales and profits from its existing customer base.
Conclusion
As you can see, there are certainly savings to be had from loyalty cards if you don't allow the loyalty program to alter your shopping habits and end up spending more than you otherwise would
Do you have a favourite loyalty card for any particular reason?
Feel free to share in the comments any of your own experiences with the supermarket loyalty schemes.
Using loyalty cards is just one 81+ frugal money-saving tips to help you save £100's a year.