Welcome to this beginners guide to couponing in the UK.
Have you ever wondered how some people save so much on their shopping from coupons yet you don't even see them so often anymore?
Well, they are still around, you just need to be looking in the right places as this post will show you.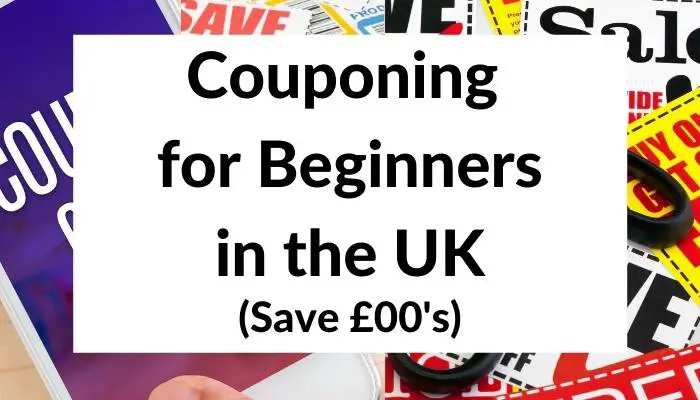 How to Coupon UK
Perhaps you have seen huge coupon hauls on the US TV program Extreme Couponing and wondered whether if and how to start couponing in the Uk?  
Yes, you certainly can.  There are many varied ways you can find and claim coupons.   To reap the full benefits it's best to utilise as many methods as possible and long term focus on the methods that yield you the best results for your time.  In this post, I outline the main sources for finding coupons in the UK.
Although be aware, they are not all physical cut out paper or packaging coupons.  More and more every year coupons are found available via and within various apps.
How to Get Coupons for Supermarkets
For many of us, supermarkets are where we spend most of our money, so a key starting point to make some much-needed savings.
One of the best places to specifically check for Supermarket coupons is the MSE Supermarket Coupons page.  See a list of more sites below.
If you check the page often, you'll see New Coupons are highlighted at the top of the page and this will save you rechecking the whole list every time.
The supermarket coupons are split into the following categories
Food
Drink
Washing & dishwashing
Cleaning & Home
Beauty
Baby
Pets
Health
Haircare
Personal hygiene
Couponing Apps
More than ever discounts, vouchers and coupons are moving over to apps.  So for all couponing beginners, I would definitely suggest getting started downloading:
Shopmium (plus claim a free sign up gift with my referral code: n3uz2)
Another option I like for supermarkets is JamDoughnut which offers instant cashback for the majority of supermarkets, including Aldi, Sainsurys and Tesco.   Get started with a JamDoughnut referral code bonus, UKMU)
I have a whole post dedicated to the best supermarket cashback apps.
Best Coupon App
My personal favourite is Shopmium and below is an example screenshot from offers on the app.  You would simply click each product to see the discount on the offer.  The app tells you which local stores the product is or isn't found in and even which departments to find the product in.
Apps certainly have advantages over coupons, mainly because we nearly always have our phones on us, so it saves us from forgetting any paper coupons.
Also, there's no hold-up or extra scanning at the checkout.  You simply buy the product like normal and just scan the product and your receipt when you get home to get the cashback, which is usually paid within a couple of days to your Paypal account.
Printable Food Coupons
Printable food coupons are less common than they used to be but are still available.
These days coupon type offers have moved towards cashback and money offer discounts via apps.
If you find yourself still looking for printable coupons, consider instead downloading the main supermarket cashback apps.
They are very easy to use, I have a specific review of my Shopmium (includes free gift) and a CheckoutSmart review.
Try and get in the habit of looking for this type of coupon offers first.
Farm Foods Printable Coupons
In my local area, we occasionally have Farm Food coupons posted through the door.
If however they don't arrive and you wish to shop there you can go to their website https://www.farmfoods.co.uk/
Look for the black circle that says "Click here for money-saving vouchers" and you'll be sent a link to download their money offer vouchers, which will give you 10% off various spend amounts up to £100.
10% off is quite a saving on their already generally low prices.  Although they have limited lines of stock.
For ourselves personally, we know which particular items we like from Farmfoods and tend to buy them in bulk taking advantage of the coupons every time for an even better price deal.
Supermarket Loyalty Cards / Schemes
Consider signing up for all the best supermarket loyalty card schemes of the stores you regularly use.
As well as earning reward points the supermarkets will often send you additional promotional coupons in the post along with point statements etc.
Some of the best supermarket loyalty schemes for this are:
Instore Supermarket Magazines
Keep an eye out for your local supermarket instore magazines, as depending on which ones you shop at, they quite often have coupons inside.
Examples of stores with free magazines:
Asda
Co-op
Morrisons
Tesco
Waitrose
Product Packaging
Sometimes the products you purchase will have coupons on the actual packaging that you can use towards future purchases.
If you are really eagle-eyed, while doing your shopping you may even spot opportunities on the shelves with products that also have money off promotion attached.
Store Receipts
Keep an eye on your receipts and extra promo receipts that often accompany the main receipt.
Whether the offer is money off or loyalty points related, it might be a product you purchase anyway and can buy for a discount next time you shop there.
Newspapers
Sometimes you'll find decent coupons inside national newspapers.
The free Metro newspaper is always worth picking up.
Often, if there's a particularly good offer on you'll see it highlighted on the front cover, as you can see below, a nice £5 off a £20 spend at Lidl, for a newspaper that only costs a £1.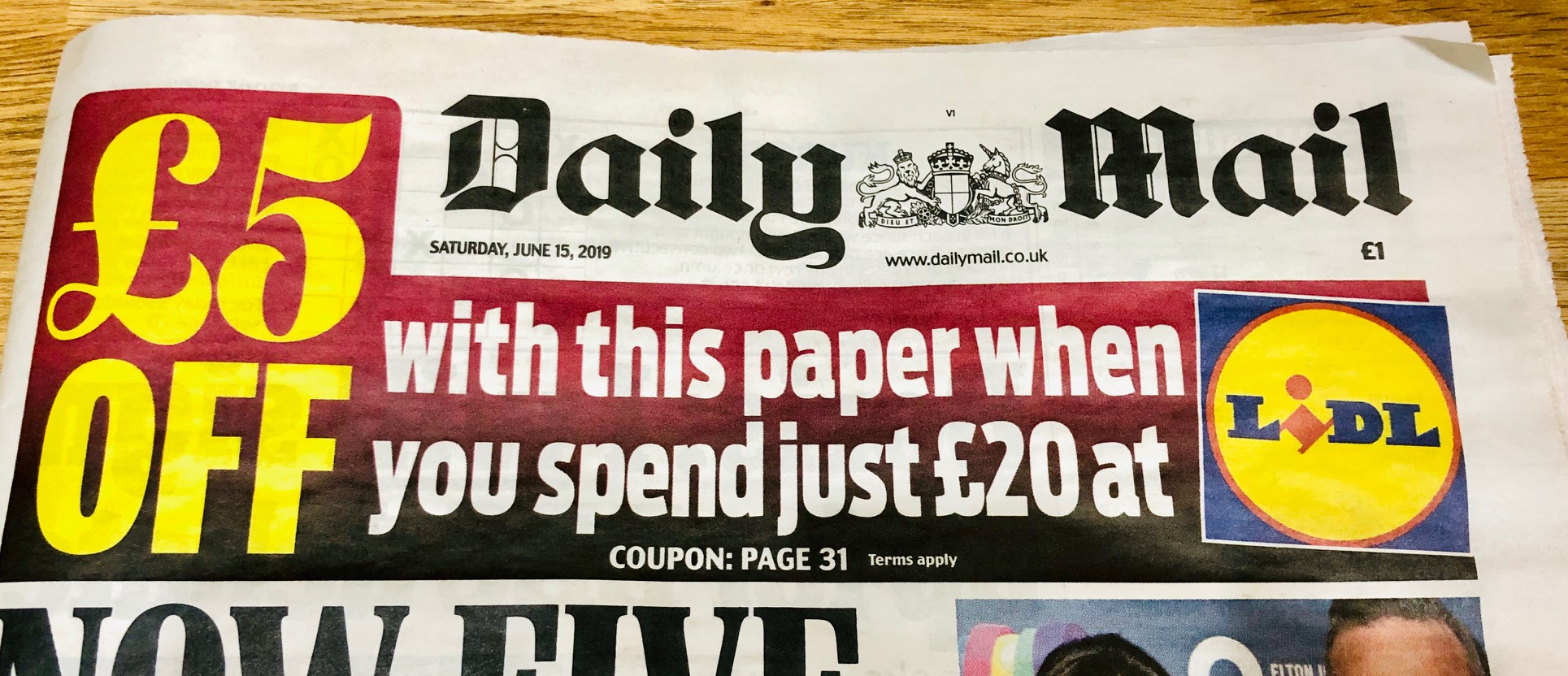 Note: It's always worth checking and taking a quick look at the coupon page to check the offer is as simple as it sounds and no further purchases are required.
Junk Mail / Leaflets
Yes, sometimes you'll get a leaflet or even booklet pushed through your door that will have coupons inside.
For example, as recent as November 2020 while doing this post I had a Lidl booklet through the letterbox which offered no less than 3 coupons (2 within the Lidl Plus app and 1 to cut out from the booklet).
The coupons offered:
£2 off coupon when spending £100 a month
£10 off coupon when spending £200 in a month
£5 off when spending £40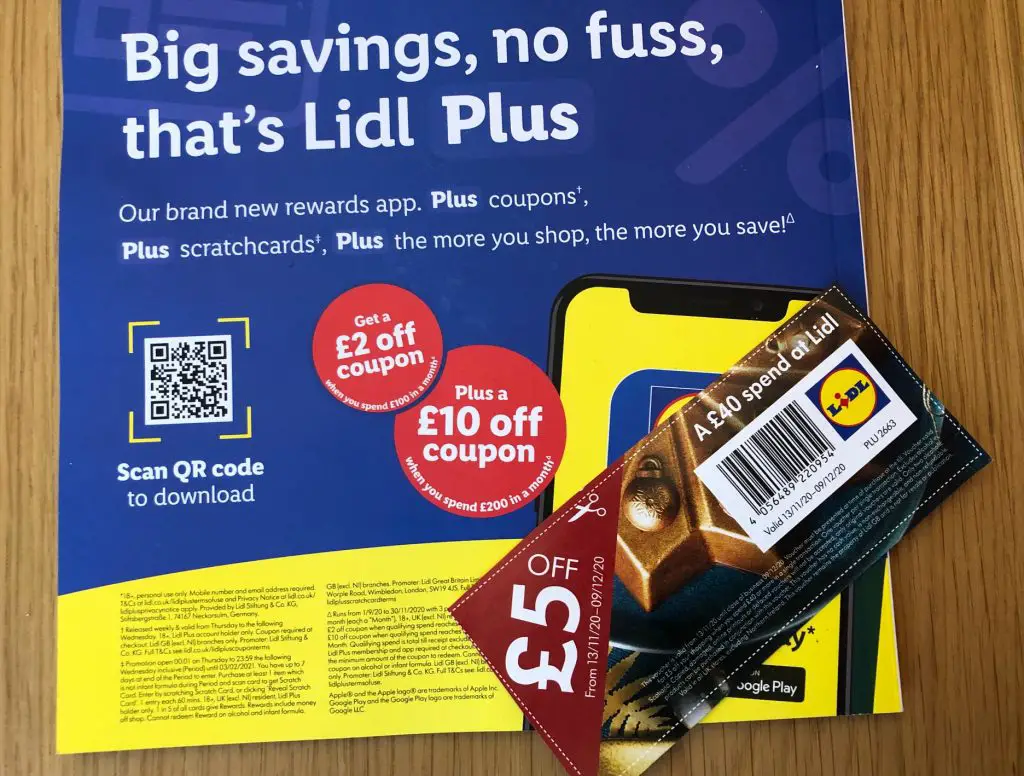 Cashback Sites / Apps
Whenever you make a purchase you should wherever possible combine with a cashback site or app.
The most well known and best cashback sites are:
Not only can you get cashback on the vast majority of your purchases including utility bill switches etc, but when you cash out your cashback you can boost it further by taking as vouchers at a wide range of partners.
All you have to do to qualify is visit the cashback first then from there search for where you want to spend your money and click through to the site and spend as normal.
Use the app versions of each cashback site to see how to qualify for in-store purchases.
Airtime Rewards
Airtimes Rewards is a similar type of cashback app that will earn you rewards you can put towards paying your phone bill.
However, this app is even easier to use because all you do is add your bank card details and any qualifying purchases you make thereafter will automatically qualify.
There's no logging into the app first, it's literally set up and earn the rewards.
You can also combine with cashback options and even credit card cashback cards.
See my Airtime Rewards review for with a promo bonus code to get you started.   You might well be surprised by some of the generous cashback offers available.
Join Facebook Couponing Groups
Some people love sharing their coupon finds and tips.  One of the best ways to keep an eye on these is to join the best couponing groups in the UK.
Here are the one's I would recommend:
Other Best Sites for Coupons
MSE Supermarket Coupons is well worth checking on a regular basis.
https://www.hotukdeals.com/ is one of the most well-known coupon/voucher sites in the UK.
Latestfreestuff.co.uk is one of the best UK sites for finding free coupons.  Click the "Get Freebie" link to be taken through to the offer page.
The whole site in general has all kinds of categories for claiming free products.
Extreme Couponing In the UK
Extreme couponing is generally employing as many discount methods as possible in order to get the maximum discount possible.
Often extreme couponers will bulk buy items when they find an opportunity to take particular advantage of, especially with offers that they can stack deals and get for pennies or even free.
For example, perhaps the extreme couponer has been saving brand coupons for Colgate Toothpaste that entitle them to 50% off.
If they can then combine this with a supermarket promotion which doesn't exclude the use of the brand coupons they can buy at a huge % discount.
Email Manufacturers and Brands
One active way to get extra coupons is to email brands and manufacturers directly.
Let them know what you think of their brand or particular products and hint or ask outright for coupons to try a new product.
If you have the time, try and be a little original in your email.  Send a photo, a rhyme or something funny and you might be more likely to get sent a coupon.
Couponing Tips
Remember it's only a saving if you need it and going to use it
Stack coupon offers and all forms of cashback whenever you can for maximum savings
If you get the opportunity to claim a free coupon for something you won't use, consider donating to Food Bank (often found near checkout areas)
Combine couponing with 81+ frugal money-saving tips to potentially save £100's a year.
Conclusion & Comments
As you can see couponing is alive and well and hopefully this post has helped you find new sources.
If you are already a couponer, do you know of any couponing websites or groups that I may have missed?
If so, please mention them in the comments, I'd love to know and share.