The Jamdoughnut app offers you the opportunity to get instant cashback on purchases from over 150 brands. 
You can even get cashback at supermarkets. A feature that is sure to pique the interest of any savvy shopper, considering supermarkets is where many of us spend a large part of our income.
If you have already discovered the instant cashback app and are looking to claim a referral code bonus you can use: UKMU
Read on to find out how the app can save and make you extra money as well as the best places to use it.
.
How to Claim Referral Code
Getting started with the JamDoughnut app is quick and easy, and you can get started with a £2 bonus.
To claim the bonus simply follow these steps
Download

and install the App via this

Jamdoughnut link.
Sign Up

: You'll now have the option to sign up. Choose this option and proceed to fill in the necessary details to create your JamDoughnut account.

Enter the Referral Code: During the registration process, you'll find a field for entering

referral code

: UKMU. Type in the referral code "UKMU

" in this box.

Claim Your Bonus

: Congratulations! You've successfully claimed your £2  referral bonus. The £2 bonus will reflect in your account when you make your first purchase using the JamDoughnut app. Happy shopping!
What is the Jamdoughnut Instant Cashback App?
The JamDoughnut  app offers instant cashback on gift cards from over 150 of retailers, meaning your savings begin the moment you make a purchase.
Unlike traditional cashback programs where you must wait for approval or deal with payout periods, JamDoughnut eliminates the wait and delivers instant cashback when yo purchase the gift cards.
How Does the Jamdoughnut App Work?
The Jamdoughnut app is simple to navigate and designed with the end-user in mind.
 Start by downloading the app and registering for free (better still claiming the referral bonus).
Gift Card Purchase
Choose the brand you wish to shop at and check whether the gift card applies to instore or online and decide on the amount you want to spend.
You can choose to buy a gift card from £1 upwards depending on the retailer, for example £150 for Costa and £2000 for Aldi.  You can purchase exact bill amounts, so if the final bill if £75.89, you can purchase that exact amount in gift card.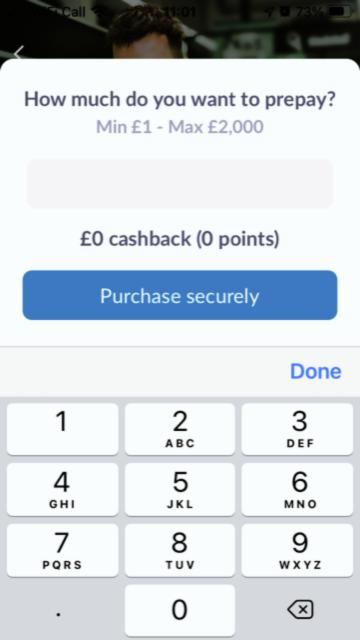 Select your payment method for the gift card amount, I personally just transfer from my bank account because you get the full amount of points and cashback. 
If you pay via card with Apple Pay you get less points and cashabck to cover processing fees.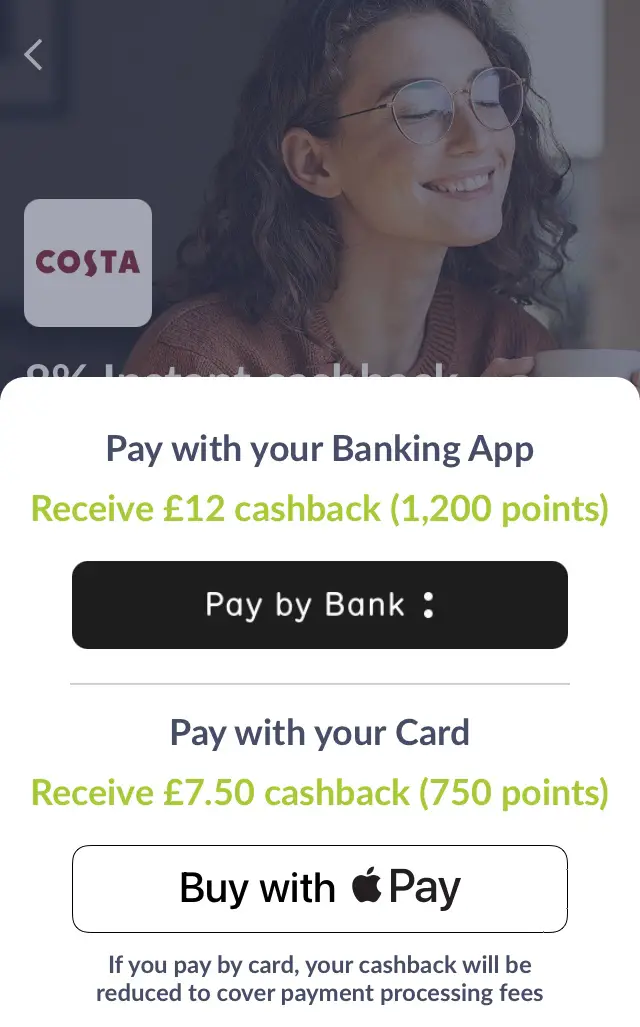 Once you complete the gift card purchase, you instantly earn cashback which you can withdraw directly to your bank account when your balance is £10 or more. 
If you repurchase your gift card and have money left on on it you  can access the app for your gift card whenever you want to spend money at the that particular brand.
Tip: One issue I had was no mobile phone signal in my local Sainsburys, so I couldn't access my gift card.  To get around this take a screenshot of the gift card before you get to the till and scan that.
Where Can you Use Jamdoughnut?
JamDoughnut's expansive partner network covers over 150 brands, but most importantly, grocery stores that don't normally offer cashback option on some of the other  best cashback apps and sites like Topcashback or Quidco.
You could also combine with cashback discounts offered by the Shopmium app.
Grocery Cashback Rates
Although subject to change, at the time of this review these were the cashback rates on offer on some of the main food stores in the UK:
Aldi 2%

 ASDA 2.5%

 Farm Foods 3%

 Iceland 3%

M&S 4% 

Morrison's 3.5%  (& Morrisons Fuel 3%)

Sainsbury's 2% 

Tesco's 1.5%
If you spend £100 a week at these stores you could get £52 to £182 in cashback over the course of a year (1,5 to 3.5%).
Thats on top of any of the best supermarket loyalty card scheme savings.
Cashback is also available at:
Adidas

Airbnb

Apple

Asda

B&M

B&Q

Cineworld

Costa Coffee 8%

Deliveroo 4%

Harvester 8%

Just D 5%

Just Eat

Nando's 7%

Primark

Sports Direct

Spotify

Toby Carvery 9%

Uber Eats
And many more.
Jamdoughnut App Reviews
The Jamdoughnut app comes highly rated by existing users according to Trustpilot rating of 4.6, 82% of users have given JamDoughnut a 5-star rating, attributing to its 'Great' and 11% have presented a 'Very Good' 4-star rating.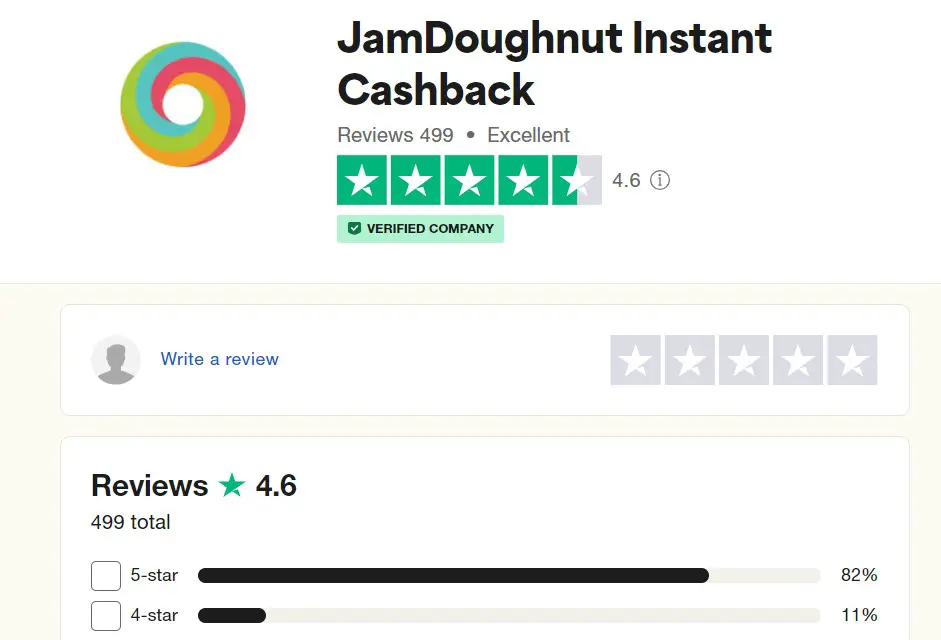 The app also shines in the App Store with a score of 4.8. The reviews speak for themselves, making JamDoughnut a trusted choice among cashback apps.
Look out for Special Deals & Promos
Keep an eye out for special deals that often feature higher cashback rates or other lucrative incentives.
This also includes higher referral rates for signing up friends and family which can also boost your cashback total.
Refer Friends
You'll want to spread the word once you start noticing the difference JamDoughnut makes to your shopping bills.
 For every friend you refer who uses the app and cashes out, you get 400 points, equivalent to £4, and occasionally short-term higher incentives that you might want to take advantage of and help friends and family save money at the same time.
Pros and Cons
While the app is great for saving, there are a couple of issues worth highlighting.
Pros
Discounts available at leading supermarkets: ASDA, M&S, Morrisons, Sainsbury's, Tesco and Waitrose.
Wide range of associated brands.
Gift cards are shareable, ideal for gifting or sharing supermarket vouchers.
Offers flexibility for both online and in-store shopping with gift vouchers.
Points credited instantly
User-friendly interface
Cons
Depending on phone signal can be slow to access bank at the checkout
Need to know your bank login (if you use bank payment method)
Minium £10 cashback withdrawal
The biggest downside for me is if I haven't prepaid a gift card and want to use at the checkout and for some reason there is no or a very poor mobile signal.
Frequently Asked Questions
When Can I Cashout on Jamdoughnut App?
You can cashout when you have accumulated 1000 points, so £10 worth.
You can choose to use to put towards a gift card or cashout to your bank, although you'll only get the full amount if withdrawing to bank as other options incur fees.  
Full clear, and illustrated instructions of how to cashout are within the FAQs of the app.
Conclusion
Jamdoughnut appis a potentially an ideal option for cashback groceries which are not normally readily available via other cashback options and where you spend money on a regular basis.
Once you get into the habit of using it at the stores you most regularly visit you will soon be saving potentially £100s a year.