Are you a Sky TV existing customer looking to reduce your Sky bill?
I personally tried cancelling Sky TV to get a better deal, and it worked.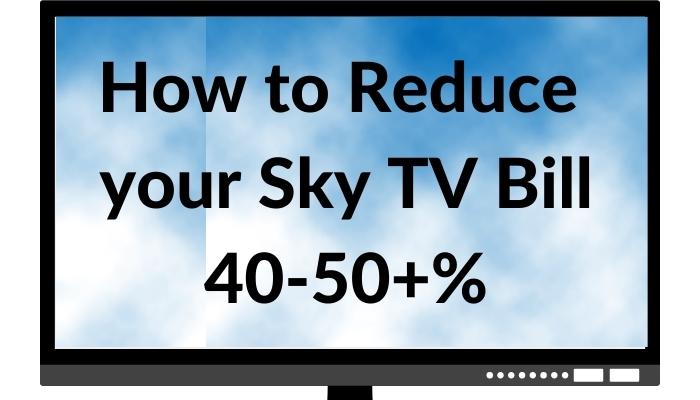 When your existing contract ends Sky will increase your Sky TV bill, in some cases quite significantly.
The good news is that it is very easy to haggle with Sky to get your bill much cheaper in just 5 minutes.
This is something I have been doing for years, and have just completed the process again.
As an existing Sky customer, you might also be interested in how you can recommend to Sky for up to £100 for friends and family and yourself.
How to Reduce Sky TV Bill Without Reducing Package
You can reduce the cost of your Sky TV bill by cancelling to get a better deal.  You don't even need to go through with the cancellation.  Just contact them to inform them as an existing customer you wish to cancel your subscriptionand they will put you through to the retentions team. 
This is when you haggle for the best price, but because they think you will leave they will offer you the best deals possible. 
When your existing contract ends Sky will increase your Sky TV bill, in some cases quite significantly.  Mine just increased by 73% simply for continuing on the exact same package.
Without realising you could be overpaying by double or more compared to other Sky TV customers with the exact same package.
However, Sky TV is well known for easily reducing their prices if you simply ask them.  It doesn't cost them anything to send the signal to your Sky Box so therefore they will offer you good deals if they think there is any chance they might lose you as a customer.
How to Get Cheaper Sky as an Existing Customer
When you want to get a cheaper deal on your subscription, you want to tell Sky that you want to cancel your subscription so you are put through to the retention team.
This is because it's the retention teams job is to keep you as a customer.
Don't worry, you won't end up cancelling.  It's just a way of being offered the best deals.
In the past Sky have actively advertised for customers to come and get a better deal with them.
How to get started:
Step 1: Log in to your Sky Account.
Step 2: Click "Help" or visit the Help Page here.
Step 3: Search "cancel" in the search box at the top of the page.
If you use the search box, when you type cancel you should see the following options.
Choose "How to cancel your Sky Tv subscription" from the dropdown list of options.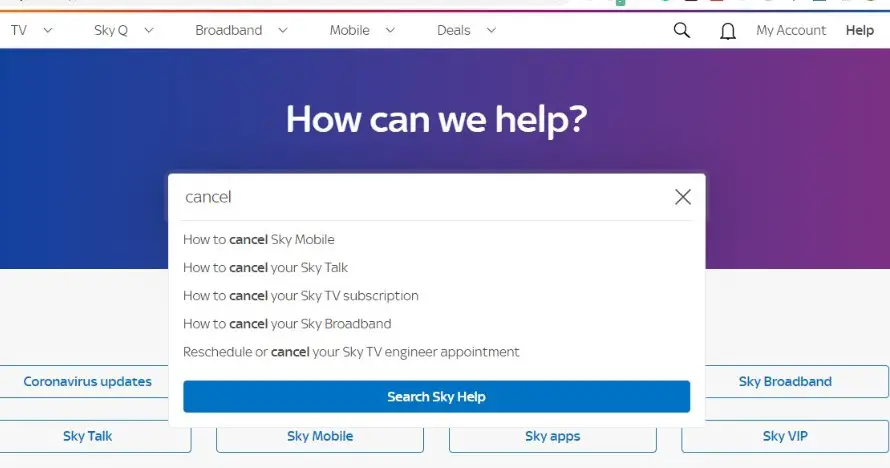 Step  4: You will find yourself on the "How to cancel your Sky TV subscription" page as you see below.  Or if you're currently logged to your account in visit directly via this "Cancel Sky TV" link.
Assuming you are an existing Sky customer and not in any cooling off period, scroll down the page until you see the following as shown in the image below.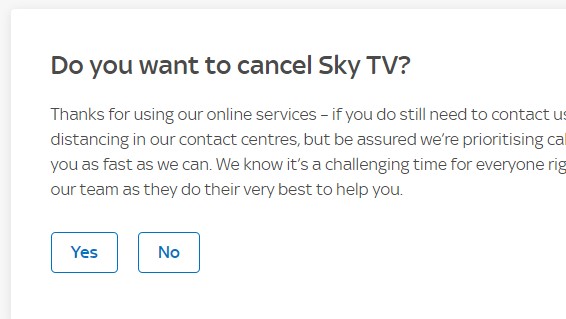 In the section where it asks "Do you want to cancel Sky Tv"? click the Yes box.
You'll be presented with a "We're sorry you're leaving us" message and then a number of methods of contacting Sky.
These methods include:
Calling by phone
SMS text message
Facebook Messenger
Mail
Writing a letter
Currently, at the time of writing, there was no live chat method, which in the past proved to be a quick and easy way to arrange a 10% discount.
However, that is a good thing as you will get a much better deal if you ring them up.
If like me, you are not a fan of phone calls and haggling in general.  Please don't be concerned, this is the easiest haggling ever.  You can rest assured you will get offered a better deal.
On the call it just says you wish to cancel, they will just ask you a couple of questions and offer you a better deal.
If it makes you feel better prepared, just let them know you are happy to go without Sy TV as there are so many other options and you feel you are overpaying in comparison.  Or that you just need to make some cutbacks.
Anything like that.  It doesn't even really matter.
Optional Tip – Price Check a Digital TV Competitor to use as a Benchmark
If you wanted to, you could ring or price comparison compare a competitor, for example, Virgin Media and get a price for the same sort of package you have with Sky.
You can then use that as your base price.  Tell Sky to beat it or you will switch.   You don't have to switch if you don't want to. But Sky will work a little harder on this call to keep your custom, plus they will have to compete with a Virgin new customer offer, which are generally the best value.
How to Haggle with Sky TV
My monthly bill was rising from £26 to £45.  An increase of 73% overnight for the same package.
Best Time to Call for a Sky Tv Discount
The best time to call would be as soon as your contract ends or up to 31 days before.  Once you are out of contract there will be no early leaving penalty for you to pay.
The advantage of haggling is now in your favour because you can actually switch to a cheaper alternative and they no that.  So they will work to keep you.
Make a note or set an alert in advance so you don't forget when to take action when your contract ends.
As regards the best time of day to call, Sky gave this illustration below, which typically shows the when the best time to ring would be.  Albeit note, I rang at peak time and it was answered very quickly.

I rang up the given Sky deals for existing customers contact number which was 03337592263.
I was told to expect a 45-minute wait, which I raised my eyebrows, but thankfully they literally answered within 1 minute.  So if you are told a long wait time, don't let that put you off.
First Sky Tv Discount Offer
When I got through to the "Sky Expert" I told them I was ringing to cancel because the price had risen too high and I was cutting back my expenses.
They asked if it was okay if they asked me a couple of questions and I agreed.
They asked questions about how much I was paying for my broadband, who it was with and how much I paid.
I actually have my broadband through a 3rd party via BT, which is paid via my business partnership so it's not something I could instantly swap without looking into, as I know I have good customer support with who I'm with.
However, these couple of questions enabled the Sky expert to make me his first reduced offer that I can share with you incase it's relevant.
So bearing in mind, my next Sky bill was expected to rise to £45 a month.
I was offered the same Sky package minus Kids which would have been only a £1 month extra, for £21 a month.  That is a 51% discount like for like subscription, however, that if I also took Sky broadband.   It also included a brand new Sky Q box to replace my Sky HD+.
For the record, they offered me Superfast fibre broadband at speeds up 72-74 MB for £20 a month, for a combined price of £41 a month.
Second Sky Tv Offer
However, I wanted my Sky TV subscription price without being lumped in with Sky mobile.
When I briefly explained that, they then made me the next offer, which was:
Free brand new Sky Q box
Same Sky package as before minus the Kids which would have been £1 a month.
For a price of £28.00.
This was a discount of 36% with the Sky Signature discount, In-contract subscription discount and Sky HD subscription discount , all factored in.
Final Sky Tv Offer
As I knew they could go cheaper if I had chosen to also have my broadband with them, I pushed further and told them it's still more than I was wanting to pay.
They then said they will have another look and within a minute or so came back with what they said was the best deal they could offer at £25 a month.  This is a reduced my Sky bill by 42%.
I do have to pay a £10 admin charge, but overall a monthly discount of 42% is a huge saving.
Over the 18 month contract, I will save 18 x £19 = £342.  Minus the £10 admin for a saving of £332.
I will say, both times that I rang, the "Sky experts" who answered were very professional and extremely friendly and helpful.
Haggle with Sky Further?
You could at this point haggle even further, (although I chose not to) to see what further sky discounts you will be offered.
Or you could play real hardball haggling and simply decline the reduced offer and see if they will offer you a better deal on the spot.
If they don't you have the option to accept what's on offer or continue with the cancellation.
if you do cancel you will then have to play a bit of waiting and checking game.  Keep checking your "Deals" page in your Sky account and look out for any marketing emails, texts or even letters offering you a 50% off or an even better deal.
Best Option for You?
Which Sky discount offer would be best for you will depend on your own personal circumstances.
Perhaps switching your broadband to them is an option.
If you are not with Sky broadband, consider doing a price comparison first and finding out the best deal you can get with any provider and weigh up whether it's worth going for.
Perhaps even with this initial offer, some more hesitation would possibly result in an even better offer.  Certainly worth trying.
If you are content to just stay with the SKy Tv subscription-like me, haggle again on the first offer and see if you can beat my % discount.
Your own package is likely different to my own, which is why I've focused on % savings rather than too much on the total value.
How to Reduce Sky Tv Bill Even Further 
Keeping the same Sky package and just haggling on its price is the main way to reduce your Sky bill if you are staying with them.
However, there are other ways to reduce your bill further.
Reduce Sky Tv Package 
To reduce your package is one of the most obvious ways to reduce your monthly cost.
In my example above I reduced the Sky Kids, even though previously it was £1 a month.  My own kids simply don't watch it anymore and are more likely to watch Youtube for free, possibly via the new Sky Q box.
Recently I took off the Sky movies as we simply weren't watching them.  Household members who do tend to watch films are using Amazon Prime.  Which after a while we will rotate back to Netflix and possibly back to Sky Movies in the future.  Which I know should be really easy to get added at a good discount.
Ditch and Switch
For those of you looking to go for the best digital tv deal possible, it makes sense to find an alternative digital Tv provider.  If you don't end up getting the deal you want from Sky, you can actually go ahead and switch to another company.
Here's some info on the best current MSE Digital TV Deals & Freeview.
As a new customer of a digital tv provider, you'll typically get a great deal for at least the first 12 months.  At which point you can repeat the ditch and switch process and possibly end up back at Sky on a really cheap new customer deal.
Whatever options you do, always keep an eye out for added cashback deals from the best cashback sites.
The main competitor in my area for Sky Tv is Virgin Media, and just looking now on Topcashback they are offering new customers up to £110 cashback depending on what bundle you opt for.  You might even get a lower price as a new customer than what you are currently paying for your Sky Tv, but make sure it's lower than the possible discount rate you can get.
Read my full TopCashback review here.  They are one of my favourite money-saving sites.
>>Related Post
Check out these 82 frugal money saving tips to save you £100's  a year.
Consider Freeview – Stop Subscribing to Sky TV & Save 100%
You could choose to simply ditch Sky TV and go Freeview for a while or even permanently.  This is certainly worth considering for some of you if money is tight or you are saving for a house deposit or aiming to reduce debt etc.
98.5% of the population can get access to Freeview.  Many modern televisions will have Freeview channels built-in.  If needed you can buy a Freeview box to record, rewind and pause live tv.
Now TV
Did you know you can watch Sky Tv without a contract with Now TV?
Now Tv is a great streaming option for watching all Sky channels, Cinema, Sports, Altlantic Sky One etc.
You can stop and start when you like and it's possible to get at a discount too.
Check out my Now Tv Deals and Offers page for more information.
Bonus Sky TV Savings Tip – To Keep Saving
Make a note of the contract end date, on a calendar or alert reminder on your phone.  When your contract ends so will your Sky TV discount.
Sky Tv will almost certainly put the price back up.  So it's best to repeat the discounting process again as soon as possible before being charged the higher amount.
Sky Tv 75% Off Deal
As far as I'm aware Sky doesn't go as far as 75% off deals anymore.  However, if you manage to achieve please do let me know.  It involved waiting 3 weeks.
Frequently Asked Questions
Can Sky put my bill up without telling me?
When your discounted subscription offer ends Sky can increase the price without telling you.  The increase can sometimes be quite substantial.  This is why it's important to haggle.
Sky also annual increases prices, even if you are on contract.  However, they do contact you by email or letter to let you know in advance of the increase.
Will Sky Give Me a Better Deal if I Cancel?
If you ring to cancel your Sky you will be put through to the retentions team who have more flexibility when it comes to offering better deals to keep you as a customer.
Conclusion
If ever there was a utility bill worth haggling with its Sky TV.
After you have had a go at getting your Sky Tv discount, please feel free to comment to let me know how much you saved.
Did you save more than 42%? Did you push harder and succeed or fail?
Did you haggle on the admin fee and get anywhere?
Would you switch your broadband too for the 51% deal?
I'd love to hear.