Frugal living is about spending wisely and with your own personal priorities in mind.
Here we have put together as many frugal money-saving tips as possible so you have more to spend or put toward what matters most to you.
You'll be surprised at how many ingenious ways there are to live frugally in the Uk without going without.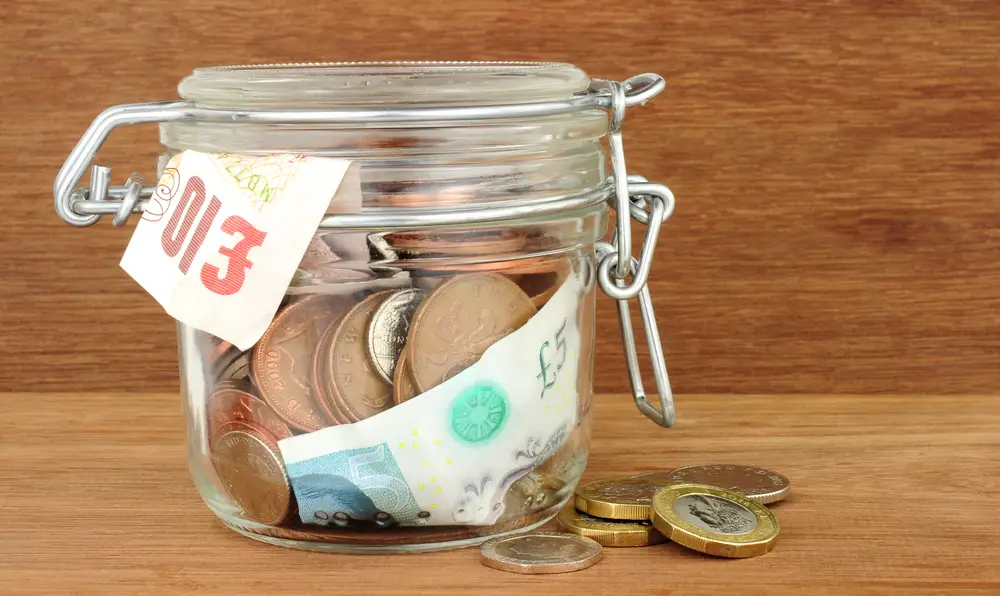 What is Frugal Living?
Frugal living is giving thought to value and prioritising when spending money.   It's about getting or doing more of what you want to do by reducing your spending in other areas of less concern.  As an example, you might be spending less now on nights out or takeaways now because you prioritising long term financial goals first.   There are no real hard and fast rules.  Your frugal living choices might be very different to someone else's.
There is often a misconception about frugal being about going without or buying cheap.    A frugal person might go without things that don't really matter to them but spend a lot more on items where they see the value or gain greater satisfaction.
Frugal people are generally not wasting money by buying things they don't really want or need.
Frugal is not about being cheap or living on a tight budget.
How to Live Frugally in the UK
A frugal living lifestyle is something to be proud of.  In the UK we live in a world of overconsumption and waste, which isn't environmentally friendly or even sustainable long term.
Frugal living has many benefits:
Less consumption
Less waste
More likely to reuse/recycle
Prioritising your saving/spending on what matters most to you
82 Frugal Money Saving Tips UK
If you are looking at how to start being more frugal in the UK, start with this list of actionable tips.
We've split the tips up into categories to help you focus on any particular area you may want to be more frugal on.
Hopefully, many of the tips are helpful and actually save you money.
If you have any more suggestions you think should be added please feel free to mention them in the comments.
If as well as making savings you are looking to increase your income check out these posts which are suitable for almost everyone:
Frugal Food Shopping Tips UK
The monthly food bill for many households is one of the largest outgoings.
Fortunately, there are many ways we can save money on food and they don't all involve cutting back and eating less.
Here I outline some key ways you can save money on your food bill including tips to stop you overspending, reducing waste and even claiming discounted and free food items.
1. Shop to a List
If you didn't need it before you left the house to go shopping, why do you need it when you pass it on a shelf in a shop?  The answer is you probably don't.
Make a list before you go shopping and stick to it.  Simple.  You'll avoid all the tempting supermarket tactics to spend money on food you didn't know you wanted.
2. Never Shop Hungry
You buy more when you go food shopping hungry.  Ever walk into a store and smell the bakery and feel drawn over?  Or find yourself grabbing pricey snacks just because you are a little hungry and can't wait 30 minutes to get home for your normal lunch or dinner.
It's surprising how much more people spend when hungry, some sources say up to 60% more.
3. Downshifting 
Downshifting is of the best tips for saving money on your food bill and can save you 20-30% off your monthly food bill.
For every product you buy, consider downshifting to a cheaper alternative.
If you always buy a certain brand, consider the supermarket own brand.
If you already buy supermarket own brands, consider downshifting from for example from the Premium to the Classic range,  or the Classic to the Value range.
Often, when doing a blind taste test most people will barely be able to tell the difference in ltaste.  Or, if they do have a preference, it won't always be the higher value item.
Lidl and Aldi are ideal for downshifting.  They produce products that taste the same (if you did a blind test you'd struggle to tell the difference) on a range of items.  Their own branded products often mimic well-known brands in product colours and designs.
Check out why Lidl is so cheap for insights into how they keep prices so low.
If you meet unwarranted resistance to some of your changes because members of the family notice the change in packaging, consider giving them blind taste tests, or storing some foods in plastic containers and serving differently so they soon become blind to the brand and just go on taste alone.
Even if the food does taste a little different, it may just be a matter of persevering with it a couple of weeks and it will soon become the norm.  If you still don't like it, switch back.
4. Shop Around
Are you always in the habit of shopping at the same food stores?  Try shopping around, you might be surprised at what you spot much cheaper.
Again Aldi and Lidl are ideal for this.   The other supermarkets are often more price competitive on different items too.
5. Use Food Coupons
Before you plan any supermarket shopping trips have a quick check of the MSE Supermarket Food Coupons category to see if there's anything, in particular, you can take advantage of.
They have coupons for specific food items, but also money off coupons for reaching certain spend amounts.
For example:
£2 off when you spend £25
£5 off when you spend £50.
However, don't fall into the trap of buying more food than you need to make up the amounts.
Check out my beginners guide to couponing for a whole host of options for finding coupons.
6. Free Instore Supermarket Magazines
Wherever you shop regularly, keep an eye out for the latest Instore magazines which may include money offer vouchers inside.
If the store is selling the magazine, for example, Sainsbury's have a quick look through first to see if it's worth buying.
7. Take Stock of Cupboards Fridge and  Freezers
You don't need to do a full-on stock check, but just be aware of what you have if you find you are fortunate enough to have full cupboards of fridges and freezers.  When this is the case some foods can be out of sight or buried and before you know it out of date.
Consistently make use of what you already have in your fridge and freezers.  Don't let food go to waste, or hold more in the freezer than you need to.
You might be able to use that space at times for leftovers or pre-pared batch cooked own baked meals.
8. Use Supermarket Loyalty Card Schemes
If you're not using supermarket loyalty cards or apps you are effectively paying more for your food than everyone who does.  For some stores, it may take a while to accumulate worthwhile points but for others, they soon add up pretty quick.
Some of the best loyalty schemes are:
There are also many ways you can boost the value of your points and rewards.
For example, you can boost the value of your Tesco Clubcard points and redeem against all kinds of awesome days out for the family.
Another good example for boosting points value is the Sainsbury's Nectar Double Up events.
9. Use Cashback (where possible)
If at all possible I always use the main cashback apps when shopping.
Although the best cashback sites rarely offer much if anything at supermarkets.  Although still worth checking for new customer online deals.
One exception is the JamDoughnut app (with referral bonus) from which you can buy gift cards for a wide range of supermarkets and redeem them immediately against your shop.  The best thing is the cashback is instant so there's no waiting weeks to receive it.
One that does occasionally have very good cashback rates is Airtime Rewards.  I've had 7% and 10% off my shops at Morrisons which can be put towards paying off my mobile bill.
10. Eat Fewer Takeaways
If you find yourself ordering takeaways quite often, consider ordering fewer.  If you order 2-3 a week try going down to 1 a week.  If already once a week, try cutting down to once a fortnight.
You can still have something real tasty instead and make it a meal to look forward to.
11. Meal Planning
Plan your weekly meals.
Not only can plan cheap and tasty meals, but it will stop you from grabbing more expensive ready meals or resorting to an expensive takeaway just because you are underprepared.
12. Batch Cook
One thing that combines well with meal planning is batch cooking.   Set aside a block of time and cook bulk portions of a couple of your favourite meals.  Store them in the fridge or freezer ready for whatever day you plan to eat them.
13. Cheap Recipes
Find great-tasting cheap recipes.  They are loads to choose from online.  Check out Jack Monroe Cooking on a Bootstrap and other books.  Lots of great meal ideas for well under £1 and all kinds of tips to save money on your food.
14. Best Before Dates
You don't need to throw away food just because it's past its best before date.  Many foods are perfectly fine to eat long after the best before dates.  In fact, some are fine years are the date.
Use by dates are the ones you need to be wary of, often found on foods stored in your fridge.  Try and get in the habit of always using these up beforehand.
15. Cut Down on Waste
Simply don't buy more food than you need.  This is especially true at Christmas when many people buy far more food than they need.
Make use of leftovers, save for another meal, or repurpose into another dinner, for example using leftover Brussels and mashed potatoes for bubble and squeak.
Use overripe bananas for banana cake or if you have too much bread use it for bread and butter pudding.  That kind of thing.
16. Slow-Cooker Meals
Slow cookers are not only a good way to cook because they can save you time, but also the actual cooking process is cheaper.
Slow cookers run on the energy it takes to power a light bulb.  Many recipes are super quick and easy to put together.
17. Scan your Receipts
You can your receipts for multiple stores, but one of the best paying apps is purely for food purchases.
The best one, SnapMyEats will pay you £1 per 3 receipts, which isn't too bad for something that literally takes a minute to do.
It then makes it worthwhile for some to scan the same receipt with other apps that pay less, but will eventually payout over time.
See my post on the best paying receipt apps.
18. Dine-In Rather than Out
Dine-in as a couple or with friends rather than dining out.  It's a lot cheaper and healthier too.
Everything is cheaper, especially the wine.  You can eat at your own pace undisturbed.
19. Use Dining Out Discount Cards
While it's cheaper to eat at home if you do eat out make sure you are taking advantage of discount dining cards like Tastecard (review) to get money off your meals.
20. Eat Healthier 
One way I reduced my food bill and improved my diet at the same time was to introduce intermittent fasting.
I don't eat or drink calories after 8 pm and that basically cut out all the junk food I was eating during those hours.
For example a cold beer and packet of crisps or cups of tea and chocolates.  Sometimes both lots across and evening.
After a few days, the cravings subside and it becomes really easy to maintain the habit.
I also sleep and feel a lot better in general.
Whenever I do eat later in the evenings, it feels more like a treat, and often it acts as a reminder that I don't miss it at all.
21. Packed Lunches
For a day out a packed lunch for yourself or the family is always going to be a lot cheaper than eating out somewhere.
22. Take a Bottle of Water
Whenever you go out take a bottle of tap water.  It's free out the tap and saves on buying a drink if you get thirsty when out.   Also saves on unnecessary one-use plastic bottles.
23. Take a Flask
If you prefer a hot beverage when you go out prepare a flask of coffee or your favourite tea.  There are all kinds of flask sizes and styles available from small cups and up.
24. Bulk Buy
If you can afford to, buy bulk whenever it makes sense too.   For example 4 to 24 packs of cans or large packs of toilet rolls.
Look at the per-unit prices and see if it's worthwhile.
Another option is to bulk buy in the sales (for food you know will not go to waste).
For example, the main supermarkets have 25% off wine dates when you buy 6 bottles.  A great time to stock up if you are going to buy wine over time anyway.  Unopened wine can be fine for years.
Wine also makes a great gift for many people.
25. Cut the Junk – Change your Eating Habits
Did you know we all have a gut biome, basically all kinds of bacteria that thrive on what we eat and actually can create cravings?
By changing our diets, for example, eating less sugar, the bacteria that thrive on those can reduce and therefore reduce the cravings.
It is difficult at first but helps reduce the spending on overpriced branded sugary goods we sometimes crave but don't need in our diets.
Personally, to help with my evening cravings for chocolate, I started drinking naturally sweet-tasting teas like Peppermint.
After 1-2 weeks the cravings really do subside.
I also switched to strong tasting dark chocolate, which although not a fan of at first, actually becomes an acquired taste.
26. Use Supermarket Cashback Apps
There's a whole range of supermarket cashback apps that offer extra discounts and sometimes even total freebies.  All you typically have to do is purchase the item, scan it through the app and scan your receipt.  Really easy.
The main ones are:
27. Yellow Sticker Reductions
Check out the yellow sticker reductions in your local stores.
Each well-known store tends to have its own reduction times.
Some reduce early in the morning, others through the day or late evening.
Get to know your store and any specific yellow sticker locations.
Only buy what you'll definitely use, even if it means freezing it in the meantime.
28. Grow Your Own
No matter how small your property we can all grow at least some of our own food.
Herbs and some salads can be grown on a window cill.  Potatoes can be grown in a bucket or a sack.   Fruit trees trailing up against a wall.
All kinds of fruit and vegetables can be grown all year round.
29. Refuse Bags
Take your own bag whenever you shop.  Saves a few pence and saves on plastic waste too.
Frugal Household Bills Tips
For many of us, this is where the bulk of our frugal savings can be made.  Many only need actioning once and will save us money month after month.
1. Pay Bills Annually 
Consider paying the likes of your car and house insurance off in one lump sum.  You should get a cheaper deal than paying monthly and when it comes up for renewal you are more likely to be alert to try to reduce the payment as much as possible because it will be a larger more noticeable upcoming expense.
2. Bank Account Audit – Review Payments
Run a check on your bank accounts and audit your standing orders and direct debits.
Which ones can you cut out?  Do you have any subscriptions you could do without or no longer use?  Also, check subscriptions on your smartphones and cancel any you aren't using enough.
Make a note of all regular payments and see which ones you can work on reducing.  Perhaps some have auto-renewed the last year or more and now you are overpaying.
3. Use Price Comparisons Sites
Use price comparison sites for bills like car and house insurance.  If you log in they will save your details for next year which makes it easier.
I always check the best quotes with the best cashback sites for the best cashback offers and apply through those links.  Sometimes you can get £30-£60 cashback back on something like a £200-£300 insurance policy.
4. Cancel Subscriptions
There seem to be more things to subscribe to than ever these days.  Do we need them all?  Have you forgotten you even subscribed to some?
If unsure about some, just cancel them, you can always resign up quickly when you do want.
Whether it's TV subscriptions like Sky, Virgin, Netflix or Amazon Prime, there's only so much TV anyone can watch.
We cancel Sky Tv and haggle a new deal every renewal.  Another alternative is to opt for a cheaper option, such as streaming service Now TV or freeview.
You could also question whether you need a TV licence.
Then there's all the music streaming subscriptions and various monthly subscription boxes.  If yo have signed up, are yo actually getting regular use out of them?  If not, cancel.
5. Alternate Breakdown Cover
Every year I alternate y breakdown cover with either the AA or RAC getting a good new customer deal and cashback from one of the best cashback sites in the process, usually Topcashback.
If I don't switch the existing breakdown service whack up the price.
6. Ditch the Landline
Do you even use your landline anymore?  For some broadband services, a landline is no longer required.  Check with your suppliers to see what your options are.
I ditched my landline but had to pay a couple of pounds extra on my broadband.   A couple of months later I haggled a much cheaper deal on the broadband.
7. Lower Mobile Costs
The cheapest way to own mobile is to buy the handset outright and go on a Sim-only deal.
Too many people fall into the trap of their contract ending and feeling it's time to upgrade and then they basically buy a phone on credit and pay the interest without barely realising.
8. Buy Refurbed Tech
You can get great deals on refurbed tech products such as mobile phones, iPads, laptops, Macs etc.
I've always been impressed with refurbed mobile phone brought from Giff Gaff for the kids.  I get the ones in good condition and they arrive like new.  The phones go in a cover anyway so even if the tiniest mark it wouldn't be seen.
9. Switch Bank Accounts
In addition to checking your actual bank payments make sure you are with the best value bank.  Either with lower or no charges and higher interest.
I typically switch bank accounts at least once or twice a year and make £100+ a time.
We use a bank account that pays cashback on all our utility bills, so even if you can't get interest on your money consider these types of accounts.
10. Ditch the Gym
Gyms are great is you make full use of them and regularly attend any classes.  Yet many people join and just don't go often enough to warrant the monthly payments.
Consider working out from home.  Online workouts have improved massively in quality and scope over the last couple of years.  There's something decent for everyone.
Whether home HIIT and weight workouts or Yoga, it can all be done in the comfort of your own home watching on Youtube.
If you need any equipment check for second-hand.  Some sold for big discounts after hardly being used.
11. Switch to a Water Meter
If you are not on a meter but frugal with your usage consider requesting to go on a water meter.
If you are not sure if it will save you money there's a free water meter calculator here.  If you switch and it turns out to be more expensive you may be able to switch back within 12-24 months.
If you are on a water meter always be aware of dripping taps.  Small and often soon adds up to a lot.
12. Switch Gas & Electric Suppliers
Why pay more for the same gas and electricity?  Well, that's exactly what you are doing if you stick with the same supplier every year.
By switching people often ave £200-£300 a year if they haven't switched for a while.
It's so easy these days, there are even companies that will monitor prices and do it for you, such as Look After My Bills (Review).
I do my own switches to save on gas and electricity via Cheap Energy Club, typically getting cashback for doing so via the likes of Eon Energy with their £50 refer a friend offer, and who are pretty good at keeping their rates competitive.
13. Shower Instead of Bath
If you are on a water meter or just conscious of using less water switching from baths to showers will save both money and water.
If you already shower you could cut the duration of your shower or use Eco Water showerheads.  They can be high pressured too so you still have a great shower.
14. Hang Your Washing Up
If you use a tumble dryer consider making more of an effort to hang your washing up to dry.  Use a washing line or clothes horse.  Especially on hot days.
15. Turn Your Heating Down
Every degree you turn your heating down will reduce your bill.   Consider turning off radiators in empty rooms until you need them.
I have a whole range of heating saving tips in this post cheapest way to heat a room.  Every little tip adds up.
16. Switch Light Bulbs
If you haven't already, switch your light bulbs to LED's.   The more bulbs you switch the more you save and those savings can add up to hundreds of pounds over the lifetime of the bulbs.
17. Turn Off 
When you're not using lights, games consoles, TV's turn them off, don't just leave them on or on standby.   Even better still would be to switch them off at the mains or unplug the devices.
18. Energy Efficient Appliances
Whenever it's time to replace an appliance consider the energy efficiency.  This will save both energy and money on an ongoing basis for many years.
19. Insulation
Are your walls and loft insulated?  Combined with door and window draught excludes you can reduce your heating bills quite significantly.
20. D.I.Y
Fix it yourself.
Every year there are better and better video tutorials on Youtube to help fix, refurbished or decorate all kinds of areas of the house.
Why pay out when often you can do it yourself.  You might surprise yourself, and get that sense of satisfaction.  I know I have.
21. Downsize Property
Is your property larger than you need?  have the kids left home?
Consider downsizing and all your monthly bills will likely downsize too.  Lower energy bills, insurance, fewer maintenance costs (typically 1% of property value a year).
If you still have mortgage payments when you downsize perhaps you could pay the mortgage off.
22. No Credit Card Debt or Loans
Aren't there enough monthly bills already without adding debt repayments on top and worst of having to pay high interest?
One of the things about being frugal is you get more of what you want in the long term.   Save up and buy what you want outright.
The key is to have an emergency fund in place.  Start with £500-£q000 but ideally build to 3-6 months outgoings and never fall into debt in the first place.
If in debt already, work out a plan to pay it off.  The Dave Ramsey Baby Steps for the UK may help.
23. Pay into a Pension
Free money is always appealing and paying into your pension you can benefit from 20-45% tax relief from the government.
If you work for an employer you can benefit even more from matched contributions.
Related post: Should I overpay my mortgage or pay into pension?
Frugal Car and Travel Tips
1. Walk or Cycle Whenever Possible
This might sound obvious, but some people will simply be in the habit of using the car no matter what, even for the shortest of distances.
Think about when and where you could start walking more locally or cycling instead
If you don't have a bike second-hand bicycles offer great value.
Not only are they money-saving, but walking and cycling are also great for your health.
2. Need a New Car? Buy a Used Car Outright
The most cost-effective way to buy a car is to buy one second hand.  Brand new cars lose potentially thousands as soon as you drive them off the forecourt.
The sweet spot for value seems to be around cars that are 3 years old.  By then they have possibly lost 50% or more of their original value in that relatively short amount of time and will take another 10+ years to lose that much again.
It's also cheaper to buy cars outright than take any kind of loan or lease deal, which are generally offered to help people who can't really afford new cars in the first place.
3. Become a One-Car Family
Do you have 2 (0r more) cars in the household?  Could you reduce it down to one?
If it's possible this can save hundred's a year.
Save on:
Car tax
MOT
Service
Fuel
Maintenance
Price depreciation
Payments (if you have any)
4. Choose an Economical Car
When you buy a new car, go for something economical to run.  Consider all factors, cost of fueling, tax, insurance and maintenance.   Some makes of cars typically cost more than others when it comes to parts.
5. Use Free Parking Apps
When travelling and needing to park, use a free parking app to find a free spot to park, or at least somewhere cheaper.
6. Cheap Petrol and Diesel
Depending on how much you drive you could save a couple of hundred pounds a year just by being choosey as to where you top up your tank.   I use petrolprices.com and it's always surprising the differences in price between relatively close petrol stations.
7. Declutter Your Car
The less weight in your car the better.  This includes not filling up your fuel tank if you don't need to.  Empty the boot if there's anything of weight in there that you don't need.
Frugal Clothes Shopping Tips
1. Buy Quality That Lasts
Buy quality clothes that last, not the wear today throwaway tomorrow cheap fashion.
Good quality clothes can last decades if looked after and washed correctly.
Related post: Are designer clothes worth it?
2. Hand Me Downs
Make use of your own hand me downs as well as swapping clothes with other parents of varying ages.  We kept many of our firstborn daughter's clothes, but then we went and had twin girls.
3. Plan to Shop in the Sales
If you are going to shop at these places anyway it's always handy to be aware of their main sales dates when they typically reduce everything by at least 25-50%.
Main sales for 25% off clothing include:
For Argos, we have an easy-to-follow step-by-step guide on how to link your Nectar card to your Argos account.
4. Buy Imperfect Shoes
Pay less for ex-display shoes and trainers from Schuh Imperfects.
The shoes are brand new but may have the odd scuff or discolouring.  You see actual photos of the specific items you are buying which clearly illustrate the condition of the exact pair you will be buying.
5. Sell Old Used or Unused Clothes
There are several specialised clothes selling apps to sell your used or unworn clothing.  Some are free to use and it can be quite surprising what some people will pay.
Frugal Shopping Tips UK
1. Buy Second Hand
Whenever you are considering a purchase think about whether a second-hand item will suffice.
Visit local second-hand stores, auctions, charity shops and maybe even antique shops.
If you look often enough you'll find better quality for a lower price.   Good solid long-lasting furniture pieces instead of brand new cheap chipboard.
Check online at sites like Facebook Marketplace for local items for sale.  It's also a good starting point to sell your own unwanted items.
2. Sell the Things You Don't Need
The other half of buying second hand is to sell your own stuff when you no longer have use for it.   Sell locally for free via or list nationally on sites like eBay.
Not only do you get some money back you keep the item in use and out of the landfill.
Another option is to sell at local car boots, here we list the best things to sell at car boots plus car boot tips.
3. Check the Pound Shops
It's can be surprising what you can find in a pound shop.    They buy in such bulk they can afford to sell so cheaply.  My Mrs just brought me my first pair of reading glasses for £1 as I was completing this post.   They were ideal (I'd be putting off for too long getting some).
During her Specsavers appointment, a young worker she was speaking to mentioned that her father brought his reading glasses at the pound shop.
4. End of Season Shopping
Best time to buy a BBQ?  At the end of summer.  Best time to buy Christmas decorations, straight after Christmas, or a few days before.
Same with all kinds of season purchases you might make from garden furniture and hot tubs to fans and heaters.  Buy them when the stores are changing their seasonal ranges.
5. Use Libraries
Access to free books to read for all the family.
6. Make Your Own Cleaning Products
You could make your own cleaning products that work out a lot cheaper than the expensive brand version you buy in stores.
Ingredients like:
Bicarbonate of soda – cleans pretty much everything, mould, drains, smells etc
White Vinegar -stainless steel, Kettles, greasy overtops
Lemon Juice – great for removing certain stains
Olive Oil – for polishing furniture
Salt – great when mixed with some of the above ingredients
Essential Oils to get rid of any smells
Look up DIY cleaning recipes online.
7. Homemade Shampoo and Soap
You can use cheap products like Castile soap to wash your hair and body.
Castile soap can also be used for laundry detergent and some other cleaning.
8. Use Less
In general, try to use less of what you usually use or make things last longer.  For example, put some water in the soap dispenser or washing up liquid.   Reuse old tea towels for rags or D.I.Y clean ups etc.
9. Make Gifts
Do you have a creative hobby or skill?  Whether arts and crafts, making clothes or carpentry or pottery, whatever it is you enjoy doing consider using that time to make gifts for your friends and family.  People love it when a bit bit of time and effort and personalisation goes into something.
I forget most gifts, like chopping boards, but I always remember who gave up the great one made for us by a family friend.
10. Upcycle
Repurpose what others might typically throw away.  Recycle unwanted rubbish into furniture or artistic pieces that people will pay good money for.  Importantly as well keeping perfectly good materials from going into landfill. (Yes I've occasionally seen Money for Nothing on TV).
11. Take it Back
If you do find yourself even giving into temptation and having second thoughts, or you buy something that wasn't as good as you expected or you realise you don't need, take it back before just forget about it and end up storing it somewhere never to be used or worn.
Frugal Family Fun Tips
1. Free Days Out
Not every outing has to be somewhere that's going to cost you money.  Some of the best days out are free.
A walk in the woods is great any time, but especially when the bluebells are in flower.  Let the kids get lost in their imaginations.  Walking in mud or making dens with sticks.
If you are stuck for ideas, search for free things in do + your local area.
Local parks, river walks, beach (if you're lucky), go on a bike ride, are all free.  If you go for a while take a packed lunch.
2. Free Museums and Art Galleries
Immerse yourself and your family in history or the arts.  We have some great museums and art galleries all around the United Kingdom.
Here's a list of some of the 20 best.
Frugal Holiday Tips
1. Book Your Own Flights
Use flight comparison sites like Skyscanner, Kayak and Momondo to book your sites early for the best prices.  A year ahead if you can.
Book your accommodation separately for a cheaper deal than a package holiday.
2. Go Self Catering
Self-catering is the cheapest option for most holidays, assuming you then don't go eat out most nights.
3. Have a Frugal Christmas
Christmas is one of the most expensive and challenging times of the year for many.
Many of the frugal tips already listed apply more than ever for Christmas.
One main tip is to stop the tit for tat buying, (as highlighted annually by Martin Lewis).   Also, plan ahead as best you can.  Obviously, Christmas is a time to have fun, but keep waste and overconsumption to a minimum as best you can.
I have a whole load of other tips that apply for a frugal Christmas but originally were for the perspective to help those who can't afford Christmas.
Frugal Beauty Tips
If there's one industry that makes a fortune from its branding it's the world of beauty.
1. Downshift Beauty Brands (Save up to 90+%)
Consider downshifting to lesser-known brands.  Or even consider making your own and know what you are putting on your skin, which might even be healthier.
Aldi and Boots can be good for this, as can be seen in this past MSE Beauty Downshift Challenge, including savings of 81%, 90%, 92% and even 97%.  It's worth a try surely.
2. Do Your Own 
Instead of booking an appointment consider doing more of your treatments at home.  Perhaps invite friends over and have a little pamper session doing nails, pedicures and face masks etc together.
3. Wear Less or Use Less Often
Wearing makeup simply becomes a habit for many, so one option is to wear less in general or wear it less often and let your natural beauty shine on more occasions than you currently do.
If you regularly get your hair done at the salon or full-on barber and beard session, consider halving the number of visits or saving for special occasions.
Frugal Living UK Summary
All frugal living tips are choices.  You don't have to cut down on what's important and of most value to you.  If you enjoy a good regular pamper session at the salon and it's worth every penny, or you live for a Friday night takeaway, do it.
As we've said, frugal living is about prioritising  You know your priorities and what's of most value to you.
Frugal living should be enjoyable, albeit often a more simple way to live.
Frequently Asked Questions
How to be Frugal without Being Cheap or Tight
An example of overly tight is not buying your friends a drink purely to save money while drinking any they buy you.
This is not being frugal.  Frugal is about valuing your spending and if buying drinks for friends is of value to you, you buy them one.  Same for a meal out, no need to haggle to the last penny when splitting the bill.
You can still buy nice things and luxuries for yourself and others being frugal.
Comments
Tell me in the comments, what are your main frugal living tips?