Do you have powerlines over your property or electricity poles your land? If so you could be entitled to a Wayleave payment as compensation.
Find out how to claim and how much extra money you could get based on the various factors involved.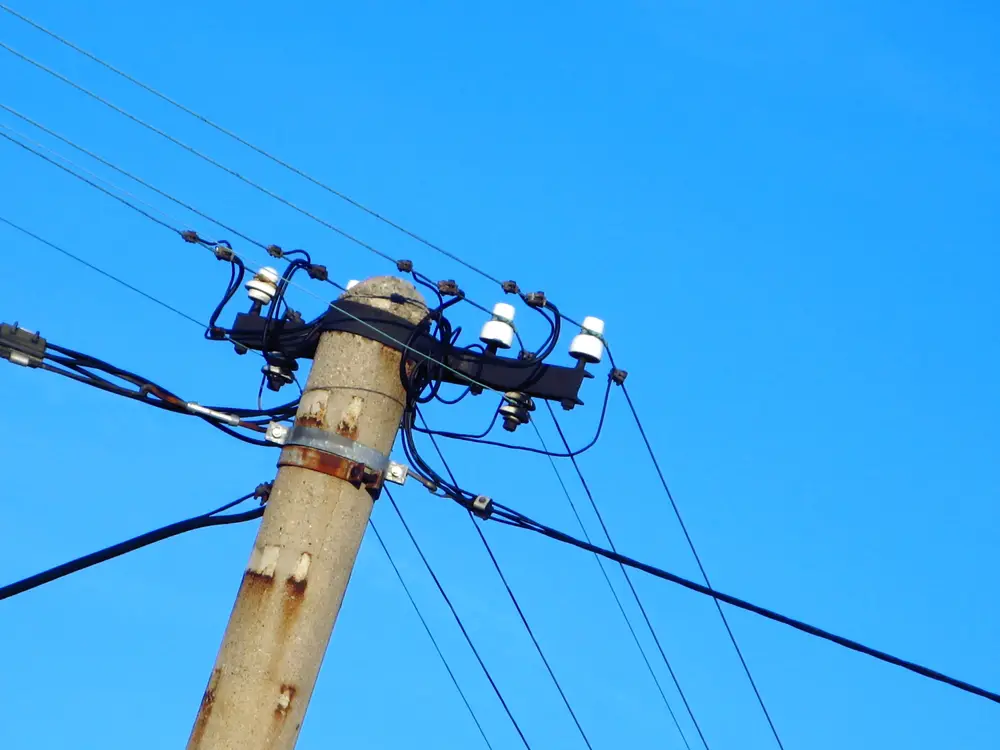 Let's face it, telegraph poles, electric pylons are unsightly and no doubt affect the value of our properties.
Not only that, some high voltage cables can be dangerous and carry risk.
You might even have out of sight electric cables underground that you can claim for.
If you have any of these and other related utility equipment on your land it's possible that you should be able to claim some form of compensation in the form of a Wayleave Agreement.
What is a Wayleave Payment?
A Wayleave payment is made by electricity network companies, BT and Openreach when they have some of their equipment on or impacting your land.  The Wayleave Compensation payment as it is known represents a form of rent for space and the impact a utility company's equipment has on the property.
This equipment could be in the form of:
Overhead electric cables to other houses
Single or double electricity poles in your garden
Electric Pylon towers
Underground cables
How Much Is a Typical Wayleave Payment?
Generally, the bigger the impact the network companies equipment has on your land the more money you can get paid.   The payment might be anywhere from a few pounds up to 3-6% of the value of your property.  Perhaps a lot more in the rare event you have a previously unclaimed wayleave payment for an electric pylon in your garden.
How much you personally will get paid will depend on your own individual circumstances
Varying payment factors include:
The network company
Type of wires/cable/voltage
Number of lines over property
Type and size of the electric pole or pylon
Value of your property
The proximity of energy network equipment to the property.
For example, if you have a huge electric pylon in your garden, you could get a very worthwhile payment in comparison to someone who has just a single pole, or out-of-sight underground cables may get a very small payment.
To qualify for payment, the equipment has actually to be on your property, not just near it.  The same goes for powerlines, they must be directly running over your property.
Sometimes the payments can be relatively small, but the company may pay for 15 years at a time, so even a small annual amount might end up being a lump sum of a few hundred pounds or more.
Who Pays Wayleave Payments?
Wayleave payments are paid by your local electricity distribution providers of which there are 10 across the United Kingdom. These are the companies that own and maintain the network of electrical equipment in each area, not the energy company that supplies the energy to your household.
Links below go to the energy companies relevant wayleaves page with contact details or forms:
Manx Utilities (for the Isle of Man)
If you are not sure who your energy network distributor is you can find out by entering your postcode on the energy networks who's my network page.
BT or Openreach Wayleave Payment
Openreach is the company within BT Plc which maintains telephone and broadband networks for nearly the entire UK.
Although we mention BT, telegraph poles and lines do not qualify for wayleave payments.
Openreach will pay you for a wayleave if their equipment is on your land, providing a service to a third party.  If the equipment solely provides a service to your property you will not qualify.
How Much is a BT Wayleave Payment?
Installation of a new pole, for example in a garden, which is more common in Scotland, will pay you a one-off fee of £157.50 and an additional £10.50 annually thereafter.
You can find out more about Openreach wayleaves here.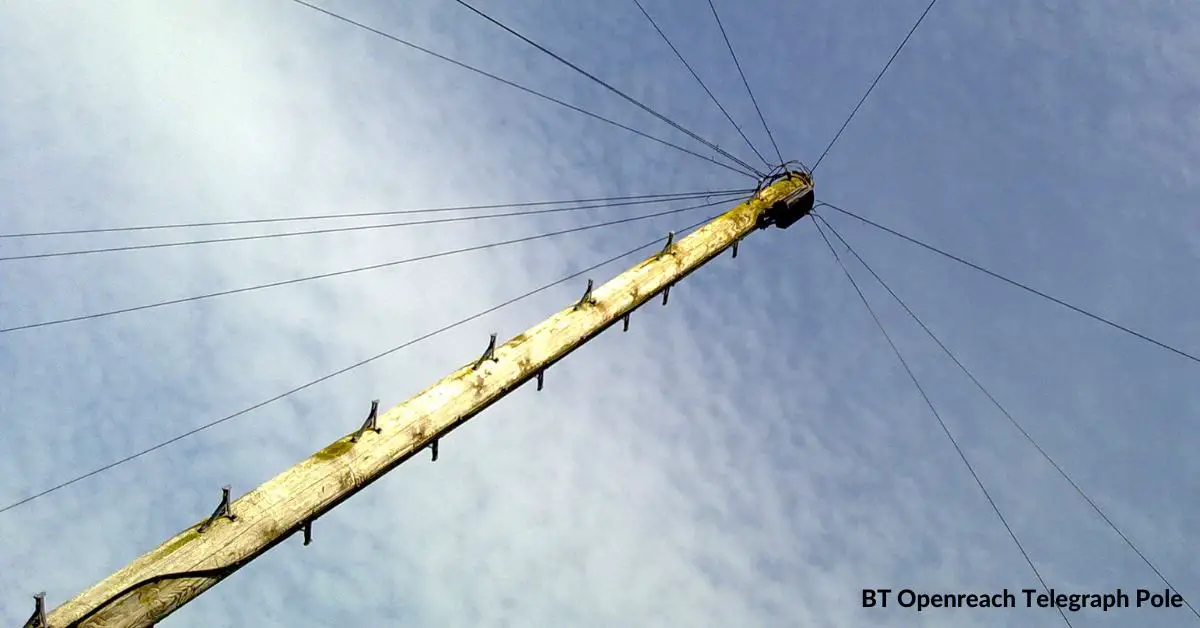 Has Your Wayleave Payment Previously been Claimed?
Another factor as to whether you are entitled to a wayleave compensation is whether a wayleave payment has previously been claimed, perhaps by a previous property owner.
This is more likely if there is a high steel tower pylon in the garden, as it is more likely the subject of a wayleave agreement and compensation has come up.
However, with a less obvious single electric pole or overhead power lines, the thought of claiming a wayleave payment may have been overlooked, or not bothered with.
Can Wayleave Payments Be Backdated?
In some instances, Wayleave payments can be backdated up to 6 years.
Is There a Wayleave on my Property?
You can check with your electric network provider or Openreach to find out if there is a possibility of a Wayleave on your property.
To determine if a wayleave agreement exists on your property, you can request a copy of the conveyancing deed. This can be done by reaching out to the local land registry services or searching for land registry services in your area online.
Wayleave payments are considered taxable income from land and must be reported as such.  As a result, they are often recorded on the land registry.
How to Claim a Wayleave Payment
You can apply to make Wayleave claim yourself.  Visit the network providers website.  You may need to fill in a form.  Or you can email the networks Wayleave officer.
You can find contact details for each energy network company here or visit the direct links to the companies listed above.
Should I Use a Power Line Firm to claim my Wayleave?
There's also the option to use a firm to make a wayleave claim.  Whether this is worthwhile or not may depend on your individual circumstance.  A firm may take a one-off set fee or a percentage of the agreed payment so you could potentially get less if they can't negotiate a higher payment than you could yourself.
The main firms are:
PCC (examples of how much wayleave paid)
Sherwill Drake Forbes
The Powerline Advisory Group
Thomson Broadbent
Remember to do your own research into each one.
Sometimes firms contact households alerting them to the fact they may be entitled to a wayleave compensation payment.  They may offer to do all the paperwork for you.
Still, there's nothing wrong with contacting the energy network company in your area and seeing if you can easily do it yourself and potentially get a bit more.  It's a pretty easy process to claim.
Ultimately it's a personal choice and for some, it's just easier to leave in the hands of a firm and wait for payment.
Frequently Asked Questions
Do You Get Paid for a Telegraph Pole In Your Garden?
It's possible to receive a wayleave payment for having a telegraph pole in your garden, assuming the payment has not been claimed by a previous owner.
To determine whether you are eligible to claim a wayleave payment for a telegraph pole in your garden, contact the relevant utility company and inquire about their wayleave agreement policy.
What is a Wayleave Agreement?
A wayleave agreement is an agreement between the property owner and the utility company which owns the equipment which they want to place or already have located on or passing over the property.   The agreement entitles the landowner to an annual payment of rent.
How Long Does a Wayleave Agreement Last?
Wayleave agreements are typically ongoing with no specified end date.  A wayleave agreement is typically a yearly contract between the utility company and the property owner, and it can be terminated by either party with a notice period that is usually up to a year.
Can You Get a Wayleave on Overhead Wires?
You can get Wayleave payments for powerlines passing over your property.   If you have  6-24 powerlines passing over your property you can expect to get a higher payment than just 2 or 3.
The amount you will receive depends on the value of your property of which you will receive a percentage.
What is a Wayleave Officer?
A wayleave officer is a designated job role at the energy network companies to deal with wayleave payment compensation claims and agreements.
Have you had a Wayleave Payment?  Did you claim yourself or use a firm?
Feel free to share your experience in the comments and also if willing, how much you were paid.