Are you seeking an opportunity to earn £170 just by using a credit card?
American Express has an exceptional offer for new Preferred Rewards Gold cardholders – a chance to earn 30,000 bonus Membership Rewards® points, equivalent to around £170.     (Normally its a £125).
If you know how the offer works and are looking for a quick referral link you can use this Amex Refer a Friend Link.
However, read on for more information on how to get the most out of this offer if its new to you.
Disclaimer: This post may contain affiliate or referral links that earn me some commission if you sign up through them.  However, this is at no extra cost to you.  Read more here. Thank you if you do use them as they help to support my blog.
American Express, renowned for offering quality credit card services, is now offering an even more lucrative deal for new sign-ups to their Preferred Rewards Gold Card.
 It's an excellent opportunity for those who plan to use a credit card frequently and want to enjoy the perks that come with it, but also for those who just want to take advantage of the sign up offer and profit £125 to £170 (depending on the points offer).
Please note, applying for this card will require a credit check, which can impact your credit score. This is something to bear in mind if you're considering taking out a mortgage or other large financial product. 
How to Claim the American Express Preferred Rewards Gold Card Offer
Signing up for an American Express Preferred Rewards Gold Card can be a simple and rewarding process.
To accommodate different preferences, I've provided two types of instructions below. First, you'll find a concise guide for those who prefer simplicity. 
Following that, I've detailed each step for those who appreciate more comprehensive instructions.
Preferred Rewards Gold Card Offer Instructions
The sign-up process is straightforward:
Sign up for an American Express Preferred Rewards Gold Card through this referral link.

Receive and activate your new card.

Spend at least £3,000 with your new card within first 3 months.

Wait for the 30,000 bonus Membership Rewards® points to arrive in your account.
Sign up to American Express refer a friend bonus rewards here.
Remember, applying for this card will require a credit check. 
For more free money offers you can sign up to our dedicated mailing list.   Some of the best offers come and go quite quickly.
Detailed Steps to Claim the American Express Gold Card Offer
Here are slightly more in-depth steps to claim your 30,000 bonus Membership Rewards® points. The initial sign up is pretty straightforward,
Sign up for an American Express Preferred Rewards Gold Card:

Click on the referral link provided by an existing American Express cardholder. This will take you to the American Express application page. Fill out the application form and submit it.

Receive and activate your new card

: If your application is successful, American Express will send you a new card which will need activating to confirm you have received it. 

You can confirm online via a web browser or the AMEX app.
Spend at least £3,000 with your new card

: To qualify for the full 30,000 points reward, you must spend at least £3,000 using your new card within the first 90 days of application. 

Wait for the 30,000 bonus Membership Rewards® points to arrive in your account:

After you've reached the spending threshold, American Express will credit the points to your account. This process can take some time, but once the points arrive, they're yours to spend.
Additional Rewards to Claim
In addition, cardholders also get £5 back on up to two Deliveroo orders each month and 4 free priority airport lounge visits. 
Remember, the rewards cannot be used to cover the minimum payment due on your account, and be mindful of the impact that applying for new credit can have on your credit score, particularly if you're planning to apply for a major financial product like a mortgage in the near future.
Annual Charge
While the American Express Gold card is free for the first year, there is £160 annual charge annually thereafter.
If you keep the card longer than a year after taking advantage of the refer a friend bonus, you will have to weigh up the pros and cons to see whther its worth holding.
Charges and benefits change often so I suggest 
American Express Gold Card Benefits
As of the time of writing here are the Amercian Express Gold Card Benefits which you get for free in the first year and will have to weight up against the annual charge if you want to continue using.
Here is a list of the current benefits:
Earn Membership Rewards Points

: Receive points for every pound you spend on the card. This includes 1 point per £1 on all purchases, 2 points per £1 spent directly with airlines or in a foreign currency, and 3 points per £1 spent at American Express Travel.

Points Boost

: Get a bonus of 2,500 Membership Rewards points every time you spend £5,000, up to a maximum of 12,500 bonus points per year.

Priority Pass Airport Lounge Access

: Enjoy up to 4 complimentary airport lounge visits each year at over 1,300 airports worldwide.

Access Exclusive Experiences

: Benefit from early access to tickets for events, gigs, and films, as well as exclusive access to unique experiences via the Eat Life website.

Amazon.co.uk Gift Card

: Use your bonus Membership Rewards points for an Amazon.co.uk Gift Card or to offset the cost of your favourite products at checkout.

Points Toward Purchases

: Utilize your points to offset eligible statement purchases or buy Gift Cards at select merchants like Selfridges, Harrods & Currys PC World.

Exclusive Amex Offers

: Get personalised offers from a wide range of retail and travel partners.

Deliveroo Benefit: Enroll to get £5 back on eligible Deliveroo purchases twice every month.
Each of these benefits enhances the value and convenience of the American Express Gold Card, making it a great choice for a variety of cardholders.
Always double check the latest charges, benefits and terms and conditions before making a decision.
Credit Checks and the American Express Gold Card
When you apply for the American Express Gold Card, keep in mind that it involves a procedure called a credit check. This review of your financial history allows lenders to determine how much of a risk it would be to lend to you. 
The card issuer will perform a 'hard' credit check in this case. This type of check will leave a mark on your credit record that other lenders can see. 
Having numerous hard checks in a short time period can lower your credit score, making it harder to get approved for credit in the future. 
It's important to consider the implications of a credit check when applying for a credit card. Make sure to space out your credit card applications and only apply when you really need one. This is especially crucial if you are planning to take out a significant financial product like a mortgage in the near future. 
For more information on credit checks, you can read more from MoneySavingExpert Credit Scores.
I use the MSE Credit Club to keep a track of my credit score for free.
Recommend a Friend to American Express
As an existing American Express cardholder, you have the unique opportunity to benefit further by introducing others to this service through the "Refer a Friend" scheme.
Here's how the programme works:
Recommend a friend: If you're a current American Express cardholder, you can refer others to apply for their own American Express card.
Friend applies and meets criteria: Once your friend successfully applies via your referral link, activates their new card, and meets the spending requirement, the benefits begin to roll in.
You both earn rewards: Upon your friend's successful completion of the criteria, both you and your referred friend will receive a reward, making this a mutually beneficial opportunity.
This program doesn't only provide your friends with a reliable credit card service but also presents a financial advantage for both you and your friend. 
Who is American Express For?
American Express caters to a broad audience, particularly those who value earning rewards and prefer premium benefits from a credit card. 
If you're someone who frequently travels, shops, or dines out, you may find the rewards program offered by American Express particularly beneficial.
The company is renowned for its exceptional customer service and wide acceptance around the globe, making it a compelling choice for international travellers. 
Moreover, the "Refer a Friend" scheme and the opportunity to earn Membership Rewards points on every pound spent can make your purchases more rewarding.
However, it's crucial to remember that this card is most beneficial if you pay off your balance in full each month, as interest rates can be high. 
Additionally, the card carries an annual fee after the first year, so it's best suited for those who'll use the card frequently enough to offset this cost through earned rewards.
Comparing American Express with Mastercard and Visa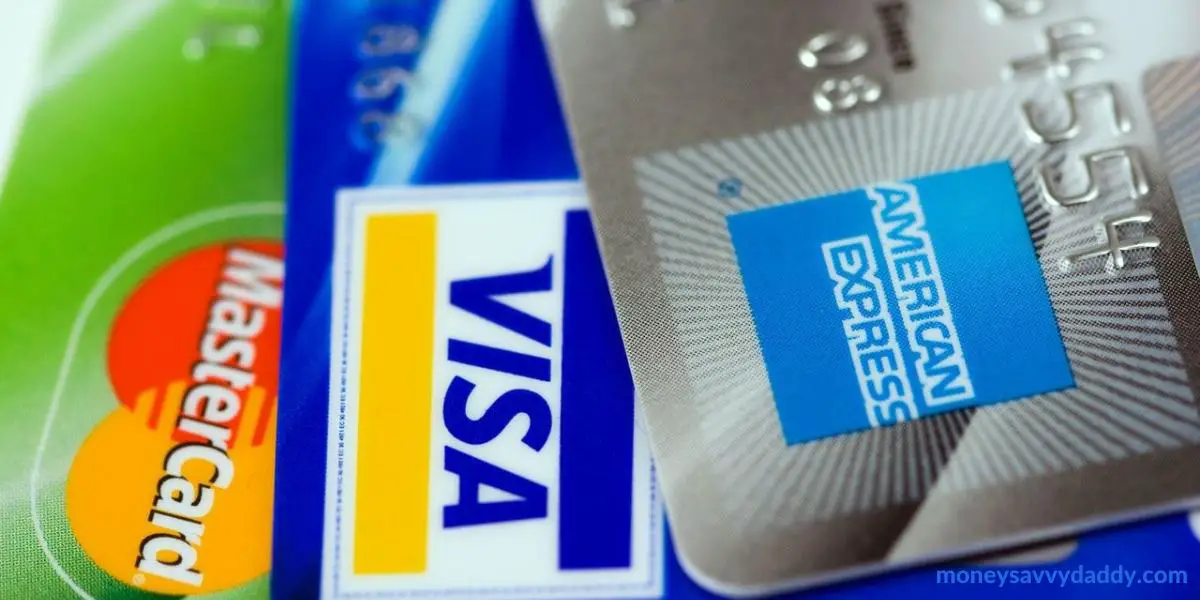 American Express, Mastercard, and Visa: three dominant players in the credit card market with their unique characteristics and shared features. Understanding how they differ, and where they align, can guide you in making an informed decision.
Acceptance:

Mastercard and Visa are more universally accepted worldwide, which could be a crucial factor depending on your lifestyle or travel habits. However, American Express has been expanding its global network, reducing this gap.

Card Issuance

: Visa and Mastercard don't issue cards themselves; they operate as payment networks, partnering with banks and other financial institutions to issue their cards. In contrast, American Express acts as both the card issuer and the payment network, giving them more control over the card's features and benefits.

Reward Programs

:American Express is often celebrated for its robust rewards programs, offering generous points, travel perks, and exclusive experiences to cardholders.

Card Security

: While all three providers prioritize security, they approach it slightly differently. 
For instance, American Express cards have a 4-digit Card Identification Number (CID), located on the card's front, acting as an additional security layer for "card not present" transactions.
This is akin to the 3-digit Card Verification Value (CVV) on Visa and Mastercard, located on the back of the cards. 
These codes validate that the actual card is in the cardholder's possession during a transaction, offering protection against fraud.
Summary
Each card network has its unique advantages and possible downsides.
If you frequently travel abroad, a Mastercard or Visa might offer broader acceptance.
However, if you value reward points and exclusive perks, an American Express card may be more suitable. 
Related Offer
Another similar type of offer is the Vanquis refer a friend free £25 referral, a credit card on which you only need to spend a £1 to get a £25 credit.  You can also invite friends and family and earn more credits to your account.
Conclusion
Claiming this free 30,000 points offer is a relatively quick and easy way to earn rewards, which can be valued at approximately £170 which you then spend on an Amazon gift card.
The card is free for the first year, making this offer even more appealing. 
However, please use this credit card responsibly and remember to consider the annual fee that applies after the first year.