Whether you are looking to sell clothes for cash or just having a clear-out, making money from used second-hand clothes is certainly an option.  The average woman has £500+ worth of excess clothes, not including the rest of the family.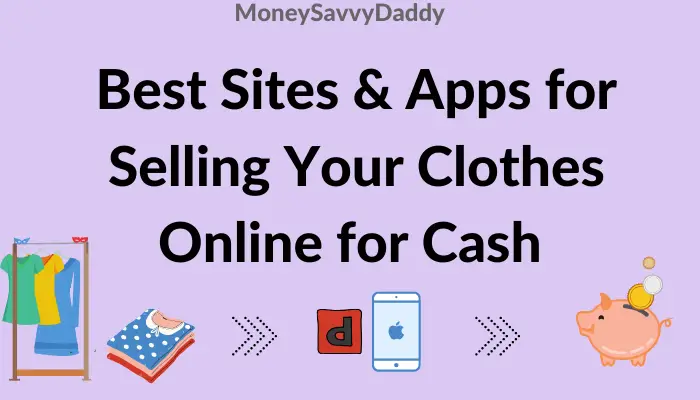 Most of us have at least some items we've brought and never worn.  Maybe you have quite a few if you are a frequent impulse buyer who's not quite so keen on the new items when you get home and maybe didn't get round to returning them.
Combined with our body sizes and fashion tastes constantly changing it's quite likely you have some clothes you never intend to wear again, but there they still sit at the back of your wardrobe.
Fortunately, there are a number of clothes selling platforms these days.  It's just a matter of picking the right one to sell your old clothes so you get the best price as well as sell them quickly and easily, and in some cases for no fees.
Best Apps For Selling Clothes
Pretty much all the sites listed have an app for selling clothes.  But when it comes to the best-dedicated clothes selling apps I've narrowed it down to the following 2 options, Depop and Vinted.
Depop

 
Depop is a social marketplace app specifically for selling clothes.   It has a worldwide audience of millions.
More geared towards a younger adult audience and particularly popular with the 15-26 age range.
Depop markets itself more towards unique fashion items, Streetwear and vintage clothes.  However, you can sell all types of clothes and brands on there.
How Depop Works: Depop is very much like a social app.  You set up your shop just as you would a social media profile.
You can then list your items by taking photos or videos via your phone very much like Instagram.
There are options to connect to your other social media profiles and follow friends.
Ideal for selling rarer and unique items, but you will see all sorts selling on there.  Bundles are also popular.
They suggest using it for selling odd items or even starting your own Empire.  It's also used by quite a few celebrities who have set up stores on the app.
So if you are looking to expand your own clothes selling, perhaps sourcing second-hand items from charity shops etc Depop certainly encourages this kind potential.
Fees: It's free to list items on Depop, but you'll be charged a 10% selling fee for any items you do sell.  In addition to this, you'll have to Paypal fees.
Depop review rating: Via Apple App store are 4.8 out of 5 from 260,000+ ratings.
Vinted – Sell Clothes Online for Free
Vinted is available by both Apple and Google Apps as well as your desktop browsers.
Users are generally older on average than Depop.  All kinds of clothes are sold on the platform, especially well known and popular high street brands.
How Vinted Works – Vinted is easy to use.  Just download the app.   Take photos of your items and upload.  Add a description and your price.  Ship your sold items and get paid when the buyer confirms they have received the order ok.  All buyers and sellers communications are carried out through Vinted.
As well as selling, there's also the option to swap items.
Funds are held in your Vinted account until you cash them out which is probably advisable to do as you just never know.
Fees: It's free to sell clothes on Vinted as its the buyers who pay the fees.
Vinted.co.uk App review rating is 4.8 on the Apple App store.
Best Sites For Selling Clothes Online
Depending on the types of clothes you have for sale, these may be the best place to sell your old clothes.  All of them have accompanying apps as well.
ASOS Marketplace
ASOS Marketplace is for the more experienced and serious clothes sellers.
It was initially set up in 2010 for independent brands and vintage boutiques.  it's geared towards established sellers who are running there clothes selling like a business.
You'll need to set up your own online "Boutique" and must have at least 15 listings available at all times.
ASOS Marketplace is ideal for good quality vintage clothes from the 1990s etc.
Fees: £20 a month
Rebelle – a specialist in second-hand designer clothes
Rebelle is an online platform that specialises in buying and selling second-hand designer clothes and luxury goods.
This site is ideal for selling top-end designer clothes.
As you can imagine with these kinds of valuable goods, authenticity is key.   This is where Rebelle comes into its own.
How Rebelle Works: Set up your listings with photos, description and prices.  When you get a buyer you first send your items to Rebelle.  Their experts authenticate the items and if genuine they deliver to the buyer.
Another option is the concierge service.  With this you list items you want to sell at your price expectation, then send your items to Rebelle who will authenticate them.  Assuming they pass, they grade your items on wear and tear and a professional photographer will photograph each item for your listings.  Your item is safely stored in their warehouse and if they pass there professional photographers take photos for your listings.  If not, the items are returned.
No menswear or children's clothing, damaged items and definitely no fakes!
Fees: As you might expect for such a service and access to designer buyers, this comes at a cost.  Pay 17-33% of the selling price.  The concierge service is EUR 15.00
Rebelle Review Ratings are 4.2 out on 5 on Trustpilot with 87% Great to Excellent.  The Rebelle Apple App has a rating of 4.7 out of 5.
Some of the negative reviews relate to people not fully understanding how the service works.  If you are selling valuable items be sure to check the terms and conditions to avoid disappointment.
eBay – Worldwide auction
Selling on eBay is one of the most well-known ways to make money from home.   As the world's largest and most well known online auction eBay is suited to selling pretty much everything to a UK and worldwide audience of millions.
Private sellers can list up 1000 free listings a month but you will have to pay final value fees of 10%.   Plus as sales are more likely not to be local pick up and drop-offs for cash you'll also be likely to incur additional Paypal fees.
There will be people looking for all kinds of clothes in the auction.   Higher-end brands will tend to do well.
A good to get an idea of the selling prices for your items is to use the Advanced search function and tick the box for "sold listings".
Fees: 1000 free listings a month but you will have to pay 10% final value selling fees and Paypal fees on top.
Free Listing Sites and Apps to Sell Clothes Locally For Cash
As mentioned above under the best clothes selling apps, it's free to sell on Vinted.
However, there are other options to sell clothes online for free, albeit they are not solely dedicated to clothes.   Which is may make them extra useful if you have other household items to sell.
Shpock – Car Boot App
Shpock is an online boot sale app and web site that enables you to sell all kinds of items, including clothes in your local area.
How Shpock Works – It's free to set up an account and list your items either individually or in bundles.    Options are available to pay to promote listings in various ways.
As with real-life car boot sales, expect hagglers, so consider that in your initial pricing.
Buyers and sellers arrange delivery or drops offs between themselves.  Payments are made in cash.
Shpock review rating is 4.5 on the Apple App store, from 67,000+ reviews.
Preloved – Free Listings In Uk
Preloved is a free online classified website based in the UK.
How Preloved Works: Once you've set up an account and profile you can place as many ads as you like for no fees.  Each ad can have 3 photos.  There is the option to upgrade for just £5 a year and then be able to post an unlimited number of photos per ad and use the message facility immediately rather than wait 12 days.
All communication with the buyer and seller is done through Preloved.
Emphasis is on selling locally, so you may be able to save on postage if it's a local pick up or drop off.  Transactions are also more likely to be in cash.
Potentially better suited for bulk items or clothes lots that would be expensive to deliver.
Click on Categories and you'll see the category for "Clothing and Jewellery"
There are further subcategories:
Preloved Review rating is 4.2 on Trustpilot with 85% of reviews rating Great to Excellent.
Bad reviews were 9%.  They highlight to be aware of being charged the £5 on a recurring annual basis.  Others appeared mostly to be related to bad sellers which obviously can't be helped.
Facebook Marketplace & Groups – Free listings
The Facebook Marketplace and selling groups are an option for selling locally. Might be better for bulk items or items not worth the cost of posting.
Selling on the Marketplace is quick and easy.
If they are local buyers it's easy for them to pop round and pick up the item, or to even come and a have look before deciding.
Join local groups related to nearby cities and towns with your local radius of potential buyers.
Tip: Local parent groups are popular for selling kids clothes.
Fees:  It's free to list so worth a go.
Sell Clothes By Weight
Some people love sorting through clothes and listing individually, others don't.  Maybe you've already cherry-picked the best items and just want a quick sale of what's left.  Or perhaps what's left isn't of decent enough quality to sell individually.
In this instance, you can sell your clothes by weight, but it's better to do so via an outlet in your local area.  The amount they are worth would be significantly reduced once taking account of postage costs.
It's a tricky area sending them off to any online company because they may not well pay you for the amount of weight you send if it turns out they don't accept some of the items you've posted, and they won't send them back either.
Go to Google and search "cash for clothes + your local area", e.g "cash for clothes Cambridge" and you'll see a list and map of local clothes buyers.  Some might even have dedicated shops for you to drop them off at.
The expected rate is around 50p a kilo.
They may also accept old belts, paired shoes, wallets, purses etc
Expect them to have a quick look through the bag, so don't fill with rubbish.
For 30p a kilo my local cash for clothes also accepts for 30p a kilo a lot more, from bed lined, old curtains toys, mugs, small electrical items and much more.
Check your local clothes, buyers, web site if they have one to see if you might be able to clear more too.
Sell £500 Worth of Used Clothes
A survey by clothes selling site Patatam discovered the average woman has £500+ worth of clothes she no longer wears.
Keeping some items for sentimental reasons and reminders of good times.  Plus holding on to clothes that don't currently fit but that they hope they can fit into again one day.
If you have people in your household, including partner and growing kids, it's quite possible you have even more in the way of excess clothing.
How much money could you get for all these clothes?  When you look at the prices some good individual items sell for, you might be surprised.
Consider setting yourself a £300-£500 clothes selling challenge.   What would you save it towards or spend it on?
Is it even possible to get that much?  If not what do you think you could get?
Side Hustlers

Most Popular Sites To Sell Clothes 
I asked on my MoneySavvyDaddy Instagram which platform for selling clothes for money and saving community liked best and here's what was mentioned:
@phillppajayne88 – I sell most of my old clothes on Depop, feel you can definitely get more money there than eBay.
@littlepenniestomightypounds eBay – straightforward and easy.
@timeandpencedotcom – eBay for single items, Facebook for bulk as collection is easier than posting!
@lucyy1403 Vinted!  Easy to use and works well with payments and postage.
@jamesanderson_8 Depop – usually takes 2-3 days to sell what you have
If you are on Insta, maybe check out an account like Shopping With Sophie.  She was recommended by one of the above accounts as is a great example of how you can profit even further by buying and selling clothes for profit.
Her tips to me were:
"Make listings stand out and put the effort in to make them look good.  The more you put in the more you will get out"
Conclusion
Are you ready to start selling your own unwanted clothes online?
Let me know of any successes you have in selling used clothes.
I'd love to know what you think of the £300-£500 challenge too, is it possible?