Have a clear-out and looking to sell some of your stuff and wondering what sells best at a car boot sale?
After reading our list you'll be full of ideas of what to take.  Check out our tips so you get the best prices.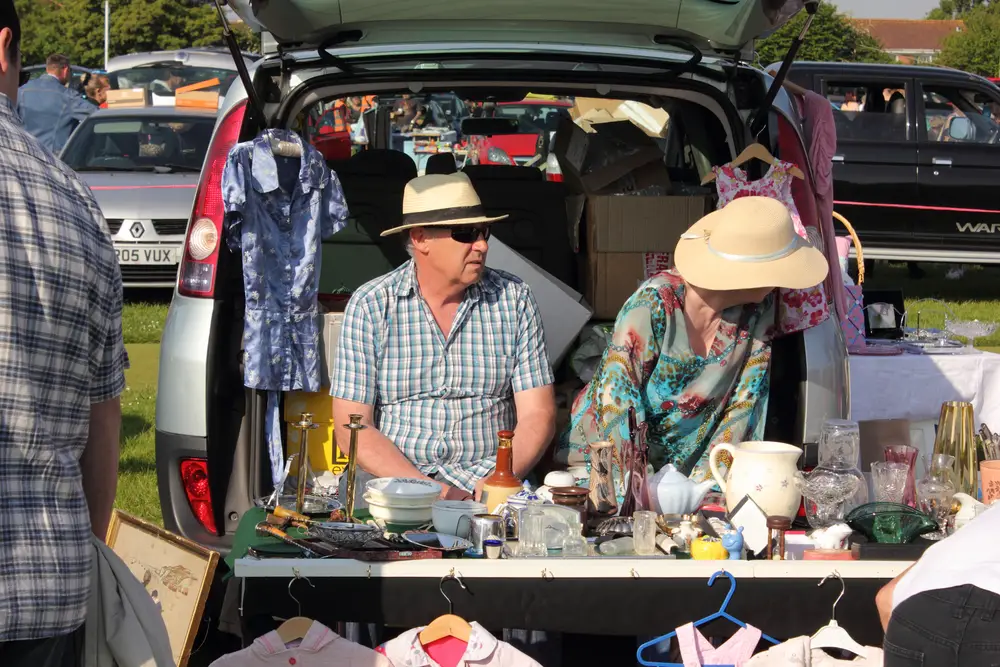 Car boot sales are a great way to get some money for household stuff you no longer want.  We have done them a few times over the years.
People go to car boot sales looking for bargains, so one of the keys is to have lots of small and low priced items in the 50p to £2 kind of range.   Think items that you'd happily sell cheaply without have to list or post as you would if selling them online.
18 Things That Sell Well at Car Boot Sales
If you are looking for what sells car boots we have listed the top 18 categories of items below.
Women's & Kids Clothes
If you have one hang your clothes on a rail so it's easier for potential buyers to look through your items.  If you don't have a rail spread the clothes out as best you so people don't have to rummage through them leaving just a pile of mess.
Try and keep similar coloured and or types of clothes together.
Make sure clothes are clean and consider giving some a quick iron on items it makes sense to do so.
Designer clothes sell well.
Old shoes and bags will also sell.
Expect about £1-2 for most items.  £4-5 for jackets and designer clothes.
If you have any items you feel are worth more check out the best clothes selling apps and sites, including some that offer free listings and others that specialise in designer clothes.
Baby Stuff
Baby clothes and equipment sell well.
Think plastic baby baths, playpens, high chairs, stair gates.
You might get good money for these types of items if they are in good condition.
Make sure they are clean.
Above all make sure the items are safe by current standards.  For example, it isn't advisable to sell old car seats.
Soft Toys
Cuddly toys in good condition will attract the attention of kids.  All sizes both large and small.  Anything that looks cuddly looks appealing.
Ornaments
Ornaments from the house or even garden ornaments often prove popular impulse buys. If they are fragile display them out the way of reaching arms which might risk knocking them over.
Costume Jewellery
Cheap jewellery and better costume jewellery pieces sell well.
Things like beaded necklaces,  charm bracelets, brooches, pins, rings, pendants will all be of interest to some people.
If you know you have more valuable items you'll most likely be better off selling those online.
Watches & Clocks
Cheap watches and clocks sell well.
Make sure they have working batteries or have been wound up if need be beforehand.
If it is a watch made by a well-known brand just double check it's not actually a rarity worth a fortune.  It has been known to happen.
Video Games & Consoles 
Old games consoles are popular as are any games to go with them.   If you have games keep them in the original cases with instructions.
Try and keep all accessories, plugs and cables together.
Homewares
All kinds of homewares sell really well at car boots.  Anything you've had around the home but no longer wants someone else most likely will.
Homeware Examples:
Cushions
Lampshades
Rugs
Throws
Mirrors
Glass Jars
Blankets
Duvets
Electrical Goods (In good safe working order)
Kitchenware examples:
Mugs
Beer glasses
Cutlery
Plate sets
Pots and Pans
Chopping Boards
Toys
Plenty of kids are tagging along with their parents and cheap toys may catch their eyes.  Some children may have specifically been given or have brought some pocket money specifically to buy their own bargains.
It can be good to display toys on the floor so passing kids get a good view and feel more comfortable coming over to have a look.
Lego sets, especially if you have the box and all the pieces.
Cars, playsets and action figures, electronic toys etc.
If you have any boxed vintage toys consider checking the values beforehand as they may be worth more than you'll expect.
Small kids bikes and
Consider everything in good clean condition but make sure they are safe to be handle by children.  Not broken in any way.
Old Tech and Accessories
Old mobile phones, tablets and related accessories.   If possible charge up the devices to show they are in good working order.
Sell with the original packaging if you still have it.
Tools
Tools for D.I.Y around the house, or tools to fix the car.
Garden tools and garden accessories are also popular.
You could also take plant pots, planters, hanging baskets.  Anything in good condition.
Make sure you have cleaned them up.
Cameras & Photo Frames
Old cameras in working condition will attract interest.  If it's a digital camera have batteries to show it works and include memory cards if you have spare ones and charge accordingly.
Photo frames of all kinds.
Furniture
Items of furniture such as tables, chairs, small drawer units etc we sell.  Smaller items are more suitable.  Coffee tables rather than dining tables kind of sizes.
The main issue with furniture is that larger items take up space and may limit how much stuff you can display overall.
Cosmetics/Toiletries
All types of unused cosmetics, toiletries and perfumes sell well.  Anything you've brought and not used or been gifted.
People even buy empty perfume bottles.
Collectables & Hobby Related Items
Consider classics like old coins and stamps.   But anything that might appeal to a passing collector.  Bearing in mind all kinds of things are collected and many are covered in other categories, like boxed toys and old mobiles. too.
Also, items related to popular hobbies, for example, fishing and sports equipment.
Books
Cheap books are likely picked up.   Excellent quality non-fiction books are generally worth more than your standard fiction titles so you might get more for those trading in on the bookselling apps.
Traders too will likely be interested in these non-fiction titles in brand new conditions.
Other more common well-read fiction books might go for 10-20p, maybe 50p.
Bookselling apps offer little to nothing for fiction paperbacks so selling them at a car boot is a good option.
CD's/DVDs/Vinyl
While not as popular as they once were CD's and DVD's are still commonly sold at car boots.  Don't expect to get much for them so consider offering multi-buy offers.   In a world of streaming music & movies, some people may even want just want the discs to use to recycle for crafts or to use in the garden to keep pests away.
Disney DVDs might attract the interest of some kids.
Expect about 10p for CD's, maybe 20-50p for DVDs.  Box Sets more.
If you have any less mainstream DVDs in excellent condition you could consider selling them online or at least scanning a few quickly to see what they are worth at via the best sites and apps for selling DVDs.  It's usually free to send them off and you might get £2-£3 or more for some unusual titles.
Vinyl records have made a bit of a comeback the last few years.  Dealers will be on the lookout for rarities so be aware if you have any promos or lesser-known but sought after releases.
Musical Instruments
If you have any musical instruments from school recorders to guitars.  Also, include anything that comes with them for safe storage and keeping.   Combine with any related books or other items.
Car Boot Sale Tips
Have you ever been to a car boot and been surrounded as soon as you park up?  To a beginner, it can feel a bit like the Walking Dead when they surround your car.  These are mostly dealers who are looking to grab bargains.  Don't be in too much of a rush to sell at the cheap prices they offer.   In fact, they may well be giving you clues as to what items are most of interest to resellers.   Be clear with your pricing and don't feel pressure on the spot.
Clean it – giving items quick dust or wash will help to make items more sellable.
The more items you can offer to sell the more you can expect to sell.  Remember you are limited in how much you can display so consider leaving larger items at home if it means you can display a lot of smaller items in its place.
Take plenty of change and maybe a few £5 and £10 notes.  Keep your money close by at all times, either in your pockets or a small bag or money belt.
Display your items in a presentable fashion.  Look appealing to passer bys.
Consider multi-buy offer signs.  If you have a lot of anything like books or DVDs price offer a discount if people buy 3 or 5.
Take a large table to display your items.  Large collapsable tables are best.
Expect people to haggle so up the price a little when people ask and expect to get knocked down.
Know your prices but don't label them directly, instead use signs you can easily move or change if you want to change the price.  You could have signs up for some groups of items    You could make a list of key items where you have a price in mind below which you'd rather keep.   Make sure anyone you are with also knows the minimum price.  In case they flog it for next to nothing.
If you don't label things with prices consider having a sign inviting people to ask as some people are too shy to ask.
If you don't want to mess around with 10p, 20p transactions set a minimum price of 50p or £1 but let people buy multiples, e.g 4 books for £1.  5 CD's 50p.
Take some spare carrier bags in case some customers want to buy a few items from you.  You could even charge a little extra for it.
Mirrors – If you are selling clothes a full-length mirror is always a bonus. Or a smaller mirror for jewellery.  If you don't have one, see if another stall nearby does and if people can have a quick look.  They most likely won't mind as people will see what they sell too.
Smile – Be friendly and approachable.
Have fun.
Arrive early and ideally choose a spot with the highest footfall.
Beware of theft.  Either of your money (keep it on you) or items from your stall.  Don't get easily distracted.
Spread your items out as much as possible so everything is on view.  Don't bury stuff in boxes and expect people to dig through just to see what's there.
You'll likely sell the most items in the first couple of hours so plan as to how you can pack your car with the thought of quickly displaying as many items as quickly as possible upon parking up.
Take blankets so you can display stuff on the floor.  Make sure people can still get easy access to your table.
Take your own food and drink.  Otherwise, you might be tempted to spend your profits on bacon sandwiches.
If you have anything fragile, that might be broken, consider putting it out of reach so you can remind anyone who wants a closer look.
Resellers will want most things in brand new condition.   DVDs, board games, video games, puzzles, and anything similar in s its original sealed packaging.  Amazon FBA traders buy these kinds of items along with non-fiction books to send off to Amazon warehouses.
Frequently Asked Questions
How Much do Things Sell for at a Car Boot Sales?
Many items at car boot sales sell for around 50p to £2 kind of range.  Most people are looking for little cheap bargains.  You may get more money for certain collectables and items in original packaging, but many of the people who specifically want these will be traders who will want to haggle you down so they can resell for maximum profit.
If you have larger items that are more suitable for pick up rather than expensive delivery you may get lucky if the right person interested comes across it.
Like many things though it can vary and depends on what you have.
Is it Worth Doing a Car Boot Sale?
If you have a lot of items to sell to potentially get a few pounds car boot sales can be well worth doing.  Aside from the money car boot sales can be a lot for the family and a great experience for the family.
What Can't You Sell at Car Boots?
You can't sell the following at car boot sales:
Stolen goods
Goods not fit for purpose
Unsafe electrical goods
Counterfeit goods (T-shirts, games, DVDs)
Out of date food (tins, packets)
BB Guns
Nightwear / Underwear
Recalled items
Some car boots may not want you to sell new items you have specifically bought in bulk to resell.
You can sell the odd item of food but you can't attend car boots regularly with the main intention of selling food items without consulting your local authority,
Can You Make a Living From Car Boot Sales?
While many people make a living as traders it is not likely anyone can make a living solely from car boot sales.  More than likely traders will combine car boot sales with other forms of buying and selling such as local auctions and online marketplaces or Amazon FBA.
Can You Sell Crafts at Car Boots
You can sell crafts at a car boot.  If you are making crafts intending to sell at car boots bear in mind most people are looking for cheap bargains and will generally only be looking to pay up to a couple of pounds.  You may be better off selling them elsewhere or online via an Etsy store.