I use a whole range of cashback apps which save me money on a wide range of my shopping and even many other household bills.  Combining all of them together can result in savings of £100's a year.
If ever you wondered why we don't use coupons as much anymore, it's because as times have moved on and technology has improved retailers have switched to offering discounts via online cashback sites and more recently cashback apps.
The problem is unless you hear about the cashback apps directly they are easy to overlook and you unwittingly miss out on some really good discounts at well-known stores while others are making full use of them and slashing their bills.
As a generation that carries our smartphones with us everywhere we go, this has the advantage of never having forgotten the discount coupons having left them at home in a kitchen draw.
Instead, all you need to do is open up one of the below apps from your phone.  In fact, in one instance you don't even need to remember to use the app once it's been set up, it works passively on every qualifying transaction.
Disclaimer: This post may contain affiliate or referral links that earn me some commission if you sign up through them.  However, this is at no extra cost to you.  Read more here. Thank you if you do use them as they help to support my blog.
What is a Cashback App?
A cashback app rewards you via some form of a partial refund on your initial purchase.   The actual cashback rewards may come in different forms depending on the individual app.  Some will pay you cash while others will offset your reward against an existing bill.
Some cashback apps are totally passive, once set up you don't even have to remember to use it when you shop.  Others you will have to scan the product and take and submit a photo of the receipt.
I have explained in more detail below how each individual cashback app works, they just happen to be 3 quite different types.
The Very Best Cashback Apps for the UK
While there's a whole range of cashback apps to choose from, it can be a little overwhelming starting with them all at once and you might end up not even bothering.
Below I have focused on the very best UK cashback apps.  The no brainers I use every time, which includes one you don't even have to remember to use in order to earn the rewards.
It's also worth highlighting that all the apps are free to download.
TopCashback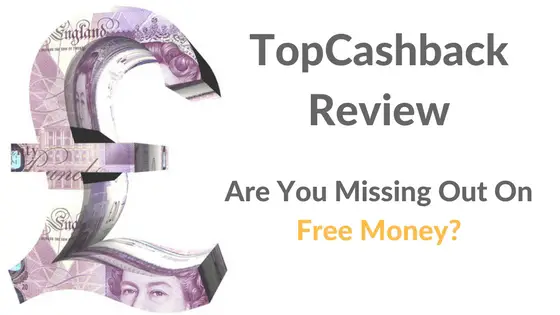 Topcashback is the Uk's most well known and in my opinion best cashback app.
I have been using the website for many years and had hundreds of pounds back in cashback.
Simply log in to the app and search for the store or service you are wishing to use.  With over 5,000 online retail partners you can literally get cashback on almost every purchase you make.
It's also possible to get significant cashback amounts on your
Utility bills
Car and House Insurance
Mobile Phone Contracts
Breakdown cover
Holiday bookings and flights
When it comes to withdrawing your cashback you can take it as cash to your bank account or boost it by taking it as vouchers for one of its many partners.
Find out more in my full Topcashback Review, Or sign up now to get started at Topcashback.co.uk.
Using Topcashback for Online Purchases
Using a retailer as an example, when you are ready to make a purchase just open and login to the app.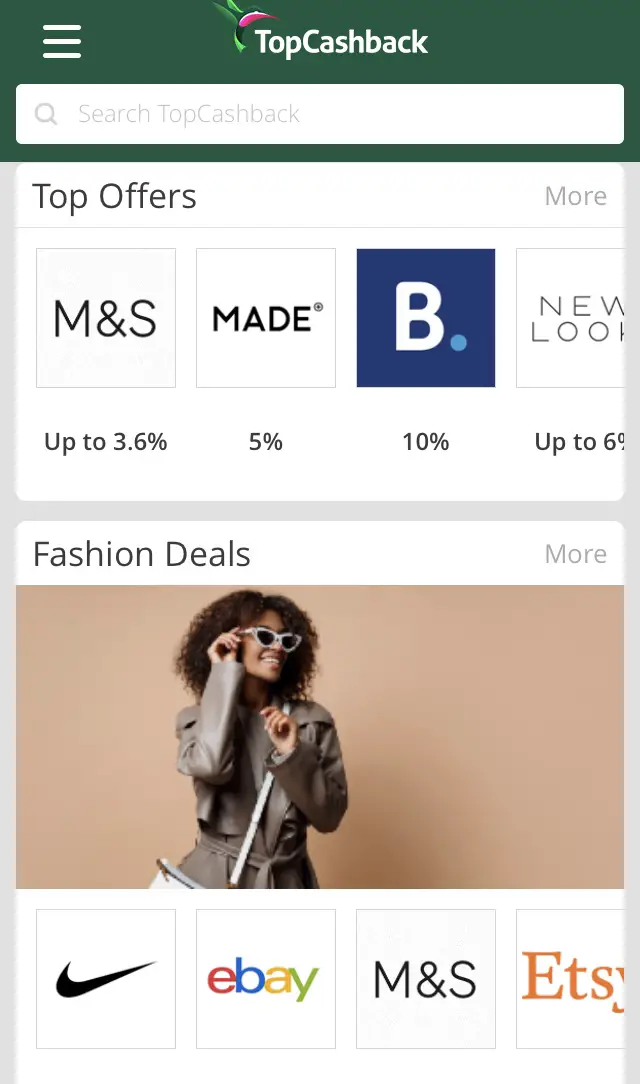 Search for the retailer you wish to make a purchase from, in the below example I use Boots which is offering 2.2% cash back for online purchases
Click the horizontal red banner button which says "Get Cashback Now" and this will open your internet browser and all you need to do now is shop as normal.
Cookies from Topcashback will track your transaction and cashback accordingly.
The cashback usually registers within a day or so, sometimes a little longer.  However, payment can take longer to be received, in some cases many weeks.
With this app, it is a matter of remembering to use it.  For me, it's now a habit and I always check before every purchase.
In recent months I've had the following larger cashback amounts
£60 from my Admiral Car Insurance
£30 from my RAC breakdown cover
£27.40 from M&S
A nice £117.40 just for remembering to visit the Topcashback before going to the site to make a purchase.  This cashback can also be boosted on withdrawal, see my  Topcashback Review for more details.
How to use TopCashback App in-stores
Topcashback instore offers are extremely limited in number.    However, on the instore page, it does say to expect an update soon.
To set up for in-store cashback you need to register your credit or debit card details and select and activate the store you intend to make a purchase in.
Advantages:
You can use to get cashback on almost every kind of expense
Cashback can be boosted on withdrawal if you take as vouchers
You can withdraw as cash to your bank
Disadvantages:
Extremely limited for instore options
An alternative to Topcashback is Quidco.  They are extremely similar, but in my experience more often than not Topcashback offers the higher cashback %'s.    If you like you can check out the Quidco Review.
Airtime Rewards
Airtime Rewards is one of my personal favourite cashback apps primarily because of how easy it is to set up and passively start earning cashback rewards.
All you do is download the app and set it up with any VISA or Mastercard credit or debit cards you use.  From then on you will automatically earn rewards for any purchases you make instore or online with a wide range of its partners.
You don't even need to remember to use it, any qualifying transaction with a partner you make with you payment card will automatically qualify for a reward credit.
Once your cashback rewards total over £10's you can redeem against your mobile phone bill.
The app is free to download and set up.  If you use my referral code you can even get started with a bonus credit of 50p and an extra £1.00 if you make a qualifying spend within 7 days.
My referral code is: HFRVKYUJ
It's actually quite surprising how much cashback is on offer.
For example, I've seen the following:
(Subject to change at any time).
Morrisons up to 7-10% on spends over £30
Boots 5%
Argos 2%
Thorntons 5%
The White Company 5%
Harvey Nichols 5%
Groupon 3%
Pizza Express 5% (just one of many food outlets at 5%)
Plus many more.
Here are some examples of rewards I've received:
A nice 10% at Morrisons:

Advantages:
Works passively, no need to remember to use
Works for online and instore purchases
Generous reward percentages for some well-known brand partners
Disadvantages:
Not as many retailers/partners as the likes of Topcashback for online purchases
Download the App for free to your smartphone at the following App stores:
For a more in-depth review including examples of the cashback rates see my full Airtime Rewards review.
Shopmium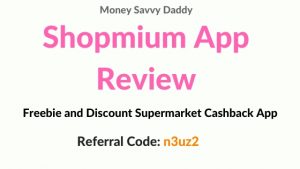 There's quite a range of supermarket cashback apps, but of all of them, my favourite is the Shopmium app.
The Shopmium app lists specific items you can claim for free or at a discounted price.
The way it works is you buy the products as normal, paying the full price at the checkout.   After completing the purchase, let's say when you get home, you simply scan your receipt and each individual item that qualifies for the cashback.  You will receive the cashback you are owed via your linked Paypal account within a day or so.
Download the Shopmium App for free to your smartphone at the following App stores:
You can get started by claiming a freebie offer using my referral code: n3uz2
If you refer any of your own friends and family you will also receive a £3 credit which you can use to offset against the full price you pay for any discounted items you purchase.
The products on the app change often and range from various food products to branded toilet rolls.
This app has a few main advantages and disadvantages
Advantages:
Sometimes offers totally free products
Discounts on well known branded products
Disadvantages:
A limited number of products on offer at any one time
You have to remember to claim the cashback with a set number of days after purchase
Another disadvantage could be if you purchase what turns out to be a very similar looking item but is in fact not the correct one.  However the app does give you the opportunity to scan and check every eligible item.  I personally always double-check before making the purchase.
To see in more detail how the Shopmium apps works have a look at my full Shopmium  App review.
>>See here for more Supercashback apps.
Bonus  Option for your food receipts
SnapMyEats is a receipt scanning app that offers another way to get a little cashback on any shop which includes 2 or more food items.
If you are scanning your receipt to claim the cashback for your Shopmium purchases you may as well consider quickly scanning your receipt via Snap My Eats.
Again, it's really easy to set up.
Each time you scan a receipt you just answer a couple of multiple choice type questions regarding the shop and the items purchased.
Confirm the name of the store and select the answers and that's it.
Earnings can be withdrawn as Amazon vouchers.
SnapMyEats is currently the highest paying of the best receipt apps.
Stack the Cashback Apps to Maximise Savings
Because of the varying ways they work, it's possible to stack the cashback on a single purchase.  This basically meant utilising more than one cashback app on a single transaction.
A simple example would be making a purchase from Morrisons and automatically qualifying for Airtime Rewards cashback rate, which at times as been as high as 10%.
Combine this with some cashback purchases via Shopmium App, which means you could even potentially get rewarded for a free item.
If you purchased 2 or more items of food you could then scan your receipt on the SnapMyEats app, for approximately 20p a time.
Don't forget to use a cashback or reward credit card if you have one for a triple stack.
Another example might be a purchase at Boots, where you can get:
Topcashback 2%
Airtime Rewards 5%
Plus use a cashback reward card
Related Posts:
Using cashback apps is just one of my 82 Frugal Money Saving tips to save £100's a year.
Conclusion
These are the best 3 cashback apps of their type and over the course of a year could save you a £100+, in some cases a fair bit more.
If you rate any other cashback apps as better please do let me know in the comments.