Do you shop at Morrisons and collect the More Card points as part of their loyalty reward scheme??
How much are all these Morrisons More points worth? What's their real value and how much do you have to spend to get them?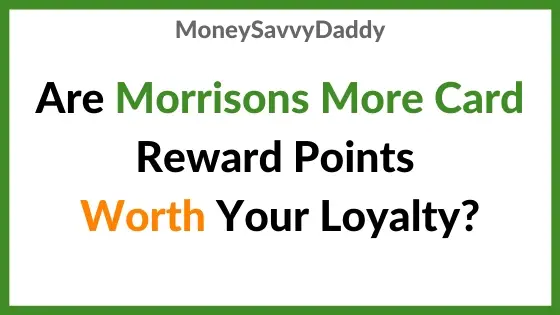 Morrisons ended the Morrisons More Card scheme in 2021.
However, scan down below to "Other Ways to Save" for the little-known 1-10% cashback hack for Morrisions.
Alternatively, check out the current best supermarket loyalty cards.
What Is a Morrisons More Card?  
The Morrisons More Card is a simple loyalty point reward scheme for customers of Morrison stores across the Uk.
The scheme started in mid-2016 replacing the similarly named Match and More reward program.
How to Get a Morrisons More Card
You can either pick up a registration form on a visit to your local Morrisons store.  You'll need to fill it in and when you have you can send it off to a Freepost address.
Or alternatively, you can register anytime online and get started.
How Does a Morrisons More Card Work?
Once you have the card you can start using it to claim the loyalty points on all your Morrisons shopping (subject to a few typical exceptions listed later in the post).
The number of More Points will be shown on your receipt as well as in your online account within 24 hours.
Once you have built up the required amount of points you can redeem the points in the form of £5 Morrisons vouchers.
Morrisons More App
You don't have to rely on using the card, you can instead use the loyalty program via the Morrisons More App.
Watch this quick 1 min 2 second Morrisons More App video below to get an overview of how loyalty scheme works.
Smartphone users can download the Morrison More App here::
As you can see, the review ratings are pretty average.
In particular with the Android App, there are more 1 star reviews than any other rating.  However Morrisons customer service representatives appear to be responding, so if you have any issues they may be able to help or can fix the problem in the near future.
How Much Are Morrisons More Points Worth?
Before looking further into any loyalty scheme I like to get a full understanding of how much the actual points are worth in real money.
Otherwise, the offers and scheme can look really generous when in reality it is far from being so.
How Many More Points Do You Need for a £5 voucher?
You need 5000 More Points to get a £5 More Voucher.
So £5 / 5000 points equals £0.001 per point, which is 1 tenth of 1p.
Examples to Clarify the More Card Reward Points Worth
So, with 1 point equaling 1 tenth of a penny, this means the following points are worth:
5 points       = 1/2p
10 points     = 1p
100 points   = 10p
1000 points = £1
2000 points = £2
3000 points = £3
4000 points = £4
5000 points = £5
As you can see, you need a lot of points to redeem any vouchers.
Your points are effectively worthless until you have 5000 points, which can then only be used to get a fiver voucher.
How to Earn Morrisons More Points
Here I look at how Morrisons More Points work in terms of how much you have to spend in order to earn them.
You can start earning 5 points on every £1 you spend at:
Morrison Stores and Online including gift cards.
Instore cafes
Morrisons fuel stations
So initially the 5 points per £1 spend may look quite a good offering, but in reality, it works out at 1/2p (£0.005p) per £1 spent.
So in real money terms, your points per spend would be worth as follows in these examples:
5p worth from 50 points on £10 spent in Cafe
25p worth from 250 points on £50 worth of fuel
50p worth from 500 points on a £100 shop
Over the longer term you need to:
Spend £1000 to earn 5000 points to gain your £5 voucher.
Do More Points Expire?
If you don't use your Morrisons More account for a year or more your card will be cancelled and More points removed.
Which Purchases Don't Earn Points?
Unfortunately, you don't get More Points on every single purchase you make at Morrisons.
Exempt from loyalty points are such items as:
Carrier bags
Lottery and instant tickets
Online games
Tobacco and related products
 Pharmacy services and Prescriptions
Infant milk or formula
mobile phone cards e top-ups,
Stamps
Car Park Tickets
Fireworks
Online delivery charges
Vending machines
Baby and More Club
The Morrisons Baby and More Club is an extra part of the loyalty scheme which is geared towards saving new mums a little extra on their now increased weekly spending.
Once you are a More Card member you can simply register to activate Baby More..
From Baby More you can expect:
More offers on baby products
Helpful hints and tips
Easy recipes for the babies
Members-only treats
Exclusive freebies
Entry to competitions
If Morrisons More feed you points led promotions, especially for brands, just be aware of any other cheaper alternatives, even if without the More reward points, otherwise it's not really saving.
Remember 10 points is just 1p towards a future £5 voucher.
More for Students
Once you have joined the Morrisons More Card, as a student you can also join the More for Students.
Although you can use any email address to initially set up your Morrisons More account, to qualify for these extra student discount offers you have to verify your More Student account using a valid university email address ending with .ac.uk.
Once joined you can expect:
Student-only offers on some of your favourite products
To earn extra discounts and More Points when you shop
Get hints and tips to help you through the term
Be the first to find out about our exclusive in-store events
Free products and competitions to enter
Feel free to let me know in the comments if they offer much extra that's worthwhile.
Initially, there was an incentive of 5000 points to sign up, effectively a free fiver. This expired October 31st, 2019, but it's worth checking to see if they offer it again or something similar.
More Christmas Savers Club
You can use your Morrisons More account to login and take part in their Christmas Savers Club.
When you shop and pay, you can top up your savings by purchasing digital saving stamps.
Shop regularly and keep collecting the stamps to build a nice total to take as Christmas Savers Vouchers.  These can be used in-store or taken as an e-code to redeem online.
As a reward Morrisons will give you:
£1 bonus when you save £49
£3 bonus when you save £97
This works out at between approximately a 2- 3% bonus depending on which amount you save.
This could be worthwhile if you know you can reach these targets and it helps you to spread the cost of Christmas through the year.
You can check your Christmas Savings balance at any time on your online Account page.
Terms Alert: You need to have purchased the digital stamps by October 31st 2020.  When you receive the voucher it has to be spent in one transaction and you won't receive any change.  You only have between November 6th and December 31st 2020 to spend the voucher.
If you decide to take part, be sure to double-check the terms.
Other Ways to Save at Morrisons – Saving Hacks
As always to maximize savings combine your loyalty point rewards with other savings methods.
First Time Online Customer Cashback
New first time online customers to Morrisons could claim cashback on their first purchase if they visit via one of the best cashback sites, namely Topcashback or Quidco.   I've used both these sites over the years to make an easy £1000+ in cashback, just from the habit of remembering to find a site like Morrisons on a cashback site first and click through to qualify for the cashback and carry on with more shop as normal.
Cashback Apps and Receipt Apps
I use supermarket cashback apps to claim totally free food items or highly discounted promotions.
One I like in particular is Shopmium (full review), which has a tab specifically for Morrisons and shows on a map which specific offers are available at your local Morrisons store.   Plus if you refer any friends, who can also claim the initial freebie, you can use that referral money to claim against any portion of the offer you'd otherwise have to pay for.
Another is JamDoughnut which allows you to buy a gift card to the exact amount of your shop wand rewards you with instant cashback.  At the time of my review I could get 3.5% cashback on a Morrisons shop and even 3% cashback on Morrisions fuel.
There are also a few receipt scanning apps that offer small amounts of cashback and rewards just for scanning receipts.
Cashback Credit Card
On top of claiming loyalty points and any cashback or freebies, I finish the transaction by always paying with a cashback credit card. Whether it's a short term good deal offering like 3-5% cashback on purchases, or just a standard long term offer of 0.5 to 1% credit card cashback, I use every time.
This is only a saving if you pay off your credit card every month and never spend more than you otherwise would just because it's on a card.
Airtime Rewards
For a while in November 2020, there was an offer within the Airtime Rewards app offering 10% cashback reward on all purchases over £30 and 1% under £30.
Although now removed it might be worth checking the app to see if something returns as it's one of the most passive forms of saving.  See my Airtime Rewards Review and Promo code post for full details.
Conclusion
To clarify the main point of this post, 10 points equals just 1p.
So in my opinion, by all means, collect the More Points as free points if you are shopping at Morrisons anyway, but be wary of buying anything extra on a points promotion, or at least fully understand how much (or little) you are really saving.
Now over to you, let me know your views, I love to hear.
What's your view on the Morrisons loyalty scheme?   Is it worth it to you?