Have you ever wondered how you can make money with your shopping receipts?
Well, there was a time using the best receipt apps that I could scan receipts for money and earn the equivalent of £150-£200+ a year.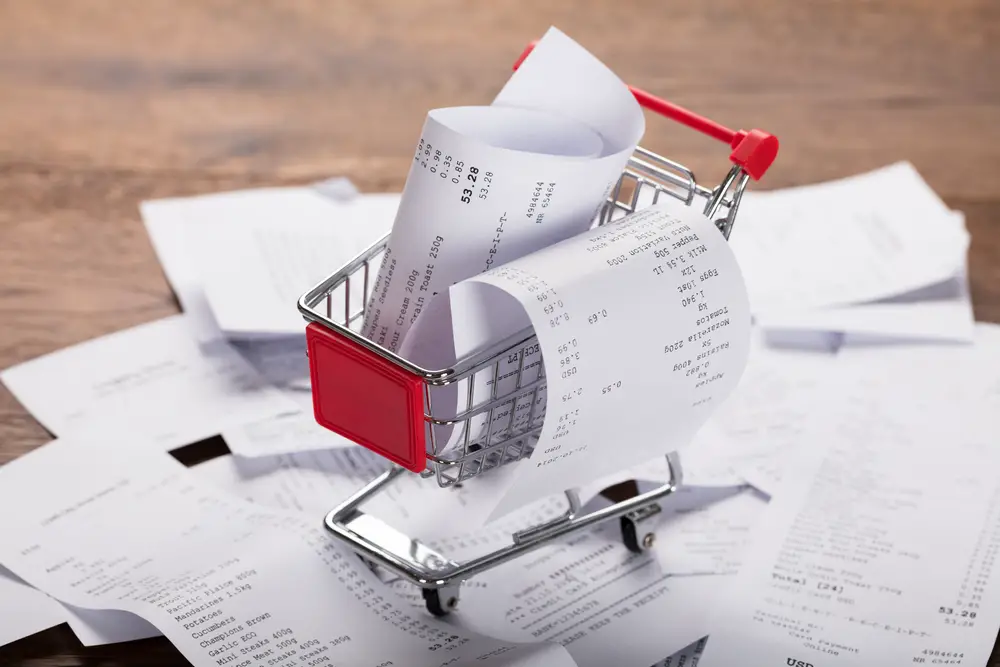 Recently a couple of receipt apps have either closed (Receipt Hog) or stopped paying out (ZipZero).
However, a new one receipt app has come on the scene and I've delved around and found other options that also pay you for your receipts but more importantly are also potentially more rewarding in other ways.
5 Best Receipt Apps to Earn Money
The 5 best receipts apps to earn money from and rewards from are:
Snap My Eats
Shoppix
Huyu
Shopprize
Swagbucks
Below I've ordered the apps in the order I would use myself.
All the apps are really easy to use if you have a smartphone or android phone that can take photos you can effectively use it to scan receipts for money and other rewards such as gift vouchers.
You can also scan the receipts in addition to using supermarket cashback apps. which can also offer substantial savings.
If you are someone who is actively looking to make some money, especially from their phone, you might be interested in the best money making apps for the UK. which offer the potential to earn in the region £150-£250+ a month.
Be sure to also check out my multiple other ways to make extra money from home, targeting another £500+ a month that hopefully everyone can utilise to boost their monthly budget.
For a one-off hit to boost your finances check out all the Free money offers you can claim to make £100's.
What Receipt Apps that Pay the Most?
Below I've put the best receipt apps in order of which pay the most based on my own experience.
Snap My Eats 
Snap My Eats is definitely the best receipt app at present and you don't even need to scan all your receipts.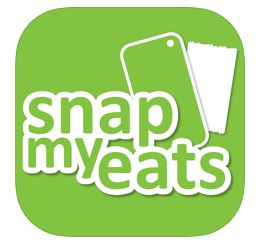 As the name suggests, you scan receipts related to what you eat.  This can be any receipts with at least 2 items of food and drink.
Receipts must be scanned within 7 days of the transaction date.
You'll earn a £1 per 5 accepted valid receipts you scan.  So 20p per receipt.
You can scan any food or drinks receipts up to a total of 15 a month.
Therefore the max you can earn with this app is £5 a month.
You can keep scanning receipts for the rest of the month, but these will only qualify you for entries into sweepstakes.
Snap My Eats Tips
You only submit one photo of each receipt
If it's a long receipt only submit a photo of the portion which includes:
Store name
Items purchased
Item price
Total
Date
The minimum cash out level is £10.00 and can be taken via the form of a gift voucher from a selection of retailers including Amazon, Costa, Google Play, Tesco, Uber Eats and Virgin.
Available for Apple and Android devices (you can also read recent Snap My Eats reviews).
Shoppix
Scan any receipts within 7 days of the transaction.
You can only scan 1 receipt per store per day.
You will be asked a couple of questions relating to the store visit and then rewarded tokens for your receipt.
Receive 30 tokens if you scan the receipt on the day of the transaction and 25 points thereafter.
Therefore depending on the number of tokens, you get you are earning the equivalent of:
30 tokens = 5p per receipt
25 tokens = 4.1p per receipt
Shoppix occasionally offers short surveys from which you can earn scratch cards to hopefully win more bonus tokens.
3000 tokens equal £5.
Cash-out: Via Paypal cash or if preferred opt for gift cards or vouchers.
Download the app or check out the Shoppix Reviews:
Huyu
Huyu rewards points for snapping receipts but only accepts supermarket receipts. 
Scan up to a maximum of 10 grocery shopping receipts a week.
You have 7 days from the transaction date to scan them and you will be paid the points.
The app says you can scan receipts from these stores:
They will also offer you short surveys to earn extra points
Cashout: 500 points you can redeem a £5 voucher or gift card.
Download the App and read Huyu Reviews:
Shopprize (Android Only)
Take photos of any receipts to earn coins.
This receipt app pays you coins for your scanned receipts.  You then use these earned coins to enter the giveaway prizes.  There are 4 daily offers held every 6 hours.
Prizes include free Amazon gift card codes and Google Play as well as a selection of gadgets.
Sometimes there is a waiting list to register.
The weakest option of all the receipt apps, but included as an option none the less.
Reward Sites That Also Offer Receipt Scanning
Swagbucks
Swagbucks offers a whole host of ways to make extra money.  From paying you for playing games to taking surveys and rewarding you for searching the net and lots more.  It's one of the biggest and most popular sites of it's kind and claims to have given away over £272 million in rewards.
Even if you have already joined you may have missed amongst all the money making options they also reward you for scanning your shopping receipts.
You can find where to upload your reciepts in the "Answers" section of the site.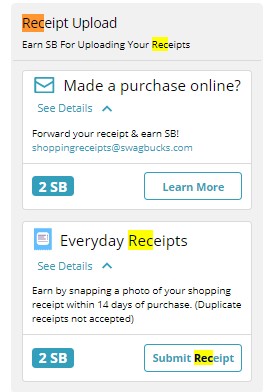 You can submit both online and everyday shopping receipts and be reward 2 Swagbucks or 2 SB for short.
Sign up to Swagbucks here or read my Swagbucks UK review to find out more as well as the current worth of SB's.
Similar Receipt Cashback Apps
You can also combine these savings with supermarket cashback apps, some of which allow you to claim totally free items.    Usually, they work on a very similar basis.  You first purchase the free or discounted items and scan the receipts and scan the barcodes when you get home.
Shopmium
Shopmium is the one I use the most often and if you use my referral code in this Shopmium Review you can claim your first freebie.
You basically check the app for free or discounted products.  Purchase them as normal and then scan your receipt and the product when you get home.  The cashback is rewarded to your Paypal account within a couple of days.
Overall it's probably been my most rewarding receipt related app.
Scan Receipts for Entry Into Daily Prize Draws
2 of the supermarket cashback apps also offer entry into daily prize draws if you scan your receipts.
Receipt App Tips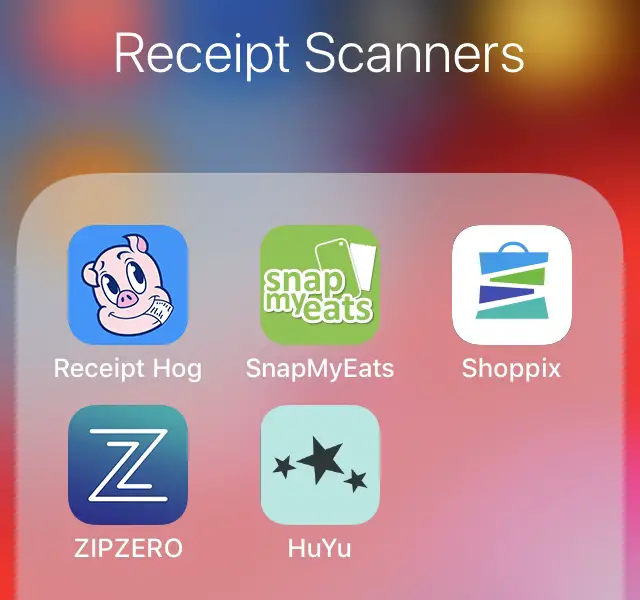 You can scan each receipt on multiple apps.   As you can see in the screenshot, all the receipt apps are in a folder together on my iPhone.
Some of the apps reward you for referrals, so recommending friends or posting on your social media profiles may get some sign-ups.
Cashout often, don't let rewards build too high in case you either forget to use them or the app resets your account due to inactivity for what ends up a long period of time.
Scanning the receipts is relatively easy, and something you could maybe teach the kids to do properly for you.  Some kids like doing little tasks like this, for a while at least :).  It may even pay their pocket money.
Don't sign up multiple members of the household or give or sell the scanned receipts to anyone else to scan.  At least some of the apps have systems in place to detect duplication and you risk losing your account.
How Much Money for Receipts?
It will vary from person to person, but if you get into the habit of scanning your receipts on a regular basis you might earn back £10-£12 a month so in the region of £150+ a year.   Not bad for little pieces of paper usually thrown away.
If you generally spend a lot you could certainly benefit even more from the ZipZero app.
My 4 Months Earnings
From January 21st 2020 to 21st May 2020
Zip Zero £32.08 (

since stopped paying out

)
Snap My Eats £18
Shoppix 3420 tokens = £5.7
Receipt Hog 927 gold coins, equivalent to £2.78 but below the minimum £3 threshold of 1000 coins
HUYU 225 points, so £2.25 but below the minimum payout of 500 points for £5
Total Earnings: £60.81 so an average of £15.20 a month would equate to £182.43 over the course of a year.
I definitely missed some receipts.  Only a relatively small portion of those scanned wasn't accepted.
Bear in mind the majority of my ZipZero rewards were at 1%, and that has since been reduced (and now doesn't payout)
Receipt Apps to Avoid or That Have Closed Down
In case you've heard of them and wondering why they are not highlighted amongst the best receipt apps.
ZipZero – Stopped Paying Out
ZipZero was one of the best, paying 1% cashback on all scanned receipts which you could put towards paying off your bills.  It totally made scanning shopping receipts worthwhile.
Unfortunately, they were hit by the first lockdowns.  The rewards were cut to 0.5%.
However, they have simply stopped paying out.  Nothing has been paid out since April until time of writing November 2020.
Receipt Hog – Closed Down
A popular receipt app for many years, the earning rate declined and I had it rated as one of my less rewarding receipt apps.  Eventually, the app closed down in 2020.
STOREWARDS App  (New but closed to new registrations)
The owners of Receipt Hog have launched an alternative called STOREWARDS.
However, last I checked it was currently closed to registration and reading the reviews there seemed to be a number of people complaining of bugs and receipts not being accepted.
Conclusion
A single receipt app might not earn too much, but when you scan the same receipt on multiple apps in quick succession the rewards can soon add up.
What's your experience with the above receipt scanning apps? How much have you made?
Which scan receipts for money apps do you most recommend?
If you know of any others please do let me know in the comments.