Once you start making quick and easy money from Matched Betting, your partner or other members of your household may also want to get in on the action and start making their own tax-free profits.
Before they start, they will first need to make sure they are signing up to partner-friendly bookies, otherwise, there might be consequences for both of you.  Find out how to avoid them.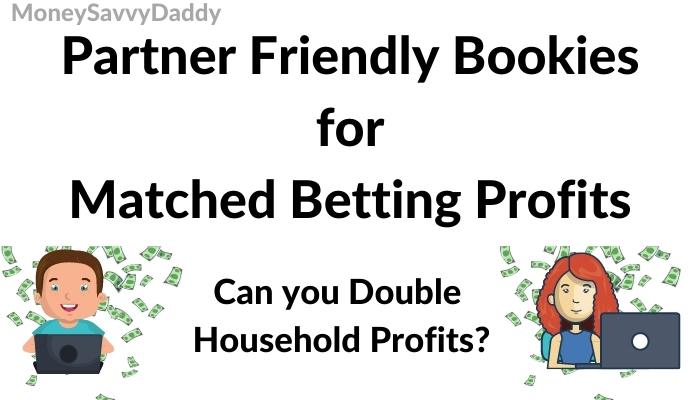 Disclaimer: This post may contain affiliate or referral links that earn me some commission if you sign up through them.  However, this is at no extra cost to you.  Read more here. Thank you if you do use them as they help to support my blog.
Partner Friendly Bookmakers
You'll be pleased to hear there are many partner-friendly bookies.  In addition to those, there are many more which don't appear to be partner-friendly, but actually are and I'll show you how to find out.
What are Partner Friendly Bookies?
Partner friendly bookies are those online bookmakers which allow different members of the same household to have their own individual account with the bookmaker.
How to Check if a Bookie is Partner Friendly
You should always check if a bookie is partner-friendly before signing up if you are the second account within the household.
It simply isn't worth the risk of your partner having their account closed.   At the time, you won't know if your bets completed and you may have lay bets in place.
Usually, if an account is closed, the money in the account is refunded.  It's only if the bookmaker is suspicious of same person multi-accounting that they might withhold funds.
Ask on Live Chat
Your partner can ask on live chat whether they can open an account if someone else in the household already has one.
Here's an example of asking Bethard:
As you can see in the image below, they said opening an account was fine, but they wouldn't be entitled to the welcome bonus if it had already been used in the household.   Note, Bethard is no longer available to Uk residents.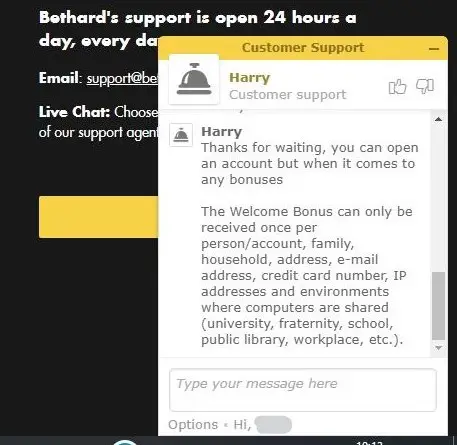 Here's another example, this time of asking Betfred if they are partner-friendly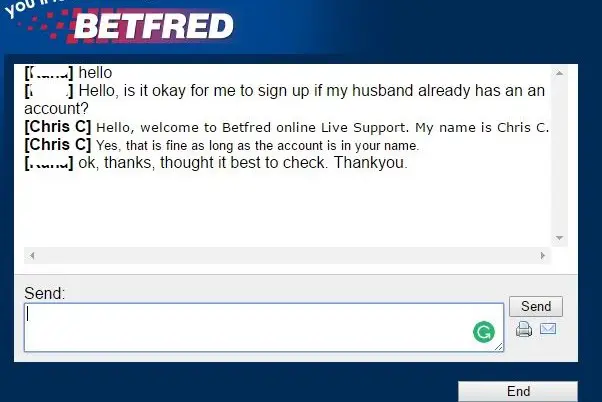 List of Partner Friendly Bookies
BetVictor
Coral
Ladbrokes
Sky Bet
William Hill
Although these bookmakers are considered partner-friendly, always double-check the terms and conditions, as they can change at any time.
To check, go to the bookmaker's website and click however they advertise to open a new account, usually via a link saying something like Join, Sign Up or Register.
Next, look for the Terms and conditions and click to open. If the T&C's aren't on signup pages, they might be on the main web site page, but they will always be viewable somewhere.
There's no need to read them the whole thing, you can quickly find out by just using the "Find" function in your browser and look for words like "household" and "address" within the text.
List of Usually Partner Friendly Bookmakers
When you check whether a bookie is partner-friendly, make sure to ask if you will also get the signup offer.
It's all well and good them allowing you to open an account, but you don't want to find out later you're not entitled to the free bet.  Always screenshot and save the confirmation, just as back up in case of any issues.
10Bet
12Bet
888Sport
Bet365
Betfair (Sportsbook and Exchange)
Betfred (Sometimes they won't give the sign up free bet)
Betstars
Betway
BlackType
BoyleSports
Bwin
Fansbet
GentingBet
Grosvenor
LeoVegas
Mr Green
Netbet
Novibet
Marathonbet
Matchbook (Exchange)
Paddy Power
Smarkets (Exchange)
Sportingbet
Unibet
Virgin Bet
Remember to double-check yourself.  The above list is to be used as a guide only.
Not Partner Friendly
While many sportsbooks and casinos are partner-friendly, some are known not to be.
Here's what their terms said at the time of writing,

In the image above, I used the "Find" function to highlight "address" with the T&C's.  As you can see, the terms clearly state, "no more than one bonus per user, IP address, device, family and residential address,".
At one time, Betbull had a particularly good sign up offer, and although terms stated one per household, some Matched Bettors had more than one attempt at it and there were reports of winnings being withheld.   Some people got away with it because their bets won into the exchange, but it really isn't worth the risk.
Matched Betting is about making a risk-free profit.
What about Partner Friendly Casinos?
The longer people do Matched Betting, the more they tend to move towards making money from casino offers.  These offers can be very lucrative.
As with bookies, you will have to check with each individual casino as to whether they allow the same household customers to take advantage of bonuses.
This will also apply to each reload offer you do.  Very often the T&C's state each offer is one per household.  The last thing you want to do is give them an excuse to not pay out a huge win.
Aspers Casino
FoxyBingo
Gala Spins
Gala Casino
Gala Bingo
Heart Bingo
Jackpotyoy
Monopoly Casino
Starspins
Virgin Casino
It's quite likely there are many more, but do double-check each one beforehand.
Can you double your household profits?
Probably not.  In my very limited household experience, my wife only opened 17 accounts (12 bookies, 2 exchanges and 3 casinos)  and I would say most of them lasted less time than my own.  She didn't overuse them either, as she didn't really get into it for too long.
Looking at some of her record-keeping she still made good money some months:
October £287
November £90.13
December £554.61
January £117.12
February £313.51
March £52.33
April £339.48
After which she kind of stopped.
Is Sky Bet Partner Friendly?
My partner opened a Sky Bet account to get involved in Cheltenham one year.   SkyBet were offering one the easiest offers to profit from.
What she found was, after placing her first bets, her account was closed and money refunded.  Whether this was because it was 2 people from the same household having an account or because she had also signed up via Topcashback, and immediately taken too much value I don't know.  Looking at her bets at the time, she hadn't taken an arb or anything.
So although Skybet is partner-friendly in theory, in practice it wasn't very partner-friendly at all.
Is Bet365 Partner Friendly?
Bet365 is generally considered partner-friendly, which is a good thing as its one of the most profitable bookmakers to profit from when doing Matched Betting.  See the multiple ways to make money from Bet365.  Being one of the most profitable it's certainly one of the most common partner accounts too.
Is Betfair Partner Friendly?
Betfair exchange will always be partner-friendly because it doesn't give offers in the same way as a bookie.
At the time of writing, Betfair's terms and conditions stated the following:
"All promotions are limited to one entry per customer. To ensure that the promotion is limited to one entry per customer, we only permit one customer to participate from each household address,"
However, they are well known to allow partner accounts for the Sportbooks and casino.  Just don't both be doing the same offers, even if it appears you can, for example, if both accounts allow you to make use of free spins etc.  Just do them on one account.
Partner Friendly Sign Up Offers
Most of the above applies to the bookmaker sign up offers, as to whether you get the all-clear to open a second account within the household and take advantage of the signup offer.
Once the sign-ups are complete, you'll need to make sure both household members aren't hitting the same reload offers.
Partner Friendly Reloads
Each individual bookmakers offer will have it's own terms and conditions.  Often these will state they are one person per household offers.
You will need to find a way to communicate with members of your household who is attempting what offers so there's no crossover.  If there is, you will likely both be gubbed and restricted sooner.
Are Partner Accounts More Likely to get Gubbed?
It is probably more likely one or both the accounts will be subjected to being gubbed so you need to be careful between you both.
It's a bit of a lottery.  Some partners do fine, while others report quick gubbings for one or both accounts.  However, we don't know if they are both hitting the offers without due care.
Ultimately, there are 100's of offers a day that can be attempted.  Therefore the best thing to do is mix it up as much as you can.  Don't have both household members hitting the same bookmaker hard every week.
Perhaps alternate in some fashion whos hitting which offer types and bookmakers each week.  Remember, there are lots of ways to make money without free bets.
If there is a really exceptional offer you both want to get involved with, perhaps alternate days or weekends you attempt it.
Tips
Don't appear to be the same person in any way to the bookmaker.
Make sure each individual uses their own:
Email address
Individual bank account
Own device (laptop or mobile device)
Don't open same bookie accounts to close together.  If you are both working through Outplayed Sign-Ups, maybe mix up the order a bit.   Read my Outplayed Review for tips for extra profit from the start that will work for both household members.
Remember, there are always multiple other side hustle ideas one of you try if you are in any doubt about any conflict in both Matched Betting the same bookies.
Related Posts
My Top 13+ Matched Betting Tips and Tricks to Maximise Profits
Tips to Beat the Bookies
Conclusion
While it's possible for 2 people in the same household to both be Matched betting a number of partner-friendly accounts, its best to err on the side of caution if you want the accounts to last longer for both of you.
As you can see outlined above there's definitely good money to made for 2 people living at the same address.