Can you do Matched Betting without free bets?  Yes absolutely you can, and in fact, if you are an existing customer of a bookie there are multiple ways to do so.  Some of which are easier and or even more lucrative than many individual free bet offers.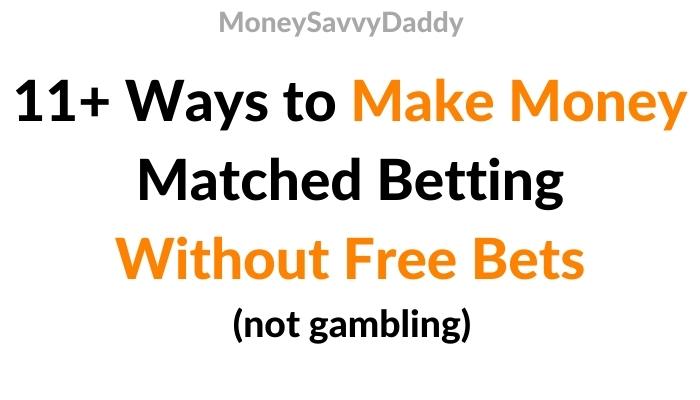 Disclaimer: This post may contain affiliate or referral links that earn me some commission if you sign up through them.  However, this is at no extra cost to you.  Read more here. Thank you if you do use them as they help to support my blog.
Matched Betting Intro
Matched Betting is one of the best ways to make extra money from home in the UK.  If you have never heard of it, be sure to read my Matched Betting Guide first, which is ideal for complete beginners.
It's easy to associate Matched Betting with just the free bets that the bookies offer.  This, after all, is how we all generally start out, placing a qualifying bet and profiting from the subsequent free bet.
Or simply take the Outplayed Free trial which should help you make £40+ tax-free profit completing 2 offers, and then decide if it's something you want to pursue to make a lot more.
However, free bets are just the start.  There are multiple other ways to make money Matched betting even without free bets.  In fact, some can be far more lucrative if they come through.
Even if your gubbed at a particular bookie and no longer entitled to free bets, you can still profit from gubbed accounts using many of the options outlined below.
How To To Matched Betting Without Free Bets
There are so many different types of bookmaker offers you can profit from that don't involve free bets.
1.

Bet and Get Offers
These are very similar to your typical matched betting free bet offers.  You place a qualifying bet, but instead of being rewarded with a free bet, you might receive for example 20 free spins.
This has the advantage that it might well work on gubbed accounts on which you don't qualify for free bets.
This is usually because it's a Casino promotion rather than a sportsbook promotion.  It certainly worked fine for me on gubbed accounts like Ladbrokes and Coral.
2.

Extra Place Offers
Extra place offers are ideal for sports like Horse racing and Golf.   They are a slightly more advanced offer, but one well worth learning, especially for the most well known annual events.
Basically, they involve placing an Each Way bet.
An each-way bet is actually 2 bets combined.
Using horse racing as an example, it's a bet to win the race and a bet to place.
The place bet you will win if the horse finishes in a predetermined top position, typically 3rd or 4th.
Simply use a tool like the Outplayed "Each Way Catcher to find close matches, you back and lay your bets.
The way you profit is for example if the bookie is paying out 4 places instead of 3 as an offer.
The exchange will stick to the normal place rules and will be considering a place Top 3.
So if you get a horse that finished in 4th position, you win your bookie bet.
You would also win the Exchange bet because they will payout on lay bets because your horse didn't finish in the top 3.
This can therefore be very profitable if you hit that Extra Place position.  You are not just getting a refund you are winning a whole bet for a relatively small qualifying cost.
3.

Best Odds Guaranteed
This is an added bonus you might hit if you are betting on horse races that offer BOG – Best Odds Guaranteed.
You can get BOG whether betting singles or Each Way if attempting to hit an Extra Place.   If your bet wins but the odds drifted and were higher at the start of the race than when you placed your bet, the bookie will you out at the higher odds.  This will increase the difference between your original back and lay bets and therefore result in a nice extra profit.
While it's rare to specific target BOG offers, you can hit them via non-free bet methods such as Extra Place bets and arbing.
4.

Early Pay Outs – 2 Up Type Refunds
Like Extra Places, these Early Payout offers can be very lucrative if you hit one.
An example would be a Bet365  2 Up Early Payout on football

You back and lay a team to win.
If the team you bet on goes 2 goals up the bookie will pay your winnings, even before the end of the game.
At this point, you've won your back bet at the bookie.  You're losing the lay bet side, but the match is still playing.  If the other team pulls 2 goals back and the game finishes in a draw or maybe the other team wins, you win the lay bet.  This is very profitable as you win both bets.
The added advantage of this type of offer is that you can part profit even without the result totally changing.
If the team you back and layed goes 2 goals up, but the other team pulls one back, the odds might just be at a price you can profit from.  Using the Outplayed "Early Payout Calculator" you can lock in a profit even before the game has finished.
If you are doing this at decent-sized stakes you can make some really good profits when the results go in your favour and this is all without free bets.
Early Payout offers aren't just restricted to football, they can be on a range of sports.
Tennis is a good one if the matches are high profile as you can bet decent-sized stakes. (Check the bookie rules match up with exchange rules first though)
5. Price Boosts
Price boosts are when the bookie increases the odds of a bet as a special offer to its customers.
Matched bettors can profit from price boosts by betting on them at the bookie and laying off at lower odds at the exchange.  Quick and easy profit.
You can set notifications to be alerted to price boosts posted in the Outplayed forum.
Although price boosts are posted every day, they come into there own for ITV RACE days and especially for big horse racing events.
In fact, for the most lucrative event of the Matched Betting annual calendar, the Cheltenham Festival, I made the majority of my profits from the daily price boosts.  Hundreds of pounds in total.
International football tournaments, such as the Euros or the World Cup can also be great opportunities for large numbers of highly profitable price boosts.
Again, some gubbed accounts may allow you to bet on Price Boosts.
6.

Arbing
Arbing is when the lay odds in the betting exchanges are lower than the odds at a bookmaker.
If we back at higher odds and lay at lower odds we can make a profit.   You can see arb opportunities by looking at the OddsMatcher.  Anything over 100% will be an arb.
However note, bookies frown on arbs and some will restrict stakes on your account very quickly.  They may even close your account when the bet has completed.
This is fine for some bookies as they rarely have offers you profit from, so its no loss.  But think twice about arbing a bookie you use often for other good Matched betting offers.
Check out my sports arb betting post here.  With a decent size bank, you can make £100's on unrestricted stake accounts.
7. Each Way Arbing
Arguably a more discreet way to arb is on Each Way bets.  Sometimes the place bet is an arb.
Again you can use the Outplayed tools to spot these opportunities.
They are generally more common on big events and closer to the event start time when there's more money in the market at the exchange.
8. Dutching
Dutching bets is essentially a form of arbing.
However, instead of using an exchange like Betfair or Smarkets, you place bets at different bookies.
The difference in the odds results in a profit.
For this you use the Dutching Tool at Outplayed to find your matches.
The ideal type of bet is Over or Under 2.5 goals and Both Teams To Score.
When the odds will result in a profit, you bet Over 2.5 goals and one bookmaker and Under 2.5 goals at another bookmaker.
You can sometimes get some good-sized stakes on, especially if its a high profile match and make a good profit.
I always check the odds at the exchange to see if its an arb that way and decide from there which option is the best
Either way, it is a type of arb, but I certainly had more success with this form that I did straight forward arbing.
9. Casino Offers
Casino offers can be a huge source of Matched Betting profits and not a free bet insight.
You can complete Casino sign up offers just as you did Bookmaker sign up offers.  Some will even be at the same bookmaker you have already joined, but the casino section will have a separate sign up offer.
Also, the Bookies have many Casino related reload offers on a daily basis.  These vary from totally risk-free to low and high-risk offers.
The risk-free casino offers are ideal.  Thye might be something like 10 free spins no wagering on winnings.
The risk offers involve wagering and you may incur a loss on these so they may not be suitable for everyone.  Only do what you feel comfortable with.
Outplayed has a whole category dedicated to Casino signs up and daily reloads are in their own category on the Reloads page.
If you are new to casino, be sure to check out my tips for how to make money from risk-free casino offers and other bonuses. 
10.

Bingo
Bingo sign-up offers are another option.  Ideal if you can do in the day time when they are not overly busy.  I made some nice profits from these when I first started out.
Some of the reload offers will also be in the Bingo sections of bookmakers so you can profit from those in addition to the sign-ups.
Extra tip: If you are signing up as a new customer to casino and bingo accounts be sure to check for cashback offers which often can be claimed in addition to the offer.
Of the best cashback sites, the 2 I use most often are:
I've made £100's of extra pounds using these 2 free sites.
Frequently Asked Questions
Does Matched Betting Work Without Free Bets?
Absolutely Matched Betting works without free bets.  There are actually more ways to profit from Matched Betting without free bets than there are with free bets.  The value of free bets has reduced over the years and much bigger profits can be gained from the wide range of bookmakers' promotions we have outlined above.
Can You Do Matched Betting Without Betfair?
If you need an exchange to offset your qualifying free bets, you can use Smarkets or Matchbook instead of Betfair.
Conclusion
As you can see, there are multiple ways to profit from tricks the bookies and profit even without free bets.  Some of these methods are far more lucrative than the free bet offers if you qualify for them.
Some you can even do on gubbed accounts.
Do you know of any more regular ways to profit without free bets?