By far the rarest 50p in circulation today, and by a big margin.
This means it is certainly worth more than face value no matter what condition it is in.
Find out what it's really worth and also how to spot fakes if you are looking to buy one.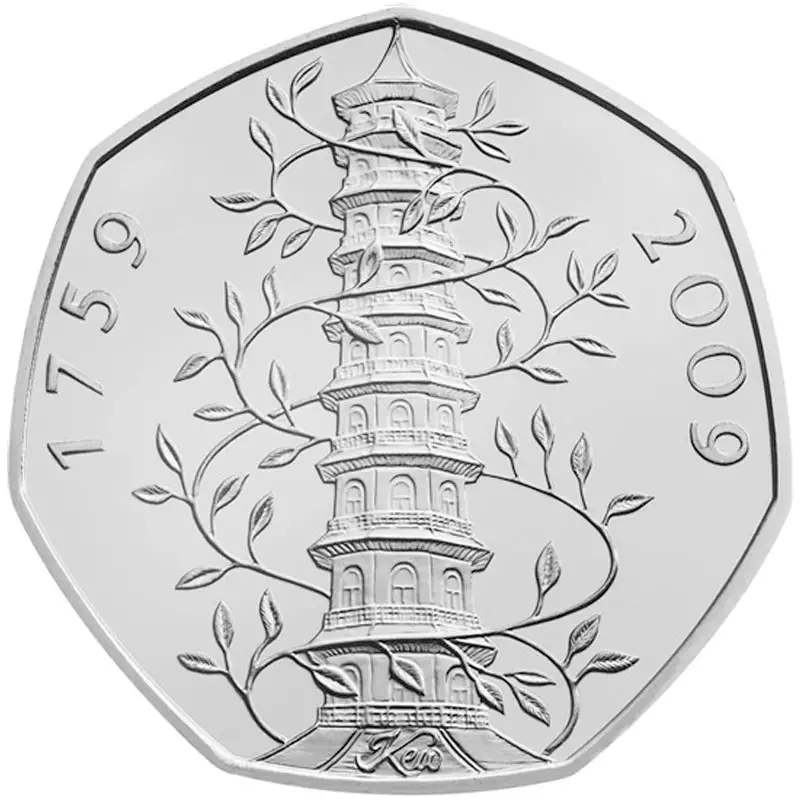 2009 Kew Gardens 50p Coin
Released in 2009 to commemorate 250 years of the Kew Gardens site being in existence.
The Kew Gardens 2009 50p coin is not only the rarest 50p but the rarest coin in circulation in the UK today.   However, it wasn't until 2014 that collectors became really excited about collecting the Kew Gardens 50p coin when The Royal Mint released its surprisingly low mintage.
At the time the mintage figures were released 50p coin collecting was in full swing in the year or two after the releases of the extremely popular Olympic Games 50p's collection.  These were so sought after by collecting that the vast majority were quickly removed from circulation to collections.   So to find out the Kew Gardens 50p was much rarer than the already quite rare Olympic designs generated lots of excitement.
The reverse of the coin, designed by Christopher Le Brun depicts the Great Pagoda in the centre.   The dates celebrating 250 years of Kew are inscribed on either side, with "1759" on the left and "2009" on the right.
A leafy climber plant can be seen loosely encircling the Chinese Pagoda.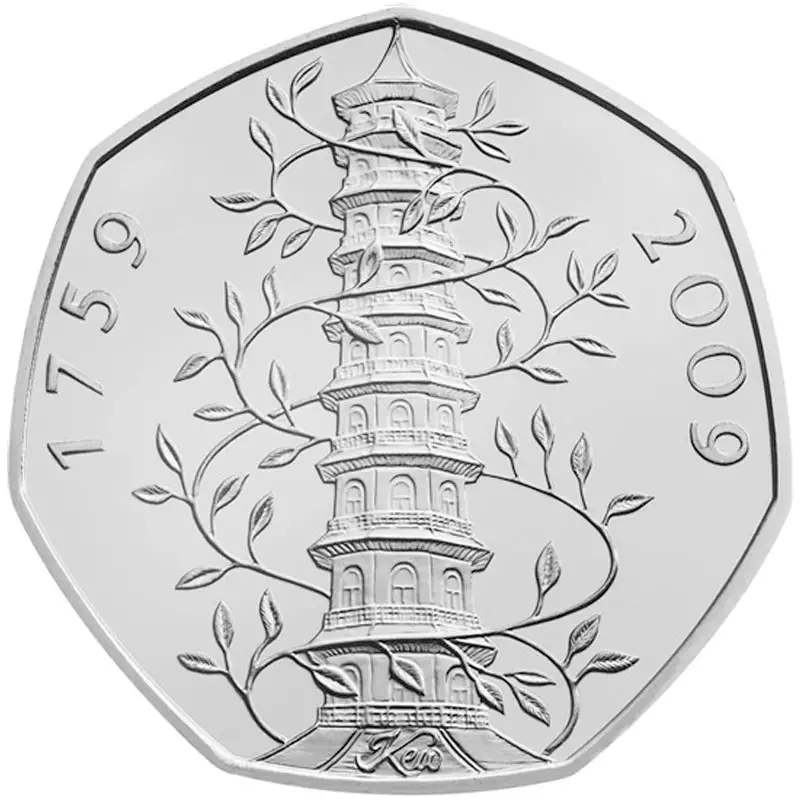 As an avid coin collector for many years, we are always interested in adding another Kew Gardens to our collection.  However, it all comes down to the price, which we regularly keep an eye and updated.
How Much Is the Kew Gardens 50p Worth in 2023?
A rare coin like the Kew Gardens 50p value in good condition and better could be worth between £50 to £270, with the final price being largely based on the condition of the coin.  We estimate the following prices as a guideline as to what to expect to achieve as a buyer or seller.
Good Condition £50 to £140.00
Very Good Condition £100 to £160.00
Excellent Condition £160 to £230.00
Uncirculated Condition £260 to £270
Some of the condition price ranges are quite wide, but this matches the potential condition variances of the coins on the market.  Ultimately these prices act as a guide.
How Many Kew Garden 50p Were Minted for Circulation?
There were only 210,000 Kew Garden 50p coins minted in 2009.
How Rare is the Kew Gardens 50p Coin?
The Kew Gardens 2009 50p coin is the rarest by far of all 50p coin designs currently in circulation.
To put into perspective its rarity in relation to the top 10 rarest 50p coins, with a mintage of 210,000 it is 5 times rarer than the second rarest 50p which is the London Olympic Games Football 50p coin which had a mintage total of 1,125,500.  Over  5 times more and that's the 2nd rarest!
Even some of the more common higher mintage 50p coins like Benjamin Bunny, with 25 million minted are considered rare, albeit less so and fetch above face value in excellent condition.  That's a coin with a mintage 119 times higher!
Tips for Buying a Kew Gardens 50p
With the Kew Gardens 50p coin being so rare it's no surprise that some scammers try to take advantage of its value and the desire of collectors to get hold of one.
If you do see anyone offering the Kew Gardens coin in for example Facebook groups or similar forums always request:
a photo of the coin
sellers name  and today's date written on paper
This will at least prove they have the coin and haven't just taken photos from eBay listings.
Ideally, look to buy from trusted sources.  If you are a beginner to coin collecting you will work these trusted individuals out over time by being in groups etc.  Don't be in too much rush to buy from new members to groups or local marketplace listings from people you don't know and from what actually could even turn out to be fake profiles.
How to Spot a Fake Kew Gardens 50p
With Kew Gardens 50p coin being so valuable and sought after it's no surprise that some unscrupulous people have tried to take advantage of this and issues some fake copies.
However, there are a few ways you can tell if a Kew Gardens 2009 50p is a fake.
They are covered and illustrated with actual examples of both fake and real coins in this video below:
Other Kew Garden Coins
Kew Garden Copy Coins
If you are looking to buy a Kew Gardens 50p coin you may also see some Kew Gardens 50p copies.
These can be picked up cheap for around £5 to £6 and act as a stop-gap for collectors who want the coin but can't or maybe can't afford to get hold of one right now.
Kew Gardens 2019 Coin
In 2019 The Royal Mint released a 2019 dated Proof coin to commemorate the 50th anniversary of the Kew Gardens, some ten years since the initial introduction of the Kew Gardens 50p.  This 2019 coin follow after a major restoration of Kew's pagoda completed in 2018 taking it back to its pre-1784 glory with no less than 80 wooden dragons re-added to its exterior.
The 2019 Kew Gardens Coin was not issued for circulation so you won't find them in your change.
About Kew Gardens
Kew Gardens is a historic botanical garden that was founded in 1840, although the Kew site has been known to be in existence since 1759 (one of the dates shown on the coin) It is the largest botanical garden in the world with approximately 300 acres of gardens and over twenty-seven thousand different species of plants.
The purpose of Kew Gardens is to research plants and to preserve them for future generations.
Kew has a number of different and amazing exhibits including The Great Pogoda as featured on the 50p coin design.
Other well-known exhibits include:
Palm House
Princess of Wales Conservatory
A Canopy Treetop Walkway
The Orangery
The Nash Conservatory
Alpine House
Palm House
and much much more.
You can find out more on the Kew Gardens Wiki page.