The Tesco 25% off 6 Bottles of Wine offer provides a great opportunity to save significantly on a wide array of wines available both online and instores.
Here we provide all the dates you need to take advantage of this offer on a regular basis..
Be sure to check out the additional tips and savings strategies to ensure you get as much wine as possible for your money.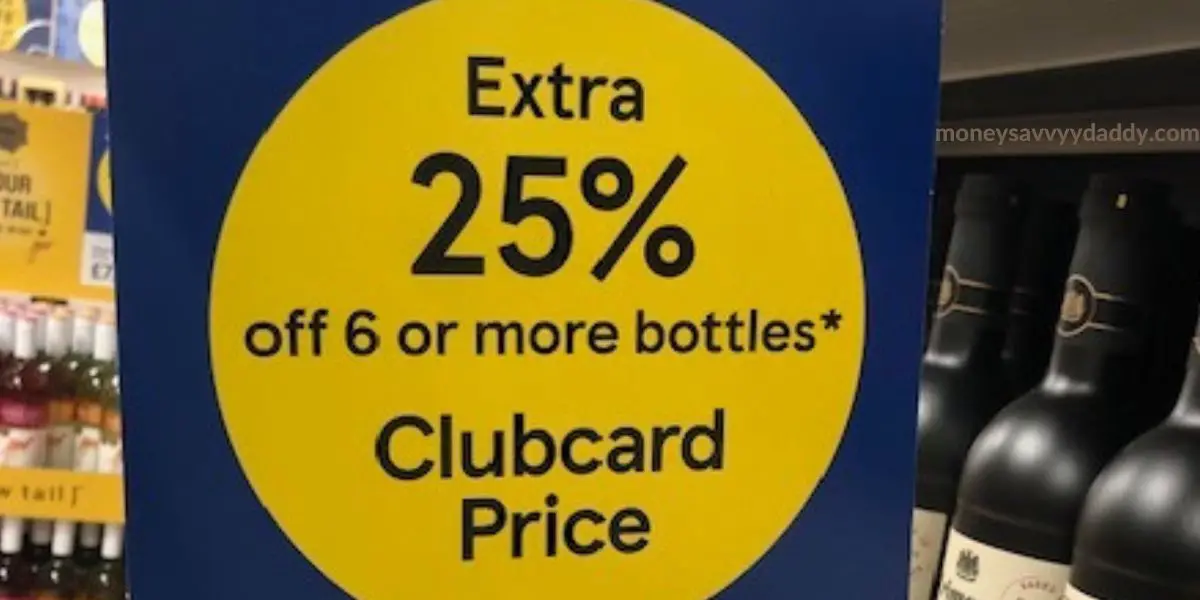 Tesco, the UK's leading grocery and general merchandise retailer, has been known for providing a broad array of special offers to its customers. 
One of these coveted deals is the Tesco 25% off 6 bottles  wine offer, giving you the opportunity to enjoy a 25% discount when buying six or more bottles of wine.
But when does this attractive offer usually start, and what are the specifics that wine enthusiasts should be aware of? 
Here is everything you need to know including the latest sales dates.
The exact start and end dates of the Tesco 25% off wine offer can vary and are usually not announced far in advance. 
To stay updated on the latest news regarding the offer bookmark this page and check on a regular basis, we update as soon as a new dates are released as well as Tesco insiders who find out first.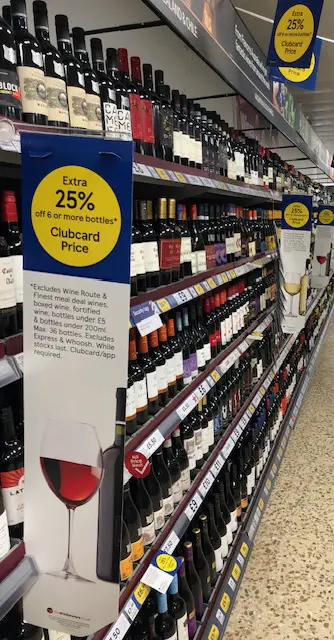 How the Tesco 25% Off Wine Offer Works
At its core, the Tesco wine offer is a promotional discount that enables customers to purchase six or more bottles of wine at a 25% discounted price. 
This special deal is available both in-store and online. It applies to an extensive selection of wines priced above £5 in England and £7 in Wales. 
However, the offer excludes wine bottles 200ml and under, Wine Route, boxed wine, and fortified wines. 
It's also important to note that there's a maximum limit – customers can only purchase up to 36 bottles under this offer.
Importance of the Clubcard in the Tesco Wine Offer 
Tesco's 25% off wine offer is part of their Clubcard Prices initiative, meaning it is accessible only to Clubcard holders.
 A Clubcard is Tesco's loyalty scheme that allows you to earn points on your purchases which can be converted into vouchers for future use.
To take advantage of the 25% off 6 bottles discount, customers must scan their Clubcard at checkout. The discount is then applied to the Clubcard price of each bottle of wine.
 For online shoppers, it's essential to ensure that the Clubcard is linked to the online account. 
You can check here how much Tesco Clubcard points are worth and how to double their value.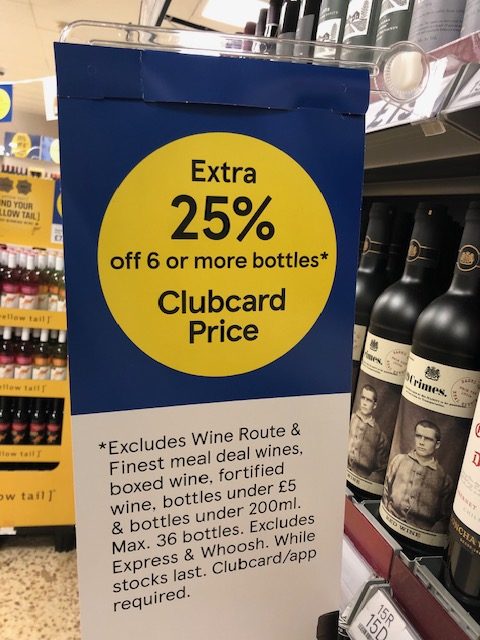 How the Tesco Wine Offer Interacts with Other Promotions
An additional advantage of the Tesco wine offer is that it can be combined with other existing wine offers. 
This allows customers to enjoy even greater savings on their favourite bottles of wine. Whether you're a fan of a full-bodied red or a crisp white, there's potential to make significant savings.
When is The Next 25% off Wine at Tesco?
We use the past sales dates below to get an idea of when the next sales dates will be while we await official confirmation.
The next 25% off wine is predicted to start Friday 28th July
We will update as soon as the new official date for the next 25% off sale is confirmed.
Check past dates form past years to see when Tesco typical offers the 25% off wine deal.
You also have the option for checking out the other supermarket 25% off 6 bottles dates.
If the Tesco 25 off wine offer isn't currently on you might want to check out Sainsburys wine offer dates or other leading supermarket chains..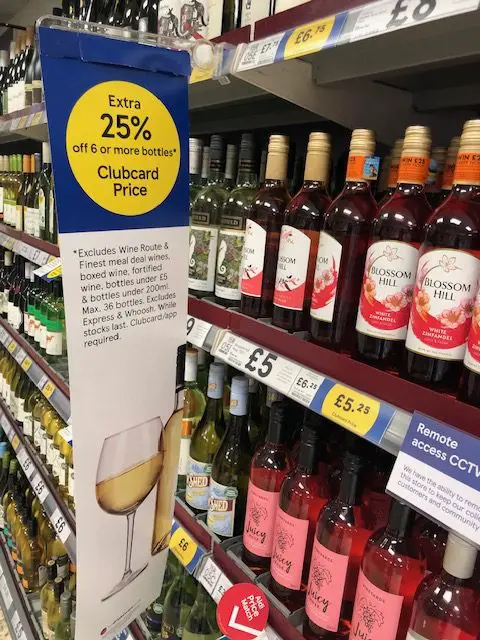 Previous Tesco 25% Off Wine Dates:
As a guide to future Tesco 25% off sale dates, we keep a record of past sales.
2023 Sales Dates:
Friday 28th June to Monday 3rd July 2023

Tuesday 23rd May to Monday 29th May 2023

Thursday 27th April to Friday 12th May 2023

Tuesday 28th March to Monday 3rd April 2023

Wednesday 15th February to Monday 20th February 2023
2022 Sales Dates:
Thursday 17 November to Monday 28

November 2022

Tuesday 18th October to Monday 31 October 2022

Tuesday 20 September to Monday 26 September 2022

Tuesday 23 August to Monday 29 August 2022

Tuesday 26 July to Monday 1 August 2022

Thursday 26 May to Monday 6 June 2022

Tuesday 5 April 2022 to Monday 18 April 2022

Monday 14th February to Monday 21st February 2022
2021 Sales Dates:
Tuesday 7th December to Wednesday 15th December 2021

Thursday 18th to Monday 29th November 2021

Tuesday 20th July to Monday 26th July 2021

Tuesday 22nd June to Monday 28th June 2021

Tuesday 25 May to Monday 31 May 2021

Tuesday 23rd March to Tuesday 6th April 2021
2020 Sales Dates:
There were fewer sales during 2020 due to the disruption caused by the pandemic.
Tuesday 8th December to Wednesday 16th December 2020 (9 days)

Wednesday 18th November to Tuesday 1st December 2020 (14 days)

Monday 5th October to Thursday 5th November 2020  (32 days)

Thursday 20th August to Monday 31st August 2020 (12 days)
2019 Sales Dates:
Tuesday 19th November to Monday 2nd December 2019 (15 days)

Thursday 17th October to Thursday 31st October 2019 (15 days)

Monday 19th August to Thursday 29th August 2019 (11 days)

Thursday 27th June to Monday 8th July 2019 (12 days)

Thursday 23rd May to Monday 27th May 2019 (5 days)

Wednesday 10th April to Tuesday 23rd April 2019 (14 days)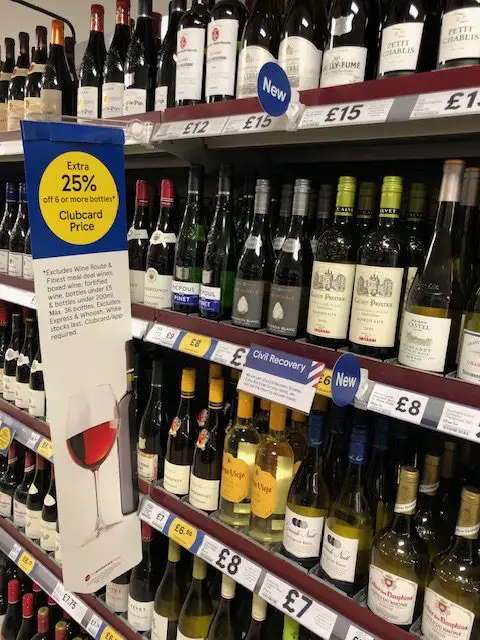 Tips and Strategies for Maximising the Tesco Wine Offer
Planning is crucial when it comes to fully utilising the Tesco wine offer. 
Here are a few strategies:
Buying in Bulk

– If you're a frequent wine consumer or have upcoming events, consider purchasing the maximum allowed quantity of 36 bottles. Adopting this strategy helps you maximize value and savings.

Combining Offers

– Keep an eye out for other wine discounts. Since the Tesco wine offer can be combined with other offers, you could enjoy double savings.

Stay Informed

– Stay up-to-date on the availability of the offer by regularly checking Tesco's website and following their social media platforms.

Clubcard is Key

– Don't forget the importance of your Clubcard. Whether you're shopping in-store or online, ensure your Clubcard is scanned at checkout or linked to your online account to avail of the offer.

Tesco Cashback

– Consider using the gift app voucher Jamdoughnut which offers 1.5% instant cashback on your Tesco shopping (cashback % subject to change).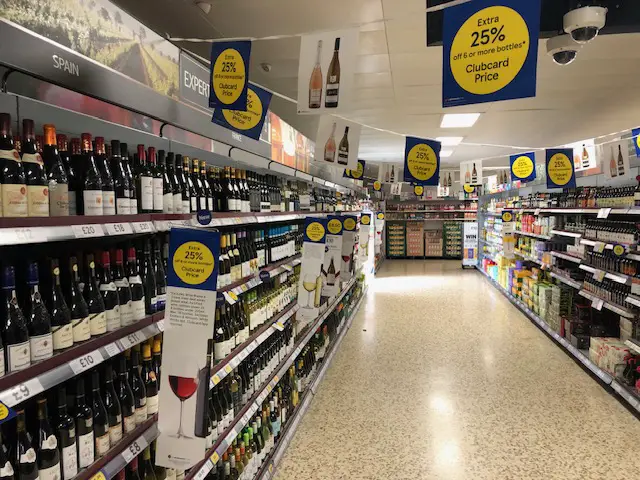 Frequently Asked Questions
To further clarify some common queries around the Tesco wine offer, we've answered some of the most common questions:
Does The Tesco 25% Off Wine Offer Apply To All Types Of Wines? 
The Tesco 25% off wine offer applies to a vast selection of wines, but excludes wine bottles 200ml and under, Wine Route, boxed wine, and fortified wines.
Can I get 25% off the Tesco wine offer without a Clubcard?  
Unfortunately, the 25% off wine offer is exclusive to Clubcard holders. You must either scan your Clubcard at the checkout or have it linked to your online account to receive the discount.
Can I Combine The Tesco Wine Offer With Other Offers?
Yes, the 25% off wine offer can be stacked with other wine offers available at Tesco, allowing for even greater savings.
How Often Does The Tesco Wine Offer Occur? 
The frequency of the Tesco wine offer can vary, but overtime has been increasing with no less than 8 sales events in 2022.
Keep an eye on our page for all future offer dates as well as a record of past dates.
Summary
In conclusion, the Tesco 25% off wine offer is a boon for wine lovers, offering the opportunity to enjoy your favourite wines at a much-reduced price. 
By strategically planning your purchases and keeping updated with Tesco's announcements, you can maximise the benefits of this deal.