Are you looking for exceptional value on your next wine purchase?
Sainsbury's, one of UK's leading supermarkets, has a regular  "25% off 6 Bottles of Wine" offer that's extremely popular with wine enthusiasts.
As well as providing you with next offer dates, forecast dates and past dates as a guide we also offer a number of ways for you to save even more on your Sainsburys wine and other purchases.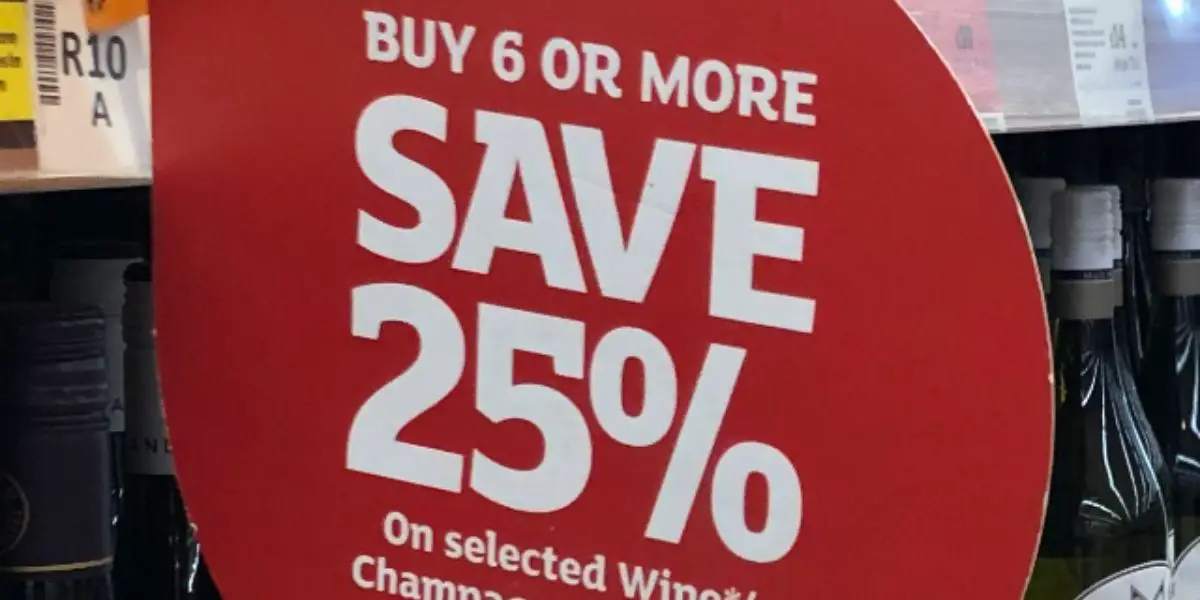 With this special deal, every purchase of six bottles of wine will entitle you to a whopping 25% discount. Many savvy shoppers anticipate and take advantage of this opportunity throughout the year.
So, let's get started on your journey to maximizing savings on quality wines from Sainsbury's.
Sainsbury's Wine Offer: What and When?
Sainsbury's 25% off wine offer is a regular promotion providing substantial savings to customers who purchase six or more bottles of wine.
 "When will Sainsbury's have 25% off wine?" and "When is Sainsbury's next wine offer?" are frequent queries from eager customers. While precise dates vary, the promotion tends to occur several times a year, both in-store and online. 
What Wine is Included in Sainsburys 6 Bottles Wine Offer?
The 25% off wine offer applies to bottles of red, white and rose wine, champagne, and sparkling wine with a minimum price of £5 in England and £7 in Wales. 
Be aware that the offer does not cover:
Bottles 200ml and under

Boxed wine

Fortified wine

Gift sets

Sainsbury's House wine
When is the next Sainsburys 25% Off Wine?
The next Sainsburys 25% off wine date has been been confirmed for  Wednesday 28th June to Sunday 2nd July. 
Here you can see all supermarket 25% off 6 bottles dates.
If the offer isn't on at Sainsbury's you might want to check out Tesco wine offer dates or ASDA and others.
Previous Sainsbury's Wine Offer dates:
We use past year dates as a guide for forecasting future 25% off sales events to plan our wine shops.  We update when official dates are released.
2023 Sales Dates:
Wednesday 28th June to Sunday 2nd July

Wednesday 24th May to Sunday 28th May 2023

Wednesday 26th April to Sunday 7th May 2023

Saturday 1st April to Saturday 8th April 2023

Wednesday 15th March to Sunday 19th March 2023
2022 Sales Dates:
Wednesday 16th November to Sunday 4th December 2022

Thursday 20th October to Tuesday 1st November 2022

Wednesday 21 September to Saturday 1 October 2022

Wednesday 24 August to Sunday 28 August 2022

Wednesday 27 July to Sunday 31 July 2022

Wednesday 22 June to Sunday 26 June 2022

Sunday 10 April 2022 to Saturday 16 April 2022
2021 Sales Dates:
Wednesday 24th November to Tuesday 14th December 2021

Thursday 21st October to Tuesday 2nd November 2021

Wednesday 22nd to Saturday 2nd October 2021

Wednesday 16th to Thursday 24th June 2021

Wednesday 26 May to Monday 31 May 2021

Sunday 28th March to Saturday 3rd April 2021
2020 Sales Dates:
Sainsbury's had fewer deals on the first half of 2020 due to the Covid restrictions.
Monday 23rd November to Saturday 12th December 2020 (22 days)

Thursday 22nd October to Sunday 1st November 2020 (11 days)

Friday 18th September to Tuesday 29th September 2020 (12 days)

Wednesday 26th August to Monday 31st August 2020 (6 days)

Thursday 30th July to Wednesday 5th August 2020 ( 7 days)

Wednesday 17th June to Sunday 21st June 2020 (4 days)
2019 Sales Dates:
Sainsbury's had 6 25% Off wine sales events in 2019.
Monday 25th November to Sunday 15th December 2019 (21 days)

Thursday 24th October to Sunday 3rd November 2019 (11 days)

Friday 16th August to Monday 26th August 2019 (11 days)

Thursday 23rd May to Sunday 2nd June 2019 (11 days)

Monday 15th April to Tuesday 23rd April 2019 (9 days)

Friday 22nd February to Monday 25th February 2019 (4 days)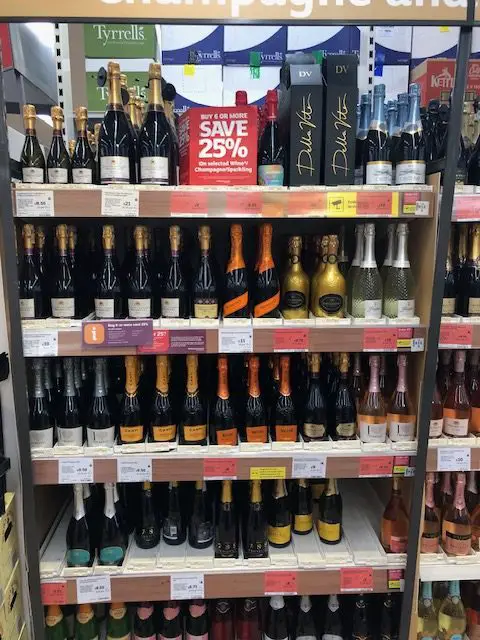 Tips to Save More
The Sainsbury's 25% off wine offer is an excellent opportunity for savvy shoppers to cut costs on their wine purchases. However, the savings don't have to stop there. Combining the offer with other initiatives can help you maximize your savings even further. Here are some additional tips to save more during the Sainsbury's wine offer.
Nectar Card
Unfornately Nectar card points cannot be earned from alcohol purchases.   A Nectar card is a loyalty card that allows you to earn points on purchases at Sainsbury's and various other participating retailers.  
However, when you shop during the 25% off wine offer, don't forget to use your Nectar card at the checkout
as you will earn points on the vast majority of purchases, which you can then redeem against future buys, leading to even more savings.
Here you can find out more about Nectar card points value including a calculator.
Use the Jam Doughnut Instant Cashback App
Another way to maximize your savings during the Sainsbury's wine offer is by using the Jam Doughnut instant cashback app. This app provides instant cashback on purchases from a variety of retailers, including Sainsbury's. By using this app during the wine offer, you can receive cashback on your discounted purchases, which you can then use to reduce the cost of your next shopping trip.
Purchase in Bulk
The Sainsbury's wine offer requires the purchase of at least six bottles to apply the discount. However, the maximum you can purchase is 36 bottles. If you have the storage space and the means, purchasing in bulk during the wine offer can result in greater savings, particularly if you are a regular wine consumer or if you are planning a large gathering.
By combining the Sainsbury's 25% off wine offer with these additional saving strategies, you can make your budget stretch even further. Remember, every little helps when it comes to savvy shopping!
How Long Does the Sainsbury's Wine Offer Last?
The duration of the Sainsbury's wine offer varies. 
However, looking at past occurrences can provide some insight.
The offer typically lasts between 4 and 5 days, although some have extended over longer periods.partilarly the pre Christmas sale which usually starts in November and can last for over 3 weeks.
When Does Sainsbury's Wine Offer End?
As previously stated, the ending dates for the offer fluctuate and the offer can be short lived.  Our advice would be to take advantage of it as soon as you know the offer is live.
While the length of the Sainsbury wine offers vary, you can get an idea by scanning through previous years sales at various times of past years.
Maximising Your Savings
There are various ways you can get the most out of the Sainsburys 25% off 6 bottles of wine offer.
Planning Your Wine Purchase – knowing the dates of the offer allows you to plan your wine purchases ahead. Be it for a party, a personal collection, or gifting purposes, planning ensures you can optimise your savings.
Bookmark this page for an easy check point, we update as soon as we find out the wine offer dates.
Variety is the Spice of Life – the discount encourages exploration. Step out of your comfort zone and try new wines that you wouldn't typically buy.
Mixing and Matching – whether you're buying six bottles of the same wine or six different ones, the discount applies. So feel free to mix and match to add some variety to your collection.
Frequently Asked Questions 
Are There Any Restrictions On The Type Of Wine I Can Buy?
Yes. The offer excludes bottles 200ml and under, all Sainsbury's House wine, fortified wine, boxed wine, and gift sets.
Is There A Minimum Purchase Requirement?
Yes, you must purchase at least six bottles to benefit from the discount.
Can I Get 25% off 6 Bottles of Sainsburys Wine Offer Online?
Yes, this offer is available both in-store and online.
Is There A Limit To How Many Bottles I Can Buy?
Yes, you can purchase a maximum of 36 bottles during each offer period.
Is The Minimum Bottle Price The Same In All Regions?
No, the minimum bottle price is £5 in England and £7 in Wales.
If A Wine I Want Is Out Of Stock During The Offer, Will I Get A Rain Check?
Sainsbury's does not typically offer rain checks for out-of-stock items during the promotion.
Can I Use Other Coupons Or Discounts With This Offer?
The 25% off wine offer cannot typically be combined with other promotions or discounts. 
If I Return One Or More Bottles From My Purchase, Will I Lose The Discount?
Yes, if your return brings the total number of bottles below six, the discount will be lost.
Summary
Sainsbury's 25% off wine offer presents a golden opportunity for wine lovers to explore new flavours, stock up on favourites, and indulge in a world of wine without breaking the bank. 
Keep an eye on the dates and adhere to the rules, and you're sure to make the most of this fantastic promotion. 
Here's to great savings and even better, great value wine!