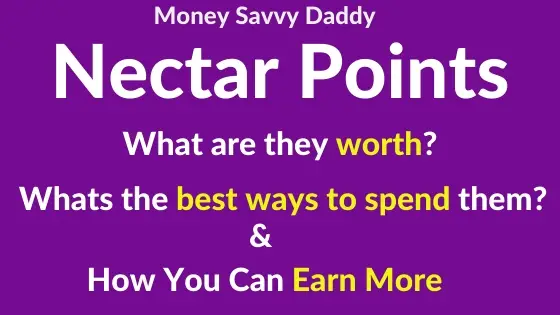 Do you know how much your Nectar points are worth and how best to redeem them for maximum value?
Use our free Nectar Points calculator to find out.  As well a whole range of tips to boost their value.
Are you missing out on Nectar Points you are entitled to from using your Nectar Card at the near 400 brands that are partnered with it?
This post covers what your Nectar points are worth how to get the most out of your Nectar card, points and ways to boost your points total.
Nectar Points Calculator 2021
The quickest way to work out the value of your Nectar Points value is to simply input your number of points into the Nectar Points calculator below to work out the exact value of your Nectar points in £'s.
Simply enter the points you have or any amount you want to know the value you.
Have you ever wondered how much a million Nectar Points would be worth?
How Much Are Nectar Points Worth?
If you opt to spend your Nectar Card points in Sainsbury's they are worth 0.5p per point.   A 1/2 a penny per point.
Examples of Nectar Points value in pounds and pence:
1 Nectar point is worth 0.5p
2 Nectar Points are worth 1p
50 Nectar Points are worth 25p
100 Nectar Points are worth 50p
150 Nectar Points are worth 75p
250 Nectar Points are worth £1.25
300 Nectar Points are worth £1.50
500 Nectar Points are worth £2.50
750 Nectar Points are worth £3.75
1000 Nectar Points are worth £5.00
2000 Nectar Points are worth £10.00
3000 Nectar Points are worth £15.00
4000 Nectar Points are worth £20.00
5000 Nectar Points are worth £25.00
6000 Nectar Points are worth £30.00
7000 Nectar Points are worth £35.00
8000 Nectar Points are worth £40.00
9000 Nectar Points are worth £45.00
10,000 Nectar Points are worth £50.00
100,000 Nectar Points are worth £500.00
1 million Nectar Points are worth £5000
What Is the Nectar Card Loyalty Scheme?
Nectar Card is the loyalty card scheme used and now owned fully owned by Sainsbury's since 2018.
The Nectar Card is one of the most well-known loyalty schemes in the UK and has recently been revamped.  It now offers personalised offers based on your past transactions.
Although predominantly known as a Sainsbury loyalty card, there are a number of other participating companies in the scheme the main ones of which I cover in more detail below.
Nectar Card App
One of the key new features of the Nectar card is personalised offers.
Check out this 54-second video which briefly highlights how the Nectar Card and new offers should work for you.
How To Earn Nectar Points
There are many partners in the Nectar Card scheme and they don't all follow the same points earning system.
I have highlighted some of the most common and well-known options below, but to find up to date and more specific information on all the other near on 400 individual brands it's best to log in to the Nectar website and check current terms.
Sainsbury's
You earn 1 point per £1 that you spend at Sainburys stores, including online and Sainsbury's fuel stations.
Make sure you also use your Nectar card when taking advantage of the 25% off Tu Clothing sale events which typically number 5 times a year.
eBay
Link your eBay account to your Nectar Card and get 1 point per £1 you spend.
Esso Fuel
You can earn 1 point per litre of fuel and 2 points per £1 you spend at the Esso station.
Expedia
You must first find the Expedia page on the Nectar website and visit them via that page.  You can then earn Nectar points in the following ways:
2 points per £1 – on package, hotel, car or activity bookings
1 point per £1 – on flight bookings
Next
Next is one of Britain's most popular clothing retailers as well as selling homeware and garden products.  Generally, it's not common to even get extra cashback on Next purchases so picking up a few Nectar points is at least one way to get rewarded.
You can currently get 2 points per £1 you spend online at next.co.uk
In addition to the Nectar points, there is one lesser-known option for getting Next cashback, which is via  Kidstart.  You can read more about this on my Amazon Cashback post.
Now TV
One of the best ways to reduce your Sky Tv bill is to use the much cheaper and contract-free streaming service Now TV, also owned by Sky.
As well as saving money and offering a cheap way to watch Sky Sports and the best programs on Sky, there's also the option to collect 200-250 Nectar Points on some of the Now Tv Passes and 100-400 points for various NOW TV Smart box options.
Although it's also worth checking to see if there are better Now TV Deals & Offers available.
Sky Mobile
Currently, you can collect 1250 to 4750 Nectar points on a range of different mobile phone contracts.
Vodafone
You can earn up to 3500 points on various contracts, packages and bundles for Handsets, Broadband, and Sim-only deals.
Other examples:
ASOS 2 points per £1 spent online
Currys 1 points per £1 spent online
PrettyLittleThing 2 points per £1 spent online
JD Sports 2 points per £1 – on purchases and 1 point per £1 for on sale items
Daily Mail
The Daily Mail an example of an opportunity to collect points not directly on the actual purchase, but instead by claiming them via a separate loyalty scheme.
If you buy the actual printed Daily Mail newspaper you can claim Nectar Points every day via the Daily Mail MyMail Rewards and gain bonus points if you do so 7 days a week.
Plus earn 2 points per £1 you spend in the MyMail online shop.
Boost the Nectar Points You Earn
When you log in to Nectar, via the website or the app, you are presented with a  range of points offers.
You should see similar to the following:

You'll clearly see your Nectar Points balance and how much your points are worth.
Alongside this you have 2 options of offers types:
Weekly personalised offers
Weekly partner offers
Weekly Personalised Offers
This is where I found the most value in the new App.
The weekly personalised offers should typically relate to items you have previously purchased.
For example, here are 4 of my 10 personalised offers:

All the offers above related very closely to recently purchased items I had made.
Weekly Partner Offers
Here are examples of the Partner offers that were available to me.
I chose this selection below because there is a Lloyds Pharmacy in my local Sainsburys, so it's something worth checking for if I intend to use it.  I also have a post relating to the offer, for free and cheap flu jabs at Lloyds Pharmacy.
It would be a very rare occasion that I would make use of the vast majority of other offers within the very limited time frames.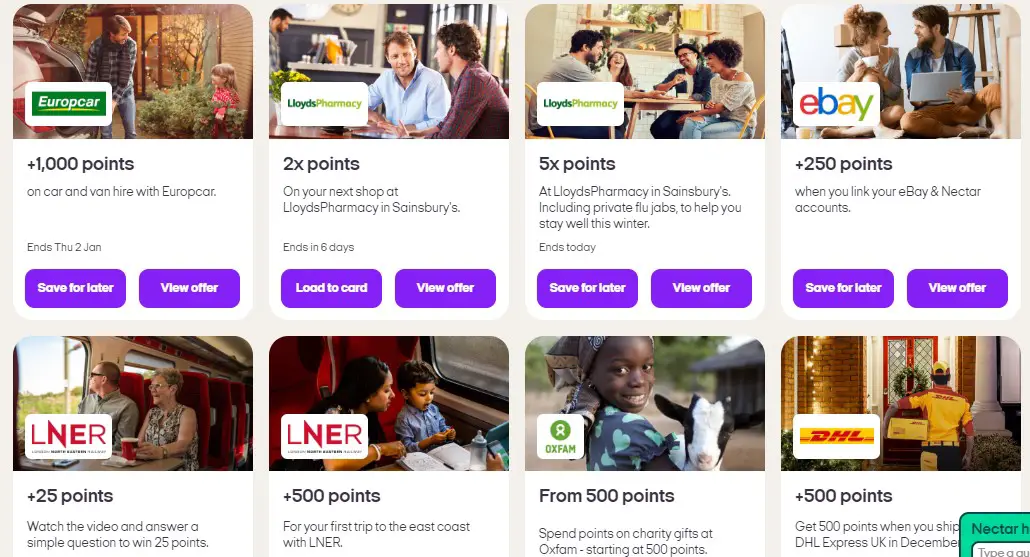 Offers include ways to boost the points you redeem and boost the points you earn either by getting so many points when you spend a minimum amount or more commonly offering x2 or x4 points on your first or next shop at certain retailers.
These deals change all the time.  Whether it's worth getting what's on offer when you go to make all kinds of expenses online is debatable.
Sainsbury's Instore Receipts
When you pay for your instore Sainsburys shop you will often be given Nectar receipts with points offers on.  Sometimes they print off quite a few!  Personally I don't find these of much use as they seem pretty generic.
I much prefer the wider selection of personalised offers within the Nectar app.
Did you know you can also make money scanning Sainsbury's store receipts?  I've put together a post on the best receipt apps, which if you use regularly could be worth £150+ a year in cash and rewards.
Mailing List Promos
If you are subscribed to receive postal marketing from Sainsbury's, you will periodically be sent offers through the post.
For example, in December 2019 we were sent the following:
300 bonus Nectar Points (Worth £1.50) on a minimum spend £1
Spend 2000 Nectar points in December to qualify for 300 points a day in Jan 2020*
*Minimum shop £2 and one shop per day.
Which if for those who use local store often, is a pretty good offer.
Nectar Double Up
Unlike say the Tesco Clubcard which allows points to be up to tripled, there are very few and limited opportunities to boost the value of your Nectar points.
Until that is, the Nectar Double Up promotion is launched.  This promotion has been running once a year for a few years now.
For a limited amount of time, the double-up promo gives you the opportunity to exchange your Nectar points for vouchers at double the value which you can then spend in Sainsbury's.
However, the promo is usually not as simple as it sounds with all kinds of terms you need to be aware of in order to get your vouchers.
It's important you understand how the promo works and where exactly you can spend your vouchers because once you have them you need to make sure they don't expire.
Nectar Notifier
The Nectar Notifier is an online desktop browser extension that acts as a reminder to collect points when you shop online.   With nearly 400 online brands offering Nectar points on shopping it's a useful reminder without having to check, or even forget.
Powered by Yahoo, the Nectar Notifier earns you points for your online searches, currently up to 1-2 points per search and up to 200 points per month.
Plus get 100 points just for downloading.
You can use it even if you have other toolbars installed already.
Nectar Point Giveaways
Keep an eye out for any free Nectar Point giveaways.
For example, December 2020 Nectar offered a free Spin and Win giveaway with Sainsbury's offering a guaranteed minimum prize of 1000 Nectar points.
Other higher prizes were also available:
2000 points
5000 points
Even up to one million Nectar Points
I won 1000 Nectar Points worth £5.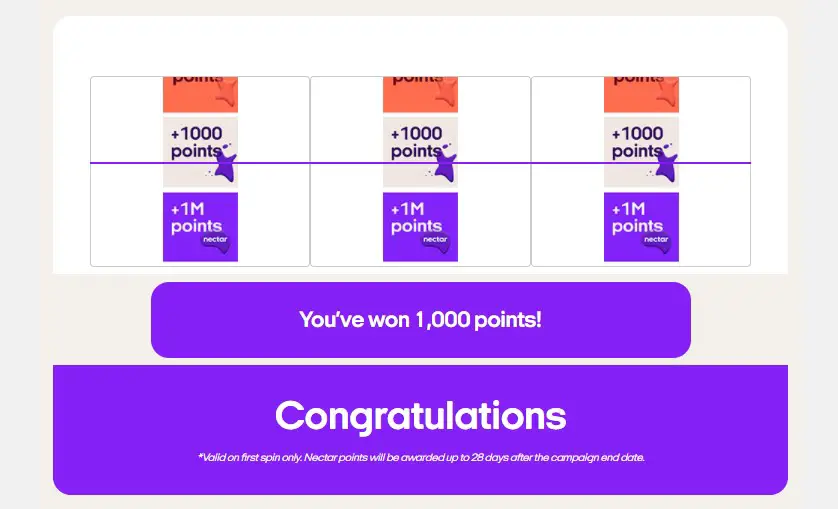 Sainsbury's Credit Card
If you are a loyal customer to any particular store it's always worth checking if they have their own-brand credit card which will reward your spending in points.
In the case of Sainsbury's at the time of writing I found 2 options:
Sainsbury's Dual Offer Credit Card
Sainsbury's Nectar Purchase Offer Credit Card
Both options offer 7500 Nectar points (£37.50) in the first 2 months.  These are split into 750 bonus points each time you spend £35 up to a maximum of 10 shops.
Currently, as with all Sainsbury's credit cards, you get up to 2 Nectar points for every £1 you spend in Sainsbury's stores and on fuel.  For spending elsewhere, you get 1 Nectar point for every £5 you spend, which is easily beaten by alternative options.
American Express Nectar Card
At the time of writing there is also the option of the American Express Nectar card which currently offers 20,000 Nectar Points, which is £100 worth, on the first £2000 you spend in the first 3 months.
However much you spend it works out at the equivalent of  5% cashback.
Check the MSE best supermarket loyalty and close to cashback credit cards for current offers and see if you can use the MSE Eligibility Calculator so you carry out a soft search first to find out the likelihood of acceptance without affecting your credit rating.
Remember with credit cards, the points are only an added bonus if:
You don't spend more than you otherwise would via cash.
Pay off your bill each and every month, even if 0%, so as not to accrue debt
Never end up paying interest
Where to Spend Nectar Points
You can spend your Nectar points via your Nectar account.  Exact details of offers change frequently, so it's always a good habit to visit the brand via the Nectar website first to check terms and in some instances click through from the Nectar brand page to access the site you wish to make a purchase in order to qualify for the points.
To find info on all 390+ specific brands you can log in to your Nectar Account or find them on the App.
Here are a couple of popular examples of where and how you can spend your Nectar points.
Sainsbury's Points Spending
Generally, the most common place people think to spend their Nectar Points is their local Sainsburys supermarket.
To do so you'll need to link your Nectar and Sainsburys accounts first.
You can simply redeem points when you checkout instore, simply hand over your card.
You can also spend the points at Sainburys online.
How to Spend Nectar Points on eBay
Once you have 500 points you can use a £2.50 Nectar Voucher and store it in your linked eBay account.
You can then use it towards any payment over £10 or more, up to a maximum of £200.
First, you need to have linked your eBay and Nectar accounts.  You can then issue your Nectar vouchers from "My eBay" by entering the number of points you want to redeem in increments of 500 points, so £2.50.
How to Spend Nectar Points at Argos
Another popular example of where to spend your Nectar points is Argos online and in stores.
To do so online you first have to connect your account via the Nectar website, search for the "Argos" page.  Click Link Accounts.  Sign in to Argos and link using Necar Card details.  Choose the delivery method and then how many points to spend at checkout.
Here you can follow visual step by step instructions on how to link Nectar card to Argos account.
In actual Argos stores just take your Nectar card to the checkout and ask to redeem points in increments of 500 (£2.50) as part of all of your payments.
Redeem Nectar Points with Vue Cinema
You can redeem Nectar Points for money off cinema tickets with Vue Cinema for the standard 500 points worth £2.50 at a time.
Redeem Nectar Points  with Caffe Nero
Caffe Nero let you buy any size hot or iced drink for 375 Nectar points, the equivalent value of £.175.   You can do this from within the 'Saved' section in your Nectar account and scanning a Qr code voucher to redeem.
FAQ's
Can You Get or Nectar Points With Amazon
Unfortunately, Amazon left the Nectar Card scheme in 2013.   You are therefore unable to earn or spend Nectar points at Amazon.
If you are particularly interested in Amazon, you might want to check out:
Conclusion
As the post highlights, there's a wide range of ways to collect Nectar Points, but their value is fairly limited with no clear ways to significantly boost their redemption value.
Checking your personalised Weekly Offers seems to be one of the best ways to make sure you are getting the most from the loyalty scheme as the offers tend to be on products you typically purchase anyway.