Find out how to easily work out your Clubcard points value in £'s and also importantly, ways you can boost that value by 2-3 times!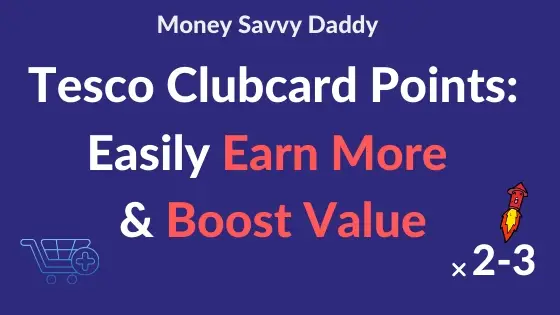 Are you getting the most Tesco Clubcard points on your spending, and subsequently getting the most value from your Tesco vouchers?
With 19 million members there's a good chance you are already a Tesco Clubcard holder.
As I myself am a Tesco Clubcard holder not only am I looking to earn the most points possible including how to get 2 points per £1  you spend instead of just 1.
I also look for the best ways to double or triple the value of my points, which I also share in this post.
How Much are Tesco Clubcard Points Worth?
The standard value of Tesco Clubcard points if you just want to redeem them against your Tesco shopping is 1p per point.  Therefore 10 points would be worth 10p and 100 points a £1.00.
Here are some more examples of more Tesco Clubcard points values:
1 Tesco Clubcard Point is worth 1p (£0.01)
10 Tesco Clubcard Points are worth 10p (£0.10)
50 Tesco Clubcard Points are worth 50p (£0.50)
100 Tesco Clubcard Points are worth £1.00
150 Tesco Clubcard Points are worth £1.50
500 Tesco Clubcard Points are worth £5.00
750 Tesco Clubcard Points are worth £7.50
1000 Tesco Clubcard Points are worth £10.00
2000 Tesco Clubcard Points are worth £20.00
3000 Tesco Clubcard Points are worth £30.00
4000 Tesco Clubcard Points are worth £40.00
5000 Tesco Clubcard Points are worth £50.00
Please be aware there are various ways to boost the value of your points depending on where and how you redeem them, which I've covered below.
Tesco Clubcard Points Calculator
Any calculator, (including using Google) will do if you want to work out the value of a specific number of Clubcard Points.
Simply do as follows to work out you Tesco points value:
Input the total number of your Clubcard points
 Followed by an x (in order to multiply)
Input 0.01 (the decimal value of your points
Press =
Examples of Clubcard Points to £ Pounds Calculator Results
324 (points) x 0.01 = £3.24
1262 (points x 0.01 = £12.62
25729 (points) x 0.01 = £257.29
You may be able to work the calculations out in your head.  If you notice in the above results, just put the decimal point in front of the last 2 digits and add a £ sign to the front and you'll have the answer.
How Does Tesco Clubcard Work?
Tesco Clubcard is one of the most well known and longest-running and best supermarket loyalty card schemes, having been first launched back in 1995.
Firstly, you earn Clubcard points for every pound you spend at Tesco's instore and online as well as its fuel stations, plus possibly from other Tesco services too.
Every 3 months the Clubcard points you have earned are turned into vouchers.
You can either spend these vouchers at Tescos to save directly on your shopping, or you can boost their value by using with one or more of the Clubcard Reward Partners.   This gives you the option to significantly boost their value in exchange for a variety of days out, restaurant meals or cinema type outings.
So, in short, the Tesco Clubcard scheme works as follows:
Earn Points
Receive Vouchers
Boost Vouchers value and use with a Reward Partner
How to Earn Tesco Clubcard Points
As well as shopping with Tesco's you can collect Tesco Clubcard points on a range of other Tesco services as outlined below:
Tescos Instore and online 1 point per £1 you spend
Petrol & diesel Tesco fuel purchases 1 point per £2 spent on
Tesco Bank Current Account 1 point per £1 you spend via the debit card in Tescos
Tesco Bank 1 point per £8 spent outside of Tesco.
F&F Clothing 1 point per £1 you spend
Tesco Mobile 1 point for every £1 spend on Tesco Mobile bill
Esso stations with a Tesco Express 1 point per £3 on fuel.
Esso stations with Tesco Express 1 point per £1 on instore purchases and car washes
Tesco Credit Card 1 point per £4 spent in Tesco
Tesco Credit Card 1 point per £8 spent outside Tesco's
Shopper Thoughts offer 25 points for a 5-minute survey
Tescoviews offer 25 points per survey regarding your recent shopping experience
Collecting Tesco Clubcard Points On Your Tesco Shop & Fuel
There are 4 ways to actively collect your Clubcard points for every Tesco instore and fuel purchase you make:
Tesco Clubcard – Contactless for instore use or key in number when shopping online
Clubcard Keyfob – So you are never without it, you can give an additional one to a family member too
Clubcard App – Just scan at the checkout
Tesco Pay+ App – An easy way to pay and collect Clubcard points at the same time.
Tesco Bank ClubCard Points
If you hold a Tesco Bank current account, the debit card for that account will also act as your Clubcard and is one of the best ways to collect extra Clubcard points.
So if you use your Tesco debit card to pay for your shopping you will receive 2 points per £1 you spent, 1 point as if it's a Clubcard and 1 point for using the debit card.
It's an easy way to simply double the Clubcard points you earn shopping with Tesco's.
If you use the Tesco Bank debit card to pay for purchases outside of Tesco, you will still receive points, but at the much lower rate of 1 point per every £8 spent.  This is better than nothing, but there are usually much better options for cashback or rewards on this type of expenditure.
Verdict: Use of the Tesco Bank debit card is a great way to double your points on your Tesco only shop and equates to a 2% discount at standard points value.
Tesco Credit Card Points
You can use the Tesco Credit wherever Mastercard is accepted as payment.
You will earn 1 point per £4 spent in Tesco, which is a lot worse than using the debit card for the Tesco Bank account and getting x4 as many points for a £4 spend.
Purchases you use the credit card for outside of Tesco, are the same as the debit card at 1 point per £8 spend, and again there are usually much better rewards and points on other cards available.
Tesco Mobile
Tesco Mobile gives you 1 Tesco Clubcard point per £1 on your bill.
You need to link your Tesco Clubcard to your phone, which you can do by texting for free just text CLUBCARD to 28578 from your actual Tesco Mobile.
There's also an option that's worth mentioning which I cover below to boost your earned points and save even more on your Tesco mobile bill.
Esso Stations With a Tesco Express
You can use your Tesco Clubcard at any Esso station that also has a Tesco Express.   The in-store purchases and car wash are like normal Tesco expenditures and earn you 1 point per £1 you spend.
Although on the Esso fuel you only get 1 point per £3 spent on fuel (up to 100 litres a time), which is less than the Tesco's own stations.
You can also redeem Tesco vouchers against your Esso fuel purchases but only at the standard points rate.
Tesco Vouchers
Every 3 months your accumulated Tesco Clubcard points are converted into Tesco Vouchers and sent to you in the post along with a statement.
For every 150 points, you get a £1.50 voucher.
There is also an option called "Faster Vouchers" which allows you to request your vouchers much sooner.
Simply login online to your Tesco Clubcard account, or the Tesco Clubcard app.  Choose the option to "turn points into vouchers" and the vouchers in your account are sent to your email address, ready to use within 24 hours.
This option will turn your whole balance into vouchers
Boost Tesco Clubcard Vouchers
There are various ways you can boost your Clubcard vouchers, here we have a look at how much you can boost your vouchers and which options make sense to use or whether you might find cheaper alternative discounts elsewhere.
Something to bear in mind is not the Tesco voucher price off the full price you are paying, it's how much better off you are compared to how cheaply as possible you could otherwise pay for the reward choice, be that a day out, hotel room or a meal out etc if you were to use freely available discount codes.
How to Exchange Tesco Vouchers
Typical this is how it works to exchange and boost your Tesco Vouchers:
Find the Reward Partner on Tescos website & check terms are suitable for when you intend to use
Work out how much you need to spend at the selected Reward Site, e.g Prezzo, Butlins, etc
Select  the number of Clubcard vouchers you wish to exchange
Within 30 mins receive 2 emails "Clubcard order confirmation" & "Partner voucher"
Print off or show Partner voucher on phone when ready to use
See all the current Clubcard Reward Partners and the voucher to ratio spend amounts, however, I've outlined the basics below.
Tesco Clubcard Restaurants
Triple the value of your Clubcard points when you eat out at one of the following restaurants.
Ask Italian
Bella Italia
Cafe Rouge
Chef & Brewer
La Tasca
Pizza Express
Prezzo
Zizzi
The meal out options are a prime example of always worth checking beforehand if you can to see whether you can get better, or at least a really good discount via other methods such as online voucher codes or a Tastecard, which you typically won't be able to use in combination with the vouchers.
Tesco Clubcard Travel
You can triple the value of your Clubcard points when purchasing a wide range of travel options from 4 categories:
Airlines
Holidays
Hotel Breaks
Transport
Here are just a few examples of expenses you can triple the value of your vouchers for:
British Airways Executive Club Avios
Al Fresco Holidays
Hoseasons
Butlins Family Breaks & Live Weekends
cottages.com
Forest Holidays
Royal Caribbean International Cruises
Hotels.com
Hilton Hotels UK
Eurotunnel Le Shuttle
Various types of Railcard
National Express
P&O Ferries
The voucher sizes you can use vary, for example, some are 50p vouchers to £1.50 other choices for example requires £5 in vouchers for every £15 spend you wish to make.
Tesco Clubcard Fun Days Out
Some of the best Clubcard deals can be found among the 150+ different choices of Fun Day out options to choose from.
The category is split into 3 sub-categories and here are some examples of what's on offer:
Experience Days examples:
iFly Indoor Skydiving
Bear Grylls Adventure
Thruxton Driving Experience
Arena Racing Company
Newbury Racecourse
Planet Ice Solihull
and more.
Fun Days Out examples:
Standard Merlin Pass (Alton Towers, Legoland, Thorpe Park & lots more)
Coca Cola London Eye
The View from The Shard
360 Play or Activity World – for young families
Various Zoo's and animal parks, aquariums
Stately Homes
Gardens
and many, many more choices.
Entertainment:
Cineworld – Individual tickets or unlimited pass
Tesco Clubcard Home Essentials
Triple your Clubcard points on household essentials, with examples such as:
Tesco Delivery Saver – for your online Tesco grocery orders
Now TV
RAC Breakdown
If you haven't previously heard of it, Now Tv (offers and deals) is a great way to watch Sky Tv at a discount with no subscription or fees, including the option to choose various cheap short term Sky sports passes.
I usually alternate my breakdown cover each year between the AA & RAC to get cheap new customer deals but also take advantage of cashback via the best cashback sites including Topcashback & Quidco.    These might prove better options than using just the Clubcard points, worth comparing when it's time to renew.
Tesco Clubcard Mobile Boost
If you are already a Tesco Mobile customer, not only can you earn points as I outlined earlier, you can also double them to redeem against your Tesco mobile bill.
Tesco Clubcard Lifestyle Spends
Typically triple the value of your vouchers at the following.
Goldsmiths jewellers stores (not online)
English Heritage Membership
RHS Membership
Hussle voucher to use towards a range of gyms
The Goldsmiths option is a particularly interesting one if you are saving up for any expensive jewellery, maybe engagement or wedding rings.  Every £100 in vouchers would be £300 towards the price.
Tesco Clubcard Magazine Subscription Deals
Triple your points on a wide range of magazine subscriptions, 81 at the time of writing.   Covering all themes from Celebrity to Sports and a lot more in-between.
Reclaim Lost Tesco Vouchers & Extend Expiry Trick
Once you have a voucher they are valid for 2 years.
Sometimes the disadvantage of receiving vouchers on a regular basis without actually requesting them is that we get them before we intend to spend them.  If we then save them up for a bigger purchase, we sometimes lose them.
Check out MoneySavingExpert's really simple guide to reclaiming lost Tesco vouchers up to 2 years old and in some cases even longer.   The page also shares a crafty trick to extend vouchers close to expiring.
Tesco Clubcard Prices
Tesco Clubcard Prices is a discount promotion Tesco has been known to run for Clubcard holders.
Whether the promotions offer much value is open to debate, but if they happen to be on items you buy anyway it's a saving that only Clubcard holders can benefit from.
What is Tesco Clubcard Plus?
Tesco Clubcard Plus was recently launched in October 2019.
It's an additional paid option to the standard free Clubcard membership, so you can still continue to claim all those benefits.  Although you need to be a Clubcard member first to opt-in for the Plus membership.
Tesco Clubcard Plus membership will cost £7.99 a month.
The benefits are only available through the Clubcard app and apply to instore purchases only.
10% off 2 Big Shops
This is the main benefit of the Plus membership for most people.
10% off 2 shops a month, up to £200 each time
A potential saving of £20 each time, twice a month, so £40 a month.  That is of course if you spend £400+ a month in 2 shopping visits.
The 10% off 2 big shops applies to the following items:
All food & drinks
Alcohol (excluding 25% discount off six bottles offers)
Baby
Fresh flowers
Health and beauty
Household
Pet
Plants
The 10% discount won't apply to pretty much everything else, as you might expect, fuel, tobacco, stamps, lottery, electricals, prescriptions, etc.
10% off Select Tesco Brands:
Regardless of whether a big shop you get 10% off the following Tesco own brands:
Carousel
F&F
Fred & Flo
Go Cook
Fox & Ivy
Tesco Pet
Is Tesco Clubcard Plus Worth It?
With a membership of £7.99 a month, to make it worthwhile you just need to make qualifying purchases of £80 a month so save £8.00 and be better off.
That's if you would make those purchases anyway.
Overall you have to consider what you can purchase elsewhere at a cheaper price, and decide which is worthwhile.
You can also get double data on your Tesco Mobile and the option to apply for a Tesco Credit Card with no foreign exchange fees.
Cancel Anytime
One key advantage of the membership is you can cancel anytime, so you could activate just for times you know you will be doing bigger shops, for example, Christmas or other special events you may have.
You can cancel the membership within the app unless you've been a member for less than 14 days, you'll have to ring give them a ring on an 0800 number.
Frequently Asked Questions
How Many Clubcard Points Per Pound?
There are 100 Tesco Clubcard points per pound.  The value of the points can be boosted depending on how you redeem them.
How Much Is a Tesco Clubcard Point Worth?
A Tesco Clubcard point is worth 1 penny.  However, points can only be redeemed when you have a minimum of 150 points, which yo can then redeem as a £1.50 voucher.
Conclusion
Hopefully, this post helps you achieve 2 points per £1 spent in Tesco.
Which you can then boost by doubling or ideally tripling this value to a nice 6% saving off your original Tesco expenditure if you choose the Reward Partners to suit you for your Tesco Vouchers.
What do you think of Tesco Clubcard, how do you make the most from your Clubcard points?
Which Rewards would you not use your points for because you know of better alternatives?
Do you use the Tesco Clubcard Plus?  Any views on this fee-based option?
Please let me know, plus feel free to share any other great Clubcard points deals you spot.