In this post, I explore legit ways to watch Sky Sports for free, including any outside the box hacks that might help.
I also look at the cheapest ways to watch Sky Sports both with and without a subscription.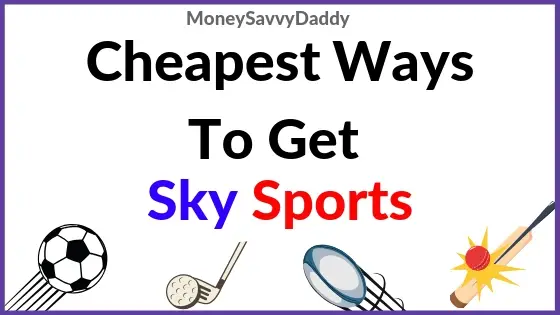 Sky Sports is a must for many sports fans, however, with sports spread over various channels that you may also want to pay for and numerous other bills needing to be paid first, it's handy for many to get the cheapest deal possible and if at all possible find ways to watch for free.
In this post I share the options for doing just that for both existing Sky subscribers and cheap and legit alternative options:
How to Watch Sky Sports for Free
In an ideal world, it would be great to watch Sky Sports for free, so let's explore those options first.
Look Out for Free Sky Sports Special Offers
Sometimes SKy has free Sky Sports giveaways to existing Sky Tv subscribers.
For example as a Christmas 2020 treat they are showing the following sports for free on Sky One:
26th December Scottish Premiership Rangers vs. Hibernian
26th December  Scottish Premiership Hamilton vs. Celtic
27th December Premier League Leeds Utd vs. Burnley
27th December Premier LeagueWest Ham Utd vs. Brighton
27th December PDC World Darts Championships
Free Sports for Existing Subscribers
Remember Sky subscribers can freely watch Sky Sports News on channel 409 & Sky Sports Mix on channel 145 which has a range of free sporting events like the Grand Slam of Darts or in the past Euro qualifiers.
Free Sky Sports on Youtube
You can also keep up with free Sky Sports football highlights via the Sky Sports Football Youtube channel.
Cheapest Ways to Get Sky Sports
NOW TV Mobile Sky Sports pass is a great value option and suitable for many.
Now TV Sky Sports Mobile Month Pass £5.99
Just as with other monthly passes, this will auto-renew but you can cancel any time as there is no contract.
For just £5.99 a month you get unlimited access to 5 channels which you can only view on your phone.
The Sky Sports Mobile Month Pass channels are:
Sky Sports Premier League
Arena
Action
Racing
News
The Sky Sports Mobile Pass is strictly for compatible iphone and Android phones.  It is not for ipads or other tablets even if they have SIM cards fitted.  You won't be able to cast to a TV either.
Cheap Now TV Sky Sports Mobile Pass
Even the Mobile Sports pass can be picked up cheaper on Amazon via Now TV as the sellers.
The passcode is sent via email only.
Cashback Sites For Cheaper Way to get Sky Sports
I use the best cashback sites for easy savings on almost every online expense either at online stores and for most online bills.
Cashback for Sky Tv Sports upgrades
Just using these as examples of cashback offer you might find as they change all the time:
Topcashback will give £20 cashback for a standard Sky Sports upgrade
Quidco was offering an exclusive £50 cashback for an 18-month upgrade to Sky Sports
Links from both sites took me through to the Sky Tv deal page with the best current price (which was the £15 a month I mentioned above) so I know I was still getting the best price.
Quidco cashback example from Nov 15th 2019 just to highlight the potential savings to be had.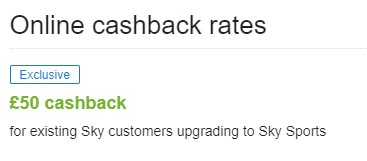 These offers are subject to change at any time, but always worth checking, just search for "Sky Tv upgrades" in the cashback sites search bar.
Cashback For Now Tv Sports Passes
Again, these are only being used as examples, which were live at the time of writing:
I have also recently seen Now Tv Sports Passes for existing customers on Topcashback, so that's an option to look out for too.
Topcashback Reward Wallet Payout Boost 
Another option for Topcashback members is to boost your earned cashback.  Instead of withdrawing your cashback as cash to your bank you can make your cashback go further by taking it out in the form of vouchers.
One option they currently have is a 10% boost on your cashback if you take it out in the form of Now Tv Sports Pass (and other Now TV pass types too).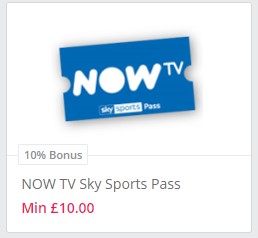 To some people, this feels like a free Now Tv Sports Pass, because you earn the cashback as a bonus to your normal spending anyway.
How Much Does Sky Sports Cost?
The advantage of Sky Sports through SKY TV is that you will get the channels in HD.
Basic Channel Package First
Via Sky TV you first need to purchase the basic Entertainment channel package which costs around £25 a month excluding any setup fees.  If you're an existing customer out of contract you may be able to reduce Sky tv bill to £20 a month.
So you are typically looking at £20-£25+ (if they can get away with charging existing customers more they will) before you can even add the Sky Sports.
Complete Sky Sports Package HD Via Sky TV
So once you have the basic Entertainment package you can add on the Sky Sports.
Typically the Complete Sports package costs £ 30-month tying you in for an 18-month contract, basically a £540 commitment.
Individual Sky Sports Channels
Or you can choose one of the individual Sky Sports channels for £18 a month which can be cancelled anytime.
The Sky Sports Channels are:
Premier League
Football (EFL, Scottish football, home nations in Euro 2020 Qualifiers
Cricket (Men's & Women's Ashes, Vitality Blast and Internationals
Formula 1 – every practice, qualifying and F1 race
Action & Arena – NBA, Rugby League, women's rugby & netball
Golf –  4 majors, US Open and Open Championship.  PGA, European & LPGA Tours
£18 a month might look like a saving if you really don't want the full package for £30, but quite often a deal on the whole sports package is less or the same as just one of the above packages.   So if you remotely feel you are missing out, a deal is the way to go.
Sky Tv Sports Own Deals
If you have to stick with Sky TV but want the best price for your package, you could periodically sign in to your account and check the Sky Tv Sky Sports page.
November 2019 as part of an early Black Friday promotion there was a good offer on their page, as well as postal offers these are examples of what I've seen available:
£18 a month Complete Sports post-offer (18-month contract)
45% discount to £16 a month Complete Sports postal offer (18-month contract)
Complete Sports 8 channels in HD for £15 a month (early Black Friday Deal 2019) (18-month contract)
So if you are looking for a deal or comparing to other alternatives, the above act as a good benchmark for what prices can really be achieved.
Just logging in and having a look might be enough to trigger a postal offer.
Note the contract end date. With any contract deal, make a note on a calendar or set a reminder in your phone to alert you to when the contract ends as this is when the price will be whacked up almost double, or more if they've had price increases.  You can then look to renew with a new special offer.
Cashback on Sky Sports Upgrade: If you do wish to stick with Sky TV and take a deal and upgrade, at the time of writing there was a £20 cashback offer at Topcashback to upgrade to Sky Sports.
Now Tv Sky Sports Passes (contract-free)
Now TV is basically an online streaming version of Sky TV and is actually owned by the same company.
With Now TV you can sign up to Sky without a subscription, instead, you buy Passes to bundles of channels.  This actually works out at a much cheaper way to watch the channels although not in HD.
Unfortunately, NOWTV does not have a record option, the sports passes have to be watched live, they usually do re-runs throughout the week to catch up on games you may have missed.
If you don't have a Smart TV to access the NOW TV via a browser or it's APP, you can buy either a NOW TV Smart stick or a NOW TV box.  Both can be brought very cheaply, especially when purchased with Sky Sports passes, which I've highlighted good deals for below.
Read my full in-depth Now Tv Offers & Deals page for more of the pro's and cons compared to Sky Tv.
Sky Sports Day, Week and Month Passes
Recently Sky has split the channels up so you could save money by choosing the sports channel most suited to you.
Current Now Sports Pass prices:
Day Pass £9.99 (one-time payment)
Week Pass £14.99 (one-time payment)
Month Pass £33.99 (auto-renewing contract unless you cancel)
If you only want the Sky Sports then at £33.99 a month it still works out cheaper than even the best-combined deals for Sky Entertainment Channels at £20 and Sky Sports Complete package on even the very best deal at £15, for a total of £35.
If you do want the Entertainment channels as well, then a subscription may be more worth your while if you get a good deal.
At least you have the option of dipping in and with a Now Tv Entertainment pass currently just £8.99 a month and Sky Sports for 1 day or 1 week if you only watch them now and again.
The Sky Sports Month Pass a rolling subscription so it will auto-renew when the month ends.  If you don't want this you can cancel in advance which is easy to do, albeit it's worth being sure you've completed the cancelation process correctly, which you can see in a video on my Now Tvpage.
Cheap Now TV Sky Sports Passes
If you don't already have a Smart TV a deal like this could be a good starting option.  Worth noting the NOW TV Stick and NOW TV box come with remote control.
If you are just looking for passes find the best Sky sports deals from Now Tv selling via Amazon.
You can pretty much pick up all the Now TV Sky Sports passes at a cheaper price from the Amazon links above.
Cheaper Alternatives to Sky Sports
Ultimately although Sky Sports is highly regarded, there are many other cheaper alternatives to Sky Sports that you could try out.
These are in addition to the Now TV Sports options listed above.
BT Sport
BT Sport now offers 30 days monthly pass option for £25, which you can stop and start at any time without being a subscriber to any other BT services.  It will be on a rolling contract so you would need to cancel after the 30 days if you didn't want it to renew.
If you are a BT Broadband customer you can get BT Sports for an additional fee of £10.
Eurosport
Eurosport offers a whole array of sports to choose from which you can subscribe to for very affordable prices as outlined below.
Monthly Pass £6.99
Annual Pass £4.99 for 12 months £59.88
Annual Pass one-time payment £39.99
Premier Sports
Premier Sports is an alternative worth considering if you particularly enjoy top-level Spanish and Italian football.   It also offers Scottish football and various other sports.
Prices currently range from £6.99 to £9.99 a month depending on which channel packages you choose.
Conclusion
As you can see there are various options for reducing your existing Sky Sports price or to get it even cheaper by using other alternatives.
Feel free to let me know your experience with any Sky Sports passes and devices.
If you know of any other options or particularly good current deals and offers please feel free to share.