Find out in this Freetrade review how to claim a free share worth £3-£200 for depositing as little as £1 and using a unique referral link which you can click now if you just want to get started.  Or read on to find out more.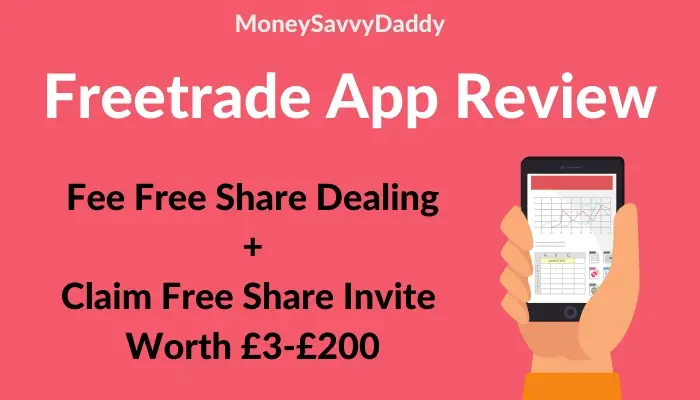 Disclaimer: I will also receive a free share for every successful referral.  
Please be aware terms and conditions as well as pricing can change at any time.  No financial advice is intended within this post.  
Did you know you can buy and sell shares and ETF funds with no dealing fees?
I've been an investor for many years and know first hand it has never been easier or cheaper to get started investing.
Best of all you can even get started with a totally free share worth £3 to £200.
Let me show you how easy it is to claim.
How To Get Your Free Share on Freetrade Worth Up to £200
It's really easy to claim your Freetrade free share worth up to £200.    Just follow these simple instructions:
Click my Freetrade referral link (you must do this first)
Input your phone number to be sent a link to download the app
Download the Freetrade app via Apple Apple Store or Google Play
Deposit £1 (or more if you choose).
Receive a free share worth £3-£200 within 3-7 days
It normally takes 3 to 7 days to get your free share on Freetrade.  They are normally added to your share account on Wednesday's.
When you click the Freetrade Referral link you should see the following, below which you can add your phone number to get a link to download the Freetrade app.
Sign Up Process
Signing up for an account is really easy:
Set up a 4 digit passcode
Fill in First & Surname
Select Date of Birth
Input Postcode & select address
Select Nationality
Input National Insurance Number
Choose Account Type (I chose Basic)
At this stage, you are signed up.
US Tax exemption W-8BEN
Next, you need to complete a US tax exemption W-8BEN form in case you get a US stock.
This is to do with us being in the UK and taxed differently on dividends to people in the US.  It will actually reduce any tax you pay if you ever own a US share (remember you might get one for free).
The W-8BEN form is really simple to complete as you can see below.
Just tick the 4 boxes that apply and click to continue.  Easy.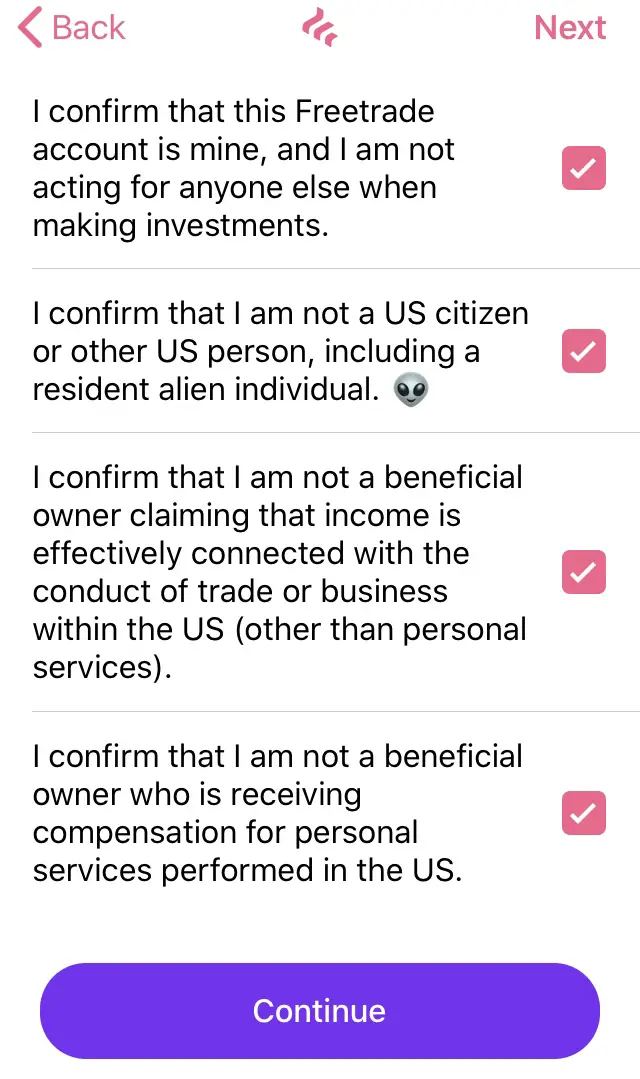 On the next screen "Confirm your details" and click continue.
Read the W-8BEN declaration, tick the box and submit if it's all correct.   You're done.
Next Deposit Some Funds (as little as £1 for the free share)
The next step is to transfer money from your bank account to your Freetrade account.
Deposits are transferred from 8 am to 8.30 pm Monday to Friday.
Cash should reach the Freetrade account within 2-4 hours.
Again, it's very simple and all explained clearly within the app.  All you have to do is enter your bank details:
Once you complete this you will be presented with the Bank transfer details for Freetrade's
Beneficiary: Freetrade
Freetrade account number
Freetrade sort code
Your Unique Basic Account reference
Reminder:  When making a bank transfer remember to include your unique reference number in the reference field when you make the actual payment.  This is so the deposit goes directly into your Freetrade account.
I personally took a phone screenshot of the payment details and did a bank transfer  There was also an option to pay via Apple Pay if you use that payment method.
National Insurance Number
As part of the signup process, you will need to state your National Insurance number.  This is for identification,  regulatory and tax purposes.
Where to find your National Insurance No:
National Insurance card
Wage slips
Self Assessment tax paperwork from HMRC
The reason Freetrade has to ask for your NI number is that it is a requirement as part of the Financial Conduct Authority (FCA) to whom they report to.  It's just the same as when you open a new bank account.   Part of the process.
If open a Freetrade Stocks and Shares ISA your NI Number will be reported to HMRC, same as opening a Stocks and Shares ISA anywhere else.
Recommend Friends For More Free Shares
Once you have an account you can then recommend other friends to join and each receive a free share each worth up to £200.
You have to use your free share invite wisely as you only get one at a time, so only refer the link to people you know are going to use it.
What Free Shares do Freetrade Giveaway?
Whether claiming your free share upon signing up or for referring a friend, Freetrade giveaway a wide range of free shares.
I've had the following free shares or funds at the average price in £'s at the time of receiving:
Direct Line (£3.44)
MoneySuperMarket.com Group (£3.61)
On The Beach (£3.41)
Coty ($8.56/£6.22)
Scottish American (Investment Trust) (£4.15)
Europe Small Co (Investment Trust) (£3.81)
iShares Global Clean Energy (£5.87)
Inseego (£6.19)
As you can see, a pretty random selection, which is ideal for me as I like diversity in my portfolio.  I've seen other investors get shares for a lot higher value.
Some of the above shares have even started paying me dividends, so essentially a way of building a form of passive income.
Freetrade App Review
Freetrade is one of a new breed of investing apps that are opening up investing to a wider range of people who can now invest even very small amounts without incurring any via a freemium model to basic account customers.
Offering free fee trading with:
No buying and Selling Share/Funds fees
No Account Inactivity Fees
Free Withdrawals
Some options do incur fees such as instant trading and faster withdrawal times, but it's your choice on whether you choose these over the free options.
Freetrade Account Types
Freetrade offers 2 types of accounts:
Basic Investing Account
ISA account.
For the sake of taking advantage of the free share offer and maybe starting in small-time investing the Basic Account will likely be suitable for most people.
An ISA is a tax-efficient savings account.  It's more suitable for people who are investing large sums over the long term and want to take advantage of the tax-free capital gains and dividend income.  You can only have one Stocks & Shares ISA  open with any one provider at a time.  Generally, it's a decision you should give thought to and compare with all options available.
Within the Basic Account, everyone has annual tax allowances for capital gains (selling shares or funds at a profit) and dividend income.
Is Your Money Safe?
Freetrade is a UK-regulated stockbroker.   Your money is protected by the Financial Services Compensation Scheme (FSCS) up to £85,000, just the same as high street banks.
What Shares and Funds Can You Buy?
If after claiming the free share you decide you want to start investing you can choose from a range of:
Uk Stocks
US Stocks

Wide range of funds including bonds, gold and Index EFT's
Deals Aren't Instant
Your share deals aren't instant.  They will be batched will numerous other trades collected through the day via other Freetrade customers.
This could be an issue if the price changes between the time you place the buy or sell trade and the time Freetrade complete the trade, which is sometime in the afternoon.
You can place instant trades but this will currently cost you £1.  Therefore the deal size should bear that in mind as ideally, you don't want your dealing fees to be over 1-1.5%, because over time this will hinder your overall investment returns.
FX Spot Price Fee
If you purchase US Stocks or any other foreign stocks if they offer them in the future you will be charged a foreign exchange fee.  This is currently 0.45%.
This may also be applied to dividends from UK companies than payout in US$.
How Can Freetrade Offer Free Share Dealing?
Freetrade is relatively new as a business and has set out to keep its overheads low.
One of the ways they do this is batch trading of customers orders, which keeps their operational costs low.
In the future, Freetrade intends to launch Freetrade Alpha which will be aimed more at premium customers and be more geared as a source of revenue for the business.
Freetrade v Trading 212 
Trading 212 is a very similar fee-free investment and also gives away a random free share worth up to £100 when you sign up via a referral link.
Trading 212 doesn't batch trades and still offers instant dealing for free.  They also don't charge a FX spot rate when purchasing foreign shares or receiving foreign currency dividends.
When it comes to free shares, the value I have received from Trading 212 has generally been much higher than those I have from Freetrade.
Freetrade and Trading 212 are not the only apps that are giving away free stocks for signing up.  Check my how to get free shares in the UK post for the latest offers.
Frequently Asked Questions
Do You Get Dividends on Freetrade App?
If you own shares in companies that pay dividends they will be added to your account on the dividend payment date.
How Long Does it Take to Withdraw Funds from Freetrade?
If you are selling shares you will have to wait 2 to 3 days for the cash from the sale to settle in your account before you can request a withdrawal.  Cash withdrawals to your bank account will typically take 3 to 5 days to arrive.
How to Cashout From Freetrade?
To cash out your funds from Freetrade:
Select "Account" in the bottom right of the App menu
Scroll down to "Linked bank account" and select "Withdraw"
Select the amount to withdraw from your available funds
Select "Confirm" top right of the App.
Conclusion
As well as taking advantage of the free share offer (contact me for your own invite link), the Freetrade app acts as a great introduction to the world of investing.   One which anyone can get involved with starting with just a few pounds.
If you have tried the app, please let me know what you think.
If you received a free share please feel free to let me know what you got and how much it was worth.  Did you keep or sell it?