If you are purely looking for free share, you can use this Free Trading 212 referral link  for a free share worth at least £8  up to a value of £100 just for depositing as little as £1.
If you are new to the offer and Trading 212 read on for more information about Trading 212 the platform that offers free share dealing,  no fees or commission and the option buy fractional shares.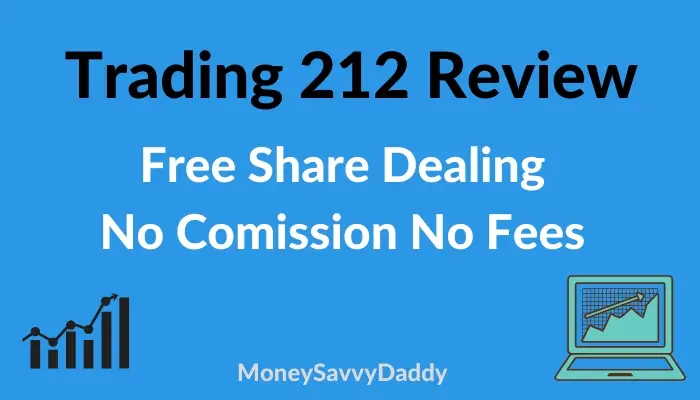 Disclaimer: This post may contain affiliate or referral links that earn me some commission if you sign up through them.  However, this is at no extra cost to you.  Read more here. Thank you if you do use them as they help to support my blog. (Note, no financial advice is intended in this post).
If you want to join for a free share here's the free share referral link, although be quick as the current promotion
No Trading 212 promo code is required because the offer will track via the link, although note it tracks better via Desktop.
Always double-check terms before signing up in the event of any changes.
How To Claim Trading 212 Free Share £8 to £100
Claiming your free share is fairly straight forward, even if you are new to investment platforms.
Visit via this the free share referral link.
Open a Trading212 Invest account (Ignore other account types)
Deposit at least £1 into the account.
Free share is added to the account with a couple of days (sometimes instantly)
Sell share or hold.
Can withdraw funds after 30 days.
Sign up to Trading 212 here.
Below we cover more indpeth information about the account opening process and the investment platform in general.
What is Trading 212?
Trading 212 is an investment platform which offers fee and commission-free trading in stocks and shares.  It's currently only 1 of 2 platforms to offer free trading, the other lesser-known being Freetrade.
Usually, platforms charge a share dealing fee, typically ranging from £5 to £12.50.
This means it's only worth investing at set minimum amounts to reduce the impact these fees have.
Trading 212 can be accessed online and via the user-friendly Trading 212 App.
Sign Up Process
You can sign up online or via the app, go by this  Trading 212 referral link to qualify for the free share.
Please note, the free share referral link works better via a desktop device such as a P.C or laptop.  It sometimes doesn't track via a mobile device.  However, generally, they will still credit you if you contact them.
During the sign up you will need to confirm your:
Name
Address
Date of Birth
National Insurance number
Identification
As a licensed broker Trading 212 is obliged to identify every customer.   All I.D information is kept confidential.
There is no need to enter a Trading 212 promo code.  Just visiting via the referral link will be enough to track.
Which Trading 212 Account is Best?
Upon signing up you will have the choice to open one of three different accounts.
This review is primarily about the Invest Account.  However, I'll briefly cover all 3 account types here so you know what's on offer and the difference between them.
Ultimately which account you should open is up to you.
Trading 212 Invest (Best Option)
The Invest account is the main account to use for investing and taking advantage of the commission-free share dealing.
Within this account can purchase actual holdings in stocks and shares as well as a range of ETF's.
The invest account functions as an omnibus account, meaning Trading 212 hold the shares.
Trading 212 CFD 
For the purpose of this review Avoid the CFD account.
CFD stands for "contract of difference".   It's an agreement between 2 parties to exchange the difference between the opening and closing price of a contract.
You are basically buying the prices of:
Bonds
Commodities (gold, oil)
Currencies
Indices
Individual share prices
You are essentially buying the price, not the asset itself. If the price rises above your opening price, you start to profit.  If it falls, you start to lose money.
CFD trading is highly speculative.  Over 70% of all retail investors lose money.
How the Trading 212 ISA Works 
The Trading 212 Isa account works the same as the Invest account, but it's within a Stocks and Shares tax wrapper.
You can only have one of these open at one time, so if you have one open already with another provider you wouldn't be able to open one here.
Within a Stocks and Shares ISA, all capital gains you make on share price increases and any dividends you receive are all tax-free.
Bear in mind though, everyone has annual tax allowances for capital gains and dividends anyway, so the advantages of the ISA are more for really long term investors and those investing substantial sums.  If that's the case, it's well worth weighing up all your options for an ISA against other platforms.
There are currently no charges for holding a Trading 212 Stocks and Shares ISA.
Trading 212 Free Share Offer 
If you sign up to Trading 212 via the referral link we will both receive a randomly selected free share each up to the value of £100!
No Trading 212 promo code is required.  Simply click the link and following the signup instructions.
Once you have signed up via this Trading 212 free stockreferral link, all you have to do is open either an Invest (or an ISA account).  For the vast majority of people, especially if you are new to investing or purely opening an account for the free shares, the Invest account is the option to choose.
When you've been verified and placed the minimum deposit of £1 in the account the free share should be awarded within 1 business day.
When I signed up I was rewarded with a free share in Ocado worth 1314.50p (£13.145).   Not a bad return for spending 5 to 10 minutes at the most just signing up and depositing.
My First Free Share £13.145 In Ocado
What to do with the Free Share?
You can either hold or sell the free share in your new Trading 212 Invest account.  There are no inactivity fees so you won't face any charges for just holding the share in the account.
Many shares pay dividends, which are a share of the companies profits distributed to shareholders.
So you have the option of holding the share and collecting the dividends over time, which may well exceed the rate you'd receive in bank interest.  Obviously, the share price itself can rise or fall and also result in a profit or a loss and dividends can be cut.
How To Sell the Free Share?
You can sell the free share 3 settlement days after it was rewarded.  However, it's well worth keeping the share and using the app to refer friends and family and build your portfolio further.
It's up to you whether you then choose to reinvest this cash into another stock or you can withdraw the cash from the sale of the free share 30 days after receiving it.
Selling is really easy as I illustrate below via the app.
Just click on your stock holding and (via the app) you will see the following:
Use the slider to select the number of shares, in this case just 1 and click "Review Order".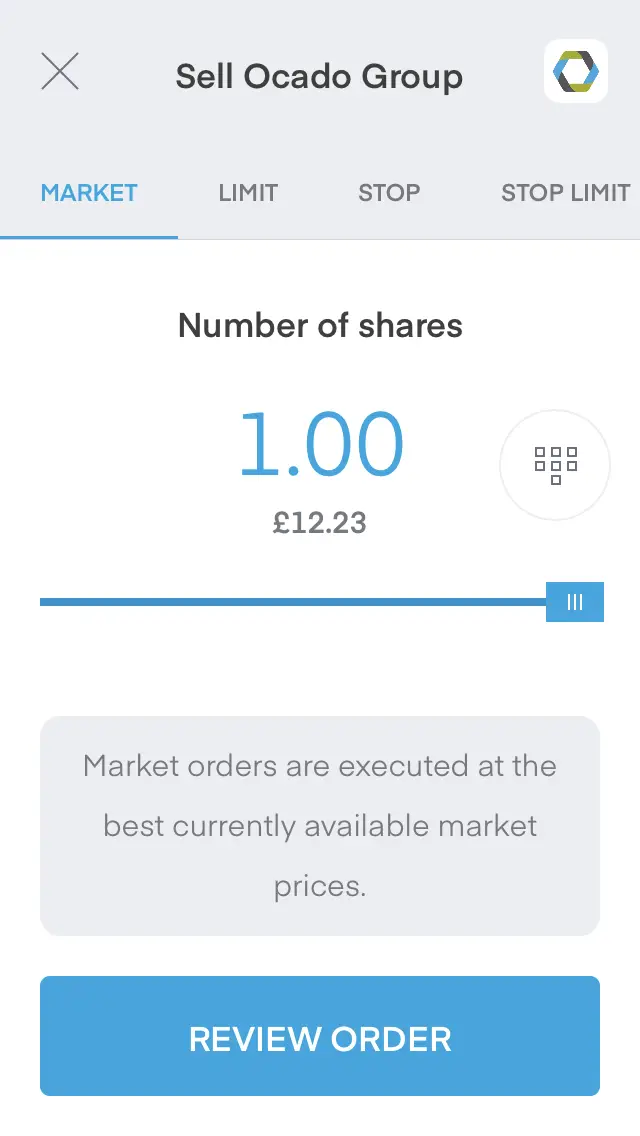 You will be presented with a Sell order page, click "Send Sell Order"
Your order will be executed and the funds will go to cash.
I chose to sell the Ocado as soon as I could.  I do invest, but not in stocks that I'm not interested in.  Ocado doesn't pay a dividend and doesn't even make a profit, so it's not something I would hold and with no selling fee, it was an easy decision.
Trading 212 Referral – Refer Friends (Make more money)
You can refer up to 20 friends and receive up to 20 free shares.   If you are just starting out with low funds this is a great way to build a mini investment portfolio plus share in the education of getting started with investing.
If you are only opening the account to profit from the free shares offer, the above covers what you need to know.
However, if opening a fee-free investing account has whetted your appetite for investing, you may want to know more about buying shares.  If so, read on.
How Much Can You Make From the Referrals?
How much you make depends on which free shares you are allocated.
Using my own experience as an example, the 20 free shares I received totalled £247.60 and at the time the images were taken below were valued at £257.38.
So on average just over £12.35 a share.
(Note: This doesn't include my first Ocado free share at £13.14 for signing up).   In addition to all free shares I have also recieved small amounts in dividends.
In the right-hand column, you can see the current value of the holdings and in green or red brackets the increase or decrease in the value of the shares since I was given them.
Trading 212 is great for graphs and pie charts, so you can see how your portfolio is growing and how your investments are allocated.
Here's how my allocation looked, the RED represents the shares of General Electric.
What Free Shares Does Trading 212 Giveaway?
As you can see from the above screenshots Trading 212 gives away a range of free shares.
Here are some of the free shares I have received from referrals:
Ford Motor Company x8
Nike x1
National Grid x 10
General Electric x2
Nike was the highest value at £76.93.  The rest ranged between £6-10.
I've also received some good dividends, in particular from National Grid which has given me an extra £4.58 in dividend income.
Is Trading 212 Legit or a Scam?  Is My Money Safe?
The first thing I want to know when putting my money anywhere is whether it's legit or potentially a scam.
Firstly, Trading 212 is authorised by the FCA (Financial Conduct Authority).
Secondly, and a key factor in the safety of our money is that all clients funds are kept separately in segregated bank accounts and are covered by FSCA (Financial Services Compensation Scheme).
This means our funds are covered up to the value of £85,000.  Just the same as any FSCA covered high street bank account.
Trading 212 Reviews and Ratings
In terms of customer satisfaction, Trading 212 reviews are excellent.
Uktrustpilot rates them over 4 stars with 88% of reviews being Excellent or Great.
Apple App store rating 4.7 out of 5 stars
Free Share Dealing Basics – If You Wish to Continue Fee-Free Investing
Free share dealing in the Trading 212 Invest account allows anyone to be able to buy shares, even in very small quantities.
This is ideal for investing beginners who want to get involved in investing, but don't want to lose a large % of their transactions in the fees.
Typically on other platforms share dealing fees range from around £5 to £12.50 a deal.
This would mean if you wanted to buy 2 shares in say Glaxosmithkline, at 1800p (£18) and the average fee is £8, your purchase price will work out as follows:
2 x Glaxosmithkline shares £18.00 x 2 = £36.00
Dealing Fee = £8.00
Total £44.18
Average price per share: (£44.18 / 2) £22.09
So with fees, just buying 2 shares, you'd end up paying £22.09 per share which is 22.7% higher than the actual share price!  This doesn't include the same fee again when you come to sell the share.  So in total, with another £8 selling fee you'd need the share price to rise to £26.09 before even breaking even!
This example doesn't even include stamp duty or share price spread.
However, Trading 212 is fee-free, so a huge gamechanger for small-time investors.  You could literally buy 2 shares for pennies over the 1800p share price!
Stamp Duty
When you purchase any UK shares you will be charged Stamp Duty.  This is not a Trading 212 fee, it's a tax charged by the government.
Stamp Duty is charged at a rate of 0.5%.  On £36 worth of shares that would be 18p stamp duty on top.
Bid-Ask Spread
All stocks and shares have 3 prices:
Ask Price is the lowest price someone is willing to sell
Bid Price is the highest price someone will pay to buy your share
Mid Price is the average price of the 2 and the one you often see quoted as the share price.
The difference between the Bid and the Ask price is known as the spread.
Example of share price spreads:
A commonly traded well-known company with a thin spread as follows:
Ask Price 170.5p
Mid Price 171p
Bid Price 171.5p
You would call this a liquid stock, there's always lots of shares available and this leads to a thin spread.
An example of a lesser-known and less traded company, with a wider spread:
Ask Price 2060p
Mid Price 2100p
Bid Price 2150p
This would be known as a more illiquid stock, fewer shares available for trade.
The spread is important because as you can see in the above example, you are already at quite a loss if you purchase a share at 2150p and the sell price is only 2060p.
Bid-Ask Spread Comparison with Fee-Charging Platforms
I carried out a couple of tests to compare the bid prices for buying shares via Trading 212 and via a different fee-charging platform.
Barclays 170.01 /170.02p
GlaxoSmithKline 1806.994p / 1807p
Nichols 1354p / 1365p
Barclays and GlaxoSmithKline shares and FTSE 100 stocks, and as you can see, the difference in the price offer was negligible.  Less than 1p difference in the prices.
I also tested with a less liquid stock that typically has a wider spread.  As you can see, there was more of a difference, at 11p.
However, overall, I was pleasantly surprised to see such a minimal difference in the buy prices.
Foreign Exchange Fees
Trading 212 does not charge any foreign exchange fees when you buy shares in companies outside the UK stock exchange in foreign currencies.  They are traded at the spot price.
You simply pay the spot price, which is the price at which you can directly exchange one currency for another.
Usually, on other platforms, there would be an extra charge for the foreign exchange element.
What Can You Invest In?
Trading 212 Invest Account offers you the opportunity to invest in over 3000+ global stocks and ETF's.
These investment options can be narrowed down into 2 categories.
An ETF is an exchange-traded fund.
Think of an EFT as a basket of stocks.  For example, you can buy FTSE 100 ETF, or the American S&P 500.
The commonly considered wise approach is the purchase index ETF's.  Using the S&P 500 as an example, this index contains some of the best quality companies in the world.
Think of names we all know:
Apple
Amazon
Coca Cola Company
eBay
Facebook
Mastercard
McDonald's
Microsoft
Paypal
These are top quality companies.   By buying the index you own a piece of all of them.
If one of them fails over time, it's weighting in the index will become less as it becomes a smaller company and other companies will take up the weighting in the index.
The advantage of buying an index like the S&P 500 is that although markets can fall, history shows us that they always rise over time.
Create Pies
Trading 212 allows you to create your own Investment Pies.
Simply click "Create a Pie"  as you see in the image below.  From there you will be able to choose which investments you want to add to the pie and at what ratio.
You can set up to auto-invest or invest manually.
You can find out more about Creating a Trading 212 Pie here.
Trading 212 v Freetrade
Trading 212 and Freetrade are very similar in that they are the 2 main competing commission-free trading platforms.
One of the main differences is that Trading 212 offers CFD trading which could be viewed as a form of gambling.  Whereas Freetrade does not.
Advantages of Trading 212 over Freetrade:
 Pies feature
Choice of stocks from Canada and Germany which Freetrade doesn't (at the time of writing)
Desktop app option available
I personally find Trading 212 offers a smoother visual and user experience.
One thing to note is they are both constantly improving.  I would suggest trying both out and claiming the free share for doing so.
>> Check my how to get free shares in the UK post for more apps that are also offering free stock for signing up.
Frequently Asked Questions
What is the Trading 212 Minimum Deposit For Free Share?
To qualify for a free share you simply need to deposit the minimum of £1 into your account.   You can sell the share immediately upon receiving but you can't withdraw funds for at least 30 days.
How Does Trading 212 Make Money?
If Trading 212 is so good with the fee-free share dealing and giving away free shares, it begs the common question, how does Trading 212 make money?
Trading 212 will be making some money on the spreads between the buy and sell prices of all the assets available to trade.  If you buy assets in foreign currencies you'll be incurring a 0.5% currency charge.
Typically as well, free apps like Trading 212 build up a large user base and later add optional premium features for which they charge a recurring fee.
Trading 212 also has a separate CFD trading account, from which they will be profiting from any customers they convert.   CFD stands for Contract of Difference and is a form of speculative trading as to whether asset prices will rise or fall without having to directly buy the asset.   It is essentially a very risky form of trading and best avoided because most people lose money trading.  Hence companies like Trading 212 profit from these trading activities.
Are Trading 212 Shares Real?
Yes, the free shares which Trading 212 giveaway are real shares in actual stock market listed companies.  Any shares you purchase yourself with your own money via the Invest or ISA accounts will also be real shares.
Conclusion
I'd previously ignored passing offers of free shares as I'd assumed Trading 212 was more a CFD trading platform and from what I've ever seen, the vast majority of people lose money trading, be that shares, currencies or any other markets.
So I've been pleasantly surprised to find this is a legitimate platform and the savings on fees are certainly there for smaller transactions.
If you have tried Trading 212 please feel free to let me know what you think in the comments.
If you received a free share, which stock was it for and did you keep it?
I'd love to hear 🙂