Did you know you can get totally free shares in the UK?  Yes, it's totally possible and I'll show you exactly how in this post.
Claiming free shares is an ideal way for beginners to take their first steps into investing.  It's a way to start out with minimal risk and overcome that first step for many actually to become an investor.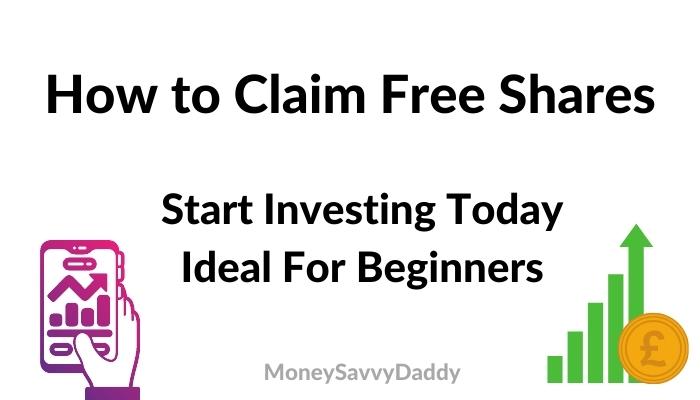 When you own a share in a company you actually own a part of that company.   It might be a tiny share of the company but a part no less.
For many the thought of investing is scary and many people put it off for far too long.
If you are new to investing and looking to get started check out our best investing apps for beginners.
Disclaimer: This post may contain affiliate or referral links that earn me some commission if you sign up through them.  However, this is at no extra cost to you.  Read more here. Thank you if you do use them as they help to support my blog.
New Breed of Share Dealing Apps
A new breed of share dealing investing apps have made investing much more accessible to everyone no matter how small amount of money they have.  You can start investing from as little as £1.00
This is all possible thanks to a new breed of apps that are enticing new customers to their services by offering a free share when you sign up.
This new breed of share dealing apps have changed the landscape for everyone to get involved in investing because they offer fee-free share dealing.
No Longer Restricted by Buying and Selling Fees
In the past investors were restricted to using share dealing platforms with minimum charges of somewhere between £5-15 fees per transaction.
Therefore, taking a £10 fee as an example, if you purchased £100 worth of shares at £10 each you would actually only be able purchase £90's worth because £10 would be taken as a fee.
(Note on simplicity: This example is keeping it real simple, because actually on many share purchases there is also a stamp duty fee which is a form of tax, and also any differences in share price spread where the buy price of a share is always slightly higher than the sell price.)
So your £100 share purchase would now only be worth £90.  You therefore would need your shares to increase more than 11% just to break even.
If ever you want to sell your shares you also have to incur the selling fee of £10.
So, as you can hopefully see buying and selling fees were hugely restrictive in who could invest.  Ideally you want fees to be a tiny % of your costs otherwise they are simply eating away large chunks of your returns.
Therefore a worthwhile minimum share purchase might have been in the region of £1500.
Invest Fee-Free and even buy Parts of Shares (Fractional)
However, now, via various new investing apps we can invest fee-free.
Not only that, we can invest in fractional shares.    So if a share price is expensive per share, let's say something like London Stock Exchange Group plc which is around 7300p a share (£73.00) and you only want to invest £10, you can, by effectively purchasing a part of one share.  This is useful if you are starting out small and don't want too much money in one stock.
Now when it comes to investing long term, is it wise to purchase individual shares?  Well, if they are free shares it's obviously a no brainer yes.   You could sell them for no fee and simply pocket the cash, or reinvest as you best you see fit. Or alternatively, just keep them, and possibly collect dividends if they pay them.
However, the best type of investing is probably the simplest and most boring, but more importantly, considered the most rewarding.
That advice (which I'm not giving, you need to do your own research) would be to invest in index funds (which I'll cover in another post).
How to Get Your Free Stocks and Shares
To claim your free shares work down the list and follow the instructions in the right order to make sure you qualify for the free stock.
Freetrade (£3 – £200)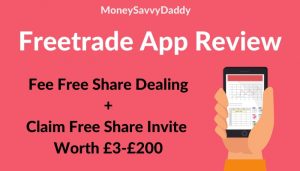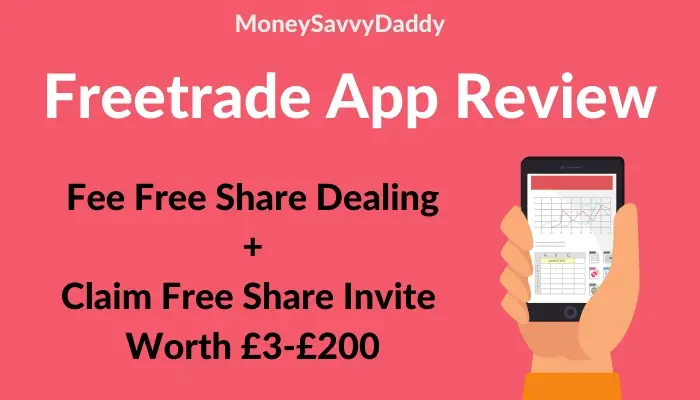 UK based Freetrade created a freemium investing app to make investing accessible to everyone.
Freetrade offers a General Investing Account and a Stocks and Shares ISA if you wanted that as an option at a later time.
Freetrade also offers:
Free share worth between £3 to £200 when you deposit £1
No commissions ever
Unlimited instant trades
Buy US fractional shares
Freetrade doesn't do CFD's so there is no risk of you being enticed in any way in that more risky direction.
Freetrade is authorised and regulated by the Financial Conduct Authority (FCA) and customers funds are covered by the Financial Services Compensation Scheme (FSCS) up to £85,000.
How to Claim your Freetrade Free Share:
To claim your free share simply follow these steps.
Click this Free Share Referral link (must do this first)
Enter your phone number
You'll be sent a link to download the app
Set up your account with a £1 deposit
Wait until the following Wednesday to see what your free share is
Unlimited Free Share Referrals
Once you are signed up you can start referring your own friends, family, social media followers and start building yourself a a real portfolio from free shares.  I've seen some people build portfolios into £100's using the referral programme.
Freetrade hands out a wide range of different free shares in both companies and funds which makes it a good way to build a diversified portfolio.
>> See my full Freetrade review: Claim Free Share post for illustrated step by step instructions on how to sign up and to see the free shares I have received.
Trading 212 (Up to £100)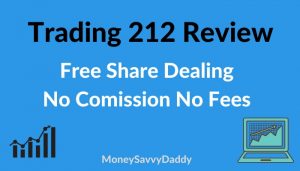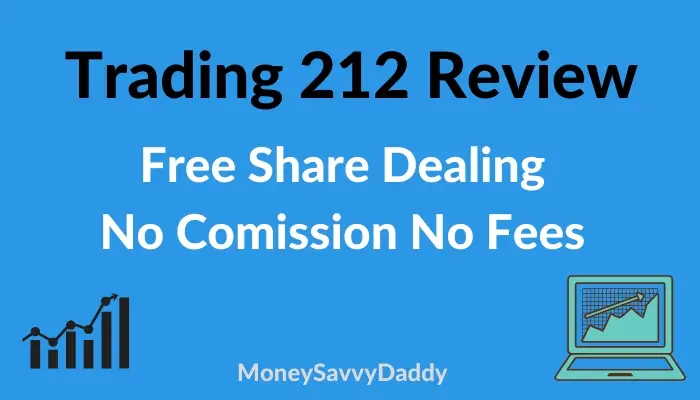 Trading 212 is a UK based fintech company with the aim of making trading in the financial markets accessible to everyone via its easy to use the free app.
Offering zero-fee trading and a  minimum buy or sell order from as little as £1.00, Trading 212 has opened up investing to potentially millions of new customers.
Trading 212 Invest and Isa Account offers
A free share worth up to £100 when you deposit £1
Totally free buying and selling of stocks, no fees
Choice of 10,000+ stocks and ETF's from the UK, US, Germany, France, Spain and the Netherlands
Ignore Trading 212 CFD Accounts
Trading 212 also offers CFD trading which is very different to trading in stocks.  CFD's allow you to effectively  bet on the movement of stock prices without actually owning the stock.  If you look in the App store you'll see a warning that 76% of retail CFD accounts lose money when trading with this provider.    The free shares and Invest accounts do no relate to CFD trading which for the reason given is best ignored.
Trading 212 is authorised and regulated by the Financial Conduct Authority (FCA) and funds are covered up to £85,000 under the Financial Services Compensation Scheme (FSCA).
How to Claim your Trading 212 Free share:
See my full Trading 212 free share referral review for more details as well as see the free shares I was given.
Or you can just sign up via the following
Trading212 Referral Code link.
Once your account is up and running you can also refer up to 20 more people to continue building your portfolio of free shares.
Where to Get Your Free Stocks
As well as the above info, if you prefer to just  work through a list of the platforms that are offering free stocks I will list them below.
Simply click the links below which should track the referral.
Next, where required manually enter the referral code whenever given the option to ensure it tracks.
Frequently Asked Questions
Here are answers to the most commonly asked questions.  If you have an unanswered question, feel free to ask in the comments or direct via email contact or any of my social media channels.
Why do companies give away free stocks and shares?
Generally, these companies are giving away free stocks as a form of new customer promotion.  Instead of say, your common cash sign up bonus incentives they are giving you a free share.  It's effectively a way of advertising their service.
Giving away a free share is also a great way to attract new customers who might be totally new to investing and helps them in overcoming that first hurdle to becoming an investor.
It will teach them they can trade for free and in small volumes.  Also that they may receive dividends, a form of passive income from a share.
Which free stock will I Get – Can I Choose?
To make the offers generally even more enticing the companies don't tell you the exact free share you will get. Instead, it is usually selected at random from a mix of low to higher valued shares.
I have included some information under the above companies where relevant regarding what shares they give away.  Links to my full reviews will also include details of the range of shares I have personally received from each app to give you an idea of what to expect.
Related Posts
You might also be interested in these best investment apps for beginners in the UK.